Exercise bikes confer you myriads of benefits. Not just the legs, they engage and strengthen various body parts
Pedaling the stationary exercise bike enables you to lose weight, boost your cardio health, and have a stimulating effect on the respiratory system too.
The fascinating advantage we love about these bikes is that it won't stress your joints. It's such a comfortable experience.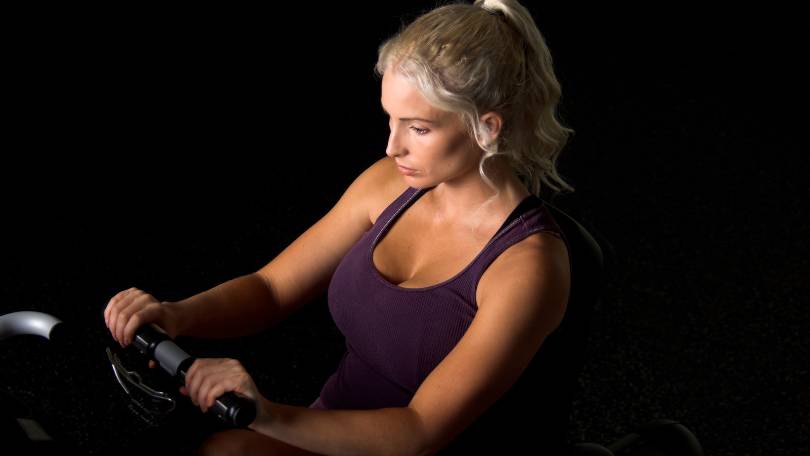 For the ones with arthritis and other joint problems, I sincerely advise you to shake hands with the wonderful workout tools known as exercise bikes.
These are meant for the people wishing to get stronger legs, good heart health, and increased stamina.
Henceforth, the objective of this article is to inform you about some of the best exercise bikes under 300 available in the marketplace.
The bikes pertain to be cost-effective, loaded with beneficial features, and user-oriented attributes.
Before you choose your ideal exercise bike, let's have the synopsis of various categories of bikes and what sets them apart from each other.
In a hurry? Here are our top 5 picks.
See the overview, pros & cons, and features below.
Types of Exercise Bike
Exercise bikes vary in structure and functions. You can choose among them depending upon your own fitness goals.
Upright bikes
This is the most common category of exercise bikes. The structure is the same as that of regular cycles we ride on roads.
It is amazingly good for leg exercises, bolstering the core muscles, and, most importantly, for a cardio workout.
Recumbent bike
The position of the pedals is the main point of difference.
Unlike upright bikes where pedals are framed right below the seat, here pedals are fitted away from the seat in the front.
This makes riders to sit in a reclined position.
Your joints, as well as back, is relaxed. It is a safer option for those who are just beginning out or those who are old at age.
Dual-action bikes
This is the one equipped with movable handlebars.
These handlebars provide upper body workout. The overall structure of this bike is similar to regular bicycles.
Spin Bikes
This kind of exercise bikes is commonly used in spinning group fitness classes.
A spin bike is feeling most like a road bike, but better.
As you will find, there are so many programs that you can try for.
Air bikes
Resistance is the key player in this class of bikes.
The principle is, the faster you pedal, the more is the resistance, and ultimately more are the calories you lose.
All work is done manually, and there are no electric buttons to lift the resistance.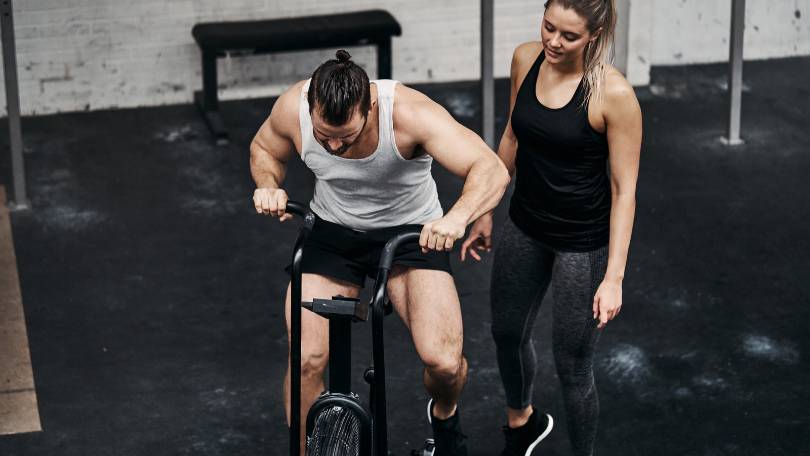 What to Look for When Choosing an Exercise Bike
Exercise bikes possess a high degree of variability in terms of shapes, size, and features.
Always go with the one favoring quality and comfort.
The rest of the additional components are an individual choice. They keep varying from person to person.
You must be clear about your goals. What kind of features are you prioritizing?
Better display or high levels of resistance?
Here is the cheat sheet to look for while buying the best exercise bike under your budget.
1. Resistance
You surely want to progress with the time and not to stuck in a limited resistance range.
Therefore, choose bikes with sufficient levels of upgradable resistance.
2. Safety
Portability supports safety. How? You can keep the exercise bike out of children's reach when not in use.
Those with compact structure and mobility are the best in this aspect.
3. LCD
The display is mainly judged based on two specs – clear, large display, and easy to use.
The basic information contained by LCD consoles should include speed, distance, rpm, time, and calories burned.
4. Heart rate monitor
The ones with a chest strap are considered the best. The basic advantage provided by them is interrupted exercise movements.
5. Preinstalled programs
Some models are smart with routines customized according to your level, age, weight, and gender.
There are preloaded training programs to turn you from beginner to advanced trainee, carefully.
6. Warranty period
The frame should be subjected to at least two years of warranty.
This, in turn, tells about the durability of the machine, indirectly.
Some surveys surprisingly reveal that extended warranties are not a good deal.
7. Cost
I am mentioning the cost factor in the last bust. This is the starting point for most of us.
Finding the desired commodity under your budget is always a tough task to accomplish.
But I have already made your way easier by only compiling cost-effective bike models that everyone can satisfactorily buy.
Top 5 Best Exercise Bikes Under 300
As you now know, that exercise bikes have different structures and details.
But each one of them has something fabulous to offer you.
Either the great robustness or excellent training.
The overview, pros, and cons for each one of them have been described below. This will help you decide better.
Bike Type: Spin Bike
This stationary exercise bike with an elegant look, having a great workout experience with the bike that comes with 35 pounds of the bidirectional flywheel.
This also keeps your exercise smooth.
Don't just fall for its look, but the massive durability it has got is also an amazing attribute.
A transmission PK belt made with a leather together with a smooth brake pad system makes this an excellent piece of equipment.
Caged foot pedals are used to deter slipping of the sole.
I wouldn't have asked for more! What about you?
It has got adjustable resistance to get the desired intensity.
The folks, who are currently not satisfied with their large bellies can lose tonnes of calories right at home.
All you need to do is level up the resistance.
The incorporated LCD monitor also has a lot of perks to offer you.
Whether you want to lose weight or boost your muscles, execute accordingly by tracking the distance, speed, and time of your exercise.
The monitor readily displays all this information.
There are the anti-skid handlebar, adjustable seat, and handlebars for enhanced convenience.
Storage is not at all a problem due to ergonomic design that saves space and transport wheels that make it portable.
Pros
Sturdy leather transmission PK belt
Durable
Felt fabric brake pad system
Caged foot pedals
Compact design
Portable
Adjustable seat and handlebars
Anti-skid handlebar
Clear display
Cons
The seat can be uncomfortable
Noise is emitted from the machine while working
It's not water-resistant (as compared to some other models)
Phone holders and magazine racks are missing
If you are looking for a budget-friendly bike with very basic features yet strong enough to support you, then Exerpeutic 900XL has to be in your search list.
It comes with a weight capacity of 300 pounds and a heart rate monitor.
You will not find many additional components with this.
But you don't need to compromise with the strength of the machine.
It will fetch you good results from the viewpoint of durability.
For those who get irritated with the buzzing noise of workout equipment, you will be glad to know that this machine successfully eradicates the noise issue with the high-speed perimeter biased flywheel.
This technique promises a quiet exercising session.
The machine ensures to keep your in place through extended leg stabilizers and low center of gravity.
It also comes with upgradeable resistance with eight levels of magnetic tension control.
Take up the flexibility you always needed. The LCD monitor will inform you of the speed, distance, time, and calories burned.
I am truly fascinated by its features of equipped waterproof materials that protect the floor.
The pedals are large, and the seats are cushioned.
So, you can comprehend that it just lacks additional whistles and bells, but there is no anomaly in terms of quality.
Tune in yourself with this wonderful workout tool today.
Pros
Built to last longer
300 pounds user weight
Made with waterproof PVC materials
20 levels of Eddy current resistance
8 levels of magnetic tension control
Quiet workout
3 years warranty
Cons
Not compatible for people with tall height
Legs can move expanded much farther
Bike Type: Upright / Semi-recumbent Bike
Less in weight, more in features. That's delighting combination, right?
With 350 pounds of weight-bearing capacity, 32 levels of magnetic resistance, and 12 training programs, it has all that you need.
FitDesk v2.0 comes with a sliding desk, and that aids cardio exercises. You can also harness the potential of upper-body resistance bands to get intensified cardio workout.
The elements like the twin belt and high-speed flywheel contribute to smooth pedaling. Besides, no-slip surface and massage rollers are integrated to elevate the fitness regime.
A digital monitor that displays distance, time, speed, and calories burned as you pedal through the machine.
Pros
Ultra-durable
High weight capacity
Digital monitor
Optimized for comfort
32 resistance levels
No-slip surface
Massage rollers
Digital monitor
Cons
Not for people below 5 feet 2 inches in height
Machine should be plugged in for resistance levels to work
Bike Type: Spin Bike
Constructed with heavy-duty steel, this marvelous indoor cycle trainer is ultra-durable and tough.
Not only the frame, but there is also adjustable resistance fabricated with the heavy-duty crank.
It's supported by a transmission belt that operates quietly and effectively. Completely adaptable seats and handlebars further stimulate your workout.
Apart from a belt, the flywheel built with 49 pounds of heavy steel adds to the strength of the bike.
The machine utilizes a press down brake system.
However, brake pads being made of rubber wear out at early stages. Be ready to replace them after a considerable time.
Some other additional components include a magazine rack and a water bottle holder. You can read your favorite novel while pedaling.
What else? If you want to carry it from place to place, do it easily with moving wheels that confers portability to the machine.
Pros
High durability
Upgradable resistance
Adaptable seats and handlebars
49 pounds flywheel
Quiet operation
Smooth working
Portable
Abundant features
Cons
LCD monitor is absent
Brake pads doesn't last longer
Adjustment knobs are not so efficient
Bike Type: Air Resistance Bike
It's time for complete body workout with great ease. Marcy AIR 1 bike comes with double action arms.
This feature is of great benefit to users.
Based on the air resistance system, it offers you the freedom to upgrade resistance to the extent you want.
The faster you pedal, the greater is the resistance. It's that simple.
There is a present built-in display monitor to dictate time, calories burned, speed, and distance.
Besides, a built-in fan does the job of cooling the environment around you.
The comfort also matters while exercising. Abandon all your worries as the seats are cushioned with high-quality foam, and they are adjustable too.
The same applies to the handlebars. Transportation wheels also play their part well.
Pros
High-quality construction
Adaptable seats and handlebars
Holders and racks
Built-in cooling fan
Display monitor
Convenient storage
Two years warranty
Cons
Seats can demand maintenance
Noisy when operated
Assembling can be time-consuming
Final Words
Cycling is an incredible health-boosting activity. Whether done inside or outdoors, prosperous health is sure to come your way.
The prominent benefit linked to riding a stationary exercise bike is that 'weather is no bar.' Be it raining, shining, cloudy, or cold. Your cycling won't stop.
The other benefits are summarized as:
Burn excess of unwanted calories
Promotes better cardio health
Influences respiratory functions in a positive way
Low impact workouts with smoothness
Stronger legs and muscles
Suitable for interval training
If you wish for comfortable seats, then an indoor cycle bike with 49 pounds flywheel by Sunny Health and Fitness is the best bet.
For the people who can't deal with the irritating noise, Exerpeutic 900XL is your perfect fit.
Did you wish for a clear and large display to keep track of your performance?
Then go with PYHIGH Indoor Cycling Bike.
The quality content is equally high in every model listed on this page, irrespective of other details.
What's still stopping you from bringing it home?
Do not restrict yourself anymore from getting perfectly in riding shape. Get started with your favorite exercise bike today.