Cycling in the lush green park or wide roads seems alluring.
Still, we live in a fast-paced world that limits individuals to gym/home gym workouts due to multiple reasons – lack of time, and work timings encourage users to set up a home gym giving them the convenience to workout in their preferred time and pace.
Besides, exercising on a piece of indoor gym equipment helps you constantly monitor your speed, calories burned, heart rate, and more helping you workout in any climatic condition – rain or sunshine!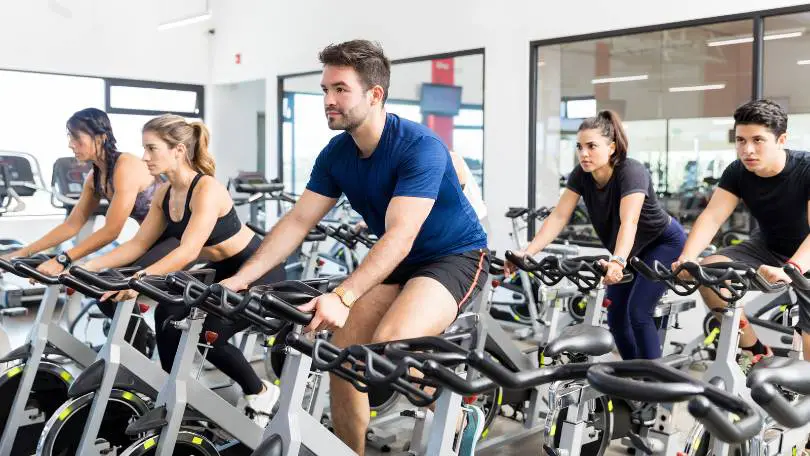 Stationary bikes have been popular for decades, but now spin bikes are gaining momentum with their ability to give an exceptional workout to different muscles and a full-body workout too.
There are different models available in the market, but it makes sense to focus on the best spin bikes under $500 – this makes it purchasable for very many individuals.
Top 5 Best Spin Bikes Under 500
At the gym or even when you wish to purchase a home gym equipment, you might be confused about whether to go for the stationary bike or the spin bike.
To choose, you must first understand the difference between the two.
While everyone generally uses stationary bikes for general health and fitness, spin bikes are primarily used by those who pursue cycling as a sport.
That's because the handlebars are set low, which makes you hunch over while working out.
Spin bikes also provide users with the option to stand up as they prepare, which increases weight loss multifold times.
This could be one of the best equipment for faster calorie burning, but don't expect a full-fledged console!
You are not presented with all the stats and details as available in a stationary bike, but the spin bike could be your ideal choice if you are looking for some motivational workouts.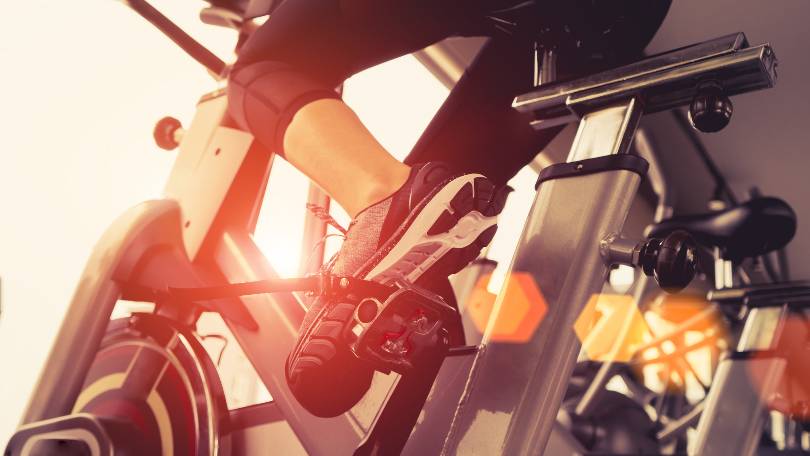 Given below are details about the top 5 best spin bikes, which promise durability and comfort of use.
If you are looking for a versatile, compact, and moderate-budget bike, the Schwinn IC3 surpasses all these requirements with flying colors.
Firstly, the Schwinn brand name suffices to win our hearts, a brand that made cycling as popular as it is today.
This bike is an upgraded version of the IC2 model coming with a 40 lb flywheel, which is optimal for a mid-range model.
Powered by a smooth belt drive that operates noiselessly, this model is designed for those serious about cycling.
The bike can withstand up to 300 lbs, and the seat is height-adjustable, making it ideal for users of different heights.
Cycling equipment seats are not as comfy as your sofas, and this model is no different.
Perhaps, you can substitute it with a wider seat or add cushion seats for added comfort.
The handlebars are adjustable horizontally as well as vertically.
They offer multiple grips and are padded elevating your standing/sitting cycling experience.
Pedals of spin bikes might be caged or clipless (SPD), but IC3 surprises you by offering both the choices for the price.
Go for SPD or toe pedals, depending on your comfort.
Pros
LCD console that monitors heart rate, time, distance and calories burned
Multi-media device holder, water bottle holder, and race-style seating elevates exercising experience
Dual pedal
Excellent flywheel
5 years warranty on frame, 2 years on parts and 1 year on labor
Cons
Users above 6' don't find the equipment comfortable for cycling
LCD screen
Are you looking for a piece of uber-cool exercise equipment that would add style to your home?
If so, the JOROTO X1S should be your default choice. But looks aren't everything, and this spin bike is a strong and durable spin bike that comes with a heavy flywheel-a 35 lb chromed one that ensures a smooth cycling experience.
The frame is a heavy-duty stainless steel one, which is 50mm in thickness.
The AV type triangle guarantees unmatched durability, making it ideal for multiple users or a large-sized family.
The seat here is narrow but provides 4-way adjustability (up, down, forward and backward) helping every use find his/her comfortable seating position. It supports user weight only up to 280 lbs.
Any equipment is judged based on the resistance it offers, and the Joroto X1S does not disappoint us.
You have a resistance knob that quickly helps you change resistance, levels-challenge yourself, and enjoy an effective workout experience.
A cyclist needs a good seat, variable resistance, and above all, a gripping handlebar.
The handlebars provided here are padded for comfortable holding along with multi-grip provision for up and down movement.
Besides a great exercising experience, enjoy some peppy music or watch favorite videos on your tablet/smartphone as the machine comes with a 10-inch provision for keeping your electronic gadget. Read the full review here.
Pros
Dual transportation wheels help in easy movement of the equipment
Heavy-duty flywheel
10-inch tablet holder
Highly adjustable seat and handlebars
LCD monitor to track time, speed, distance and calories
Cons
Seat is uncomfortable
Makes noise
Are you bored of exercising within the four walls of your home?
The Sunny SF-B1002 could be a welcome breeze to your indoor activity as it gives you the exact experience of cycling outdoors.
Heavier flywheels guarantee a smoother ride experience-this model comes with a 49 lb flywheel, which guarantees uncompromised momentum for prolonged use.
If you are under 275 lbs of weight, enjoy a realistic outdoor ride experience as you never have to face problems in terms of movement control and frequent jerks in whatever speed or resistance you exercise.
Resistance is also easy to change here with the twist of a knob that can simply increase or decrease levels.
A home gym is not for the use of a single individual but must benefit the whole family.
This machine comes with a 4-way adjustable seat that can be adjusted as per every user's height.
Move it up, down, forward, or backward to match your handlebar grip too.
Finding the perfect seat height is essential for a good cycling experience.
Again, pedals are crucial for balancing yourself while cycling-the Sunny SF-B1002 comes with a foot cage feature that strongly keeps your feet secure while operating at higher speeds.
Pros
The machine comes with two built-in wheels that facilitate easy transportation
Stay hydrated by drinking water from your bottle that safely stands in the bottle holder provided
Sturdy frame
4-way adjustable seats
Good for beginners

This bike could have entered the market during recent years but believe me, they have been the people's choice since then in the mid-range segment.
The bike comes with a 35 lb bidirectional flywheel with a belt drive that assures a smooth and noiseless ride.
Resistance is also at a hand's distance as you can change resistance levels simply by twisting the knob.
You also have an emergency knob to stop workout instantly if you feel giddy or during an emergency.
The non-slip handlebars are provided with padding and can be moved up and down.
Adjusting your seat according to your height, too, is possible by moving it vertically or horizontally fitting to suit the whole family.
The machine comes with a sturdy frame and can withstand up to 330 pounds of user weight.
The machine's monitor displays RPM, exercise duration, distance, and calories burned.
The alternative of PYHIGH S7 that is available in the market is PYHIGH S2, which features its improved belt. Read the full review here.
Pros
Easy assembly
Multi-grip non-slip handlebars
The seat is cushioned and comfortable
Heavy-duty transport wheels enable easy movement
Provision for keeping the phone on the holder while exercising
Water bottle holder
LCD screen displays
Cons
Not a comfortable bike for tall users

YOSUDA indoor bikes are also relatively new to the market but have become popular among users in a short time indeed. This product is made of a heavy-duty steel frame with a 35 lb flywheel.
This is a belt-driven bike, unlike some others that are chain-driven, giving you a noiseless exercising experience.
Though the machine can accept only up to 275 lbs of user weight, it is a sleek and stylish model that is sturdy and comfortable.
The handlebars could be moved in 2 ways, helping you adjust according to your comfort.
The seat is 4-way adjustable, helping every user find his/her comfortable seating position.
The equipment comes with adjustable direct-contact resistance that makes exercising challenging and engaging-it might as well help you burn ample calories!
The anti-skid cage pedals offer safety at any speed.
If you are not yet satisfied, the machine comes with an emergency brake lever for ultimate comfort.
Pros
Tablet holder for safely keeping your smartphone or tablet
LCD display
30-days money-back guarantee
Easy assembly and 1 year free parts replacement warranty
Ergonomic design that's stylish and elegant
Anti-skid pedals
Cons
Not suitable for tall users
Seat adjustment takes ample time and effort
Tablet holder fails in achieving easy use when the LCD screen is present
Maximum user weight is low
Factors to Consider While Choosing a Spin Bike
Every spin bike looks alluring in some way or the other-price, features, design or quality.
Hence, it is essential to make an informed decision after looking at each of these features and understanding each of their role in making a product a good buy.
Given below are the important factors that must be considered before buying a spin bike.
1. Design
The seat in a spin bike is at the same level as the handlebar, which is a primary difference from other bikes.
You are required to lean forward or stand up and ride, which makes you pump in an extra efforts-the, the result of which is burning extra calories.
Flywheel size holds top priority in choosing a model as heavier flywheels assure smoother exercising experience. Choose ones that are above 35 lbs for a perfect cycling routine.
Bikes also come with two different drive systems-a belt or chain drive, both of which do the basic functionality of connecting the pedal to the flywheel.
Belt types are preferred as they generate minimal sound.
Chain-driven machines consist of a chain that's sturdy and never cuts/snaps out.
2. Resistance
Slowly pedaling the machine without any pressure or resistance is simply a waste of time.
Exercising intensity determines your calorie-burning ability. There are multiple resistance systems, such as magnetic and air-resistance.
But, mid-range bikes are mostly designed with direct-contact resistance-here, the brake (wool felt) is in direct contact with the flywheel.
Changes to the resistance knob increase friction (pad comes close to the wheel).
This elevates your exercising intensity and challenges you to pedal with higher intensity bringing greater benefits.
3. Height
Individuals in the normal height range need not bother about this specification as most models suit them.
If you are a tall individual looking to fit into a small bike that doesn't cater to varied height ranges, then you are in trouble.
It's practically not possible to exercise cramping your legs all the time.
Short people, too, might find it problematic to reach the pedals and handlebars. Hence, height flexibility must be an important detail that must be adhered to while purchasing a bike.
Most manufacturers don't mention the height range of the bike.
Instead, leg inseam measures are given, which must be noted for checking compliance with the user.
Even otherwise, most bikes come with adjustable seats and handlebars.
So, whatever height you might be, try moving the handlebars up and down, the seats forward, backward, up or down to fix them at the desired position.
4. Pedals
Spin bikes are provided with two pedal options-toe cages and SPD pedals.
Toe cages come with an enclosure (made of rubber or fabric) to provide grip to your toes. Any type of shoe should neatly fit into them.
SPD pedals are clipless bicycle pedals that clip onto your shoes directly.
This provides better efficiency and power while pedaling. Though SPD pedals offer better cycling experience, they are mostly available in high-end bikes.
The user is also forced to buy SPD-compatible shoes, which are an extra expense.
Some bikes allow the buyer to make the bike SPD-compatible when your desire, and these are preferable.
5. Features
Spin bikes promise an excellent workout experience, and features are never a highlight in them.
Still, it is required that we are provided with certain basic features to complement our exercising experience.
An LCD screen displaying different measures is pretty good as it motivates you to speed up and keep going.
Getting to know the calories burned and time spent in exercising is fulfilling.
Some manufacturers provide a water bottle holder or a tablet holder too.
Connecting to your tablet/smartphone helps you listen to music or even follow online exercise classes.
This is possible by registering with apps such as Zwift or CycleCast, which takes your exercising experience to another high level-you get a feel of different locations, a variety of challenging exercise levels, and an interesting time cycling in your spin bike.
Conclusion
A spin bike is for the serious exerciser who loves fitness and challenges.
The body posture varies greatly (you are hunched mostly) while sitting on the bike, which increases pressure onto your arms – you expel higher calories working out on a spin bike.
But to achieve this all, you must make a wise choice choosing a model that offers optimal resistance, strong-grip handlebars, adjustable seats, sturdy frame, and good cycling experience.