Being in the busiest city seems to be an attraction for outsiders but it might be a disadvantage for those residing there due to hard-hitting price hikes.
Real estate rates are skyrocketing every day and buying your own house, even a studio apartment, in the heart of the city seems to be every individual's dream today.
So, how are we going to fit in all our requirements in such a scenario especially fitness-related equipment?
Individuals are now preferring to work out in the convenience of their homes-a home gym that avoids extra expenses (specifically in big cities), saves time and offers you the flexibility to work out any time of the day.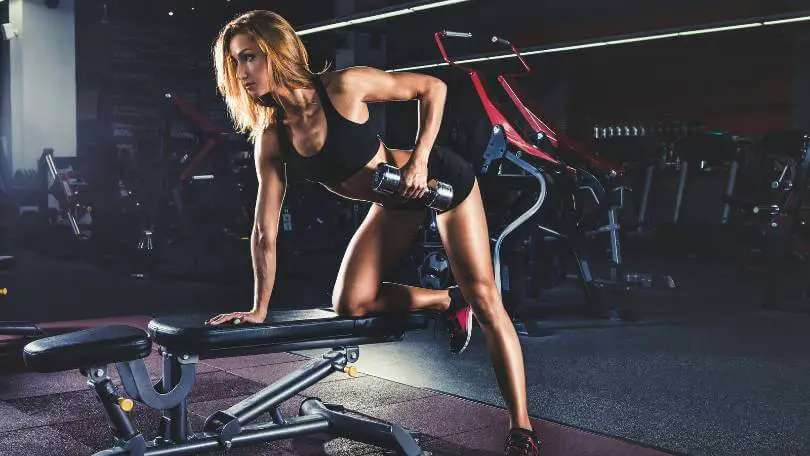 While it's not practical to fit in numerous gym equipment in our cozy homes unless you live in a mansion it's also a wrong concept that small spaces cannot hold any gym equipment.
Aren't manufacturers and inventors breaking their heads to come with solutions for every problem and need that arises?
Though they might not be able to help you have a treadmill, a stationary bike and many others there is single equipment made that could be versatile and productive for your health.
If you have space restrictions but still have a goal of working out regularly in your home the below given 5 equipment for small spaces could be a great buy.
Best Workout Equipment for Small Spaces
Any exercise equipment must provide comfort, durability, bring about results and motivate you to workout. We have shortlisted five different workout equipment keeping all these factors in mind.
#1. Portable Home Gym System – Gorilla Bow
A portable home gym enables the user to perform an exercise anytime anywhere even if you simply have a few square feet of space.
This is preferred by people who constantly travel or are away from their homes as the equipment can be carried along to workout in the hotel room while waiting for your flight or anywhere.
Most equipment uses resistance bands or any type of resistance to offer the pull-and-push facility and there are suspension trainers too that could be chosen.
The primary feature of a portable home gym must be the portability ability. While a pair of dumbbells are small their weight restricts the use to certain places.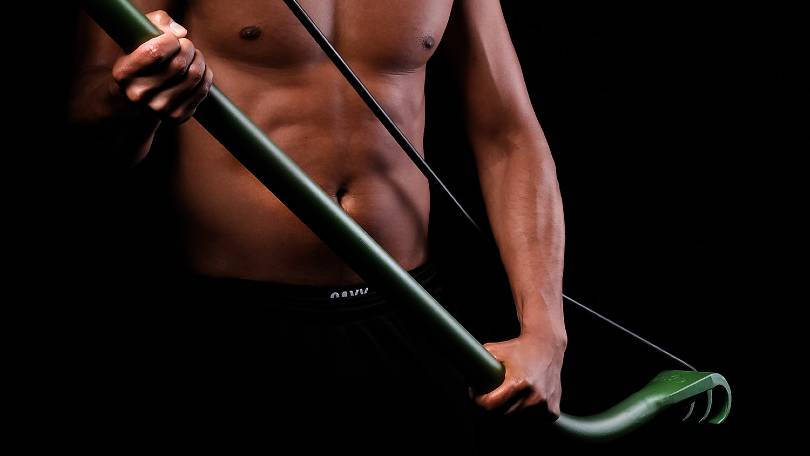 In this point of view, the Gorilla Bow portable home gym could be an excellent machine to buy.
This is a resistance band that has been designed to solve the fitness needs of any type of trainer-beginner, intermediate or advanced.
It has a weightlifting bar that helps to work out every muscle group in the body proving to be a versatile exercise machine for strength training and bodybuilding.
Being a product of Gorilla Fitness, it has unmatched design specifications that aim to provide total body workout with a single device.
The bow has four resistance cables that amount to 110 lbs of resistance, a band wrap and a band carry bag all of this provided with a 2-year warranty.
The 4 cables could be selected individually or together too to create maximum impact on the user as it can handle over 300 lbs of resistance.
This makes it great in terms of resistance-more the resistance greater is the workout experience. See the full review here.
Pros
A portable home gym that can literally be used anywhere-at your home, hotel, airport, on the road or park
4 different resistance levels make it good for trainers of any level
Offers full-body workout
Cons
Expensive
Takes time to set up
#2. All in One Home Gym – Total Gym XLS
As the name suggests, an all in one home gym should provide all features available in different gym equipment in the form of a single equipment.
It should allow you to do multiple exercises without using additional equipment.
These are ideal for homes where space is a constraint and you would like to work out together as a family without spending extra bucks.
The Total Gym XLS, a home gym from one of the most reputed home gym manufacturers, Total Gym, provides over 80 different exercising options to choose from.
It is sturdy, comfortable and durable with its high-quality frame and construction.
It has six different resistance levels and can bear weight up to 400 lbs which makes it ideal for obese/overweight individuals.
The frame has a lifetime warranty and the parts are provided with a 2-year warranty.
The product comes with quite a few extra accessories in the form of DVDs, exercise guides, nutrition meal plans and exercise accessories such as squat stand and leg pulley attachment. See the full review here.
Pros
Lifetime frame warranty
Ability to perform various exercises
Padded glide board and sturdy frame
Cons
The resistance range is limited
#3. Glider Exercise Machine – Gazelle Edge
Are you a fan of cardio workouts but feel bored with using a treadmill?
The Gazelle Edge could be your go-to equipment to build muscles and bring about overall fitness.
This is only a modified version of your elliptical cycle-a product that asks for the user to exert more pressure on the joints-helping those with joint problems to workout.
There is a footplate to rest your feet and a handlebar to grasp each hand. All you have to do is to glide your foot front and back just like pedaling your cycle.
The pedaling pace decides the desired outcomes.
The gliding movement works well for different muscle groups, primarily the hands, thighs, calves, and glutes.
Gazelle Edge is the basic model that supports 6 basic workouts but doesn't have provisioning for accessories.
Pros
Inexpensive
Quiet
Doesn't cause an impact on joints
Cons
Burns fewer calories as a movement depend on momentum rather than effortless
#4. Stamina Body Trac Glider 1050 Rowing Machine
Rowing is a powerful exercise and the 1050 rowing machine is a budget home rowing equipment suitable for small spaces.
This is perfect for those who want to burn maximum calories in a limited time.
It has a sturdy steel frame and an aluminum center beam with an electronic motor that gives you a versatile rowing experience just like rowing a boat.
The adjustable hydraulic resistance makes you the boss of choosing your own intensity levels.
The foot grips have straps to prevent slide ups, hand grips have foam padding, rowing arms provide a full range of movements and the equipment can be easily stored with its folding arms option.
Pros
Affordable
Whole-body workout training muscle groups in your abs, back, legs and arms
LCD monitor helps you track workout progress
It is small in size which makes it easier to handle
Cons
One year frame warranty but parts have only 90 days of warranty
Uncomfortable footboards
Not suitable for tall people
#5. Confidence Fitness Slim Full Body Vibration Platform Fitness Machine
If working out and sweating hard is not your cup of tea then the Confidence Fitness Slim Full Body Vibration Platform Fitness Machine is the ideal choice as exercising on this doesn't feel like a hectic workout at all but brings about desired results.
A full-body vibration machine is the latest craze for those who want to get in shape quickly.
There are vibration plates in the machine that bring about vibrations mimicking the effects of exercising minus its stress and efforts.
It's a good piece of equipment for those who don't have much time – you can workout fast, in almost 10-15 minutes, using this machine.
Provides basic workout options like push-ups, has yoga straps that facilitate upper-body workouts and the vibration effect provided on the platform helps improving body circulation and relieves pain sometimes.
You can adjust the speed from 0-50 or use inbuilt speed programs that change speed every 30 seconds. Doing 10 minutes of exercise on this machine is as good as doing 60 minutes of conventional exercise.
It has a maximum user weight of 300 lbs and raving customer reviews which make it a sought-after vibrator machine in the industry.
Pros
Minimal strain but maximized exercise outcomes
Good for general fitness
Improves circulation, bone density, and muscle strength
Speed adjustment options available
Good user reviews
Cons
People suffering from joint pain, heart conditions or those using pacemakers are advised to talk to their physicians before using the machine
Doesn't promise weight loss
Doesn't guarantee improvements in cardiovascular health
Low-quality parts
Common complaints that the machine stops working within a year or two
Final Thoughts
An urge to exercise is good but giving lame excuses such as lack of time and space are no longer good as we have got different exercise equipment that satisfies both these constraints in the form of home gym variations suitable for space-restricted homes.
Depending on your needs, fitness levels and budget it makes sense to choose a piece of equipment and start your workout routine.
Choose a versatile machine that helps you with a whole-body workout, exercises different muscle groups, has various levels of resistance and is comfortable to use.