When you buy through links on this site, I may earn an affiliate commission at no extra cost to you. Learn more
Exercise bikes are winning our hearts in terms of their functionality, benefits, and ease of use. Most home gym users prefer to install an indoor exercise bike to achieve cardio training benefits.
The Life Fitness Platinum Club Series Upright Lifecycle Bike (quite a long name indeed, I would like to address it as LifeCycle hereon) reviewed below is one of the best indoor bikes in the market that surely meets your expectation.
Overview of Life Fitness LifeCycle Bike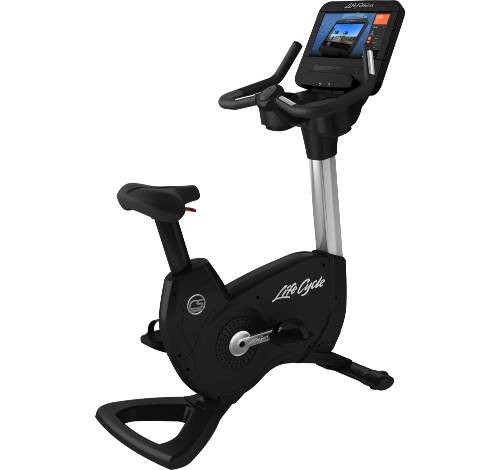 You could be in any gym in the U.S., and I bet that you could see many of the gym equipment from Life Fitness installed.
A well-known exercise equipment manufacturing brand, the LifeCycle model, is no disappointment in the indoor bike equipment segment.
Though the company makes both commercial and residential grade equipment, and both are quite similar in most aspects, some key differences make them stand apart.
The original LifeCycle model was the company's first electronic exercise bike. Life Fitness has ensured stable progress in their exercise bike segment over more than 5 decades, coming up with classic models such as the one we are talking about presently.
Pros
Amazing user weight capacity up to 400 lbs
Two different fitness tests included
Choose from 13 different workouts provided
Console choices
Heavy-duty frame and construction
Multi-grip handlebars that are large
Superb and comfortable seat
26 different resistance levels
Smooth drive system
Good warranty
Wide and weighted pedals
Installation is included in your purchase
Cons
Absence of fully adjustable seats
Non-adjustable handlebars
Expensive
Features
You get a lot many features in the LifeCycle equipment, which include:
#1. Workouts
You get around 13 workout programs, including classic ones such as hills and goal-related options too.
#2. Fitness Tests
Anyone would love to see how fit they are, and the LifeCycle helps you in this regard as you can choose from 2 different fitness tests, including the Fit Test and US Navy PRT.
Frequently monitoring your fitness levels using these also promises to track your progress with the home gym equipment in due course.
#3. Integrated Reading Rack
Read a book, enjoy a movie, or watch your favorite song during a workout using the media rack to place your book/gadget. This is what we call integrating entertainment with exercising.
Heart Rate Monitoring: Most high-end bikes come with heart rate monitors, and this bike is also compatible with chest strap heart rate monitors and a Polar strap for telemetry heart rate monitoring.
Transport Wheels: I wouldn't say that the bike is extremely heavy, making transportation quite a painful task.
Thankfully, you are provided with built-in transport wheels in the front that makes it easier to move the equipment around the house.
Quick Start Button: In a hurry? Don't worry, but make use of the quick-start button (just like the one you see at a commercial gym) to start working out instantly.
Customized Cooldown: Any exercise needs warming up and cooling down. Hence, just like gym bikes, the LifeCycle bike has a cool-down functionality to help you cool down after working out.
Frame & Construction
Sturdier as it could be and oozing machoism, the LifeCycle is designed to be stable and adapt to any usage.
You don't want a wobbly seat or shaky handlebars while pedaling on an exercise bike. Instead, we feel good when the equipment keeps us stable and promises sturdiness. The LifeCycle bike fulfills this all.
Other major criteria that reaffirm the bike stability are its maximum user weight limit. The LifeCycle model can withstand up to 400 lbs of user weight, and hence if you even doubt the bike's frame durability and construction, wipe it away altogether.
This makes me feel proud of the equipment's maximum weight limit, as most high-quality exercise bikes in this range accommodate up to 300-350 lbs of user weight.
The bike boasts of an excellent frame that's made with premium-grade material. Another aspect that confirms the bike's quality is the bike's weight.
Large, heavy bikes are the epitome of durability and are much preferred, just like the LifeCycle model. Weighing 176 lbs, you could say that this model is way heavier than most models in this segment.
You can be sure that you are purchasing a rock-solid piece of equipment when you choose to buy the LifeCycle bike and never once worry about stability issues thereafter.
Handlebars
The main benefit of LifeCycle's handlebars is that they are large and multi-grip. Generally, the thicker the handlebars greater is their comfort.
Besides this, the large handlebars make it more comfortable to hold with your hands, all the more when you are exercising in a standing position.
Just like its other components, the handlebars provided in the equipment are also sturdy and large.
Despite these, the one downside is that you cannot adjust the handlebars, but this might seem to be a negligible issue looking at the stability provided by them.
You get to enjoy two sets of grip heart rate sensors located at the ideal positions, helping you check your rate irrespective of whether you are using the narrow grip or the racing grip.
Console
You get to choose between two different consoles, the hi-tech Discover SE3 HD console and the straightforward Discover SI option.
While the HD console boasts an HD touchscreen, tv connections, access to the internet, and easy access to apps and entertainment, the SI console lacks all additional entertainment features except for large touchscreen functionality.
This makes the SI console less priced comparatively. It depends on you to decide whether you want to spend ample money to enjoy some great entertainment features while exercising or whether your primary goal is to solely reap health benefits.
Seat
Besides additional features included, the exorbitant price you pay for high-end bikes ensures you get the money's worth by presenting you with uber-comfortable seats and great pedals.
In general, most home gym exercise bikes compromise on comfortable seats. The LifeCycle bike is very much different in that they offer you large, soft, and contoured seats that work great on your seating requirements.
The manufacturer has taken maximum advantage of the curved contouring here—the widest part of the back and all the way from back to front is curved, making it extremely comfortable for your rump.
Still, just like the handlebars, you cannot make any adjustments to the seat positioning. But what comforts us is that you can make vertical adjustments in the seat's height positioning by using a small lever provided.
You could question the bike's pricing here, but I should remind you that commercial gym grade bikes are not provided with fully adjustable seating options.
Contrarily, the absence of the fore/aft adjustment might even improve the seat's stability and help accommodate heavy individuals.
Give or take, the LifeCycle's seat is worthy of the design, extremely comfortable, and liked by all despite not being fully adjustable.
Flywheel
We finally come to the most expected part of any exercise bike, the flywheel. Just a recap to those who wonder about the flywheel's functionality. It is the part of the bike that spins as you pedal.
You can create resistance as well as get the 'feel' of the bike using its flywheel.
If you ask anyone knowledgeable about exercise bikes, they would recommend you choose a model with a heavy flywheel.
This is primarily because the extra weight guarantees a smoother ride as they bring about more momentum while spinning, thereby minimizing any lag between pedal strokes.
Generally, upright bikes don't possess a heavy flywheel (spin bikes commonly boast of heavy flywheels), but these days we can see more high-end models starting to use heavy flywheels for a smooth ride experience.
Life Fitness is a brand that uses a light flywheel even for its spin bikes, and the LifeCycle bike comprises a lightweight flywheel.
This makes it ideal for those preferring lighter resistance or looking for an easy start.
The equipment boasts 26 different resistance levels that keep you challenged throughout and providing ample options to pick your preferred intensity levels.
Bearing all these in mind, I should appreciate the smoothness in which the bike operates when you increase/decrease the resistance levels.
The resistance levels could also be easily changed, using large buttons that are ideally placed at the center of the handlebars making it thoroughly user-friendly to operate.
Pedals
This model is the advanced version of the LifeCycle model that was introduced a long time back.
Pedals are critical to any exercise bike, and the LifeCycle boasts of wider pedals that are quite heavy too.
You get pedal straps that make adjustments easier, depending on your requirements. Be sure to get on and off the equipment safely and comfortably without any worries using them.
The Knee Over Pedal Spindle (KOPS) is a biomechanically correct leg position that's a standard in any Lifecycle upright bike, including this.
You get to experience the same feel as you would on a road bike and even enjoy reduced pressure on the knees while exercising.
Assembly
For those who have no idea about assembling a piece of exercise equipment, this LifeCycle bike is a blessing in disguise. Soon after you purchase the bike, you will most likely receive a message about free delivery and free installation.
Though not mandatory, it is almost always that the company offers a deal, including free delivery and installation.
Please don't be worried about improper assembly, as they always ensure that you get a certified professional to assemble the equipment for you.
This should be a great motivation for those who hate assembling a piece of equipment and the time wasted (according to some) doing it.
Likewise, seniors also would love someone to get the home gym equipment assembled, and that's what LifeCycle does for you.
Even if you want to try your hands assembling the bike, don't fret, as the process is quite simple.
Attaching the bolts and screws is quite easy, but the most complicated part comes with attaching the cables in their correct positions in the console.
You get an assembly manual along with the product that doesn't contain any written instructions. All that you get are a set of images.
The images, though, are large and simple to follow up though some find it pretty confusing initially.
I suggest you opt for free assembly (if you have one). Otherwise, don't stress too much as you can assemble the machine yourself without much problem. It's a learning process, after all.
Life Fitness Platinum Club Upright Bike Alternatives
There is no way that you would not like the LifeCycle model if you are searching for a good exercise bike.
Still, if you are looking for alternative models for various reasons (such as non-adjustable seats), I've listed a couple of them below. Look into them carefully and make a wise choice finally.
C1 Lifecycle Exercise Bike
On the first look, the C1 exercise bike looks disappointing and thoroughly lacking elegance. But, if you are ready to let go of the looks, I promise you that this model is a smart choice.
This machine might not boast of modern design and might not be technically sophisticated, but it does have a few unique features that make it worthy of purchase.
You get two different consoles, just like the LifeCycle equipment discussed above.
While the standard console has a good pricing offering pre-programmed workouts, the Track Connect console is expensive comparatively as it comes with Bluetooth connectivity enabling you to link with external apps.
In terms of resistance level, the C1 model offers only 20 different resistance levels than 26 levels of resistance in the Platinum Club bike.
Warranty-wise, there is no difference as both models offer a lifetime warranty on frame, two years on parts, and one year on labor.
The equipment weighs around 105 lbs only, unlike the Platinum club bike that's 176 lbs. Still, C1 promises stability, durability, and sturdiness.
But, there have been frequent complaints about the seat provided—they aren't much comfortable, and you can only make adjustments on them vertically.
But, the C1 is an excellent contender in the exercise bike segment for lasting fitness needs.
Club Series+ Upright Lifecycle Exercise Bike
As the name suggests, the Club Series+ Upright Exercise Bike provides similar comfort, quality, and performance, just like your health club LifeCycle model.
While the LifeCycle Platinum bike offers only 13 different workout programs, the Club Series bike provides you with 19 different programs, including 5 HR workouts.
It doesn't get better with the resistance levels offered—only 20 levels of resistance compared to the 26 levels of resistance provided by the Platinum upright bike.
You get to enjoy an ergonomic seat design with ComfortCurve Plus seats provided and can also choose from 13 different seat positions.
The club series also presents you with a wireless chest strap and digital contact heart rate grips that enhance your exercise experience.
Just like the Platinum LifeCycle bike, the Club series model can withstand up to 400 lbs of user weight that helps most individuals use the bike.
We even have positive comments on how the bike stands together, even under great stress.
Though the Club series seems to be the perfect fit for those wanting to workout seriously, if you are interested in choosing from greater resistance levels and looking for an elegant bike to fit in your home gym space, this might not be the one for you.
Final Words
I've provided you with all the necessary information, features, pros and cons, and every intricate detail on the Platinum LifeCycle bike.
The Platinum LifeCycle model boasts of an extremely hulky frame, heavy-duty construction, comfortable seat, and wide pedals that come with adjustable straps.
Given its pricing, some might still feel that the seat and handlebars could be fully adjustable, which is acceptable.
Also, the warranty period could be much longer being a higher-priced model.
Still, in a nutshell, the LifeCycle model is a piece of great equipment that oozes sturdiness and durability in every inch of its design.
Add this equipment to your home gym space and be sure of attaining excellent fitness perks.
Read Also: