When you buy through links on this site, I may earn an affiliate commission at no extra cost to you. Learn more
The TR6000i treadmill from the LifeSpan brand is categorized as a light-commercial machine with high performance. This heavy-duty machine gives you robust performance even if you use it for three hours daily, making it fall under the light-commercial category.
Though labeled as commercial, its price matches that of home treadmills, making it an attractive option for them. It allows home users also to enjoy the benefits of a powerful treadmill at home.
The main feature it provides is the 46 built-in programs which are ample for every need as they are further categorized into targeted training activities. The spacious running area of 22" x 60" comes with a praiseworthy shock absorption system that goes easy on your joints, making it one of the best treadmills for tall and big runners.
Its high-power AC motor of 3.5 CHP offers a top speed of 13.5 mph top speed. With its 13 incline and 3 decline levels, you get to explore higher fitness challenges as you advance in your training.
You get to try out an innumerable variety of exercise variations by modifying the speed and incline levels to different levels. Moreover, its weight capacity is 350 lbs which helps you to accommodate even heavier users without any difficulty.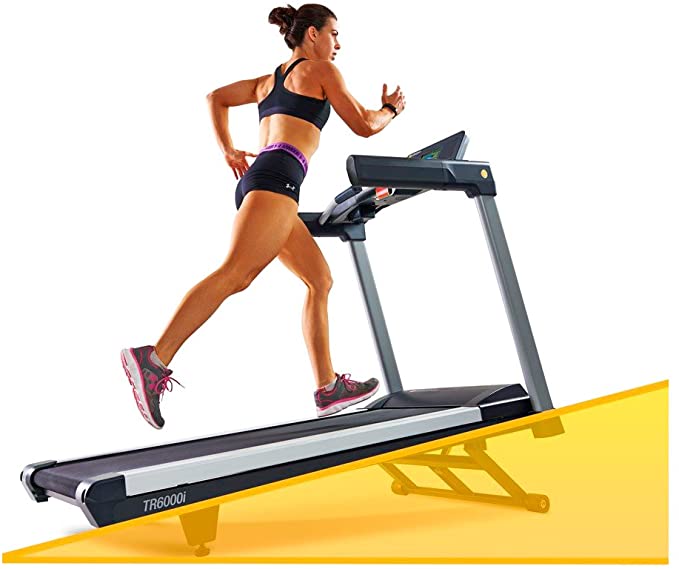 Higher capacity also indicates heavy-duty frames, which means you will get a stable and well-built unit. With dimensions of 74.5″ L x 35″ W x 55.5″ H, it does occupy considerable space.
It does not fold, and if you are planning to save space, you should look for other folding treadmills. However, it does feature wheels if you want to move it to a less utilized space after using it.
This treadmill has impressive roller specifications with 3" at the front and 2" at the back. Rollers play an important role in preserving the life of the motor and belt, which are the major parts that tend to wear.
Seasoned runners and marathon trainers who like to excel at their sports find this treadmill apt for every need. Even a beginner finds it easy to use due to its speed adjustability and various incline levels.
Though you just got a glance at what TR6000i offers, knowing it more in detail will provide you better insight if it suits your fitness needs. Also, it will help you understand this low-impact treadmill closely so that you know every small detail.
Before we begin the in-depth journey, just a short note about the LifeSpan brand, which produces TR6000i, this company started producing fitness equipment in 2001, meaning it has two decades of experience in these products.
They prioritize user's needs rather than adding glam to their machines which allows them to sell them at a fair price. This exceptional motto of well-balanced production did earn them several awards, indicating that their efforts were successful.
The functioning and performance of these machines are well-reputed and became the first choice of most home and commercial fitness equipment buyers. So, let us get into the review of TR6000i now.
Pros
Motor power of 3.5 CHP, which runs on AC power, is efficient and durable.
Comfortable running surface with extra space and admirable shock absorption system.
Large rollers reduce the stress on the motor and help in enhancing the life of the machine.
The 13.5 mph top speed makes this treadmill suitable for beginners to professionals.
The 13 incline levels and 3 decline levels are helpful to perform intense training exercises.
Brilliant safety features keep you and your loved ones safe.
Wireless chest strap provides accurate heart rate measurements.
Contact pulse heart rate monitoring sensor system is easy to use.
The maximum weight capacity of 350 lb. allows multiple users.
The 46 preprogrammed exercise routines support targeted training.
Bluetooth speaks facilitate you to enjoy music while you work out.
Cons
The console is multi-colored but not touch screen.
It does not provide a separate residential warranty which could be advantageous to home users.
You cannot fold it after using meaning it occupies a lot of space all the time.
Running Deck
The running surface determines the comfort level of using a treadmill. First and foremost, the important thing about the running deck is its size. It should be long enough to accommodate tall users and wide enough to move your body freely with some wriggle room.
As TR6000i comes with a belt size of 22″ x 60″, you are more than comfortable in the aspect of space. However, few other factors make the running surface top-notch in comparison to other LifeSpan treadmills.
The 8 shock absorption setups that are independent and offer the best compression to reduce the impact on your knees are suitable even for sensitive joints. The deck is made from a 1" heat-resistant phenolic material that gives you an experience similar to the real-world setting.
Its large enough running surface and the heavy-duty belt equipped with an excellent shock compression system are mention-worthy about the running deck of TR6000i.
Motor
Treadmills depend on motors to move the belt, meaning the smooth functioning and quiet operation of the machine are dependent on this engine.
The motor directly impacts the performance of a treadmill, and it also determines the quality of the machine. A stronger motor is capable of producing higher top speeds than treadmills with weak motors.
A high CHP motor can work smoothly even when you vary the speed, last longer, operate efficiently and exert less effort despite working for long hours at intense speeds.
The range of CHP for home treadmills varies between 2.0 to 4.0, where 2.0 CHP is the weakest and useful only for walking and jogging. As the CHP increases, you can include light exercise and little running.
Only when your motor power is more than or equal to 3.0 CHP can you think of regular running on your treadmill. This machine has a 3.5 CHP motor and can achieve a 13.5 mph top speed, making it suitable even for professional trainers.
Another important factor about motors is that the home treadmills are generally equipped with a DC motor, while an AC motor is designated for commercial motors as they are costlier.
However, the TR6000i comes with an AC motor that makes it efficient for prolonged usage and does not heat up easily at an amicable price.
In short, it is an aptly priced machine with immense power and excellent performance due to its massive AC motor with 3.5 CHP that can attain 13.5 mph top speed.
Speed
As already mentioned, you get a powerful motor with this treadmill that allows you to reach 13.5 mph maximum speed. This speed is plenty enough even for sprinters for performance improvement.
Since this machine comes with multiple speed settings, you can utilize them to tune the machine for optimal performance.
Incline and Decline
There are 13 incline and 3 decline level options present in TR6000i. The incline options challenge you uphill, and the steeper you go, the higher is the challenge.
Similarly, the decline option trains you for downhill action. When you practice using a downhill setting, you will be completely trained for a hike, trail run, or any race.
Features
The TR6000i has impressive features that any user would want in a treadmill. Though one or two of them are not totally up to the mark, it does have several first-in-class facilities to give you the ultimate workout experience.
LCD: Though not a touch screen, this treadmill does feature a multi-colored display that offers vital data about your fitness. It can show distance, calories, time, speed, steps, incline level, heart rate, elevation change, and pace, which are important to understand your performance level.
Built-in programs: You get a total of 46 programs onboard that are preset based on various themes of focused fitness goals. They are categorized for achieving performance training, healthy living, and weight loss.
Rockport Fitness Test: The timed 1-mile walk exercise is designed by experienced physiologists experts in exercise science and is known as Rockport Fitness Test. Beginners find this test useful as they can estimate their fitness level easily using it.
Navy Fitness Test: This test is evaluated using the timed 1.5-mile navy run, including sit-ups and push-ups. Advanced users use it to check the improvement in their fitness levels from time to time.
Intelli-Step™: This feature starts counting your steps automatically as soon as you step on the treadmill belt and works just like a pedometer.
Intelli-Key™: The Intelli-Key™ feature helps in using the console effortlessly by illuminating the sequential buttons. It simplifies your operation during program selection by offering prompts that will guide you through the setup or selection.
Intelli-Guard™: The automatic pausing of the treadmill belt after 20 seconds of stepping off the machine is one of the safety measures provided by LifeSpan brand for most of their equipment using Intelli-Guard™. This feature ensures the safety of kids and pets.
Bluetooth: Playing your favorite beats can have a motivational effect on you. Using TR6000i, you can connect wirelessly to your Bluetooth supporting devices and can enjoy music or podcasts uninterruptedly as you burn those calories.
USB: The USB socket allows you to recharge your devices or to copy the fitness-related data into a thumb drive for further analysis.
Heart Rate Sensor: The contact sensors or the chest strap are used to measure the heart rate. Contact sensors operate by reading your pulse when you grip the handlebars where these sensors are located. The chest strap provided with this treadmill is more accurate in reading your heart rate than the contact pulse sensors.
Media Holder: The media holder is placed just in front of your console to use your tablet or smartphone for entertainment. Here you need to compromise by settling for only one view, i.e., either your device or the console, as anything placed in the media holder will block the LCD.
Assembly
The easy-to-follow instructions given in the manual make your assembling process a breeze. It is so efficient and straightforward that even persons with no prior experience with such settings can do it.
The clear images come with well-explained directions that the users will never have to keep wondering if they are doing it right. Though the assembly of TR6000i is pretty simple and can be done by a single person, unpacking and moving it around is a hefty task.
This treadmill weighs 242.5 lbs, so having another person help you in moving the machine to the designated spot, the rest of the assembly part is no sweat.
As most of the machine comes preassembled, you just need to add covers, attach the console and tighten few screws where necessary. You can complete this whole process in less than an hour.
Warranty
The commercial warranty for T6000i offers 5 years on frame and motor as well as 1 year for the parts and labor. Compared to the other LifeSpan treadmills where you usually get a lifetime warranty, the 5-year warranty does seem insufficient.
However, this is a commercial warranty and is incomparable to residential warranties. Nonetheless, not providing a separate residential warranty is disappointing for such a well-equipped machine.
Though this machine is of commercial grade, many home users, especially elite trainers, prefer it for its power. So, LifeSpan should consider adding a residential warranty to this model for the sake of such users.
The Verdict: Who Is LifeSpan TR6000i Treadmill For?
This light-commercial machine comes at an amicable price, and home users prefer it for the power and price value it offers. Especially those who are interested in serious running find it highly useful as it offers a powerful motor of 3.5 CHP.
Also, the big deck size of 22″ x 60″ and a large weight capacity of 350 lbs makes it suitable for tall as well as heavy users equally. The belt material is durable enough for heavy-duty, so even rigorous cardio workouts are possible on this unit.
The top speed of 13.5 mph is commendable as it is rarely achievable by home treadmills. With this sprinting treadmill, you can train for sprints or marathons easily at home.
In conclusion, if you have enough space and the warranty does not bother you, then this is the powerful treadmill you can ask for an in-home range that caters to all your walking and running needs beyond any doubt, along with high durability.
Read Also: