When you buy through links on this site, I may earn an affiliate commission at no extra cost to you. Learn more
LifeSpan is a well-reputed exercise equipment manufacturing company popular for its extensive range of durable, high-performing, and affordable treadmills. There are numerous treadmills manufactured by this company, each of the models offering their unique features and excelling in a good performance.
Below is the range of treadmill options available at LifeSpan that helps you choose your preferred model after looking into all necessary features.
LifeSpan Fitness TR1200i Folding Treadmill—Best Budget Options
If your primary requirement is a multipurpose and affordable treadmill that ticks various requirements, the TR1200i model is a great choice. LifeSpan has done a commendable job incorporating various features.
The running area is standard with 20 inches by 56 inches running deck, and it's long enough for most walking and running strides. A 2.5 CHP motor is good enough for providing the needed power for going for long jogs and walks. For those who love challenging themselves, the treadmill keeps you challenged with its 15% incline and top speed up to 11 mph.
Versatility is achieved in this treadmill as you get to experience 20 preset workout programs that include two customized programs. There is provisioning to choose from three different intensity levels for any of the preset programs.
What's the use in training so much if you can't follow up on metrics? The TR1200i helps you keep track of workout data by saving it to a USB—you can check the data anytime and make appropriate changes to your workout routine and diet to achieve planned exercise goals.
Pros
A motorized 15% incline provides challenges to your workout.
The maximum user weight limit is 300 pounds.
Foldable, and hence, a space-saving model.
It is a lifetime warranty on the frame and motor, three years on parts, and one year on labor.
Adjust workout intensity easily using controls present in the handlebars.
Music-friendly with speakers, a headphone jack, and a smartphone port.
Cons
No fan available to help you stay cool.
Data tracking service comes at a subscription fee after the first four months.
Check the Price on Amazon
Check the Price on LifeSpan Fitness
LifeSpan TR2000e Electric Foldable Treadmill
The TR2000e model is extremely easy to use, but the manufacturer hasn't compromised on achieving the machine's durability. The running area of this electric folding treadmill measures 20" x 56", which is shorter than the industry gold standard of 20" x 60". However, the deck is equipped with 8 independent impact-absorbing bumpers for extra cushioning and joint support, which is not common at this treadmill price range.
This low-impact treadmill comes with 17 built-in workout programs that allow you to add variety to your running routines. And the easy foldability helps save ample space and enhances comfort.
The 2.5 CHP motor is average and serves your walking and jogging goals. The top speed possible on this treadmill is up to 11 mph, and the incline ranges between 0 and 15%, making a big difference to the calorie burn process and toning different muscle groups.
Using good workouts available, this treadmill, just like every other LifeSpan treadmill, comes with a free Club membership. Using this membership, you can store and sync workout data using the console area.
There's a lifetime warranty on the frame and motor, five years on parts, and one year on labor.
Pros
Affordable price for the durability and convenience provided.
Heart rate monitoring option available.
The treadmill makes a note of every step taken using the Intelli-Step option.
A USB port saves workout data.
Free workout apps.
The maximum user weight is 300lbs.
Cons
The 2.5CHP motor is quite unsuitable for intense training requirements.
Absence of fan.
The running area is of standard size.
Check the Price on Amazon
Check the Price on LifeSpan Fitness
LifeSpan TR2000i Folding Fitness Treadmill
The TR2000i model is the perfect blend of convenience, quality, and robustness with the provisioning of all-metal components. LifeSpan TR2000i treadmill is an affordable model in LifeSpan's lineup. The dimensions of the treadmill are 70.7″ x 32.9″ x 55.7″, and the running belt size is 20″ x 56″. The footprint is a bit bulky, and the running area is a bit smaller.
Coming with a 2.5 CHP motor and built with steel components, the treadmill is best suited for walkers and light joggers. Feel free to work out any time of the day as the motor is noiseless and comes with minimum vibration.
The maximum speed possible on this machine is 11 mph (start from 0.5 mph), and the incline options are between 0 and 15%., making this folding treadmill a strong competitor to meet your fitness needs.
Choose from any of the 21 preset workout programs, each of which is custom-made to fit your exercise goals such as fat burning, cardiovascular health, and overall health.
If you lack space, don't hesitate to choose this piece of equipment, as it can be easily folded and unfolded using the EZfold hydraulic interior system.
The bright 7" touchscreen console is a treat to your eyes with a full-color display and shows details of calories burned, speed, distance covered, and other important metrics. This makes it easier to track your progress and motivate yourself.
Pros
The maximum user weight capacity is 300 lbs.
8 compression shocks avoid any injuries or strain to your knees and hips.
Foldable with EZfold technology.
A 7-inch full-color touchscreen is attractive with a 3 display screen.
Built-in Bluetooth provisioning.
21 preset workout programs.
Cons
A standard size running deck.
Too bulky.
The center console isn't fully foldable.
Check the Price on Amazon
Check the Price on LifeSpan Fitness
LifeSpan TR3000i Touch Folding Treadmill
You can be of any fitness level, but the LifeSpan TR3000i model serves all of your needs helping you lose weight, become fitter, and improve cardiovascular health. The treadmill takes up space of 71″ L x 33″ W x 56″ H and the running area measures 20" x 56".
Use any of the 17 built-in workout programs that include five fat-burning programs, five health-target programs, and a couple of programs customized as per your needs. Change between three intensity levels on any of these preset programs with the incline options ranging between 0 and 15% to add more challenges to your workouts.
Go up to a maximum speed of 12mph and adjust intensity levels per your convenience. The 2.75CHP motor supports all of your exercise endeavors regardless of the speed, incline, and intensity options are chosen.
Combine entertainment with exercise by using your smartphones in the console. This machine is also suitable for people weighing up to 350 lbs, thereby making it a smart choice for families.
Pros
Motorized 15% incline.
Commendable belt quality minimized impact on your knees and hips.
A space-saving model that's foldable using the EZ-Drop system.
A lifetime warranty is offered on the frame and motor, five years on parts, and one year on labor.
Good motor power.
Cons
Standard running deck.
Heavy individuals (weigh over 350 lbs) might feel that the treadmill is not much sturdy.
Check the Price on Amazon
Check the Price on LifeSpan Fitness
LifeSpan TR4000i Treadmill—Best Folding Treadmill for Serious Runners
Here is one of the sturdiest pieces of exercise treadmill that come with a solid steel frame and an extensively thick 60-inch running track that guarantees better performance than other treadmills in the LifeSpan's lineup. The space this treadmill takes up is 74.25″ L x 33″ W x 55″ H.
The 3.25 CHP motor is powerful and supports your serious running without producing any noise. Another highlight of the LifeSpan TR4000i treadmill is its reversible running deck that prolongs the durability of the treadmill.
Make use of the 21 preset workout programs that include cardio fitness, weight loss, sports training, and more options.
You can easily monitor your progress using the 6-inch LCD that displays important metric details such as time, calories burned, distance, speed, and more. Besides tracking, you can also transfer all the required data to any desired fitness app or save it to a thumb drive.
Moreover, you can intensify fitness levels using the motorized incline option available (0-15%) and the speed variation of 0-12mph.
And the maximum safety is guaranteed by the IntelliGuard safety feature that will pause immediately if you step away from the machine for 20 seconds. If you have issues with your knees, don't worry about straining your joints, as the treadmill assures maximum shock absorption capabilities.
Pros
Maximum user weight capacity is up to 350lbs.
Strong and extremely durable.
EN957 and UL-certified for superb safety.
A tablet holder and USB port are provided.
Three different intensity options can be used for preset workouts.
Smartphone-compatible audio jack and sound system.
Cons
Though foldable, the treadmill occupies much space when in use.
Check the Price on Amazon
Check the Price on LifeSpan Fitness
LifeSpan TR5000i Non-Folding Treadmill
The TR5000i treadmill is here to satisfy residential and commercial use and is one of the two commercial-quality treadmills from LifeSpan.
The 20" x 60" running deck is suitable for running, walking, and jogging. The two-ply treadmill belt is extra thick (2.5 mm) and is running on wide rollers.
The speed of this folding treadmill varies from 0.4-11 mph, and the motorized incline from 0-15% helps you choose any of its built-in workout programs available and perform them in three varying intensities. The treadmill comes with 17 workout profiles covering all important fitness aspects such as weight loss, cardio fitness, healthy living, and sports training.
This 230-pound treadmill's e maximum user weight capacity stands at 350 lbs. Motor power is important for the optimal functioning of any treadmill, and the 3.0 CHP motor capacity assures the optimal performance of the machine in a noiseless way. Moreover, the motor has a lifetime warranty.
The LifeSpan TR5000i treadmill should more than satisfy any walker or avid runner with these versatile features included.
Moreover, this treadmill comes with a five-year commercial parts warranty and a seven-year residential parts warranty.
Pros
A lifetime warranty on the frame and motor, five years on parts, and one year on labor.
Spacious running deck.
Motorized 15% incline.
Two speakers help you listen to your favorite music.
Powerful and noiseless motor.
Cons
Not foldable.
Absence of fan.
Basic console.
LifeSpan TR5500i Folding Treadmill
The LifeSpan TR5500i is a durable and folding treadmill for avid runners and marathon trainers. The best features of the LifeSpan TR5500i treadmill include its 13.5 mph top running speed, 4.0 CHP motor, a built-in step counter, a 2.8 mm-thick belt with extra width, -2% to 13% incline, 43 preset programs, and Bluetooth for data exporting.
The speed range is from 0.5 to 13.5mph, which is way above than most treadmills in this category. It also arrives with five different speed buttons helping you rapidly change the speeds anytime.
Hence, you can use the machine for all your running requirements, such as sprinting, marathon training, and other long-distance running training. And the spacious running deck of 20 inches by 60 inches supports your exercise goals in every way possible.
Change incline levels from -2 to 13% and cool yourself using the cooling fan available after performing any challenging workouts. With both incline and decline levels, you are ought to enjoy your rigorous cardio workouts and reap greater benefits.
The IntelliGuard safety features guarantee both your and the machine's utmost safety, and the 350 pounds maximum user weight capacity makes it a suitable choice for different individuals.
Pros
Tablet holder provisioning.
A USB port helps in transferring data.
Audio jack and speakers.
Lifetime warranty on the frame and motor, five years on parts, and two years on labor.
-2 to 13% incline.
Shock absorbing provision protects your joints.
Spacious running track.
Cons
The console is basic.
Heart rate monitoring needs to be purchased at an additional cost.
Update: Lifespan no longer offering the TR5500i as they have sold out and the TR5500iM will be taking over. It is a newer model!
LifeSpan TR6000i Light-Commercial Treadmill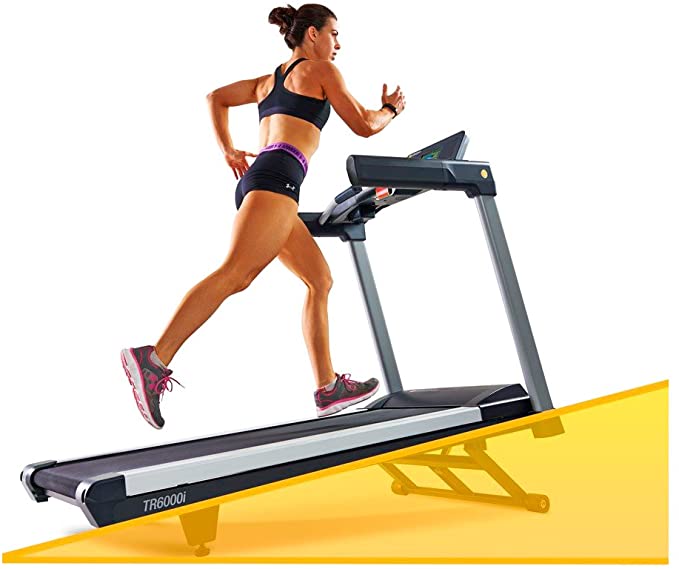 One of the most reliable heavy-duty treadmills, the TR6000i model, is recommended for any fitness purposes such as walking, jogging, running, even sprinting. The running deck is large and spacious—22 inches by 60 inches—making it a worthy piece of running equipment for tall individuals with a long stride length.
Moreover, the presence of eight compression shocks minimizes impact on your joints, and you can make use of any of the 46 preset workout programs to achieve your fitness goals with the lowest impact.
A powerful and noiseless 3.5 CHP motor assures the treadmill's good performance at any speed from .5 to 13.5 mph and inclines levels from -3 to 13%. You can use the non-slip handlebars that come equipped with buttons for adjusting speed and incline levels.
Featuring 46 onboard programs, a Navy Fitness Test, a Rockport Fitness Test, Intelli-Step™, Intelli-Key™, and Intelli-Guard™ technology, this non-foldable treadmill guarantees versatile performance.
It has a 6-inch multi-color LCD that allows you to track workout progress, such as calories, distance, steps, heart rate, speed, incline level, pace, etc.
Pros
A lifetime warranty is offered on the frame and motor.
Incline and decline provisioning.
The maximum user weight capacity is 350 lbs.
3.5 CHP powerful motor.
Built-in speakers and audio jack.
Bluetooth capability.
Cons
Not foldable.
No cooling fan.
LifeSpan TR7000i Commercial Treadmill
The TR7000i model is the most advanced treadmill from the house of LifeSpan and boasts commendable features such as a spacious 22" x 62" running deck, a 15% motorized incline settings, 21 versatile workout programs, and a high 400 lbs weight capacity.
It is equipped with a 3.5 HP AC powerful motor aids in performing any workout programs for individuals weighing up to 400 pounds.
This light-commercial treadmill allows you to run at any speed between 0.5 and 12 mph on its spacious 22" x 62" deck. 8 shock absorbers are present on the reverse side of the deck and hence, keep your joints safe even when exercising vigorously.
You can enhance your exercise challenges by using the motorized incline that supports up to 15% of the incline. By doing this, there are higher chances for muscle toning and increased metabolism levels in your body.
There are 19 preset workout programs for healthy living, weight loss, cardiovascular health, sports performance, and more. And it also has two user-defined programs. 
Your workout data will be recorded and show in the 6.5″ LCD with blue backlighting. It shows some essential metrics such as running time, calories burnt, running distance, steps, heart rate, speed, pace, incline, and more, allowing you to track your progress and motivate yourself.
Pros
Ability to monitor heart rate using contact grips.
Charge your electronic gadget using USB port provisioning.
A lifetime warranty is offered on the frame and motor for residential use.
Listen to music using dual speakers.
A spacious running deck.
A powerful motor that supports a maximum user weight of up to 400 pounds.
Cons
Absence of a cooling fan.
The unit is not foldable and occupies ample space.
Check the Price on Amazon
Check the Price on LifeSpan Fitness
LifeSpan TR8000i Commercial Medical Treadmill
The LifeSpan TR8000i model is one of the best durable treadmills for both commercial and resident use, designed especially for use in the medical or rehabilitation setting, offering unmatched quality and a wide range of features. This commercial-grade treadmill is a bit bulky, measuring 81″ L x 39″ W x 61″ H, and it is non-foldable.
Highlights include a full-length medical handrail, excellent-grip polyester PVC running belt, and a spacious running deck (22" x 62") that supports the running needs of tall and short individuals.
The top speed possible on this machine is 12 mph, and it comes with a 12% incline provisioning and a -3% decline provisioning making it a versatile choice for working out multiple muscle groups.
The belt is also reversible with a maximum speed of up to 3 mph, making the machine ideal for rehabilitation use and medical purposes peacefully.
Surprisingly, the 500 lbs maximum user weight is beyond that offered by most treadmills in this category. To support this, the treadmill comes with a 5 CHP powerful motor that promises durability, noiseless performance, and superb longevity.
You can follow up on your progress by saving all your data using the built-in USB port to collect exercise-related information.
LifeSpan TR8000i comes with a 10-year warranty on the frame, a 5-year warranty on the motor and parts, and 1 year on labor.
Pros
A powerful motor of 5 CHP.
Incline up to 12%and decline up to -3%.
The maximum user weight capacity is 500 lbs.
The running deck is spacious and well-cushioned for tall and heavy people.
A medical-grade treadmill provided with a non-slip surface belt and full-length handrails.
The reversible belt for rehabilitation use.
Built-in Rockport program helps assess your fitness levels and set necessary targets.
Cons
The warranty of the treadmills in this price range isn't impressive, and it should come with at least a lifetime warranty on the frame and motor.
Though the console has an audio jack and media holder, there are no in-built speakers.
Read Also: