Wrist wraps are excellent exercise gear that aid in providing stability and support to the individual—especially when you do CrossFit or powerlifting.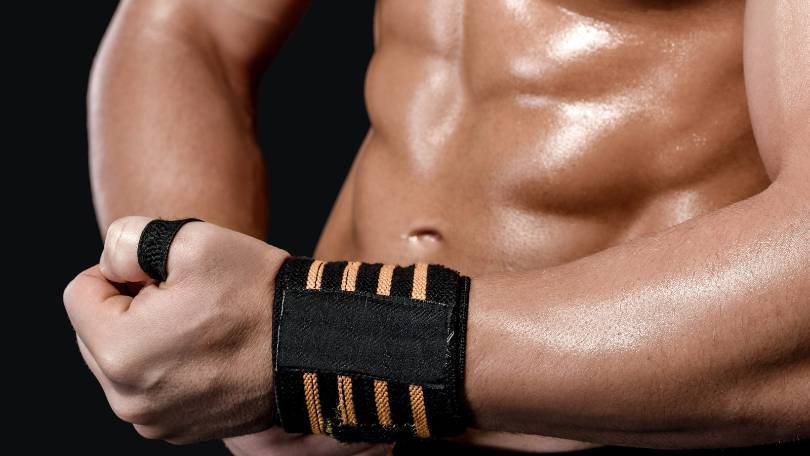 But remember, these are not shoes or socks that are worn by default before starting an exercise session.
Using a wrist wrap when needed and putting them on in the correct way provides ultimate benefits.
A wrist wrap could be made of different materials such as cotton or leather, each serving a different exercise purpose.
Individuals love stylish accessories that enhance their personality—color choices do hold priority while selecting a model.
There are different companies manufacturing wraps with different designs on them, including the American Flag as well.
Which are the best wrist wraps with American Flag?
In a hurry? Here are our top 4 picks. You can see the overview, pros & cons, and features below.
But if you want to know how to choose a right wrist wrap, just keep reading.
How To Choose Your Ideal Wrist Wraps
A wrist wrap is not a mandatory exercise gear and purchasing it depends 100% on the user.
But, it is necessary to remember that using them in the right way protects the small bones, ligaments, and nerves in your wrist, boosting your overall workout experience.
But not all wrist wraps are equally talented in offering maximal advantages to the user.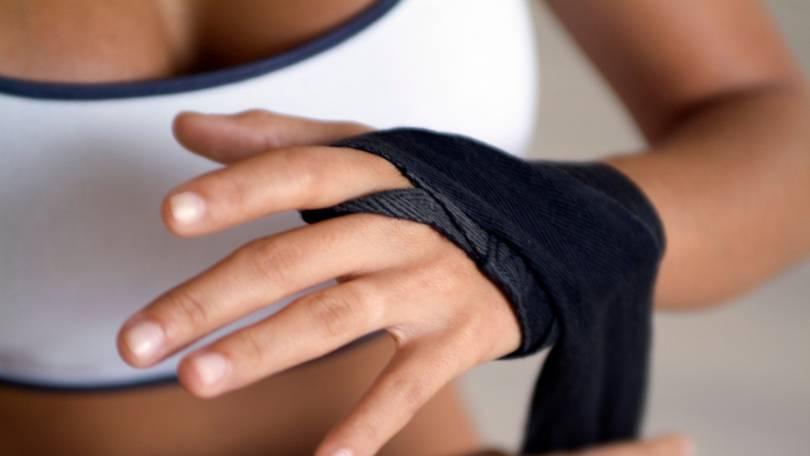 It depends on us to choose the best wrap for 100% benefits.
Before buying any wrist wrap, do remember the following:
1. Ease of Use
We need to buy a product that could be handled single-handedly by the user.
Wrist wraps such as loop straps that are made of leather or cloth don't stay in close contact with the wrist.
You have to wrap the cloth on your wrist and then on the bar using only one hand every time you start your exercise session, which is not easy.
Whereas, wraps that have velcro are easy to wrap around the wrist and also remain tightly in place all through the workout.
2. Purpose
What's the key purpose of wearing a wrist wrap?
Protection from injury, ability to lift heavy weights, or holding onto a bar?
Wraps that have attached hooks snug onto a barbell or pull-up bar comfortably.
Some wrist wraps maximize your strength and support to avoid injuries to the wrist.
Choose a model depending on your purpose.
3. Material & Handling Ease
It is always preferable to choose a wrap that sits tight on the wrist without moving up or down during workouts.
Also, will you be able to fit the wraps in the wrist with one hand easily?
For those who are bulkier or too thin, it is required to ensure that the model that you purchase is adjustable on different hand and wrist sizes.
Markings on the wrap that specify left or right hand are much easier to use and save time.
Above all, the wraps must be made of good quality material and design that promote stability and strength to the user while exercising.
Top 4 Best Wrist Wraps with American Flag
Every brand has its unique design and material used, which highlights the specialty of the product.
Given below are our top 3 picks.
If you are seriously into CrossFit training and weightlifting, be sure to purchase the RIMSports wrist wraps as these are made using the highest quality materials that guarantee longevity.
Normally, the stitching might wear off while lifting heavyweights.
But you need not worry about any of these as the RIMSports wrist wrap is made of premium stitching.
Tightness is possible by strapping up the velcro in your hand.
The presence of an extra-wide velcro gives individuals the perfect fit and grip while wearing the gear.
The velcro is adjustable as per your desire and is easy to maintain, too being washable by machine.
The company guarantees 100% quality and durability as every wrist wrap manufactured undergoes rigorous testing in extreme conditions to check their tenor and strength.
These wraps serve a dual purpose—as weightlifting wrist wraps and support straps offering maximal support while doing heavyweight exercises.
Be sure of achieving new PRs while doing shrugs, bench press, overhead or shoulder press, and other wrist-related gym workouts.
For easy insertion and removal, the wrist wraps come with a thumb loop to ensure that the wraps snugs fit in your hand without any haphazard placement of the velcro.
The design and material used surely guarantee the elimination of pain when lifting heavy weights protecting the wrist from injury.
Pros
Made from the highest-quality material
Fits snugly
Excellent gear for X-Fit, bodybuilding, pushups, powerlifting, burpees and planks
Enables symmetrical wrapping
Affordable
Cons
Long velcro that makes it uncomfortable for certain users
Are you a fitness freak who loves to try innovative exercises or improve resistance with greater weight lifts every couple of weeks?
Wear the Bear Grips wrist wrap to experience maximum flexibility to achieve A1 performance without the strain and pain of injury or discomfort.
The wraps are triple stitched that guarantee longevity, come with dual elastic protectors, high-quality thumb loop that doesn't slide off your thumb, and guarantee perfect closures.
Individuals can be guaranteed of lifting an extra 5-10 pounds of weight in their very next weightlifting session with Bear Grip wraps.
These are designed to keep your wrists at optimal lifting angles to benefit different muscle groups and elevate muscle output.
Quality is a guarantee with this brand as improvements are constantly made from batch to batch to suit the needs of the buyer, fixing any defects (if any).
Be assured of multipurpose use as the wrap can be used in the gym, CrossFit training, boot camps, or weightlifting and equally good for relief from injury and pain, even to provide relief from Carpel tunnel syndrome.
Get geared up to stylishly wear a flashy pair of American flag design wrist wraps on your next training session—don't shy away from the attention that you receive, the stability that you experience, and the comfort that you would relish so much that you will never workout without them after that.
Pros
Versatile
High-quality thumb loop and triple stitch guarantees assured durability
Multipurpose used
Ideal for all types of users
Cons
Elastic is not durable
Don't expect longevity
Are you looking for a wrist wrap that never rips apart whatsoever might be the weight that you lift?
It could be none other than the All-American Olympiada wraps that stands tall with the brand highly valued for its use of durable material, extremely sturdy stitching, and 100% guarantee against any manufacturing defects.
One look at the wrap, its logo, and the material used convinces any buyer to purchase it immediately.
The wrap comes with a thumb loop for added protection, and the entire product is made of heavy-duty material that offers long-lasting benefits.
Gift your loved one with a pair of Olympiada wrist wraps to protect their wrists against hyperextension injuries while performing a bench press, shoulder press, deadlifts, and more.
Wearing a watch against your wrist creates an impression on the skin when it is used for a prolonged time.
Then what damage can a wrist wrap that's tightly wound around your skin do? Don't worry!
The Olympiada wrist wrap ensures that there is no cutoff circulation impeding blood flow. In essence, this is because you can make any adjustment (tighten or loosen it) that's desired for a comfortable wearing experience.
Get involved in some serious heavyweight lifting, gym, or even revive from an injury with this wrap that guarantees a pain-free experience while exercising.
Pros
Excellent stitching & high-quality material that promise durability
Comfortable to wear
No worries about cutoff blood circulation
Fits even the bulkiest wrists
Assured replacement guarantee
Cons
Quite long wraps for the normal user
Some individuals love to use accessories and gears that shout out masculinity while many others look for a stylish product that boosts their personality.
The Gripad wrist wraps boast of elegance and sleekness.
Durable cotton is used in this elasticated wrap with a convincing velcro grip that assures comfort and snug fit on the user.
The soft cotton fabric and high-quality velcro protect your attire.
The manufacturers provide inverted hook and loop closure to assure that the wraps don't spoil your clothing by sticking onto them.
Wear them for safeguarding the wrists against injury or pain while doing pressing or pushing-related exercises as the gear ensures maximum stability and strength to the wrists.
This set of wraps are personalized for each hand-right and left.
But don't worry as they come with an easy indicator for either hand.
All that you have to do is to insert the thumb loop that's designed to fit numerous hand sizes.
The gear is easy to put on and much easier to remove with the help of the rubber puller.
Each wrap measures around 12 inches and is only 3 inches wide, making them one of the compact wraps available in the market.
At the same time, they are indeed stretchable and good enough to fit all wrist sizes.
Pros
Maximize exercising efforts by lifting heavy weights without any pain
Right and left hand indication present
One-size-fit-all product
Keeps the gear exactly in the same position as wrapped
The wraps made of durable cotton are fully adjustable
Cons
Wraps sometime tend to slide up or down
Quite tough to balance at the right position
Final Thoughts
Extract your full exercising potential by wearing wrist wraps that protect your wrists against injury.
Challenge yourself by lifting heavy weights without having to worry about bone, muscle, or ligament injuries with a wrist wrap.
But all these are possible only when you buy the right wrist wrap that's made of good-quality material that serves the purpose of use.
Choose the right product to benefit from using it.