When you buy through links on this site, I may earn an affiliate commission at no extra cost to you. Learn more
Among the costliest list of home gym equipment were the rear-drive elliptical. But what are rear-drive elliptical trainers?
Unlike the standard elliptical machines, the rear-drive ellipticals are the kind of elliptical trainers whose flywheel (drive system) is located in the back of the machine and behind the users.
The design of rear-drive elliptical machines offers the possibility to adjust the incline easily, either automatically or manually, a more smooth joint-friendly motion, and better adjustable resistance that supports full-body training, compared to other types of trainers.
A rear-drive elliptical trainer is also a piece of low-impact cardio equipment that doesn't affect your joints and lower back when you are either walking or running.
In this article, I will help you find the rear-drive elliptical with a 13-24 inch stride length to consider the price and performance.
In a hurry? Here are my top 7 picks of the best rear-drive ellipticals:
See the overview, pros & cons below.
How to Choose the Best Rear-Drive Elliptical Trainer for Home Use
A couple of important factors must be considered when you plan to buy a rear-drive elliptical trainer.
#1. Type of Elliptical Trainer
It's no surprise that exercise lovers choose the rear-drive elliptical trainer without hesitation, but this doesn't mean that other trainers are not worthy.
Whatever might be your choice of the elliptical trainer, ensure understanding your goals well, and get to know the benefits of every type of trainer available. You can choose between front drive and rear drive ellipticals.
A front-drive elliptical gives you the same feel as climbing stairs, but you don't get to experience the natural feel here, unlike the rear-drive elliptical.
Still, your choice of trainer depends solely on your preferences. Some of you might feel that the front-drive elliptical is more comfortable than the rear-drive elliptical.
For some others, the front-drive type might make them feel uncomfortable as they are required to lean forward and perform the exercising action.
The side-to-side elliptical trainer might be suitable for those required to stand upright and train.
#2. Budget
Your budget is a crucial choice. If you have a lower budget, it eliminates various models with additional features that provide a great value-addition in terms of functionality and exercise performance.
Some cheap ellipticals might not be made from good-quality material, which means they don't last long. Even if they last long, they might require profound maintenance and repairs.
If you have a low budget, it is better to go for a center drive or a front-drive elliptical, and generally, all types of ellipticals are cheaper than a rear-drive elliptical.
#3. Body Type
Ellipticals come in all sizes, big and small. Your body type is a vital factor in helping you decide the type of trainer that you buy. For instance, a big elliptical trainer is not suitable for a small body type. If you have a small body type, I recommend that you purchase a small and compact machine with a shorter stride length.
But a small elliptical trainer is not suitable for you if you are tall and big. If you fail to choose a suitable size elliptical, you might be too big for the machine, and then you should find elliptical machines with a longer stride length, which typically are more suitable for tall and big persons.
#4. Floor Space Availability
In today's world, most of our houses are compact and small and hence, they might not be suitable to fit all types of training machines.
So, even before you start looking for models, the first thing that you must do is to measure your available floor space.
Generally, a rear-drive elliptical occupies more space than other types of elliptical trainers. Still, don't decide upon the best type of elliptical for your use, depending only upon your floor space availability.
Equipment manufacturers are constantly trying to improvise on every equipment's design and compactness. Contemporary machines are becoming smaller and compact, varying between models.
If you like a front-drive elliptical but suffer from minimal home gym space, look out for the best rear elliptical trainer that's compact and best to use for your space.
Top 7 Best Rear-Drive Elliptical Trainers
Now that we know the most important features that make any model a worthy purchase let's look at the top 7 best rear-drive elliptical trainers available in the market.

Adjustable stride: 21.1 -24.7 inches
From a well-known brand for its quality and performance, the EFX 576i is one of the best rear-drive ellipticals recommended for any trainer.
Being a commercial grade trainer, the elliptical hands are movable, and hence, you can expect to benefit from an efficient workout exercising on this machine.
Whatever your goal might be, weight loss, general health, or toning, it is possible to achieve them all as the trainer has a stride length of 24.7 inches.
Besides this, the EFX 576i also boasts of an inclination up to 40 degrees that's way ahead of many other trainers in this category, which can incline only up to 10 degrees.
Are you a beginner trainer, intermediate, or advanced trainer? The machine has got something to offer to all, as it comes with 20 different resistance levels and 14 preset programs.
You even have three cross-training and handheld heart monitor, which helps you gain real-time information about your heart rate measures. This helps you determine the progress of your workouts.
Isn't it necessary to have a well-designed console that provides you with all types of information to check your progress? The machine's console is user-friendly, providing you with all types of information that you need.
Keep track of your fitness-related progress and also realize where you stand concerning your goals by monitoring the console.
Pros
Inclination up to 40 degrees
The stride length of 24.7 is suitable for all types of trainers
350 pounds maximum user weight capacity
7 years warranty on frame
Handheld heart rate monitoring with wireless monitor compatibility
Cons
Quite a cumbersome machine
The cup holder design is poor
Stride length: 13 inches
You've probably heard fitness experts generally compare ellipticals using their flywheel, and it is only ideal that good-quality ellipticals come with a heavy flywheel.
Though the flywheel does measure the equipment's quality, the stride's length is also a strong determinant of whether the machine would help you achieve your goals.
The Exerpeutic Gold 2000XLST comes with a 13-inch stride, which might not be quite suitable for some being too small. Still, you get to enjoy a smoother performance.
The manufacturer has designed this elliptical with 21 preset workout programs, besides which you also have 3 workout goals that you can select from.
16 magnetic tension levels that make your exercise sessions as interesting and intense as possible. Benefit from challenging workouts that help you fulfill your goals—burn calories, become fitter, and likewise.
The frame and construction are sturdy as heavy-duty steel is used as the primary material, and hence, users up to 275 pounds can use this machine.
Combine entertainment with exercise using this machine as you can connect any of the devices for a fun-filled session placing your smartphone/tablet in the holder provided.
Pros
Heavy flywheel and quiet operation
An optimal console that helps you track your progress
Bluetooth connectivity
Cons
Not very user-friendly
13-inch stride wheel is not optimal for all people
We have a hybrid trainer that's the perfect combination of a recumbent bike and an elliptical trainer. 16 different resistance levels help us to benefit from the various kinds of exercises that you perform.
The stride length is not too great, around 15 inches or so, still good enough for beginners and intermediate trainers.
I won't say that the machine is unsuitable for pro athletes, but if you are an intense trainer, you will find it more comfortable to use a machine with an intensive variable stride length.
If you want some fun elements in your workout routine, you always have the provisioning to plug in the mp3 player or iPod. This way, you would be more motivated to work out harder and reap greater benefits.
You also get adjustable pedals, an inertia enhanced flywheel, and a water bottle holder, which increases your overall exercising experience taking it to the next level.
Despite all these features and dual functionality, the hybrid trainer isn't as expensive as you would expect it to be. Contrarily, it is rather cost-effective.
Pros
Inertia-enhanced flywheel
A hybrid trainer
Small front wheels help you move the machine anywhere
The comfortable seat provided to use the trainer as a recumbent bike
Cons
Stride length is not too great
Assembly takes ample time
Stride length: 18 inches
Are you looking for a rear-drive elliptical trainer that's compact and space-saving so it can fit into your minimal available space? You are lucky here to have one of the best models from a well-reputed brand, NordicTrack, specializing in manufacturing exercise equipment.
This compact NordictTrack trainer helps you achieve a total body workout with its 24 different resistance levels that you can choose from.
So, gear up for as many challenges as you want, as the resistance offered by the machine is great. Also, you get to choose up to a 10-degree incline, depending on your preferences.
If you are concerned about your heart levels while exercising at higher resistance levels, the company has got that covered too. You get built-in heart rate sensors that help you monitor your heart rate while also motivating you to achieve your fitness goals.
The 18-pound flywheel is stable and guarantees a smooth workout experience. Enjoy watching your progress using the 7-inch touchscreen console that displays all important metrics.
The company has stood by its reputation and has provided a 10-year warranty on the frame, 2 years on parts, and 1 year on labor.
Pros
Compact, space-saving, and foldable
Ideal for beginners and intermediate trainers
Easy to use
Heart rate monitoring and a 7-inch console display
Cons
Noisy
Ample complaints regarding the software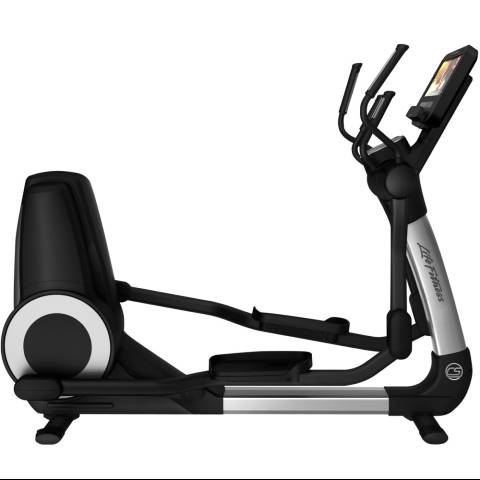 Stride length: 20 inches
Enjoy a gym-like experience in the comfort of your home, making use of the Life Fitness Platinum Club Series trainer as this is a luxury machine from an overall perspective.
A Life Fitness model, a brand whose products can be seen across gyms, is costly but meets the commercial standards and quality.
For the price paid, you get to enjoy the smoothest performance and the most advanced console.
The Platinum Club Series has a fixed 20-inch stride length, a gold standard for home models, as this measurement almost fits the requirement of any individual.
The surprise element here is the 'fixed' stride length, as we would expect an adjustable one when you pay a hefty amount for the elliptical trainer.
The trainer is designed with WhisperStride technology ensuring noiseless operation and a natural movement.
The most admirable feature is the trainer's maximum user weight limit, 400 pounds, and the machine alone weighs around 450 lbs.
Besides these, you get numerous features that come attached with the elliptical, including Discover SE3HD display, 42 workouts, unlimited user profiles, several fitness tests, the ability to change resistance using the touch of a button that's in the moving handlebars, oversized, non-slip pedals, and an integrated accessory tray.
You even get to enjoy telemetry heart rate monitoring even though the chest strap is not included with the product. There are 26 different magnetic resistance possible helping you control the intensity of the workout.
For the price paid, you enjoy the machine's end-to-end assembly, a lifetime warranty on the frame, and 3 years on parts.
Pros
WhisperStride Technology
42 workout programs
Numerous valuable features
16-inch HD touchscreen display
Cons
Expensive
No power incline
The warranty could be longer
Adjustable stride: 18″ to 24″
The E5 model is one of the luxury cross-trainers from Life Fitness that comes overloaded with luxury features.
The highlight among them is the adjustable stride length, which could be changed from anywhere between 18 and 24 inches. This way, tall or short, you would be 100% comfortable exercising on this machine.
Again, just like the Platinum Club Series model, this equipment comes with the patented WhisperStride technology.
If you plan to set this machine in a low-ceiling space, you would be delighted to hear that the step-up height is only 10 inches. You are guaranteed a rock-solid frame and a maximum user weight capacity of 400 lbs.
Concerning flywheel, unlike your regular home gym equipment, you don't get a heavy flywheel, but the E5 is designed with optimal gear ratios.
The machine has 20 different levels of magnetic resistance but doesn't have any provisioning for adjustable inclination.
The E5 model is console-rich—specified activity zones are helping you focus on your upper or lower body specifically, the large and cushioned pedals provide great comfort, you can choose between stationary or moving handles, grip heart rate monitor provisioning, and you get a water bottle holder and an accessory tray too.
Pros
Free assembly
14-28 workout programs
2-4 user profiles
Excellent additional features
Cons
The warranty could be better
Absence of incline settings
Adjustable stride: 21.1 -24.7 inches
This is a top-end elliptical trainer from Precor consisting of award-winning biomechanics and various training programs to support your different exercise targets.
The machine is exclusively designed for lower body workouts than the Precor EFX that guarantees a total body workout.
One of the primary highlights of this machine is the smooth stride that makes it as good as a piece of commercial equipment.
You get an adjustable inclination option between 13 and 40 degrees, and there are 12 different workout programs. The elliptical comes with Precor's patented CrossRamp with motorized control.
The machine is also a boon to the environment as it ensures green operation (self-powered) without using any power cord.
The machine has a LED screen with green lighting that shows the different programs and metrics. You can choose any language of your preference from the languages listed and view the metric stats to track your progress goals.
Pros
Patented elliptical motion
Multilingual display
Low step-on height (8 inches)
Partially assembled
Power incline (20 options)
Cons
Expensive pricing
Stationary armbars
Large footprint
What are the Differences Between Front Drive, Center Drive, and Rear Drive Elliptical Machine?
The first rear-drive elliptical built was smartly patented by the manufacturer, and hence, other companies had to introduce their design. This was how the front and center drive ellipticals were introduced in the market.
If you analyze how each of the types differs from each other, it is primarily because of their stride length, resistance level offered by every model, and their versatility of providing upper body workouts.
Each elliptical comes with a set of benefits and disadvantages. Rear-drive machines are best known for their smooth performance.
Because of their smooth functioning, efficient performance, and design, the rear-drive ellipticals are the best sellers in the market, attending to every type of trainer's fitness need.
Working out on a rear-drive elliptical gives you a better jogging/walking experience than the other two types. This is the same in terms of workout experience, too—rear side ellipticals ensure a better-focused workout experience.
But, if you wonder why the rear side ellipticals cost more than the other two models, this is mainly because their flywheel is at the back end, and they come with automatic/manual incline adjustment options.
If you plan to purchase a front-drive elliptical, they give you the same effect as a stair climber, and hence, you are required to lean forward to simplifying your workout experience.
Contrarily, center drive machines position your body better while working out and are also more compact, making it easy for those who suffer from space crunch. This model also promises a full-stride workout and doesn't go halfway.
Though I've listed down a couple of differences between every type of machine, there have not been any scientific pieces of evidence showing us clear-cut differences in work out results between them.
What are the Benefits of Rear Elliptical Trainers?
You need to understand the key benefits of a rear elliptical trainer to acknowledge the machine's expensive pricing. Some of the noticeable advantages of using this type of trainer include core strengthening, total body workout, and weight loss.
#1. Core Strengthening
Some might want to cut down belly fat, and some others might be interested in building muscles. However, the primary aim of every type of workout is to strengthen your core, and the rear-drive elliptical does this for you.
It works for both your upper and lower body. You can be sure of chopping off excess belly fat, looking slim and trim, and above all, help you lose weight faster. This is mainly because your arm workouts apply more pressure on your abdomen and core.
#2. Burn Excess Calories
Though a rear-drive elliptical is recommended for a low-impact workout, it doesn't stop with this or solely focuses on your limbs.
These low-impact cross-trainers have a smart design, and on certain key points, they are even much better than treadmills.
For instance, they have varying lengths of resistance, adjusted to increase your workout intensity. By doing this, you can be sure of increased calorie-burning abilities.
#3. Strengthens Your Back
It is great that a rear-drive elliptical can work out both your upper and lower body and what's even better is that the upright position and the support of the armrests help make your spinal cord upright with much better support.
The variable incline option helps you activate muscle groups, including the hamstrings and salutes, to help you get in shape and tone your body as well.
#4. Total Body Workout
Unlike a treadmill, an elliptical gives equal focus to both your upper and lower body, besides giving highly specialized focus to every muscle group in the body.
If you exercise using an elliptical, be sure that your shoulders, core, arms, chest, and thighs get worked out equally. In a nutshell, be sure of reaping the benefits of a total body workout.
Front Drive Vs. Rear Drive Elliptical Machine—Which to Choose?
Though the front-drive machine mimics the strait climbing effect, the rear-drive machines outdo their performance in every other aspect.
As we saw above, a front-drive elliptical has better flywheels when you compare it to a rear-drive elliptical.
In terms of inclination and resistance, too, a rear-drive elliptical helps you experience better resistance ranges and inclination adjustments (manual/automatic) in comparison to a front-drive elliptical.
The variable inclination is more common in rear-drive machines. Still, you cannot expect this feature in front-drive machines owing to which the intensity of the rear-drive machine is comparatively higher.
You can expect higher calorie burning capacities in a rear-drive elliptical than a front-drive elliptical because of this higher intensity.
Final Thoughts
A rear-drive elliptical is one of the best home gym equipment as it helps you achieve a total body workout and makes all of you comfortable using it as it comes with a smart design and low-impact workout options.
Stay in shape and be healthy by working out regularly in a rear-drive elliptical. Choose a good model based on your goals and budget from the list above.
Read Also: