Ellipticals provide an excellent way to tone your muscles, burn your body fat, and get an intense upper and lower body workout.
The main lingering question that most people always come across is, which elliptical machine is a good one yet affordable?
We completed this puzzle and gathered all the necessary information needed to know when purchasing a good elliptical.
In a hurry? Here are our top 5 picks of the best ellipticals under 600.
Things to Consider When Buying an Elliptical Under 600
1. Warranty
One of the main features to always consider is the warranty a manufacturer is providing. A machine with a warranty of one year is too little.
The longer the warranty period, the more confidence from the manufacturer.
2. Pick a Good Spot
The second most important thing you can do to ensure that you use your elliptical daily is to put it in a good location in your home.
Airflow and lighting will make your workouts more intensive and inviting. Natural light is a big addition, especially during winter.
Measure the floor and ceiling space you have to work with. Make sure you have access to power and internet.
Knowing the space that you will use for your console helps you determine what upgrades you'll have room for.
3. Stride Length and Resistance Levels
New challenges are interesting. Machines with higher resistance levels set up tougher challenges. They create room for expansion for medium intensity users.
Moreover, stride length can affect some users as machines with a stride length of about 14″ may not be effective to those with big feet.
A machine with about a stride length of 18″ to 20″ is perfect. Learn more about how to choose the best elliptical stride.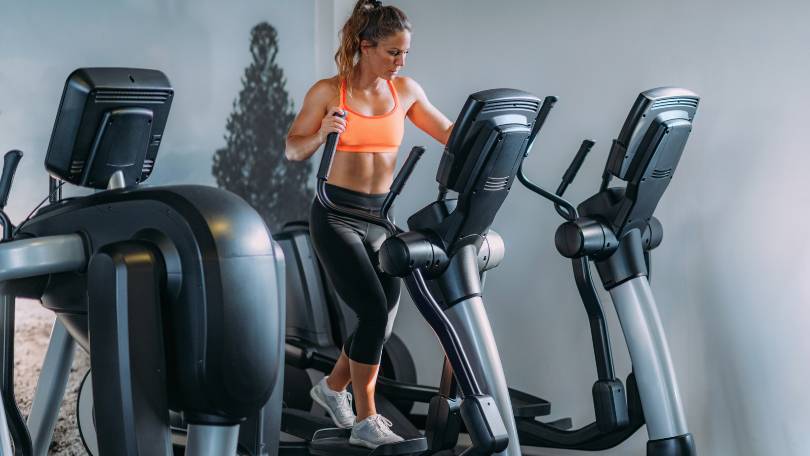 Top 5 Best Ellipticals Under 600
Given below are our top 5 picks. Enjoy!
A Nordic track is well known for its well-built, solid design. It is a very durable machine, and its weight capacity is up to 325 lbs.
This advanced console has an impressive array of features particularly designed to make your daily fitness training to be smooth, enjoyable, and intense.
This console is equipped with 22 levels of magnetic resistance and a 20-pound high-speed inertia flywheel.
This feature enables you to ramp up the intensity to your preference. Do you want to set higher challenges?
The C7.5 features a motorized adjustable incline function with a range of 0 to 20 degrees.
By altering the incline, it targets different muscle groups in the legs, making your workout more grueling.
The dual function handlebars equipped provides a good upper body workout with the aid of the moving handlebars.
On the other hand, the static handlebars are in-built with heartbeat sensors that track your pulse rate.
26 variety workout programs are instilled on the 5-inch backlit LCD such as calorie workouts, performance workouts, goal programs, user profiles, and many other preset programs.
Moreover, the console is iFit compatible, and as well as in other fitness apps, this enables you to track your progress and sets new challenges.
However, despite the fact it has a wide range of features, some minor concerns but worth the mention are: the iFit features cost you a monthly subscription, which increases your expenses, and its well-built structure requires at most three people to move around due to its size and weight.
Pros
Adjustable incline
Dual function handlebars
Variety of magnetic resistance
Durable
Cons
Big and heavy
iFit costs monthly subscription
Horizon fitness is a great manufacturer that provides superior quality. EX-59 is a very great choice to consider for an affordable price.
And it is an ideal machine as it has been infused with great features and tons of extras for a mid-ranged elliptical.
This particular model is built for comfort, featuring well-padded handles, and large pivoting footplates.
It has a reliable magnetic tension for customized resistance with an ECB brake system.
Thanks to the magnetic resistance, it is astonishingly smooth and quiet.
One of the features that caught our attention is that the handlebars are ergonomically designed to be comfortable with the soft grips attached.
It consists of two handlebars, one is the motion handlebars, which are planned to give a good upper body workout.
The other set is the static handlebars, which are equipped with heartbeat sensors to determine your heartbeat and ensure a good lower body workout.
There are ten levels of resistance that can be chosen from.
It also comes with a water bottle holder, a media tray, and an inbuilt headphone jack combined with acoustic speakers.
However, there are always some bones to pick on. Some of the few things that could be improved on are the resistance levels (There are only ten levels of resistance.)
Some small issues but worth the mention are no adjustable stride length, footplates, and incline function.
Pros
Sturdy construction
Dual pedal action
Bset in class warranty
Easy to assemble
Cons
Water bottle is hard to reach
No adjustable stride length and incline
No wireless HRM
This is the latest addition to the proform family. The proform 150I is a piece of high-end elliptical equipment.
It features a dual pedal front-drive where the front wheel is positioned right at the front of the console, creating an image replicable to an exercise bike.
You can pedal frontwards and backward with the same resistance. This creates a different atmosphere making all muscles in the body to be working.
The center of gravity of the inertia enhanced flywheel is at the center, providing a more consistent momentum hence a smooth motion.
It includes a 5-year warranty, which sounds promising as the company puts its confidence on the machine.
There are 12 different distinct magnetic resistance levels available.
They are divided into 1-3 levels, provide light intensity workouts, 3-9 levels provide medium intensity workouts, and 9-12 levels provide high-intensity workouts giving a possibility to increase endurance and tone muscles.
The main drawbacks include: the stride length is 17″ long suitable for people up to 6'1″.
Taller people may experience an issue adapting to it.
And it has a weight capacity of 250lbs heavier users may experience wobbling.
Pros
Fixed and mobile pulse censored handlebars
Excellent warranty
Little maintenance
Durable
Cons
No incline adjustment
HR chest trap not included
Ac adapter not included

The Exerpeutic 5000 is a multi-functional elliptical machine with great ergonomics. The eye-catching feature is the 24 levels of magnetic resistance.
Cranking up the levels of resistance provides a strong, intensive workout, and more work is done in a short period.
Scaling down the levels of resistance will mostly focus on endurance and stamina. The dual transmission of this model is equipped with two belts and two enhanced flywheels.
Surprisingly it works appreciation smoothly to its belt drives and the magnetic resistance.
The dual action of the handlebars strains out the arm and provides an intense upper body and lower body workout, which can help you burn more calories.
The sturdily constructed console provides a weight capacity of up to 270 pounds. It is a very durable machine.
The 3-piece crank system is designed for high wear and tear situations and provides high-end performances.
However, it doesn't have an adjustable incline function. Hence an enthusiast may not be able to set higher challenges.
But, it is very beneficial to medium intensity users.
Another issue that rises is the bolts get loose after a while, so ensure you tighten them after a few uses.
Pros
Smooth motion
Variety of magnetic resistance
Prevents pain in knees
18-inch stride length
12 workout programs
Cons
No incline
Difficulty in assembling user manual
Tunturi c30 provides a few good features, and it's designed mainly for home purposes.
This solid design is set for light to medium intensity users mainly.
It has eight digitally-set resistance levels, and the first two levels provide little resistance.
Conversely, the 8th magnetic resistance level provides a higher tension making it difficult.
It features a heavy-duty belt that doesn't require periodic lubrication. The bi-directional flywheel present enables smooth pedaling motion.
The Tunturi c30 is equipped with two sets of handlebars, one is static, and one is fixed. The static handlebars are long and rubberized to be comfortable, which ensures a good upper body workout.
The stationary handlebars are rubberized as well, and they integrate stainless steel pulse rate sensors.
It has a stride length of 16″, which offers more versatility in stride length.
On the dull side, few concerns that need to be brought up are when a tablet is placed, it blocks the display, making it inconvenient to use the tablet.
High-intensity users may obtain an issue as there are only eight resistant levels.
Pros
Quick operation
Bi-directional flywheel for smooth motion
Fixed and mobile handlebars
Cons
Few levels of magnetic resistances
Small LCD display