Buying the best ellipticals under 300 can be a great and profitable investment. Hence, we have done a compilation of these fairly affordable ellipticals.
But before we proceed with the overview, it is beneficial to have a glance at the essential points that you must get familiar with before buying an elliptical trainer.
In a hurry? Here are our top 5 picks.
See the overview, pros & cons, and features below.
What Do You Need to Know Before Buying an Elliptical?
It's natural to introspect about the things you are up for. When you enroll for any online course, you thoroughly check the perks you are likely to receive.
You head on forward with the course once you are satisfied with the curriculum.
The same procedure applies while buying ellipticals or any other fitness machine. You must acknowledge all the nitty-gritty of the machine being discussed.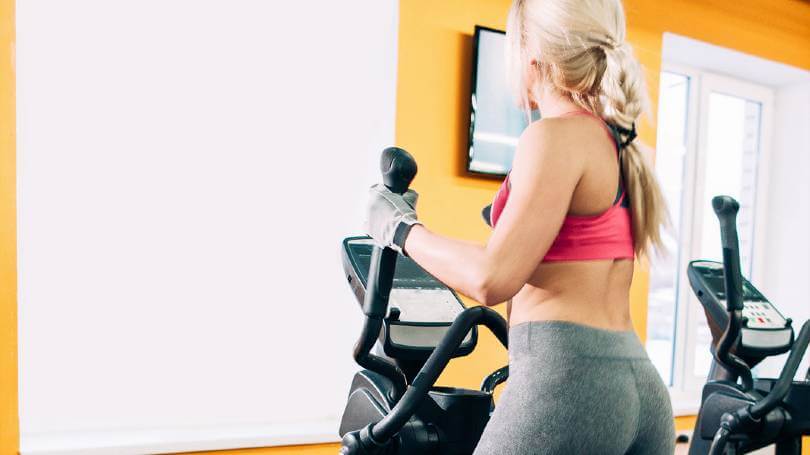 #1. Budget
The budget is the starting point for most people. The cost for an efficient elliptical can range between $200-$5000.
The price goes on increasing with an increase in durability, quality, attributes, attachments, etc. Your fitness goals will also influence the kind of elliptical that enters your house.
If HIIT is on your mind, you need a sturdy model with a high weight capacity. Nevertheless, you can opt for a medium-sized model with relatively lesser weight capacity for moderate activities.
#2. Size
The dimensions of your elliptical must coincide with the dimensions of your home in which you are going to place it.
Ellipticals are giant beasts. Be willing to allocate an area of 4.7 feet lengthwise, on a general basis. Besides, 20 inches of space must still be left vacant on either side of the machine.
Don't just hook up on the length measurements. Drive your attention to your ceiling height also. You certainly won't like to bump your head while running or climbing on the elliptical.
Lastly, your height matters too. Club all three aspects together, then choose accordingly.
#3. Styles
For the ones who are still unaware, ellipticals come with various designs. Such are front-drive design, center-drive design, and rear-driven design.
Front-drive is the most simple of all featuring a large wheel in the front. The working is noisy, and vibrations exist. But this is still preferred as it is the most affordable style among the three.
Coming to Center-Drive, which closely resembles treadmills in design, but pedals take up the location of the track. It is optimistic for smooth workouts. The design is ergonomic to save up space.
Rear-Drive has got a small wheel integrated behind the pedals. This is known to be the smoothest workout permitting design and also the larger of all three. This design allows inclination as well.
#4. Stride length
Though adjustable strides are the best, you should look for the one with 21 inches stride length close to this. Learn more about how to choose your ideal stride length.
Adjustable strides are also convenient when there are multiple users.
#5. Resistance
Ellipticals with a wide range of adjustable resistance are the best pick for everyone. The lowest level must be beginner-friendly, while the higher levels should offer higher magnitudes of intensity in exercise.
This keeps you uplifting and ramps up the muscle strength.
#6. Motion
The pedaling should feel smooth. If you're not comfortable with the process, you will not be to give your 100%, and all the exercise goes in vain.
Make sure that the pedals on your machine work smooth enough to carry on with unimpeded motions.
Secondly, consider the handgrip movement. They should be able to add to your upper-body comfort. Arm handles are not the necessity but good for intensifying the workouts.
#7. Noise Levels
Again the variation exists. There are machines producing humming noise as well as there are machines that are quiet enough for a peaceful exercising time.
If you can cope up with the noise, you can take the noisier model home. Otherwise, there is only one option left to save the peace and sleep of your family. You know what's that, right?
#8. Safety
Only hardcore workouts with no safety measures don't make sense. Some machines have warm-up and cool-down periods that add to the safeness of the user.
For those with the small children at home, it is advisable to select the ellipticals that comprise of the lock to seal pedals when not in use.
The children are notorious and may end up harming themselves by the machine when there is no one to look around.
#9. Warranty
Machines with an impressive warranty duration tend to be more reliable. Everyone would like to cut down the maintenance cost and save those extra pennies.
So, always go for the models with good warranty terms along with the least maintenance requirements.
#10. Extended features
Some bonus features come along with the basic benefits of the elliptical trainers.
For instance, a heart rate monitor is a great inclusion. A large clear consoles help you to track your performance. Those are having preinstalled training programs are the cherries on the cake.
A fitness tracker app is another feather in the cap. Even the holders and racks have their unique importance.
But be prepared to spend a few extra dollars for such extended features. Nothing comes with a free label.
#11. Have a trial
If you ask me whether to go for a trial before actually buying it, I will give a rigid nod. The reason is you get familiar with the usage, grip, and comfort level of the machine.
Find out, is there anything hindering your movements? If not, then the machine is the perfect fit for you. You have no chance of regretting things later.
Just 10 minutes of warm-up will be clear enough to make a final verdict. You can even try it out at the gym first. Once you get affixed with the tools, buy your own.
Benefits of Using an Elliptical
The elliptical trainer is the most in-demand equipment at the gym. You must have waited in line for your turn to come and use it at your local gym.
This stationary machine allows us to do some movements, including walking, running, hill climbing.
The beauty of this machine lies in being a low-impact trainer, thereby posing no harm to our joints.
It's a boon for people with joint pains and other injuries. They can considerably keep up the fitness routine.
Elliptical trainers are the most sought-after machine cardio workouts.
They are the excellent structures carved out of steel, which enable individuals to have both upper as well as lower body workout. That's something rare and adorable!
Wondering about what makes this tremendous machine prodigious tool for the fitness fanatics.
The elliptical machines make you have a good amount of aerobic exercise, also known as cardio exercises.
These machines are suited to have high-intensity interval training.
Lose a significant calorie count within the duration of half an hour.
Low-impact cardio workout is the key USP of this equipment.
People with arthritis and achy joints or the ones who have undergone injuries need to cease their exercise routine.
Get complete body workout at one go with a single device.
Endure all your lower leg muscles, including quads, glutes, calves, and hamstrings.
Improve your body balance.
Above are the reasons for the large scale use of this excellent tool.
If standing in a queue at the gym seems unbearable to you any longer.
Then you must be thinking of getting an elliptical trainer of your own. And you are thinking right.
Top 5 Best Ellipticals Under 300
The mission is not just to find the best elliptical, and the mission is to find so under the price range of 300 dollars.
To make your tedious task easier, we have compiled the top five best ellipticals under 300. The complete review has been provided with both positive and negative aspects.
Getting a high quality at a low price seems an impossible combination. But, Body rider fan elliptical trainer has achieved success in producing this rare combination.
Your desire to get a reliable elliptical under 300 dollars is accomplished here. With the quality that reflects high standards and the design to train your entire body, this elliptical is loaded with tonnes of perks to delight you.
Along with adjustable resistance, it also provides smooth execution with no noise. That's an unbounded pleasure for every fitness freak. It is lightweight as well.
The LCD monitor will keep you updated with the performance in terms of time, speed, calories, and distance.
Beginner-friendly video guide with effective workouts is provided along to help the beginners get started easily.
All the features, when clubbed together, turn this elliptical into an unparalleled deal. Act wise, decide now!
Pros
Durable
Trains upper as well lower body
Adjustable resistance
Smooth working
No noise emitted
Decent LCD monitor
Video workout guide included
Cons
The pedals are bit uncomfortable
Just because we are finishing our list with CUBIIJR DESK ELLIPTICAL, this doesn't mean it is lesser than other competitors. It has numerous striking features to fascinate you.
The elliptical with great compactness such that you can easily keep it under the desk. With this size, you can pedal anytime, anywhere, irrespective of location. In the garden, on the rooftop, or even at the office.
Don't just fall for its incredibly ergonomic design, but also the quality and price that are sure to capture you.
Multitasker? Then I am telling you, this won't impede with your other tasks. Handle other works efficiently while you are pedaling through this.
Despite being small in size, this desk elliptical has culminated with all that you need. Eight levels of adaptable resistance, an inbuilt monitor to track time, speed, distance, and calories, low-impact joint-friendly workout – everything is there.
The freedom of adapting to any intensity level coupled with smooth and noiseless working enchants everyone towards buying it.
Pros
Compact and huge space saver
Right resistance levels
Low impact workout
Smooth and quiet operation
Supports multitasking
Easy assembly
Inbuilt monitor
Cons
Heavy
The portability factor is low
So, you are on the way to find the most suitable elliptical for you under $300. Let's see what Sunny Health and Fitness SF-E902 has for you.
I found it the quintessential equipment for maintaining the peak cardio health. If you ask why? I say because this elliptical trainer puts your full body to work. The muscle of arms, legs, and abdomen are all targeted.
Were you aiming to lose some weight this month? Try exercises for half an hour with this machine for a certain period. Then witness the rise in your muscle strength and fall in your weight.
Talking about weight capacity, it's 220 pounds. That's not too good, but still, it's worth it. The other materials used for furnishing correspond to superior quality grade.
The pedals are prepared to prevent slipping of sole with no-slip texture. The speed is all your choice. Go slow, moderate, or fast with the automated functions.
An LCD screen with good readability shows you distance, speed, time, and calorie count. Enjoy the storage convenience it brings with compact and foldable design.
Pros
Made with top-quality materials
Long-lasting capability
Foldable and compact
Full body workout
Clear LCD screen
No-slip pedals
Cons
The size of the pedals is not much large.
No holders
Not many additional components are included
To all the enthusiastic trainees out there, are you ready to rock with this another marvelous piece of equipment?
A fascinating spec of ANCHEER elliptical trainer is none other than V-belt drive and powerful flywheel. This, together with quiet and smooth functioning, makes this machine greatly admired set.
Yes, this is not a noise emitter at all. Do not worry about the sleep of your family while you are in an exercise mode. Fabricated with solid steel, the frame excels in terms of durability. The user weight supported is 250 pounds.
The pedals will not let you slip easily. They are equipped with no-slip texture. The machine is overall intended to offer the highest degree of stability and comfort to the users.
What about resistance levels? Oh yes! There are eight of them here again. If you love challenges, especially the challenging workouts, then thinking further is just a waste of time. Get this one today!
Pros
Flywheel and V-belt drive
Sturdy steel frame
Smooth and quiet functionality
LCD monitor
Upgradable resistance
Substantial weight capacity
Cons
Assembly can be time-consuming
Starting with the heavy-duty magnetic elliptical, I have Exerpeutic 100XL to mesmerize you with its exuberant attributes and design.
The heavy-duty in its title symbolizes stunning durability.  The machine weighs 76 pounds but is capable enough to bear 300 pounds of weight. That's the power!
This elliptical comes with eight levels of magnetic tension resistance. The resistance is adjustable, permitting users to increase the intensity of workouts to the desired extent.
There is a large LCD with a clear display to note down your progress every time you exercise. The data displayed includes calories burned, speed, scan, distance, time, target zone, and heart rate. This data list is quite abundant to make anybody buy it delightedly.
They have innovative techniques to take care of the smooth operation. With the advanced flywheel and V-belt driven technology, your workout sessions turn super comfortable.
Just a single backlog for music lovers who can't exercise without listening to their favorite jingles. You won't get holders to insert your phone and water bottles. But this doesn't diminish other superior traits of the machine.
It was built to last for years. It will be your promising workout companion with high-quality materials that go into the construction process. The space acquired will be 54 inches of length of 23 inches of breadth.
Pros
Durable structure
Adjustable resistance
High in quality
Excellent weight capacity
Movable handlebars
Cons
No holders for phone or water bottle
Final Words
And that's all about best ellipticals under 300. Did you get what you were looking for? This was the finest hand-picked collection of the most promising cross-trainers available in the market.
This was an effort to combine all the superior features and present them before you. The models best in quality, high in vitality, reasonable size, elegant design, and, most importantly, meeting the budget standards, we're sorted out of the crowd and plopped in this blog post.
So, what's your chase? Are you after the several resistance levels, or are you looking for the compact size to fit your accommodations?
Whatever it might be, my exhaustive list has a solution for everyone. The time to think is over and time to take action has arrived. Select the adequate model that satisfies all your fitness cravings and make it yours today.