When you buy through links on this site, I may earn an affiliate commission at no extra cost to you. Learn more
If you love to enjoy higher calorie-burning benefits with a low-impact exercise, incline treadmills are your best.
You could walk/run at lower speeds but choosing higher inclination levels gu4arantees fat-burning abilities and muscle strengthening. This causes lower strain to your joints than jogging/running.
Don't confuse your regular treadmill with an incline treadmill though both are treadmills. The primary difference is that incline treadmills can accommodate higher incline levels and help you work out at decline levels.
In a hurry? Here are our top 11 picks of the best treadmills with incline for home walking and running:
See the overview, pros & cons below.
How to Choose the Best Incline Treadmill for Walking and Running
You mostly settle down with incline treadmills for your home gym if your foremost goals include building calves, quads, and glutes.
While normal treadmills offer 10-15% incline function, incline treadmills often reach up to 30% inclination. It is recommended to set steep incline positions choosing hiking/climbing at minimal speed levels to build muscles.
Before purchasing any incline treadmill, it is recommended to keep a few factors in mind that make or break the equipment's quality. These include deck size, console features, max user weight, ease of movement, and price.
#1. Deck Size
The appropriate deck size differs from person to person. For instance, if you are tall or your primary goal is to go jogging or running on the treadmill, choosing a machine with a longer deck length is always recommended.
I suggest that you go for models that have a 60-inch deck length. The treadmills discussed below greatly oblige to this requirement. A deck length of fewer than 55 inches could be used primarily to walk.
#2. Console Features
Primary features such as deck length, the frame's stability and ergonomic construction, and maximum speed are integral for optimal exercise benefits. Whereas console features and secondary features help you enjoy your exercise sessions, making you look forward to them every day.
Look for good console features focusing on the quality of speakers included, a fan's presence, whether a chest strap is included in the model you wish to buy, or know if you must rely on the handle's pulse sensors.
How about keeping your energy levels revved up by listening to some peppy music or watching videos on your smartphone?
If so, it is better to look for models where the console offers provisions for keeping your tablet, phone, water bottle, has different preset workout programs, or whether you can customize your programs to achieve goals.
#3. Max User Weight
User weight is important, especially if you are quite heavy. Generally, high-quality machines support up to 300-400 pounds of weight, while inexpensive models can withstand only up to 200 lbs of body weight.
#4. Ease of Movement
Though we all love to set up a home gym, most of us suffer from severe space crunch, which restricts our choice of available machines.
If you live in a small apartment or your home gym room isn't quite big, I suggest you choose a lighter weight model that is also foldable.
Lightweight machines also offer the advantage of being easy to move around. Most treadmills discussed here are heavyweight, so you can hardly move them around once assembled.
Contrarily, lightweight machines don't guarantee stability and could even wobble when running/jogging on it.
#5. Price
The machine's price is a strong determining factor that talks about its quality and performance. It doesn't mean that all expensive models are great performers, but most guarantee stability and durability.
Cheaper models are generally of lower quality, and you must invest a reasonable amount to get hold of a proper piece of treadmill equipment. There are no shortcuts or alternatives here.
One other alternative to cut down your budget and avoid ending up with a low-performing machine is to go for a manual treadmill instead of an automated treadmill.
Though huge, this compromise goes a long way towards offering dual benefits of a reduced cost but better performance.
Manual treadmills are better machines when it comes to resistance as you use the driving force of your legs to make the belt turn. This way, you benefit from a tough workout while also saving electricity costs.
Another way to cut your budget is to choose a treadmill specifically designed for walking if your goal doesn't include running or jogging.
With lower top speed, smaller deck size, and lower motor capacity, the treadmill's cost is much lower than treadmills specifically designed for running or jogging purposes.
Top 11 Best Treadmill for Incline Walking/Running
Below are the best incline treadmills in the market that excel in durability, performance, and versatility.
Sole Fitness, a brand known for its high-quality exercise equipment, has developed this TT8 light commercial incline treadmill made with serious runners' whims and fancies in mind.
Hence, don't expect the price to be extremely affordable. Still, I assure you that the brand has justified the price paid by manufacturing a high-quality treadmill that offers a greater number of options than your regular home gym treadmills.
All these are provided at almost 50% lesser cost than commercial-grade treadmills though their features and working principles comply with commercial treadmills in every way.
The motor power is palpable with a 4.0CHP strength that offers the apt power for your walking/jogging/running/sprinting purposes.
You can go up to 12mph and select different incline and decline levels to suit your goals. The TT8 model offers 15 different incline options and six different decline options.
Cushion Flex Whisper Deck by Sole is a great value-addition by Sole TT8. As with this low-impact treadmill, you are guaranteed a rigorous cardio workout with minimal impact on your joints and knees (lesser by almost 40%).
In terms of frame and construction, the durable treadmill is made using a premium-quality steel frame with a lifetime guarantee.
Also, the maximum user weight capacity up to 400 lbs by TT8 shows the strong build and sturdiness guaranteed by the machine.
Pros
60-inch deck size that's extremely comfortable
Smooth transition when inclining up to 15% or declining up to 6%
High torque motor ensures versatile performance with a quiet ride
Provisioning of USB port, Bluetooth audio speakers, and tablet holder
400 lbs max user weight
Cons
Not foldable
Quite expensive
You could be tall or short, slim or heavy, a beginner or an advanced trainer, but the Bowflex T22 treadmill is suitable for all. This space-saving treadmill has an incline of up to 20% possible  (-5% to 20% incline).
Bowflex's soft drop design delivers utmost safety using a gas shock folding system that guarantees gentle unfolding/folding each time.
The powerful motor ensures noiseless yet powerful performance, and the machine is designed to offer tough competition to other brands, especially with its fitness apps and workout data.
Bowflex's integration would exhilarate you with its JRNY App that comes with a free 2-month trial. The app helps you with custom running workouts that self-adjust as you exercise.
Expect personalized real-time feedbacks that motivate you to reach your goals. Run through vast greeneries, lush landscapes, and more using the long-running surface designed with Comfort Tech.
This mimics the on-road running experience plus the advantages of impact absorption and smooth operation.
The machine allows you to achieve a max speed of up to 12 mph for customized workouts. Its prest programs aim to achieve calorie burning, heart rate control, interval training, and more.
Once you start your exercise, the 22″ touchscreen provides you with real-time feedback on metrics such as speed, distance, calories burned, and heart rate.
The treadmill comes with a chest strap provisioning for wireless heart rate measurement.
Besides this, you get per-minute calorie burn calculations that motivate you to work out harder.
Pros
The maximum user weight capacity is up to 375 lbs.
Up to 20% incline, up to 12 mph speed, and various preset workout programs
A 2-month trial of the JRNY App included
Wireless heart rate monitoring enabled
Soft Drop folding system
Cons
The price is a bit higher
The ProForm-9000 treadmill comes with a whopping 4.25 CHP Mach Z commercial plus a motor that promises unmatched performance.
This treadmill could be the best choice if you plan on running regularly on it as the motor is powerful and durable. The non-stretch tread belt measuring 22" x 60" complements your running needs.
Set your goal and work toward achieving it without any hurdles as the machine is iFit coach enabled.
Run through different places and monitor your goals constantly by being in touch with professional trainers who guide you through your workouts.
All of this, you can view, monitor, and keep changing, making use of the large built-in 10-inch Smart HD touchscreen console from the comfort of your home.
The console displays all important metrics and heart rate numbers using a wireless chest strap, the EKG heart rate monitor.
You could set inclination levels up to 15% and decline levels up to -3% on this treadmill, guaranteeing a challenging workout. Besides this, 40 pre-programmed workouts keep you engaged without any feelings of boredom.
The treadmill is durable and stable. Above all, it is easy to fold and store away, helping you save ample space when you are done with the workout.
Pros
The 4.25 CHP motor guarantees top-class performance and noiseless operation
iFit-enabled
40 pre-set workout programs, 15% incline, -3% decline, and 12mph top speed
Up to 300 lbs of maximum weight capacity
Compact and space-saving as the unit is foldable
10-inch full-color touchscreen
Cons
Onboard console creates problems rarely in some machines
The foremost thing you notice when you look at this treadmill is its deck length. With a 62 inch long deck, the 3G Cardio Elite folding treadmill is the No.1 choice for tall runners.
The oversized running platform and Ortho Flex shock absorption technology guarantee an unmatched running experience for any time duration without any worries.
The 4.0 CHP motor supports your workout needs at any point, and the 15% maximum inclination possible supports your goals.
With a 400lbs maximum user weight supported and a 10-year warranty on parts, you needn't doubt the treadmill's performance and long-lastingness.
There are multiple pre-set workout programs, including fitness tests, provisions to customize your workouts, heart rate monitoring, and one-touch speed options that promise to keep you engaged and motivated to exercise day in and day out.
Combine exercising with entertainment, using the built-in speakers that play peppy music. Connect your smartphone/tablet and enjoy videos while running on your treadmill.
Pros
Sturdy and unmatched performance with the help of the 4.0 CHP motor and Ortho Flex Shock Absorption System
10-year warranty on parts and two years on home labor
This 400 lbs weight capacity treadmill offers maximum incline up to 15%
62inch deck suitable for tall users
Cons
Heavy and hence, difficult to move it around
Some feel that the console and custom workouts are not user-friendly
Wouldn't it be great to get hold of a treadmill that can fold at the press of a button? The LifeSpan TR2000e treadmill does just that for you.
As with any other LifeSpan Fitness treadmill, this machine guarantees high-quality, enriched features and an easy-to-use design.
Choose from 15 incline settings and a speed up to 11 mph while performing any of the 21 built-in programs available on the machine.
The running deck is perfect for running, jogging, or walking featuring eight impact-absorbing compression shocks to ensure a comfortable workout.
The 2.5 CHP motor guarantees superb power that assures the long-lasting performance of the TR2000e treadmill, whatever the type of exercise that you do—be it sprint intervals or walking.
You can use this treadmill with the Activ Trac and Train and Train apps. However, there are various incline levels available; the heart rate monitoring program self-adjusts inclination levels to maintain your heart rate.
Pros
Enfold Folding Technology helps you fold/unfold the machine with the click of a button, saving space
Excellent motor quality that's durable and strong
Smart stop safety sensor that keeps kids and pets protected
15 incline levels
Lifetime warranty on frame and warranty
Cons
The maximum user weight is only 300 pounds
No built-in fan
The running deck is small
Nautilus, a brand well-known for manufacturing exercise equipment, has exceeded our expectations with the T614 treadmill.
The integration of goal tracking functionality with the DualTrack LCD console helps you achieve your fitness goals without fail.
This is an affordable piece of equipment with a maximum incline of up to 12% and a max speed of 12mph.
You get to choose from 22 different pre-programmed workouts, including manual, goal, train, weight control, heart health, interval, and custom workouts to help you achieve your goals.
Running, jogging, or walking, don't bother to fret about it, as the strike zone cushioning system from Nautilus is there to help you sail smoothly through your workout needs.
The 2.75 CHP motor supports the performance with its high responsiveness and reliability while working out.
Though the deck length is not great, as in the models above, the T614 comes with a decent deck length of 55 inches.
Track your performance and monitor your goals using the 5.5-inch blue backlit LCD console to stay motivated.
Pros
Affordable price for an incline treadmill model
22 preset workout programs and up to 3 user profiles possible
SoftDrop folding technology helps to easily fold the treadmill
Goal Track capability
StrikeZone cushioning system
Cons
Secondary features, including fan and speakers, are of average quality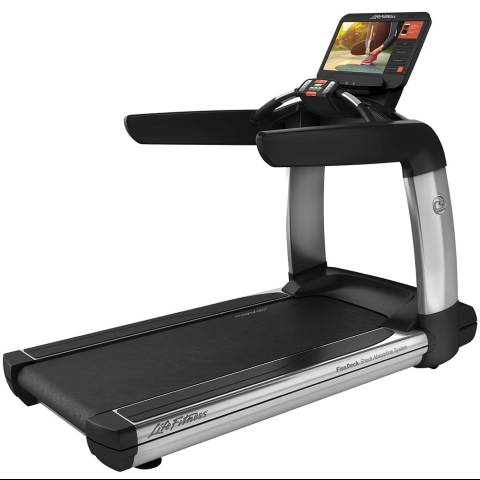 As the name suggests, the Life Fitness Platinum Club Series treadmill offers a luxurious treadmill experience in your home gym setup.
The company has come up with a sleep finish offering four different finishes and three different Bluetooth-compatible consoles.
Even the simplest console is integrated with high-tech features, including access to the Internet, TV, various apps, and workout courses.
You can perform interval training long-duration runs and perform any of the 42 pre-programmed workouts on the treadmill supported by the 4.0 HP motor, which can go up to 8 HP at peak performance. Still, the machine functions quietly.
This equipment can be inclined up to 15% in 5% increments and 12 mph.
The frame and construction are admirable as you are provided with a heavy-duty frame made from welded steel. The frame is covered under a lifetime warranty, quality, and durability.
People looking out for low-impact equipment can go for this Life Fitness treadmill as the Flex-Deck technology comes with eight shock absorbers that reduce joints' impact.
Pros
Siderails are provided for safety.
Heart rate monitoring, wireless monitoring
Secondary features such as a reading rack, accessory tray, and water bottle holders provided
Customized frame and three console options provided
Lifetime warranty on frame
Cons
One of the most expensive incline treadmills
Big in size but cannot be folded
10-inch step-up height is uncomfortable for some
This NordicTrack T 8.5 S treadmill is similar in quality and performance to commercial gym treadmills, with the primary difference being that it is not heavy nor as expensive.
The 3.5 CHP motor promises quiet functioning and smooth performance. The maximum incline levels possible in this treadmill are up to 12%, and the maximum speed possible is also from 0-12 mph, helping you experience challenging workouts.
This machine's highlight is that it comes with a 1-year iFit membership, which helps you customize your workout programs with unlimited options.
Experience the studio gym set up in your home, getting to learn from professional trainers. The LiveInteractive Tech feature helps your trainers control your speed and incline options to reap fulfilling workout benefits.
The iFit integration helps you burn ample calories performing high-intensity workouts surfing through mountains or greeneries.
Stay cooling using the fan provided and monitor your metrics using the touch screen console that neatly displays data. Do your workout and store away the equipment using the easy lift assist technology that saves space.
Pros
5 CHP motor supports endurance, interval, and speed training
One-touch control, up to 12% inclination possibility, and up to 12mph speed
One year iFit membership provided
Excellent impact cushioning
50 preset workout programs
Cons
Deck size not as large as many other models
Maximum weight up to 300 lbs only
Here is a lightweight, foldable, and well-designed treadmill with optimal inclination options.
Though lightweight, the treadmill is solidly built and provided with a 2.75 CHP motor that supports high endurance levels and longer durations.
The frame and construction of TR3000i are light yet strong, made from heavy-duty materials that guarantee performance and simplicity.
You can run, walk, or jog as per your wishes on the optimal running surface supported by eight compression shock absorbers that guarantee a low-impact workout protecting your knees and back from strain.
Thirty-eight preset programs are available that could go up to 14% inclination and use the 0-12 mph speed to offer you calorie-burning benefits and muscle strengthening.
Track your progress by using the full-color touchscreen console and stay cool using the three-speed fan provided. You could also listen to music using the built-in Bluetooth speakers.
When you are done with the workout, you can fold and store away the treadmill, saving space.
Pros
Optimal workout programs
Good warranty
Top speed up to 12 mph and maximum incline up to 14%
Enfold Technology makes folding and unfolding the treadmill extremely easy
Low-impact workout guaranteed with the help of 8 compression shock absorbers
Cons
Belt size could be bigger
Not optimal for very heavy runners
This is the first manual incline treadmill discussed. As mentioned previously, I recommend that you consider this model if you want something budget-friendly yet performance-oriented though you don't get to enjoy built-in video training programs.
The treadmill can withstand up to a mammoth weight up to 440 lbs pounds, being constructed with high-grade steel and a heavy-duty frame.
You sweat and drip using this manual treadmill that guarantees higher calorie-burning capabilities.
The company has also ensured that you stay safe during your workout by providing a sweat and slip-resistant grip on your handlebars.
The deck can incline up to 14 degrees, and you can change your workout levels using the eight levels of adjustable magnetic tension.
The Sunny 7700 Asuna treadmill improves your cardiovascular and muscular fitness levels by withstanding any durations of exercise with the dual flywheel made of steel.
Pros
The maximum user weight supported is 440 pounds
Easy to store as the machine is foldable and transportation wheels provided help in easy movement of the machine
A heavy-duty treadmill that guarantees durability
Eight levels of resistance
Cons
The minimum incline is 10 degrees
You cannot adjust inclination levels simultaneously while using it
No electronic display
Run or jog as much as you want on the Schwinn 830 treadmill as its soft-track cushioning system takes off the shock from each step of your exercise.
The maximum inclination is up to 12%, and the speed goes as high as 12 mph.
The treadmill supports up to 22 different pre-programmed workouts, which can be neatly performed over the 20" x 55" running belt that operates quietly and smoothly.
You get a good grip while running or jogging as the handles are ergonomically placed to provide comfort while holding.
The 2.75 CHP motor and the 300 pounds of maximum user weight are optimal for a mid-range treadmill like the Schwinn 830 treadmill.
The control panel is simple, and you can monitor your performance using the important stats displayed.
Enjoy reading a book or watching videos placing your book or tablet in the media shelf provided.
Pros
Mid-range treadmills with optimal features and good performance
Inclination up to 12% and max speed up to 12 mph
22 preset programs
Media shelf provided
Multi-user functionality
Handles are optimally positioned
Cons
Control panel instructions could be clearer
The treadmill is heavy, and it is recommended to assemble it using two people
Final Words
Deciding to buy an incline treadmill is a good choice as you reap multiple advantages, including burning more calories and using multiple muscle groups simultaneously.
Also, walking on an incline is easier on joints. Look for models keeping key features in mind depending on your goals, and opt for additional features depending on your budget.
Modern treadmills combine fun with exercise without making you bored. So, pick the right treadmill and enjoy doing your exercise routine every day.
FAQs
Is Incline on Treadmill Bad for Knees?
Exercising at an inclined level is not bad for the knees until you gradually increase inclination levels such that your muscles don't experience shock suddenly.
Walking on an inclined treadmill is better than running on a plain surface as your body is not forced to absorb the shock of the impact.
What is a Good Incline to Walk on Treadmill?
Common sense tells us that steeper inclination levels guarantee a harder workout leading to higher calorie burn. But there is no single inclination level that's better or best than others comparatively.
The benefits depend primarily on how fast you walk or how long you walk at a particular inclination level.
If you cannot exercise at higher incline levels, don't panic. You can always burn a similar number of calories by extending your workout duration at a slower speed and a lesser incline position.
Generally, mixing up inclination levels guarantee maximized performance as most muscle groups are involved, and you get to experience varied workouts.
Is It Better to Walk Fast or on an Incline?
Your choice to walk fast or exercise on an incline purely depends on your goals as both provide optimal workouts. It is observed that walking fast is a great workout but walking on an incline makes maximum use of your leg muscles.
Does Incline Walking Build Butt Muscles?
Yes. This is mainly because you use your glutes (butt muscles) while walking, climbing up, or hiking on an incline position, thereby assuring the build-up of butt muscles.
Read Also: