When you buy through links on this site, I may earn an affiliate commission at no extra cost to you. Learn more
Looking for the best half racks for your home gym? The half rack is a piece of equipment that can be incorporated into any home gym without much hassle. And half racks are indeed great space-savers and can be adjusted easily without troubling you much.
Compared with the full racks (also known as power racks or power cages), half racks are less expensive and have decent sturdiness. And they can save more space.
But with so many brands and models out there, it's a bit tricky to pick the right half rack that promises you both durability and cost-effectiveness. You have to narrow down your search results by taking into account key factors such as weight capacity, size, additional features, cost, and so on.
Covering all these factors, I've come up with a list of the 8 best heavy-duty half racks for the home gym. It's time to make a final choice that accurately coincides with your needs, budget, and expectations.
You can also see the overview, detailed information below.
Which Is the Best Half Rack for Home Gym? A Quick Answer
Talking of durability and weight capacity, ROGUE SML-2 and Lifeline C1 pro half rack top the list with an excellent capacity of 1000 pounds. MERAX half rack and Body solid PPR500 are amazingly space savers. All of them are equivalently good and promising when it comes to durability.
If you are a novice who can easily lose balance while starting, it would be better to go with the ROGUE SML-2 half rack, as it is imbibed with fascinating safety measures.
What Is the Half Rack and Why Choose It?
A half rack is a piece of fitness equipment that comprises a sturdy base and two bars made of metal in terms of appearance. These upright metal bars extend from the base to the top of the machine.
Usually, these bars are attached to another bar at the top that confers high stability to the equipment. The most distinctive spec that distinguishes half racks from full racks is two uprights in the former, unlike four uprights in the latter one.
Thereby, this justifies the derivation of the term—"half-rack." (Two uprights are just half of the four uprights.)
There are ample reasons for which you should choose to go with a half-rack rather than a full-rack:
Half racks are less expensive than full racks.
They come with a compact design that saves space, and they are lightweight as well.
They exclusively offer more flexibility with barbells.
They also support Olympic lifts and overhead presses.
It can be moved and stored conveniently.
Half racks are quite easy to assemble and get started with.
Being smaller and lightweight, they are shipped easily.
The half racks are excellent fitness equipment for those who are currently falling short of expenditure amount, unwilling to evacuate a lot of space, can't cope with gym visits, and are deeply passionate about doing squat movements. If you met one of these, your decision to get a half rack is indisputably right.
Half Racks vs. Full Squat Racks
Both half rack and full racks have their positives and negatives. The main points of difference between the two variants are as follows:
Safety
The two types of racks differ in the range of protection they provide to the users. Only a few half rack models include safety arms (also called spotter arms, safety pins, or spotter bars) to catch a failed rep, whereas most full racks have got safety bars and four upright bars all around the barbells. This gives them a cage-like structure. It is due to this structure that full racks yield high in terms of safeness.
Although half racks are considered less safe than full squat racks, they work perfectly well when you are lifting in moderation. But still, beginners are not preferred to buy half racks with no safety pins until they have some prior experience with the gym. But that also being said, a half rack with safety bars adds more safety to your heavy-volume workout and costs you less.
Size
The half racks are more compact than full squat racks. They are furnished with a space-saving construction. If you face a space problem, you should go for a space-saving half rack, which offers you greater flexibility.
Number of Exercises
There aren't many differences in the types of exercises you can perform on a power rack and a half rack. The biggest difference between them is stability and capacity. Full racks allow you to perform extreme weight training exercises.
While the half rack is smaller, it is strong enough to support a large number of exercises such as bench presses, squats, lunges, and Olympic lifts can be performed on it.
If you want to make your gym racks more versatile, consider going for a pull-up bar for half rack, a lat pulldown attachment, or other power rack accessories and attachments that can improve the exercises you can perform.
Top 9 Best Heavy-Duty Half Racks for Home Gym
A half rack is a popular piece of weight training equipment mainly used for free weight barbell exercises: squats, bench presses, and anything else where you could normally need a friend spotting you to keep you from getting crushed by the bar.
And half racks are a great addition for those who are desirous of having a private home gym setup. Choosing the right half rack mainly depends on your needs more than anything else.
Below is the best compact half racks compilation that can be marvelous equipment to any home gyms.
Hulkfit Multifunction half rack is the least expensive half-rack available that allows you to perform every barbell exercise in one station at home.
The compact structure with the dimensions of 81″×44″×46″ (L×W×H) is of great benefit to those who live in a small space or apartment. It will conform itself to the place you allocate to it, will not be demanding huge spaces.
Built with 12 gauge heavy-duty steel, this compact Hulkfit half rack can support 800 pounds of weight. Hulkfit tried its best to avoid lesser stability by adding the rubber feet to it, but this half rack still would be wobbling while you lift over 700 lbs weight up.
The safety arms are 20 inches in length, and hole spacing is approximately 2 inches. 2" hole spacing is good for those who want high adjustability concerning the safety bars, bar dips, and pull-up/chin-up bars.
This Hulkfit half rack also comes with useful weight horns that allow you to store your plates and adjust the placement in seconds. The frame comes with a 2-year warranty.
Pros
800 pounds high weight capacity
The assembly is quite easy
It comes with two pull up bars that allow you to mount on your preferred height
Weight horns for easy weight plates storage
Cons
Wobbling occurs
The only color scheme available is yellow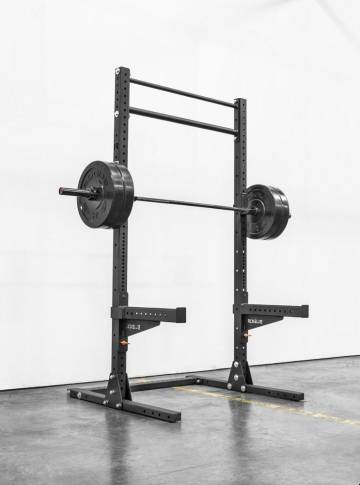 Rogue is a trusted and reputable brand in the fitness world and widely renowned for its world-class fitness equipment. Rogue SML-2 half rack is highly admired for the versatility and is considered one of the best compact half racks for beginners and advanced fitness lifters. It is also one of Rogue's best-selling half rack all the time.
It can handle over 1000 pounds weight thanks to its high stability contributed by the 3" x 3" 11 gauge steel uprights.
The space occupied by this Rogue stand rack is 48″ in length, 49″ in width, and 92″ in height. The length of the safety bars is 24 inches. The base of the frame is deep enough, allowing you to perform kipping pullups on it.
You can also take this equipment to any garage or home gym of your own as you wish, as it is a lightweight rack (112 pounds only), and there is no need to bolt this half rack to the ground for extra safety.
Highlights also include an adjustable fat/skinny pull-up bar and 5/8" holes in the Westside spacing pattern. You also get a wide range of color selections in its SML-2C series.
Moreover, the Rogue RML-2 half rack comes with a lifetime warranty on the frame.
Pros
A lightweight frame of 122 pounds supports over 1000 lbs of weight
Includes an adjustable fat/skinny pull-up bar
Integrated J cups with protective plastic
Compact and durable
It doesn't need to bolt to the ground for maximum stability
Cons
The assembly might be time-consuming for one person
The absence of spotter arms standard might bother some users
Lifeline C1 half rack is an ideal choice for those who are greatly interested in Olympic weightlifting. With 1000 pounds of weight-bearing strength and enormous durability substantiated by heavy-duty 11 gauge steel, it proves out to be an excellent half rack for your home gym.
There are no weight horns included, but it comes with a 2" fat pull-up bar The length of the safety bars is 16 inches, and the hole spacing here is 2 inches.
Do you have multiple users who will be using the rack with their bar preference? The nodding faces will be happy to know that you get bar storage with this half rack.
The space you need to place this half rack has to at least 48.5″ in length, 49″ in width, and 83.5″ in height. That's not much unless you are tight on space.
You get two J hooks, two 16″ reinforced spotter arms, along with six Olympic weight plate storage posts. These accessories and attachments further enhance the versatility.
Pros
Pull up bars with skinny handles
Versatile accessories and attachments included
The materials used are of superior quality, making them extremely durable and stable
Spotter arms (safety bars) reflect high reliability
Cons
Short 60-days warranty on the frame
Valor Fitness BD-58 is one of the strongest half-rack loaded with efficient features to provide you rigorous strength workouts. It is constructed with 3″ x 3″ 11-gauge premium-quality steel for strength and durability throughout the frame. Besides, floor mounting adds up to the stability.
Coming to the footprints, it measures 53.5″ in length, 72″ in width, and 86″ in height. It arrives with plates and Olympic barbells storage that help organize your fitness space and a multi-grip adjustable pull-up bar with multiple hand grips at the top of the frame.
This half rack also features 1000 lbs high weight capacity and 23" spotter arms, six weight storage pegs for the bumper plates.
There is  2" spacing between each adjustment position or hole and 16 spacing positions. It also comes with a decent 5-year warranty, which is not common at this half rack price range.
Pros
5 grip positions on the pull up bar
Made with 11 gauge steel
1000 lbs high weight capacity
Plate storage pets that help keep your gym organized
Better stability due to floor mounting
5 years warranty is excellent
Cons
Size may not suit everyone

The most noteworthy attachments of Sunny Health's half rack are the weight plate storage system and 360° Swivel Landmine, which is perfect to pair with your barbell and allows you to add various shoulder and core exercises to build strength, such as landmine rows, landmine presses, Russian twists, bent over rows, etc.
This powerful half rack will take up 42″ in length, 47″ in width, and 85″ in height. The frame is furnished with top-notch quality steel and can support 880 pounds of weight, making it long-lasting for years without the scope of wear and tears to come in.
The length of the safety bars provided is 16 inches, and it also has a robust pull-up bar that can bear up to 500 lbs weights. Hole spacing estimates to be 1 inch long, but no weight horns are provided.
This squat rack comes with a knurling grip on the pull-up bar, making the attachment stand apart from others in a row. And there is a weight rack on the back for convenient storage of weights.
Manufacturers also provide you a 1-year frame warranty and 90 days warranty for allied parts.
Pros
Ultra-durable frame and 880 lbs high weight capacity
Easy weight storage
16" spotter arms for safety assurance
Landmine barbell attachment for greater utility and usage during workouts
Knurling grip on the pull-up bar
Cons
Its size may trouble some people
Cap Barbell half rack proves to be one of the best budget squats with pull-up bars. It's constructed with 12 and 14 gauge high-quality steel. With a weight capacity of 600 pounds, although it lags behind other comparative models, the durability still stands out.
It comes with decent attachments such as J hooks, pull-up bars, weight horns, and weight holders. The footprints are 47″ (L) x 61″ (W), and 85″ (H). Two 15" long safety bars are provided with the Cap Barbell half rack, offering you the safeness you always wished for and led to assured reliability too.
The elegant silver appearance adds charm to the overall design. The frame has gone through capping and is powder-coated, which helps prevent the frame from rust and oxidation.
Pros
Pull-up bar attachment is included
2 plate posts, 3 band posts on each side to add resistance
You can choose from a wide range of color
The assembly is quite easy
Cons
Weight capacity is relatively low than the other models
Merax half rack is one of the most compact and budget-friendly gym racks with sturdy construction. It is entirely made of 11-gauge steel. One of the main disadvantages of the Merax Barbell Rack is the lack of pull-up bars and weight horns.
This home half rack has the smallest size in the array with 27.5″-45.5″ of length, 19.5″ of width, and 43.5″-67.5″ of height. With a total of 13 height adjustments, this versatile half rack is capable of providing you with total-body cardio and strength exercises.
The weight of the whole rack is 48.5 lbs, but the capacity of this low-profile squat rack is around 550 pounds (the lowest of all, but still able to provide excellent stability). The height of the safety bars can be adjusted, and the compact weight plates are incorporated on the right side.
Pros
Space-saving and low-profile design, suitable for low ceilings rooms
Sturdy steel construction and eye-catching color
The convenience of moving and storing anywhere
Stable and non-slip
Cons
No pull up bars
Weight capacity is loweer
Body-Solid PPR500 half rack comes with a pull-up bar and is built to perform pull-ups, squats, bench press, and other strength workouts at the comfort of your home. Its 2" x 2" heavy-gauge steel frame ensures safety, reliability, and durability.
This 168 lbs half rack can support a maximum weight of up to 700 lbs while staying nice and durable for years. With a footprint of 50″ x 51″, it doesn't consume much space. And the height of this rack is 83", which is shorter than other commercial-grade half racks.
Two J hooks and safety arms come as great power rack attachments. Moreover, the PPR500 Half Rack can be expanded and customized with several accessories and attachments to make it ideal for weightlifting and other workouts
The Body-Solid PPR500 rack offers you 10 years warranty, which is excellent in the rack of this price range.
Pros
Compact design and require a small amount of space
Simple design and budget-friendly
700 lbs high weight capacity
Reliable and sturdy design
Cons
The optional cable attachment is surprisingly heavy

This is a two-in-one model that comes with a squat rack and a fully adjustable weight bench. Both of them score high in stability and durability. The dimension of this half rack measures 61.42" (L) x 45.67" (W) x 85.04" (H). The frame is made with heavy gauge steel, and the powder-coated finish maximizes the quality.
The bench has 6 adjustable back pad positions, 3 different seat positions. And it comes with portable wheels that allow you to move it easily.
The maximum weight supported by this half rack is 600 pounds. Useful accessories and attachments include pull-up bars, weight horns, adjustable hooks, safety catch placements, and two 14" safety bars.
Pros
Compatible with an extensive range of attachments
Exclusive safety features
High quality and durable construction
600 lbs high weight capacity
Cons
Assembly might take times
Space-consuming design
Read Also: