When you buy through links on this site, I may earn an affiliate commission at no extra cost to you. Learn more
We do not say it, but the multitude of studies that exist in this regard: an hour of exercise on a stationary bike can burn 600 calories, and without apparent risk for beginners since it can be done for a long time and at all levels, and at the same time, it will take care of your joints even if you want to perform high-intensity cardio sessions.
What a stationary bike has that makes it an excellent machine for performing HIIT sessions is that it allows you to select the exercise's intensity, from moderate to extremely intense, thus creating short but intense intervals of exercises allowing you to obtain in 1 minute, the same effects as three-quarters of an hour in a normal bike training.
If you are looking for a home stationary bike to exercise with to perform HIIT and work your core and lower body, there are a few things to keep in mind to make your purchase a success.
In a hurry? Here are my top 5 picks of the best HIIT exercising bikes:
See the overview, pros & cons below.
How to Choose the Best Exercise Bike for HIIT?
Before buying your stationary bike for HIIT, you should consider the following information:
Exercise Bike Types
The market offers you two main types of exercise bikes: recumbent and upright. The difference of each one lies in the body position the user will adopt during their training.
In this way, on the recumbent exercise bike, you will have to sit with your feet in front (the pedals are there), and your arms will be at your side.
If you prefer to opt for an upright and leaning forward posture, i. e., sitting but placing your hands on the handlebars, then upright bikes are for you.
We usually choose stationary bikes to perform HIIT exercises because the increase in intensity is easier and works the whole body.
Resistance
If you want to exercise doing HIIT on a stationary bike, then checking its resistance will be one of the details to pay attention to.
This must offer different levels of resistance, ranging from the lowest for cooldowns and warm-ups and the most challenging.
Comfort
Acquiring the HIIT rhythm you want on the stationary bike may take a couple of days, but its comfort should always be the same: the best for your body.
This is because all bodies are different, i. e., different heights, weights, and physical builds. The stationary bike you choose must be comfortable for you at all times, so you must pay attention to the bike's dimensions, its maximum user weight, if you can change the seat height, etc.
Next, we will mention the best stationary bikes for the home with which to perform HIIT workouts.
Top 5 Best Exercise Bikes for HIIT Training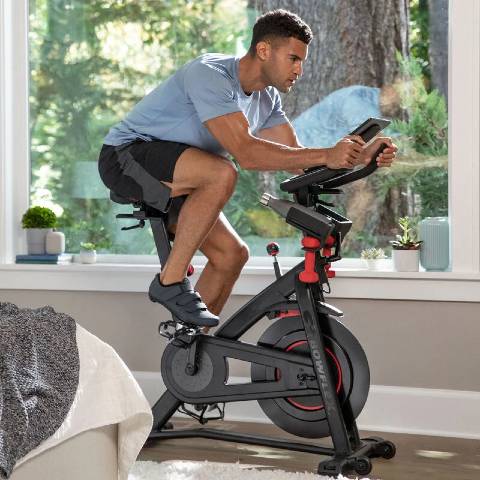 The C6 bike allows you to choose your training app. The C6 is compatible with the Peloton app, the Zwift app, and the Explore the World app to follow virtual tours and trails that match your speed.
Access your workout or workout app of choice via Bluetooth and fine-tune resistance with 100 micro-adjustable levels. The C6 has standard toe clip pedals and comes with a pair of 3-pound dumbbells and a Bluetooth-enabled heart rate cuff monitor.
On the other hand, this stationary bike offers a robust frame with good ergonomics with a bottle holder a magnetic resistance, so it is silent.
Pros:
It is compatible with many fitness apps like Peloton, Zwift, etc.
Backlit LCD metric console.
Magnetic resistance system.
Double-link pedals with foot cages.
Saddle adjustment: vertical and horizontal.
330 lbs. maximum user weight.
Con:
The streaming workout needs an Internet connection.
The Keizer M3i is one of the highest quality HIIT bikes on the market, and it is very technologically advanced. This indoor bike allows a challenging workout as it has 24 levels of magnetic resistance that are quickly and easily controlled by a resistance lever.
It is built with a Poly-V transmission belt, for which it is very quiet, durable, and reliable.
It is a very comfortable bike as it allows you to adjust the seat in four directions. You can also change the position of the handlebar, and the pedals can accommodate different forms of sneakers and are compatible with SPD cleats.
Besides, it has a backlit LCD screen with Bluetooth and wireless functionalities.
Pros:
Offers 24 levels of magnetic resistance.
The saddle is adjustable and comfortable.
It has a compact size.
Cons:
This model works very well to provide the different varieties of HIIT training. In fact, this is a commercial-grade bike, although it is one of the most durable and robust indoor bikes on the market as it is constructed of steel.
Certainly, one of the standout features of the BodyCraft SPX indoor training bike is the 4-way adjustable handlebar and seat.
This feature allows users of different heights to find the correct cycling position. Also, it offers a 46-pound flywheel for good quality workouts.
Pros:
Robust frame built in steel.
The seat offers 4 different positions.
The handlebar offers 2 different positions.
Offers a 46-pound flywheel.
Quick and easy to assemble.
Cons:
Expensive.
 The pad for the resistance may make noise.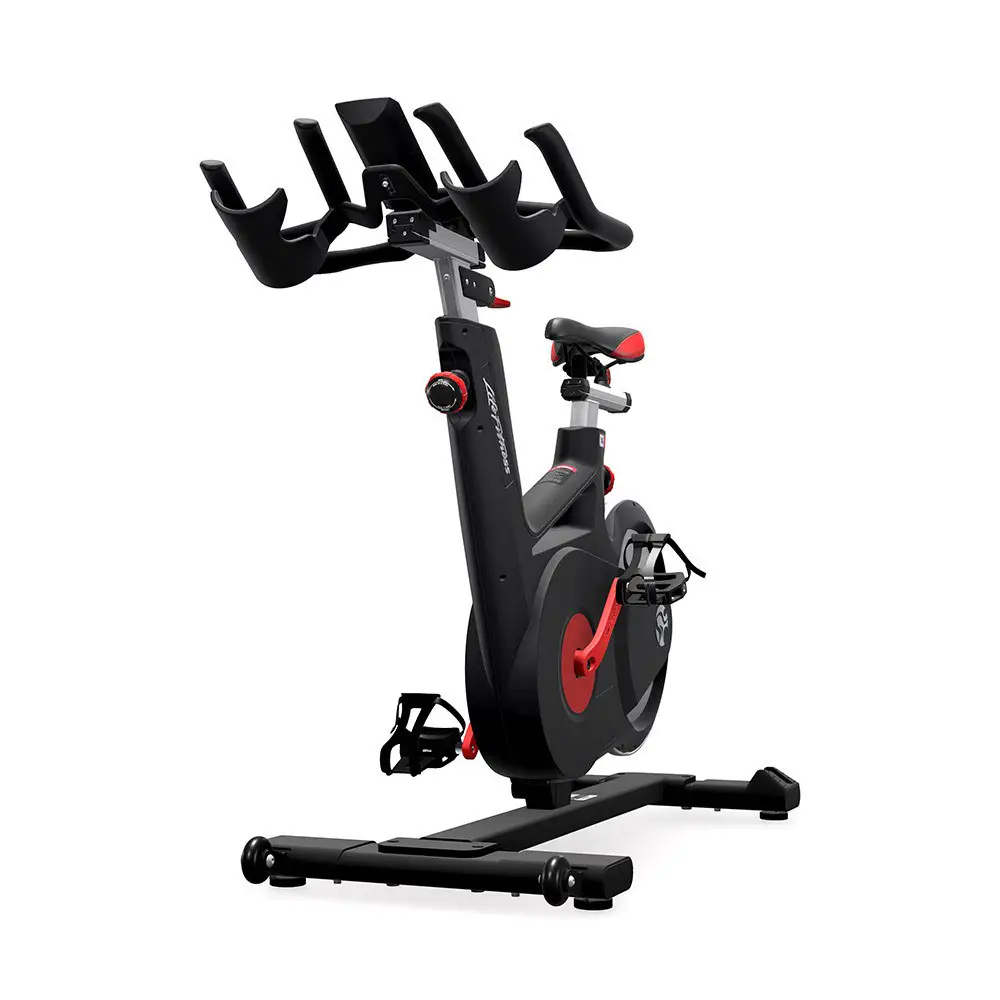 This Indoor Bike combines an innovative design with high-quality mechanical and electrical components. Thanks to the WattRate LCD computer, the IC5 shows Watts's performance and exchanges data with external devices and the Coach By Color intensity guide.
The resistance lever provides a tactile response to the user and allows for quick adjustment.
It also offers a wider handlebar for better support. It also perfectly integrates the WattRate LCD computer with no visible cables, and the position of the console is aligned with the handlebar.
The drive system is equipped with a Poly-V belt and has a 1:10 ratio that generates an incredibly fast speed at the flywheel.
IC5 alternative: Life Fitness IC1
Pros:
WattRate LCD computer.
Coach By Color intensity guide.
Bluetooth and ANT+ connectivity.
The magnetic braking system with a position sensor.
Offers 100 levels of resistance.
Poly-V belt drive system.
Cons:
The chest strap comes separately.
With this affordable indoor spin bike, you can perform HIIT workouts since it offers a 40-pound flywheel, and the sensation in your ride is very realistic. It also offers a 2-way adjustable handlebar.
This is padding designed for all types of hands and grip positions for maximum comfort. The center section has a nice area to hold your favorite book or tablet to keep you going during your long workout.
As for its resistance, you can change it manually with the tension knob. Caged Foot pedals provide more stability and safety. Besides, its seat is adjustable in 4 different positions.
Pros:
You can change the resistance easily.
Features a 40-pound flywheel.
The user weight limit is 275 lb.
It is mounted on a secure and stable base.
Change the seat in 4 positions.
It has transport wheels.
Cons:
It does not have a console.
What Are the Benefits of Using an Exercise Bike for HIIT?
The acronym HIIT comes from "High-Intensity Interval Training" and is known as one of the most effective workouts to lose fat, but it also brings several other benefits.
Speeds up the Metabolism
This is one of the great benefits of performing HIIT in a stationary bike since increasing the basal metabolism implies an increase in the body's energy to fulfill basic functions, so even at rest, you will continue to burn calories.
This is attributed to excess post-exercise oxygen consumption. The additional consumption of oxygen at the end of a training session aims to bring the body back to its equilibrium state and allow energy expenditure at rest for approximately 36 hours after training.
More in Less Time
HIIT seeks that you work at your maximum performance capacity in the high-intensity intervals on the bike, around 80-90% of your heart rate. Hence, they last between 15 to 30 minutes because it is the time that the body can resist working at maximum intensity. So in a concise period of time, you can perform complete training.
Improves Resistance
HIIT methodology workouts record an improvement in cardiovascular resistance and test the body's ability to transport oxygen to the muscles during training.
Besides, it increases the body's ability to use fat for energy.
Increase in Muscle Mass and Power
HIIT workouts on stationary bikes are known as one of the most effective ways to burn fat. However, they also favor muscle power, i. e., an improvement in the strength-speed ratio.
On the other hand, it generates an increase in free testosterone levels, favoring muscle gain.
Can You Lose Weight by Using a HIIT bike?
Definitely yes. Training on a stationary HIIT bike is perfect for weight loss as alternating high-intensity periods with active breaks helps burn calories faster by speeding up metabolism.
Besides, it is an excellent workout to increase your endurance and muscle mass. However, if you want to burn fat but do not adopt a healthy diet, you will not see the changes.
If your goal is to burn body fat, you must reduce your calorie intake, which is very important. For best results with HIIT training, it is recommended to practice sessions at least 3 times a week.
What Is RPM in HIIT?
When training with an indoor bike and performing a high-intensity training or HIIT workout, the pedal speed is measured in RPM, which stands for revolutions per minute.
For example, a 60 RPM beat means that a pedal makes one complete revolution 60 times in one minute.
If you are starting with HIIT workouts, it may be challenging to control the RPM, but once your body has gotten used to it, you can control a high RPM rate.
If you had the opportunity to attend a spin class, you would know that the challenges of real road cycling, such as headwinds, road friction, and using the largest gears, are simulated by increasing the resistance. This cardio workout is great for your body.
How to Get the Most out of Your HIIT Workout?
A stationary bike can be an excellent ally if you want to do a HIIT workout because you can handle the intensity by taking care of your joints.
However, to get the most out of this workout, you should pay attention to the program you should follow since planning a HIIT session is essential. We will explain it to you below.
Interval Length
High-intensity training can be done in multiple ways. In fact, Tabata methodologies are well known, among others.
The Tabata method is designed to perform between two and four sets of work at maximum intensity for 20 seconds and breaks of 10. However, if you are a beginner, it is recommended to start with a HIIT training routine for 30 seconds.
It is important to warm up for at least five minutes and not skip the stretching part, which should also last five minutes.
What makes HIIT training an excellent option for weight loss is the relationship between the high and low-intensity periods. That is to say that you should not stop moving at the time of rest, although these should be low-intensity movements for the body to recover. Rest should be twice as long as high-intensity bursts.
Resistance Level
Although adopting HIIT training helps develop muscle mass and strength, this is not its goal but to increase body resistance. If you are a beginner, you should go for low-level resistance.
Each person must adopt the resistance level. If you notice that you cannot go very fast, you should decrease it.
Anyway, you can change the resistance level by varying it as needed, but also, you should pay attention to how fast you will execute the high-intensity training.
Workout Time
This type of training is a good recipe to lose weight and burn fat. It's about doing good physical work in the shortest time possible.
Generally, 20 minutes of training is an average that many people adopt, even, some others, extend it till 30 minutes, depending on your physical condition.
Apart from that time, you should consider the minutes of warm-up and stretch. Some people give 15 minutes for each one, but it depends on each person or training workout.
Adaptation
At first, as usual, these exercises will be suffocating and difficult to endure. But, like everything else, little by little, you will get used to it, and you will need to add more difficulty to continue noticing its effects and results, and even if you are capable, you can reduce the rest time a bit.
If you are constant, your body will adapt to the exercise, and your resistance will improve. In this way, to progress in this type of training normally, more intervals are added over time, although you should not go overboard either.
Keep in mind that we are talking about very high-intensity work. For example, if you are doing 10-12 intervals, you are likely not working at your maximum, so it would stop being HIIT. You have to focus on increasing the length of the high-intensity bursts.
What's a Good Beginner's HIIT Workout on a Stationary Bike
1.Warmup: This step is significant so as not to hurt your muscles. First, you should adjust the bike's resistance in a medium range so that the movement is fluid, and to avoid that, and you tire quickly. Pedal for 5 minutes at a constant speed to warm up your muscles and prepare them for a high-intensity workout.
2.20 minutes HIIT workout: It is time to adjust the resistance to a difficulty that is convenient for you, preferably high. That will depend on whether you are a beginner or not since you must pedal for 30 seconds and then continue pedaling for 60 seconds at a low intensity, i. e., you should not stop pedaling. In total, there are 3 cycles of 4 series of 30-60 seconds each. There should be 2 minutes between cycle and cycle.
3.Cooldown: When you finish your training, it is not advisable to stop abruptly. For this reason, you must perform a low or medium resistance pedaling for 2 to 3 minutes so that your body and your heart rate return to normal.
Doing this workout every day is not recommended as it directly affects your muscles. It is recommended to do it one day, yes and one day no, so that the body rests and, above all, not to demand so much from your muscles.
Some people even only train HIIT two or three times a week. Try to train consciously to improve your aerobic resistance and cardiovascular fitness.
Read Also: