When you buy through links on this site, I may earn an affiliate commission at no extra cost to you. Learn more
A barbell is one of the most versatile pieces of equipment and an integral tool in any commercial or home gym. It allows you to perform any form of lifting and improve your fitness performance.
And thanks to the growth in barbell training and home gyms, you now have tons of barbell options to choose from to improve your overall fitness and perform an extensive range of strength training, such as bench press, squats, deadlifting, Olympic lifts, etc. But there are so many barbells out there, picking the right one that fits your requirements becomes tricky.
At the gym, you simply lift weights blissfully ignorant of the brand or performance. But, when you are looking out for barbells for home use, it is recommended that you spend time researching the different barbell (brand) options available before taking your pick.
Brand value holds an integral place while searching for home gym barbells, and Rogue Fitness is a well-reputed brand famous for its weightlifting equipment, especially weightlifting barbells. Based in Columbus, Ohio, this company has a varied range of barbells that serve all of your purposes.
I've given a detailed list of the best Rogue barbells and given the important factors that help you decide whether or not a barbell is worth your investment. If you are a powerlifter and want to demystify the confusion that can come along with buying a Rogue barbell, I suggest checking out this Best Rogue barbells guide below.
How to Choose the Best Rogue Barbell?
There are different categories of barbells but before going into them, let me help you understand the vital specifications that should never be missed out when you are venturing out for purchasing a Rogue barbell.
Tensile Strength
Tensile strength is the maximum load that a material can support without fracture when being stretched. The tensile strength of a barbell helps you determine the overall power of the equipment. You can think of it as a test for the barbell's strength, measured in pounds per square inch (PSI).
The barbell is a piece of heavy equipment, and can you imagine trying to pull it apart physically? It would require the utmost force and strength.
Before you choose a barbell, ensure that the tensile strength belongs to this range, so there are negligible chances of breaking, believing that there are no manufacturing defects.
If you compare, good-quality barbells provide better tensile strength. Rogue barbells usually have a number above 180,000 PSI, which is considered to be very strong and durable. 180,000 PSI is good enough for weightlifters, powerlifters, and the normal gym-going individual.
Knurling
Knurling is an important factor when choosing barbells as this ensures the safety of use. When using a barbell, you are prone to lift heavy weights, and hence, you must be very careful about the knurling design offered by the various options.
Rogue Fitness generally classifies barbell knurling into 'aggressive' or 'standard.' 'Standard' knurling is good enough for casual lifters who generally weight-lift for the sake of fitness. The 'aggressive' knurling category is essential for versatile powerlifters who need an excellent grip over the equipment.
But, also remember that aggressive knurling can be quite rough and hurt your hands. So, unless you wish for sharp knurls, it is better to choose standard knurling.
Your choice of knurling affects your performance. Some barbells come with bands to support powerlifting, while some others don't have middle knurling so that you don't hurt your neck while doing exercises such as clean and jerk and front squat.
Whip
Barbell whip is a combination of how much and how easily a barbell will flex under load without permanently bending.  Though the whip is an integral factor, novice athletes are mostly ignorant of its importance in choosing a barbell. The more whip a bar has, the more the load will shift with momentum.
Rogue Fitness has done a commendable job in differentiating the whip offered by them into three categories, namely 'great whip,' 'good whip,' and 'no whip.'
In general, it is always better for weightlifters and powerlifters to have some whip in their barbell as it helps them with their Olympic weightlifting and deadlifts.
The F-Scale
We buy a piece of equipment with the hope that it is durable and well-performing. To help us gauge the durability factor of different models, Rogue has come up with an exclusive feature, namely the F-scale, which is a system and rating scale that categorizes barbells based on their resistance to durability when they are dropped onto the floor.
The scale is categorized from F1 (least resistant) to F8-R (maximum resistant). Every type of barbell differs in the kind of materials used for manufacturing it and also in its finish.
The company has also taken the pain to process a patent, namely the Rogue Work Hardening (RWH), which is pending approval.
RWH aims at making the barbells more durable even when they are dropped to the floor repeatedly. If any of the barbell models you see has an 'R' symbol in its F-Scale rating, it means that the equipment is treated with Rogue Work Hardening.
Oxidation Rate
The type of material plays a big role in modifying the durability of a barbell. The oxidation rate is a factor that helps you determine how rapidly a barbell starts showing signs of wear and tear over time without regular upkeep.
The oxidation rate primarily depends on the type of steel used and the finish offered. Rogue Fitness rates its barbell models on a scale of long-term resistance and has also categorized various materials/finishes in the oxidation scale.
Top 28 Best Rogue Barbells for Home Gym
The Rogue Echo Bar 2.0 (28.5mm) – Men's 20KG Barbell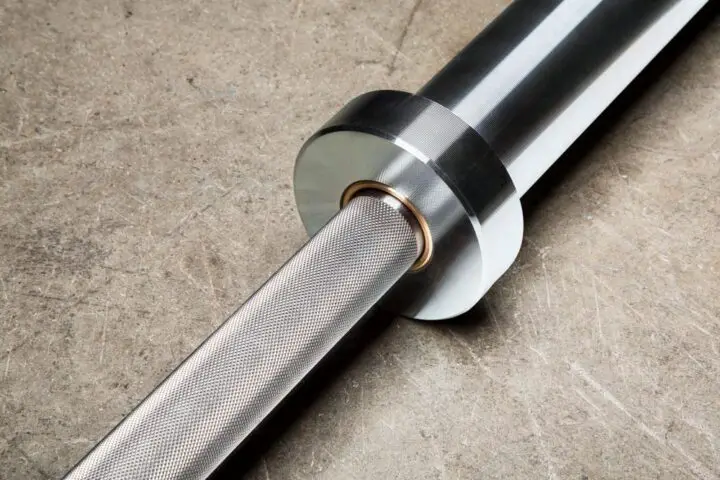 If you are looking for an economic Rogue barbell that promises strength and muscle gain, you needn't look beyond The Rogue Echo Bar 2.0.
The features offered here are similar to the Rogue Ohio Bar, with the only difference that there are no dual-markings. The warranty period offered here is quite short, one year only.
The construction is sturdy, and the barbell is made using 190,000 PSI tensile strength steel and the bronze bushings are present between the bar sleeve and shaft. The zinc coating gives an elegant look to the bar.
There are no powerlifting or center knurl marks, but you find standard Olympic knurl marks all over the bar. The knurling, though, is average/normal only, and the bar comes with a loadable sleeve length of 16.4″.
The highlight of this bar is its high-performance capability despite being priced economically. The bar weighs 20 kgs and is capable of producing even spin and whip during any Olympic movement.
Shipping is super quick with Rogue products, as orders placed in the morning get shipped by the afternoon. You can even track your order continuously until you receive the product.
The Rogue Bar 2.0 (28.5mm) – Men's 20KG Barbell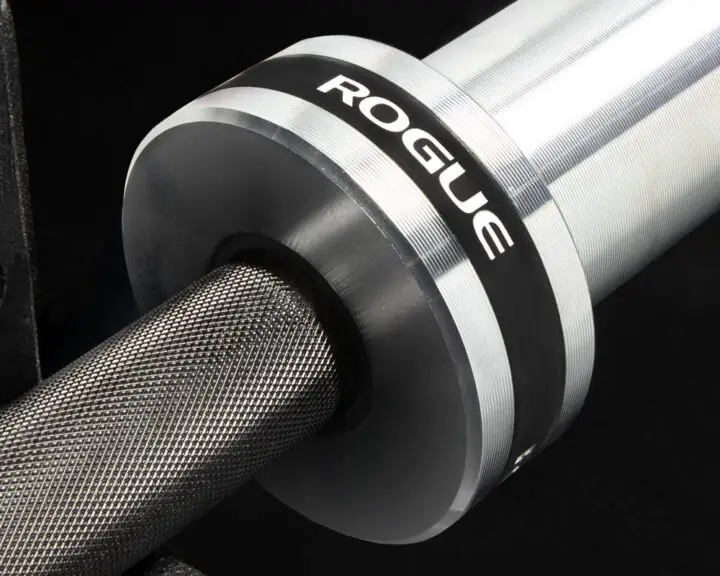 The Rogue Bar 2.0 is the perfect example of maximum precision engineering and exemplary features, the most prominent of which are composite bushings instead of cast bushings.
This is mainly because the composite bushing is used primarily in manufacturing aircraft and military vehicles.
Because of their presence, you can do exercises of any intensity as the composite bushing helps minimize friction, thereby providing spin and extending the equipment's durability.
Moreover, the equipment is made using 190,000 PSI tensile strength steel and a black e-coat shaft.
Another good feature here is that the manufacturer has given priority to the look and feel of the bar, too—you can customize the bar using colored bands.
The bar comes with comfortable dual knurl marks that make it easy to do both Olympic and powerlifting. Please note that there are no center knurls present here.
The Rogue Bar 2.0 comes with CNC-machined groove sleeves, and this addition helps you differentiate bars using the color bands.
With normal/average whip, moderate knurling, customizable band colors, and composite bushing, the Rogue Bar 2.0 is better-priced.
Still, the composite bushings aren't any better when comparing them to bronze bushings in terms of quietness and functionality.
The Rogue Ohio Bar (28.5mm) – Men's 20KG Barbell

You could call the Ohio Bar the flagship bar of Rogue as it was the first bar to be 100% manufactured at the company's unit.  The 190,000 PSI steel used for making this bar guarantees to be the best in manufacturing barbells.
The company has taken ample care to give a smooth finish for the bar—the shaft is polished and ensures a smooth finish once the bar is given either black oxide or black zinc finish.
The Ohio bar is also available in stainless steel finish, and another one is called the Cerakote finish, a ceramic-based coating. The Ohio bar is the only black oxide variant in Rogue's multi-purpose line.
As with most other bars, the Ohio bar also comes with bronze bushings between the bar sleeve and bar shaft.
You could be a regular weightlifter or an Olympic powerlifter—the Ohio bar satisfies each of your needs as the bar will have a normal whip during Olympic weightlifting and is stiff enough, assuring safety during powerlifting.
Rogue 45lb Ohio Power Bar CERAKOTE (29mm) – Men's 20KG Barbell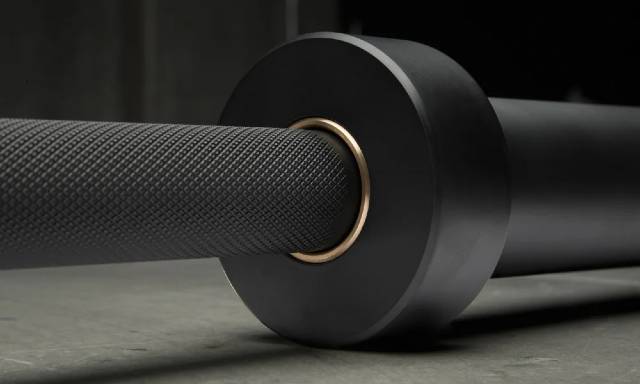 Once you compare the specifications, you would surely know that the Cerakote bar is similar to the Ohio bar in every aspect except for one.
Instead of zinc oxide used in manufacturing the Ohio bar, the Cerakote Ohio bar is made using Cerakote ceramic. Using this material ensures that the bar is even more resistant to oxidation than using stainless steel material.
There is no center knurl, and this bar is dual-marked, with the outer knurling extending up to the sleeve. You are guaranteed a firm grip when you lift the bar for doing any exercises.
The 29mm shaft of this bar provides greater elasticity than the standard 28.5 mm shafts used for CrossFit bars.
If you love colors, the Cerakote Ohio Bar is the right choice for you as there are 19 different color options to choose from, and this number is sure to increase.
Rogue Freedom Bar (28.5mm) – Men's 20KG Barbell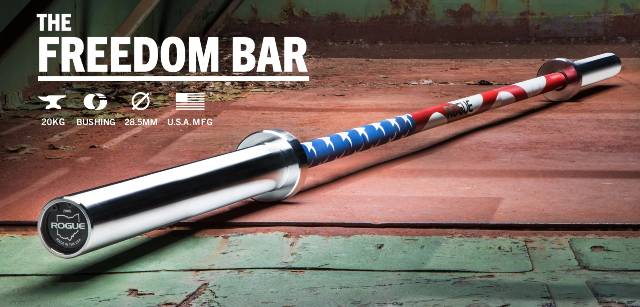 Are special editions restricted to car models and magazines? No way. Even fitness equipment boasts of such things. The Rogue Fitness Bar is a special edition colorway of the Ohio Cerakote Bar.
So, what's special about this bar? If you love the American flag or if you are one of those who has the American flag in your garage gym, you will not miss out on buying this piece of equipment.
The bar features a red, white, and blue shaft finish with stars and stripes depicting the American flag. Just like the Ohio bar, the Rogue Freedom Bar is 100% assembled and machined in Columbus.
The shaft has a 190,000 PSI tensile strength, a snap ring design, and comes with composite bushings. This bushing between the bar sleeve and bar shaft produces a normal whip helping you do Olympic weightlifting and powerlifting.
The Cerakote bar with ceramic-based coating guarantees 100 times more protection against abrasion and corrosion. Above all, you enjoy a lifetime warranty that speaks about the quality of the bar.
The Rogue Stainless Steel Ohio Bar (28.5mm) – Men's 20KG Barbell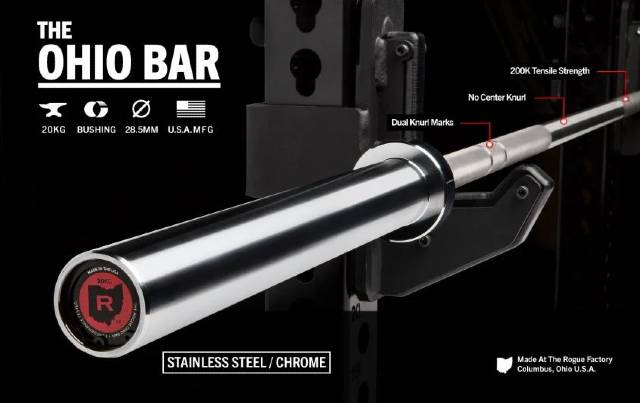 I would not mind saying that the Stainless Steel Ohio Bar by Rogue is a better model than the classic Ohio Bar and is an optimal contribution to the stainless steel barbell market.
So, it's natural that you get one of the most natural grips and enhanced protection from oxidation.
You don't get the regular 190,000 PSI tensile steel shaft, but this bar comes with a 200,000 PSI tensile strength shaft. The knurling here is authentic, and the bar comes with dual knurl marks with no center knurling.
There is no plating over the knurling, and the knurling design provides a great feel that cannot be achieved with other finishes.
This multi-purpose bar provides a normal whip for Olympic weightlifting and optimal stiffness to do powerlifting without any trouble.
If you are a weightlifter, don't think twice about this bar but be sure that you are making the right choice if you decide to purchase it.
The bar has an F2 rating and comes with chrome sleeves instead of the usual zinc/oxide. Also, you get to notice that the bar is quieter compared to the other Ohio variants.
The Rogue Castro Bar (28.5mm) – Men's 20KG Barbell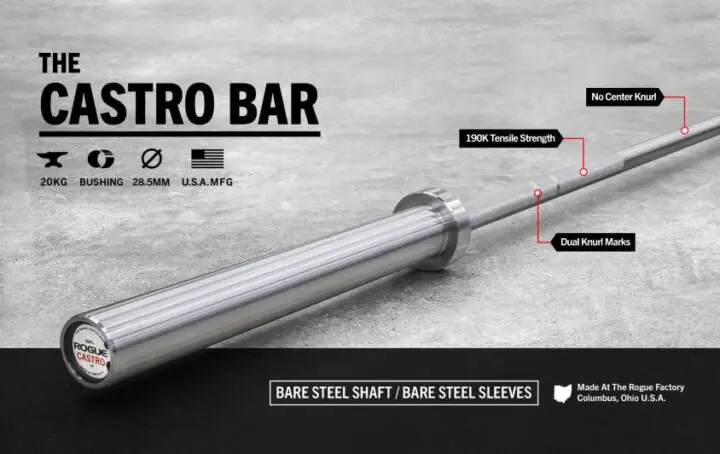 Are you looking for a classic barbell that comes with a steel finish? Then, the Rogue Castro Bar is the right choice for you.
The bar has a minimum tensile strength of 190,000 PSI and is made with quality U.S. steel that guarantees the durability of the bar.
As with the Ohio bar, the Castro bar has dual knurl marks and no center knurl. Once you start using the bar, you realize that the signature knurling helps you have a firm grip over the bar without feeling sharp.
The steel finish guarantees that you don't suffer from any slippages due to sweaty hands. The normal whip is the perfect platform for any Olympic lifter or powerlifter to do their exercises.
You could use the bar in your garage gym or even in a professional setup—the lifetime warranty offered against bending speaks about the bar's quality. It even has F8-R resistance.
One concern here is that as the bar is made of bare steel, you need to take extra caution while maintaining it compared to oxide, zinc, or chrome-plated bars.
You could call this a potential disadvantage as most of you wouldn't be too pleased to know that the bar needs cleaning every week.
Rogue Operator Bar 3.0 (28.5mm) – Men's 20KG Barbell
You would have never imagined purchasing a military design barbell for performing powerlifting or weightlifting.
But Rogue has surprised us all by manufacturing the military-inspired 20 kg Rogue Operator 3.0 bar that's found nowhere else in the industry.
This 28.5mm barbell comes with a polymer-ceramic composite finish used by firearm manufacturers to ensure maximum durability.
Though Rogue provides a classic Olive color shaft, you could swap it for any other military finishes, including the desert tan, gray, black Cerakote shaft, and the Cerakote sleeves.
The bar comes with dual knurl marks with no center knurls capable of providing you with the best for Olympic lifts and powerlifting.
Beyond the cosmetic difference found in the bar, this model is not different in any other way compared to the Cerakote Ohio bar.
The bar comes with a lifetime guarantee against bending/broken collars and offers a normal whip.
Rogue Matt Chan Bar 1.2 (28.5mm) – Men's 20KG Barbell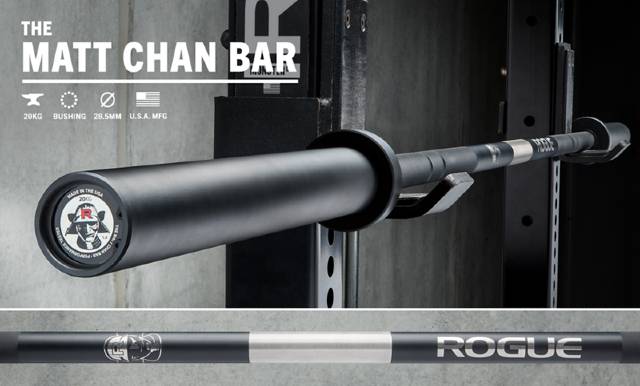 A newer release of a previous model always comes with better provisioning and functionality. The Rogue Cerakote Matt Chan Bar is no different in this regard.
The new features that distinguish it from the older version include a 200,000 PSI tensile strength steel provisioning, an extremely durable Cerakote color finish that consists of the Rogue and Chan logos on the shaft, and the choice between black Cerakote or chrome sleeves.
The logos are placed on either side of the center knurl, and yes, you do have a center knurl in this model.
The bar also comes with dual knurl marks enabling you to do Powerlifting and Olympic weightlifting comfortably.
One of the top 10 finishers at the CrossFit Games, Matt Chan, is a man whose ideas make a positive difference.
Rogue Fitness takes pride in collaborating with Matt Chan to bring about this coolest version of their bars, resulting in the polymer-ceramic composite coating called the Cerakote used for making this model.
The material is 100 times superior to standard black zinc in protecting against corrosion and abrasions. The bar has an F2 rating and offers an appreciable lifetime guarantee.
The Bella Bar 2.0 Black Zinc (25mm) – Women's 15KG Barbell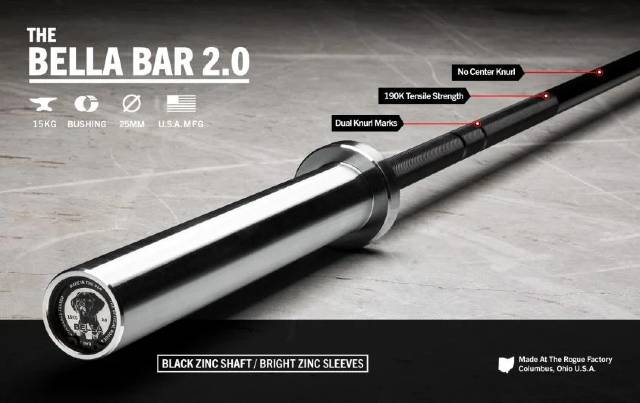 The Bella Bar is a staple for many women's weightlifting needs as it is a versatile ladies' bar that impresses any strong woman to try working out with weights.
This is a 15-kg multi-purpose bar that makes its inevitable presence in CrossFit competitions and games due to its high durability and ease of use.
The diameter is only 25 mm, contrary to most men's bar that measures around 28-29mm. It has no center knurling but comes with the typical dual knurls as in most Rogue bars.
You could find for yourself that the knurling design on the bar is most comfortable to use, offering a great grip for doing both Olympic lifts and power lifts.
Just like the brand's flagship Ohio bar, this bar comes with a tensile strength of 190,000 PSI. There is a snap-ring bronze bushing that helps you get the right balance with optimal stability and a normal whip.
You can purchase the bar in any two finishes, namely the black zinc or the bright zinc.
The Rogue Bella Bar 2.0 Cerakote (25mm) – Women's 15KG Barbell
Yes, you have read it right! This is also a Bella Bar with the same specifications as the previous model, but the only difference is that you get a Cerakote ceramic finish instead of the regular zinc finish.
Besides being beneficial in providing you with a good non-slip grip and protection against oxidation resistance, there are multiple color options as well—choose from over 24 color options!
This bar uses a standard knurling pattern that's not so aggressive or sharp. The best thing about the knurling here is that it is as expected by female athletes—not too aggressive but provides the right grip.
The whip here is normal or average, and the bar generates a loud noise when dropped onto the floor. So, if noise is a concern, please think twice before going for this model.
Rogue Freedom Bar (25mm) – Women's 15KG Barbell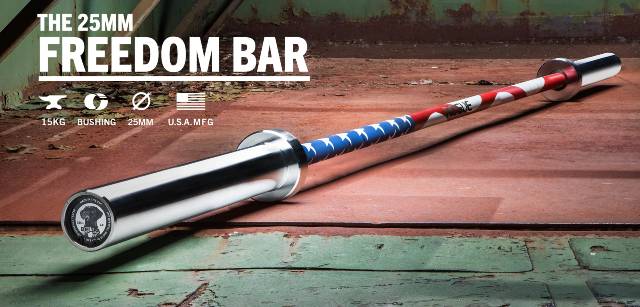 Here again, we have a special edition colorway of the Cerakote Bella Bar—it has a white, red, and blue shaft finish with stars and stripes patterned like an American flag. Also, the Rogue logo is etched at the center of the shaft.
The 25mm Freedom Bar comes with a 190,000 PSI tensile strength stainless steel shaft. Here also, you get to enjoy dual knurls, and there is no center knurl.
It is good to see that the knurling design has been improved tremendously over the years to bring about a firm non-abrasive grip.
This bar is built to meet the International Weightlifting Federation (IWF) Standards that include women's barbell competitions.
Though the size is smaller compared to a regular men's bar, the difference ends there. There is no other compromise on the performance elements apart from this.
The whip produced is normal while you do Olympic lifting, but the stiffness is optimal for powerlifting.
It has an F6-R rating, comes with composite bushing, and offers a lifetime warranty.
Stainless Steel Bella Bar 2.0 (25mm) – Women's 15KG Barbell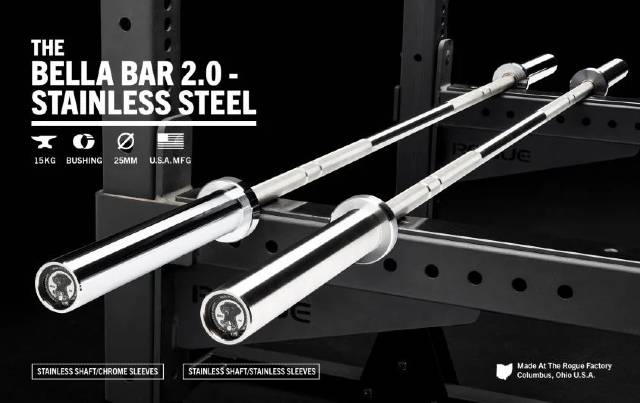 I would suggest the Stainless Steel Bella Bar 2.0 compared to the standard zinc Bella 2.0 bar due to its features and construction if you ask me.
This bar upgrades to a 200,000 PSI tensile strength and comes with a commendable oxidation resistance among Rogue's models.
It is generally seen that athletes love the stainless steel bars for experiencing the true feel of the knurl, and this bar doesn't disappoint in this regard.
The bar comes with dual knurl marks that are good for Olympic lifting and Powerlifting without any center knurl.
It weighs 15kgs and comes with black composite bushings and chrome (not zinc/oxide) sleeves that promise optimal performance when you do your weightlifting exercises.
The knurling highlights this bar as it is firm but not aggressive, while the whip is normal.
Besides this, the stainless steel finish offers the most natural grip for you, helping you have a stronger hold on the barbell.
Rogue Pyrros Barb (25mm) – Women's 15KG Barbell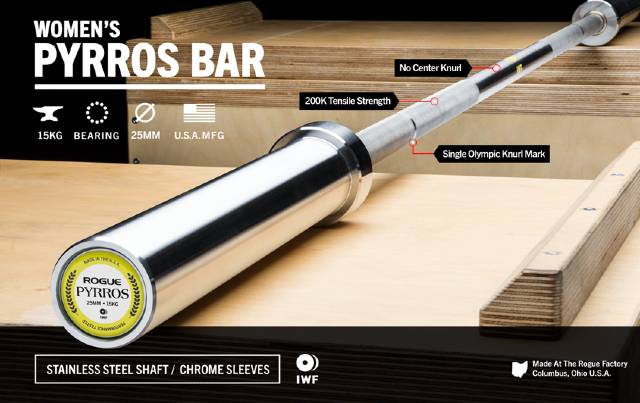 Here is an IWF-certified women's barbell that comes with a Cerakote IWF logo on the shaft. If you had guessed it right, this model is a joint collaborative effort by Rogue and Pyrros Dimas—an upgraded version of the Stainless Steel Olympic Weightlifting Bar, which comes with more aggressive knurling.
The 15kg bar does a magnificent job handling superb loads due to its design—the length of the shaft and the sleeves help in this regard besides using 1,000LB of thick steel plates.
The bar boasts of less erratic sleeve rotation and even has a Greek-themed Pyrros end cap. There are five needle bearings per sleeve, and the bar has an F2 rating.
Rogue has done a great job by bringing out this model for use as it is designed to meet the standards of Pyrros Dimas.
Rogue Olympic Weightlifting Bar (25mm) – Women's 15KG Barbell
Though this might be the women's version of the Rogue Olympic Weightlifting Bar, the steel used in making the product is similar to the Rogue Euro Bar.
If you are a serious competitive Olympic weightlifter or training for it, you can choose this model as you are promised a consistent whip and smooth spin.
Like the men's weightlifting bar, the women's weightlifting bar also comes with 10 sets of needle bearings with 5 sets per sleeve. The use of these bearings promises a smooth spin that's highly comfortable for day-to-day use and a rare presence in most women's bars.
This is also an IWF-certified bar that comes with features such as a 215,000 PSI tensile steel strength, excellent needle bearings, and Olympic knurling without any center knurl.
You even get to have an official IWF branding on the shaft and end caps, and this bar is available in bright zinc finish, polished chrome, and stainless steel finish.
Rogue Russian Bar W/O Collars (28mm) – Men's 20KG Barbell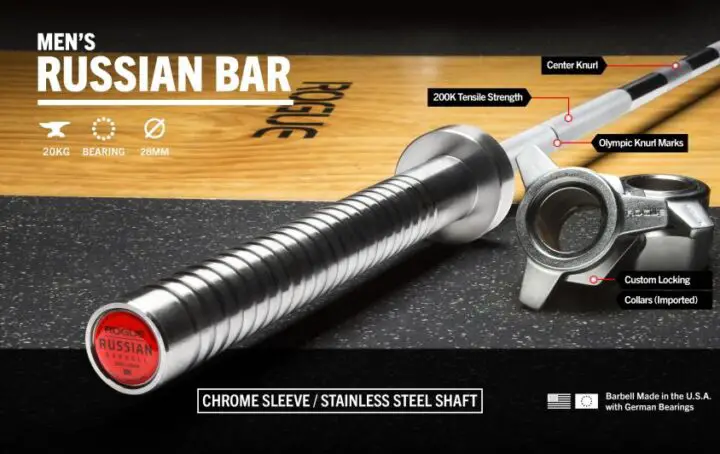 Though this bar is truly inspired by the Olympic barbell design first manufactured by the Soviets and used in the '80 Olympics, the Rogue Men's Russian bar W/O Collars is 100% made in the USA.
What makes this model different from the rest is its grooved sleeves and custom locking collars that make it excellent for doing multiple reps without the need for tightening it in between shifts.
The collars are made from cast iron and steel, and they come with a chrome finish. This 28mm bar comes with an F2 rating and is highly recommended for long training sessions as it has a high whip and moderately aggressive knurling.
Back in the 1960s and 70s, the Russian Bar served as the holy grail for Olympic weightlifters, but now, Rogue has made it available to the people manufacturing it in Ohio.
Manufactured from 200,000 PSI tensile steel strength and including 5 needle bearings per sleeve, the bar comes with a polished chrome shaft and chrome sleeves.
Rogue Women's Training Bar (25mm) – Women's 15KG Barbell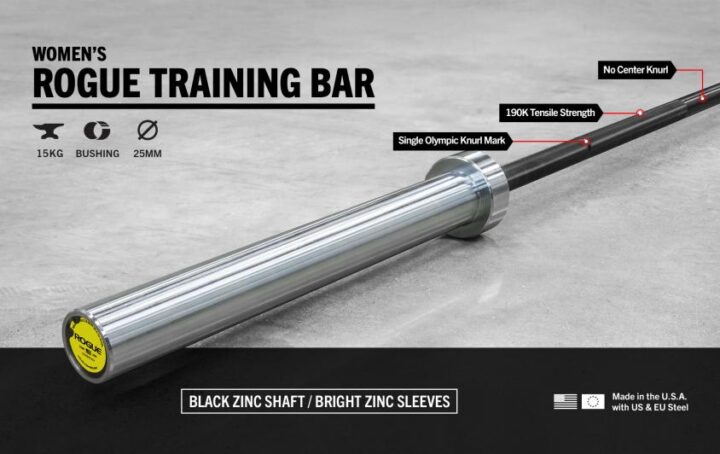 Training bars are nothing but bushing-based replicas of the Rogue Olympic weightlifting Bars. This model is the women's version of the men's 28mm Training Bar.
This 15kg barbell has no center knurl but comes with single knurl marks and a knurl pattern, making them an excellent choice for Olympic lifting. The uniform pattern helps reduce sharpness and makes it good to hold.
The bar has a 190,000 PSI tensile steel strength and an F6-R rating. You get high-quality bronze bushings instead of needle bearings, and the shaft has a black zinc finish.
If you are a novice Olympic lifts trainer or looking for an affordable women's bar that gives a tough competition to other Olympic barbells, you can choose to buy this model as the bronze bushings reduce the cost of the bar greatly.
Burgener & Rippetoe Women's Bar 2.0 (25mm) – Women's 15KG Barbell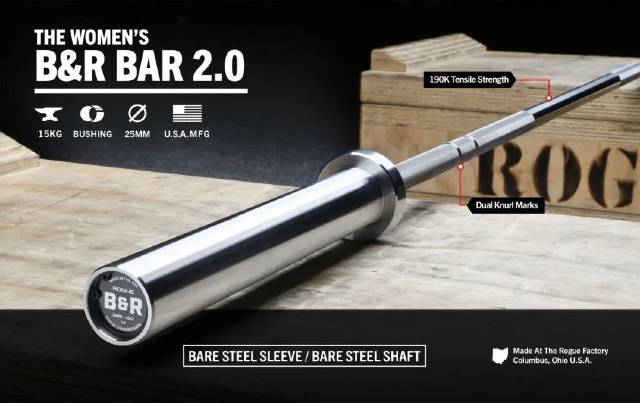 As mentioned by the manufacturer itself, this B&R Bar is the cousin of the Rogue Bella Bar but comes with certain improvements. The bar has a 190,000 PSI tensile steel strength shaft and snap ring construction.
This 15kg bar is 25mm in diameter and comes with custom-tailored dual knurl marks making it ideal for Olympic lifting and powerlifting. There is no center knurl, but the bar keeps the knurling in its original form.
The bar has a mild/average whip, and the knurling is also mild/moderate. The shaft and sleeves are unfinished, and to be true, this is not a popular choice among people as women powerlifters use the same bar as men.
Still, the pricing is great, and the bar is an overall decent buy if you would like to go for it.
Rogue Olympic Training Bar Cerakote (28mm) – Men's 20KG Barbell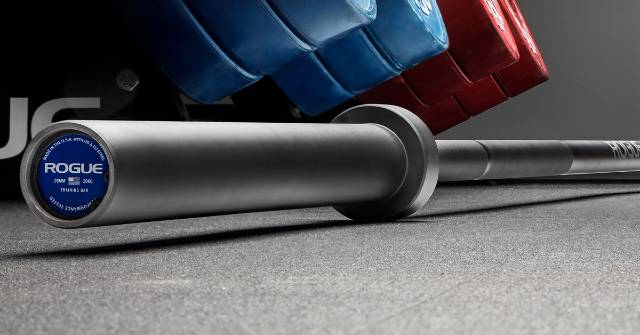 If you are an inexperienced/less-experienced Olympic athlete who desires a 28mm bar, this model could be an apt choice for you.
It uses the same steel shaft and uniform knurl pattern as the Olympic WL bar with one primary difference—in place of bearing sleeves, this training bar comes with bronze bushings like the Rogue flagship Ohio Bar.
The construction of this model is optimal with a 190,000 PSI tensile steel strength, and each shaft is tested for straightness.
This is an intermediate bar for those who want the look and feel of a competition-ready Olympic barbell.
Coming with a black zinc shaft and bright zinc sleeves, the bar weighs 20kgs and has a diameter of 28mm. The sleeves come with bushings instead of bearings. You even get a lifetime warranty against bending, but the whips are the same as in the Rogue Olympic Bar.
Recently, Rogue has added three Cerakote colorways and this model is also the only 28mm Olympic bar that uses bushings instead of bearings.
Rogue Olympic Weightlifting Bar (28mm) – Men's 20KG Barbell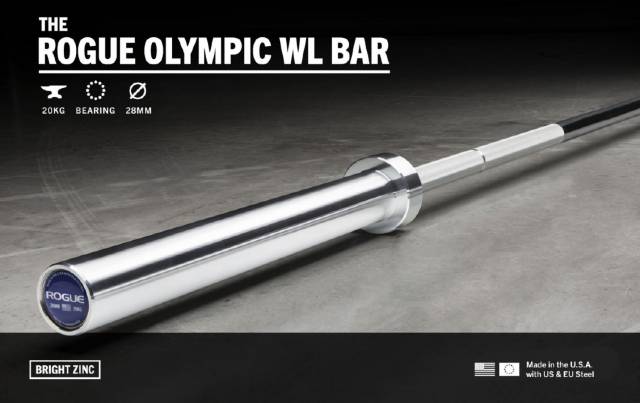 In general, Olympic bars provide has an economic edge over expensive imports such as NxG and Werksan. The Rogue Olympic WL bar has a standard 190,000 PSI tensile steel strength shaft.
The bar has standard Olympic knurling, and the manufacturer has also provided an optional center knurling. The sleeve spins using five needle bearings, and the knurling present is moderately aggressive.
Feel free to buy any of the three finishes available for this bar—you can go for the bright zinc finish, polished chrome finish, or the stainless steel shaft. Though none of them have a center knurl, the zinc and chrome variants could be customized with it.
Also, the zinc version can be ordered with blue inner bushings. The pricing of the model varies depending on the finish that you choose.
Recently, the Cerakote finish has also been added with two different variants available in this category.
Rogue Euro Olympic WL Bar (28mm) – Men's 20KG Barbell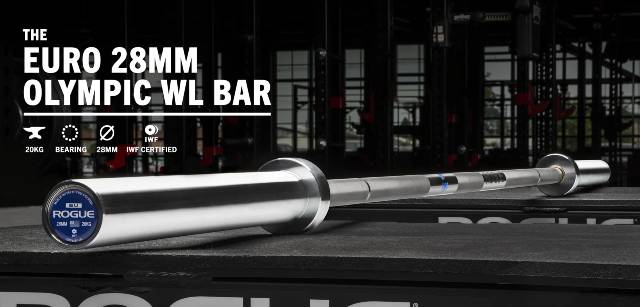 If you are not ready to compromise on anything lesser than the best, you should choose the Rogue Euro Olympic WL Bar. Though the bar is made in the US, the 215,000 PSI stainless steel shaft is procured from Europe.
This model is a tough competitor to ones such as NxG and Uesaka. There are 5 quality needle bearings per sleeve, and their top quality guarantees that the barbell has a smooth, consistent, and quiet spin.
The EU bar comes with an Olympic knurl, and there is a center knurl incorporated in the bar.
The knurling is uniform with medium intensity, and hence, it doesn't affect your hands while using the bar.
You could find that the bar uses Cerakote material that guarantees protection against abrasions, and there is the Rogue logo that's present to the right of the center knurl.
You also have the IWF logo to the left, indicating that the bar is IWF-certified.
Rogue Pyrros Olympic Weightlifting Bar (28mm) – Men's 20KG Barbell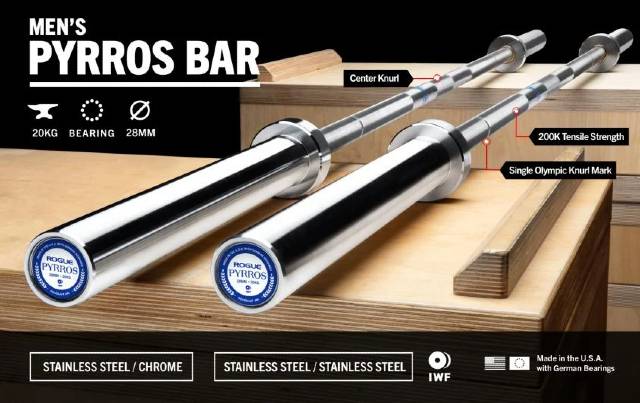 Like the Pyrros model we discussed above, this model is also a collaborative effort between Rogue Fitness and Pyrros Dimas. The barbell is 20kgs and fully meets IWF specifications, and provides a high whip.
This barbell meets all the requirements laid down by Pyrros—the presence of a slightly more aggressive knurl and more controlled spin.
The Pyrros Olympic WL Bar is an IWF-certified barbell designed with a 200,000 PSI tensile strength steel shaft, and you get to choose between a chrome-plated or stainless steel sleeve.
The 10 needle bearings help you experience a consistent and smooth spin.
The knurling is quite aggressive than Rogue's standard knurl, and there is also a center knurl (passive) and less erratic sleeve rotation.
Another nice touch to this bar is the addition of customized Greek-themed Pyrros end-caps.
Rogue Ohio Power Bar Black Zinc (28mm) – Men's 20KG Barbell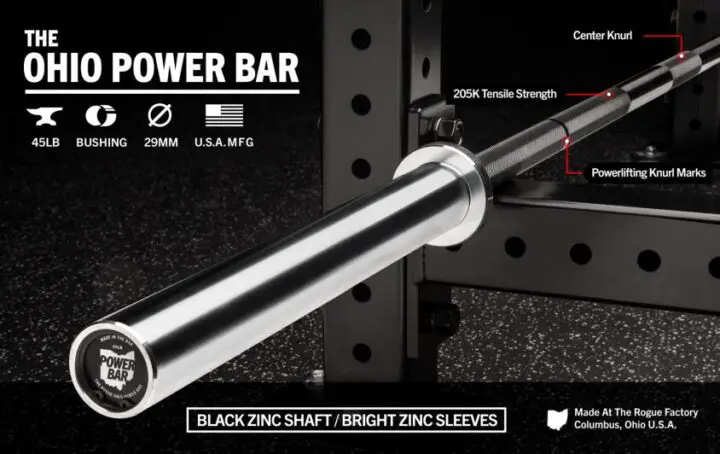 This model is an upgraded version of the Rogue Power bar. It comes with a 29mm diameter shaft that is built with 205,000 PSI stainless steel.
You get single powerlifting knurl marks and a center knurl, which have a coarse pattern that offers a good grip without affecting your hands being too sharp or abrasive.
The bar has a 29mm diameter shaft that comes with a 205,000 PSI tensile steel strength.
The barbell uses a snap-ring design, and there are bronze bushings that provide a smooth and consistent feel.
This model bar is available in various finishes, including bare steel, zinc finish, a stainless steel version that comes in 45 pounds, or even an IWF-certified 20 kg finish.
Feel great using the Ohio Power Bar for doing squat, bench, and deadlift as there is little/no flex or whip. Above all, this is one of the best-priced bars globally for the specifications provided in the model.
Westside Power Bar 2.0 (29mm) – Men's 20KG Barbell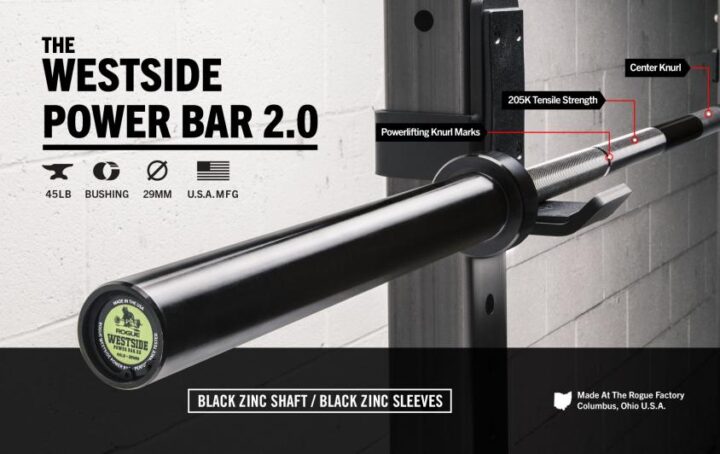 This model is similar to the Ohio Power Bar but with a black zinc finish throughout the bar. Here you get a 205,000 PSI tensile strength steel shaft, 29mm diameter, and the knurling is admirable.
The bar comes with powerlifting knurl marks and center knurl that are deep and coarse but not aggressive or sharp.
It also comes with bronze bushings, a snap-ring design, and a black zinc coating on the sleeve and the shaft.
Black zinc has a lower oxidation rate, and hence, you needn't spend too much time maintaining it frequently. The bar comes with an F8-R rating and offers a lifetime warranty.
Rogue Burgener & Rippetoe Bar 2.0 (29mm) – Men's 20KG Barbell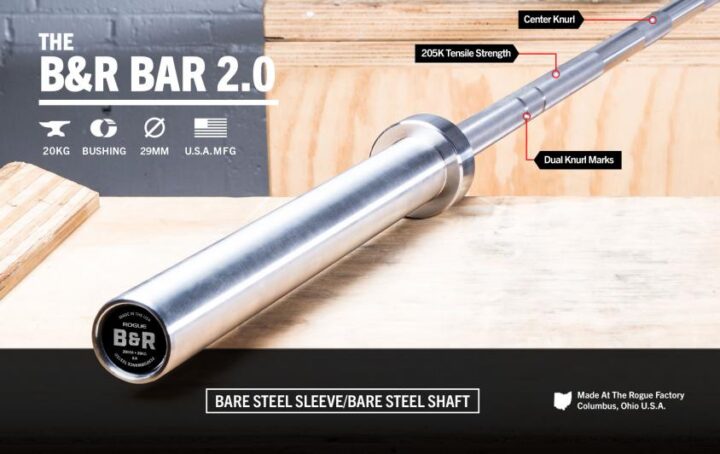 The Burgener and Rippetoe bar, better known as the B&R bar, is now 100% made by Rogue with some small changes incorporated into the original model made by York Barbell. The bar is 29mm in diameter, and the shaft is extremely rigid, standing tough under all circumstances.
While some changes by Rogue to the original B&R bar made are appreciable, some other changes don't make a solid impact.
The shaft steel that's now 205,000 PSI upgraded from the 190,000 PSI is a worthy implementation raising the status of this bar from a power bar to an Olympic bar.
Other integral changes incorporated by Rogue include replacing the bronze bushings with cast bushings and removing the end cap that was the signature mark of the B&R barbell.
This model has the same bare steel, dual-marked knurls, and center knurl moderately aggressive.
Rogue Ohio Deadlift Bar (27mm) – Men's 20KG Barbell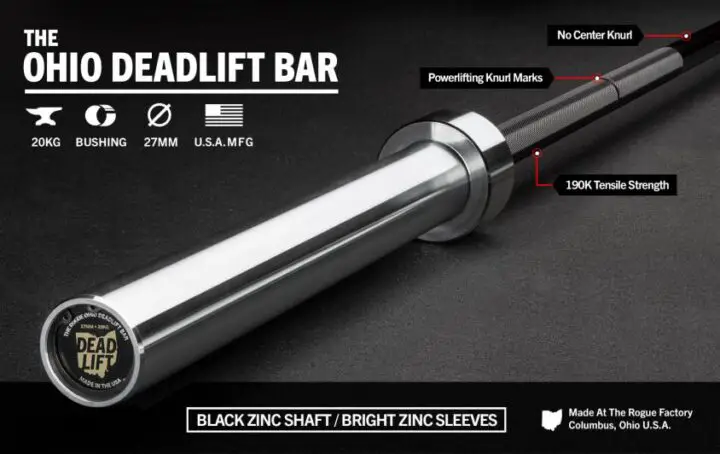 As the name suggests, this bar is specifically designed to meet the deadlifting needs of athletes, and Rogue has done a commendable job in this regard.
You could say that this model is one of the best precision-engineered bars to date made using a 190,000 PSI shaft that has a thinner diameter (27mm) compared to other Rogue men's barbells.
But the overall length is longer, around 90.50″, and all these specifications together make the bar a good one to hold onto with excellent grip and increased whip.
Such higher flex is a boon to weightlifters as they would be able to pull from a higher point before the plates land on the floor, which means that they lift an increased amount of weight.
The bright zinc sleeve comes with a snap-ring design that promises quality, and the product has a lifetime warranty.
Choose between 20 kg bare steel or 20 kg zinc bars as per your convenience.
Final Thoughts
Don't be vexed or confused with so many varieties of Rogue bars available in the market. The right kind of bar for you depends totally on your requirements.
For instance, if your need is a simple bar that helps you lift weights and stay healthy, I suggest you go for the powerlifting bar, such as the Ohio bar. This way, you can easily do your deadlifts, squats, bench press, and more.
If you are an intermediate trainer or wish to do Olympic lifts, it is better to go for a 25/28.5mm bushing bar.
If you are an advanced trainer or an experienced Olympic weightlifter, I suggest that you choose a bearing bar.
Whatever you plan to buy, do a thorough checkup first and then go for your choicest pick, as barbells are an expensive investment.
FAQs
Why Choose Rogue Fitness Barbells?
Without a doubt, a Rogue Fitness Barbell is one of the best in the market, not for one or two but for a couple of vital reasons. They are excellent in terms of construction, the warranty offered, and the tedious testing process implemented on every barbell that goes out of the company's manufacturing unit. The brand makes its barbells in the US and tests them individually to match specific needs.
Does Rogue Fitness Offer Warranties?
Yes. Rogue Fitness offers warranties, but you should go through all of the products covered under every model's warranty in detail and understand the circumstances under which you can use the warranty offered by the company.
What Types of Barbells Does Rogue Fitness Sell?
Name your strength sport, and the company has a barbell model to meet your needs. Enjoy using Rogue Fitness's weightlifting, powerlifting, and deadlift-specific barbells besides their regular manufacture of barbells that meet the needs of a garage and commercial gyms.
Does Rogue Fitness Charge Shipping?
Yes and no. The company charges shipping the equipment to your place, although the charges vary depending on your location and the type of shipping you select.