Weightlifting is a demanding task, and trainers who do Olympic lifts find it convenient to workout using bumper plates.
This is mainly because these plates ensure the utmost safety to the athlete when you drop a loaded Olympic bar from different positions, including overhead position, hips, and rack position.
Some also love to use it for deadlifts as they reduce as much noise and vibration as possible, but these also come with weight limitations.
Whatsoever your purpose might be, find the best bumper plates for the money by making use of the guidelines given below.
Listed below are the top 8 best cheap bumper plates for home gyms, see the overviews, pros & cons below.
How to Choose the Best Bumper Plates for Home Gym?
Pricing is not the only criterion that determines a plate's quality. The best bumper plates are those that offer quality, durability, and affordability in one package. Look for what type of plate you need, the rubber material, and the bumper plate hub before choosing a plate.
Typically, if you are going to perform any heavy lifting at your home, you don't need the bumper plates, steel plates are enough for you. Because the bumper plates are designed for the weightlifting that involves dropping weights, and you don't want to drop your weights your home.
And you should protect your flooring before you performing heavy lifting. A durable mat is what you need.
A good-quality plate lasts long though you are required to shell out a considerable amount of money. The features below are integral in making your plate a worthy buy.
#1. Determined What Type Do You Need
Bumper plates come in three different types, and buying the wrong one could ruin your experience.
Competition Plates
These plates are almost of the same dimension and weight that one needs the perfect equipment to figure out minute differences between plates of the same weight.
Competition plates are expensive and fulfill rigorously set standards to the dot. Still, quality cannot be the only feature that justifies the pricing, isn't it?
Though they fit the bill for certain competitions, they might not be the best for average lifters.
Training Plates
Most commercial gyms stack up these plates for their trainers, and this would be the right plate for your purpose too.
Coming in different standard weights and fulfilling stringent specifications, they are highly in demand as they are recommended for home gyms.
Some training plates are so uniform in size and weight that they offer the perfect competition to competition plates.
Technique Plates
Light and durable, technical plates are often used to master weight lifting techniques standing to its name.
These are good for rehabilitation purposes as an Olympic bar is suitable for lifters recovering from muscle strain or an injury.
#2. Bumper Plate Material
Bumper plates are made of thick, dense rubber, and hence, choosing the perfect rubber material goes a long way towards offering longevity on your plate.
You could choose from any of the three kinds of rubber material, and the material choice made affects the plate's pricing, functionality, and durability.
Virgin Rubber
High-quality weights make use of virgin/non-recycled rubber as this material is costly to produce and manufacture. The plate is worth the pricing as it can last a lifetime.
For those of you into CrossFit, Olympic, or other exercises that include dropping the bar, I understand that your primary requirement would be to get an as minimal bounce as possible when you drop the weight.
Virgin plates should be your pick as they are least bouncy, making them safest and least annoying, as strong as commercial gym plates.
Recycled Rubber
Though priced cheap, these plates are more bouncy and less durable compared to virgin rubber plates.
The product can also smell initially, and I recommend you to leave it out for a week or so before using them in your home gym—this should take care of the smell emanating from the plate otherwise, which it's harmful to your health.
Still, you could choose recycled rubber plates if you primarily do bench press and curls.
Crumb Rubber
Crumb rubber is cheapest to manufacture, and hence these plates also cost minimal compared to other ones.
Just like pressboard wood sheets, the rubber is made of rubber pellets that are pressed and glued together.
Never use a crumb rubber bumper plate for any kind of drops as they are sure to split and chip.
You could keep adding up their downsides as they also bounce a lot and are toxic.
If you are performing landmine weights, presses, curls, and rack-based lifts, it's ok to use these plates only when your primary aim is to save money.
#3. Bumper Plate Hub
The hub is nothing but a bushing in the center of the plate that slides onto the bar's sleeve. Though primarily made of steel, some plates come with a chrome plating.
Hook hubs are best recommended as they don't separate from the plate at any point in time.
These hubs have a curved spoke coming out of them around which the rubber bumper plates are molded.
What Do the Colors on the Bumper Plates Mean?
Mostly, all basic bumper plate sets are black, but we do have colored variants too that's primarily found in large-hub competition-worthy bumpers.
Color coding makes identifying them easier when you want to pick one from the storage peg. Color-coded plates have an Olympic finish.
Color coding becomes useful as most plates have a similar diameter and look with the primary difference visible only through their thickness.
The letters are color-coded and sometimes, a colorful stripe drawn around the diameter or the outside of the plate. Brighten up your home gym with plates in different colors, including red, blue, yellow, and green.
Are Bumper Plates Certification Necessary?
Certifications always add value to the product, but unless you would be using the plates in an actual competition that requires the use of certified plates, you needn't spend extra bucks choosing a plate that comes with certification.
Different bumper plates are certified by different groups, the most well-known of which is the IWF.
A certification from the IWF weightlifting organization means that the plate is competition-fit.
Will Bumper Plates Bounce Away?
Any bumper plates does bounce, but it's only the extent of bouncing that differs. Recycled rubber plates have more bounce than virgin rubber, while crumb rubber plates bounce even more compared to the other two materials.
Bumper plates are primarily used to minimize the impact on the flooring.
It's the rubber material used in bumper plates that helps negate any forceful contact with the ground surface.
But every material acts differently. For instance, virgin rubber is dense, providing a lower bounce restraining any excess bounce when dropped on the floor.
Top 8 Best Bumper Plates for Home Gym
Given below is the list of the top 8 bumper plates that excel in terms of durability, quality, and pricing.
Don't worry about the kind of Olympic bar that you have at home as buying the TITAN Fitness Black Bumper Plates fits any of them without the slightest effort.
This is primarily because every plate has a perfect 50mm steel-lined holed in the center.
The manufacturer has smartly produced the plate using a thick black rubber that stands as a mark of durability.
The product comes as a set of four pairs of bumper plates weighing 10, 25, 35, and 45 pounds, each amounting to 230 pounds in total.
The inner ring made of heavy-duty stainless steel material and the outer material made from excellent rubber make a neat and clean job of retaining the shape of the plate even after dropping it to the ground as many times as possible.
Do your weighted sit-ups, squats, lunges, bent-over rows, and presses using the TITAN Fitness Bumper Plate sets that improve your fitness levels to staggeringly high levels.
The 450mm width match IWF standards assuring quality and the plates are quite thin, enabling you to accommodate as many of them as possible in the bar for challenging exercise levels.
Purchase the Titan bumper plates if you plan on doing high-intensity circuit training or Olympic lifting in your home gym as the product is built to bear greater reps and intense workouts.
Pros
The rubber material used is thick and strong
The inner steel ring is durable
The excellent quality plate that's highly recommended for home gym use
Cons
Can smell quite badly for sometime

The Rep Fitness bumper plates are made of the best rubber material—virgin rubber, that is strong and odorless. Some might not consider smell to be a vital feature while making a purchase, but it's very much integral for day-to-day use.
We don't want our home gym to smell like a tire showroom for months after making a purchase. You get the best bumper plates in sets of 160, 190, 210, 230, 250, 260, and 370 pounds and also in pairs of plates.
All the plates come in a standard 17.7″ diameter except for the 10-pound and 5-pound training technique plates that come at 17.5″. The difference in diameter protects these thin plates from any shocks created due to dropping them.
Also, when the small and big diameter plates are placed together on the bar, it's the big one that hits the flooring.
The combination of hook hubs and virgin rubber makes this home gym bumper plate as strong as possible–you can expect protection from any damage due to regular use, including overhead drops.
Rep Fitness brand is particular about making cool bumper plates, and they have taken every caution to manufacture products that are as durable as possible.
The brand has tested its bumper plates by dropping them from eight feet onto their edges for over 15,000 times.
Pros
Extremely durable and long-lasting
Virgin rubber emanates the minimal smell
Comprised of hook hubs that increase safety
Elegant and simple design with black color and white lettering
Cons
Expensively priced that's not affordable by many
The X Training Equipment Solid Black Bumper Plates is better than the best as it has been designed, tested as well as used by coaches and athletes, both of whom are experts in the field of fitness and training.
This is excellent news as these individuals possess maximum knowledge regarding exercise equipment.
The plates are made in such a way that they are capable of withstanding any kind of lift or WOD.
The company has taken the utmost caution to manufacture the plates from 100% recycled rubber as a way of improving the sustainability of Mother Earth.
While recycled rubber material does have some bounce, these are uniquely designed to bring about as minimal bounce as possible.
These cheap bumper plates are available in 160, 230, 260, and 350 pounds as both standalone pieces or as pairs for sale.
Black could be the standard color here, but surprisingly the sturdy plates are also available in pink color and Olympic finish.
It has to be mentioned here that the colored ones are bright and shiny due to the rubber formulation, but it's not the same with black color.
I recommend you to be fully aware of the fact that these rubber bumper plates might stink quite badly as soon as you purchase it. You might even get the feeling of living in a tire factory!
Though the company does boast of having designed the plates as being low-odor, they emanate a strong smell. You have to wait patiently as it might even take weeks together for the smell to wear away.
Try out any strength training or fitness workouts right from deadlifts to max rep lifts; the X Training Olympic plates boast of rock-solid construction to withstand the test of time.
The plates fit any standard 2-inch barbell, and the steel inserts fit snugly, guaranteeing safety.
The set includes two 10lb, 15lb, 25lb, and 35lb plates, and four 45lb plates amounting to 350lb in total. Every plate comes with a different warranty period.
10 and 15lb plates have six months warranty while 25, 35, and 45lb plates are covered under a one year warranty period.
Pros
Durable and offer low bounce
Color-coded Olympic finish options and also available in black and pink color
Medium pricing
Cons
The extremely strong smell that's lasts long
Unhooked hubs
Just like the Rep Fitness bumper plates, the plates from OneFitWonder are also made of 100% virgin rubber making them suitable for your home gym needs—primarily because you needn't worry about any strong smell of stinking odor.
The competition bumper plates give off minimal rubber odor that disappears in less than a week.
I wouldn't mind saying that these plates are the best when it comes to the bounce feature—there is no other plate that causes as a minimal bounce as the OneFitWonder plates as they only cause barely any thud sound even when the 260lbs plate is dropped to the floor.
This makes them perfect for indoor use as they absorb maximum sound and have with a dead bounce even when dropped from the overhead position.
The plates come in pairs with different weights, including 10, 15, 25, 35, and 45 lbs.
Having a 2" hole, the product fits any Olympic barbell perfectly without any concerns about sliding around when doing your deadlifts, snatches, and other exercises.
Still, the plate slides on and off the barbell smoothly without any issues.
Though certifications are important only if you would be participating in competitions, the IWF color-coding system on the lettering increases its value multi-fold times.
The different color-coding makes it easier for you to pick a plate of your choice. Another feature that's attractive for many customers is the company's return policy.
You can try the equipment for one year and return the product anytime during the period if you don't find it satisfactory!
Customer satisfaction is the company's primary motive, and this proves without a doubt that the product designed should be classy and durable.
Pros
Extremely durable and minimal bounce
One year return policy with no questions asked
Almost odorless rubber
IWF color coding
Rep Colored weight is one of the best cheap bumper plates for Crossfit. For those who love HIIT training besides performing Olympic weightlifting, these plates should be the ultimate choice.
They come in pairs, including weights such as 10, 25 lbs green Olympic plates, and 45 lbs weightlifting plates with each weight measure available in different thicknesses.
For instance, the 10 lb. plates are extra thick to provide additional durability while the 45lb. plates are comparatively thinner to give allowance for more weight to fit on the bar.
As the name suggests, the bumper plates are available in different colors and made of the same standard as the black plates.
The color-coding only improves ease of loading as you get to see how much load is loaded altogether simply by looking at the plate.
If you are bored with the regular black plates, I recommend that you use the colorful and bright plates that are pleasant to the eyes.
Made from solid rubber with a steel insert the plates promise lower bounce rate than most other rubber bumper plates made from recycled rubber—You wouldn't feel the need to keep an eye on the plates that they might hop somewhere out of place!
The company has released the product only after factory testing it for over 15,000 times, dropping the plates from a height of 8 feet.
A plate that endures such harsh testing environments is sure to sustain for longer and promise undaunted effectiveness in our day-to-day life.
Pros
The 10 lb. plates come with a one year warranty while the 25, 35, 45, and 55 lb. plates come with a 3 year warranty period
Tested for more than 15,000 drops
Low bounce
Color-coding weights
Excellent craftsmanship and the steel material used increases durability
Cons
Rubber plates can be quite smelly
Yellow plates could be too bright for some people to use
XMark is a brand that's trusted by all due to its precise manufacturing design and workmanship.
The plates are made from recycled car tires using the Go Green manufacturing process that's friendly on the environment.
Hence, there might be a little bounce here and there, but they are also well-designed to withstand more abuse and also last twice as long as other plates comparatively.
The rubber material used for making these plates are extremely durable, and you needn't worry a bit about replacing them every few years or so.
The precision-tooled commercial-grade stainless steel inserts allow easy slide of plates on the bars.
It wouldn't be wrong to quote that these XMark Go Green plates are engineered for dropping them onto the ground —especially because of the rubber material used that's tough and durable.
But the same material also has the characteristic of releasing a distinct smell which disappears naturally over time.
The product comes as four 15lb. plates amounting to 60lb. in total.
Bumper plate sets also include a combination of 25, 35, 45, and 55-pound plates, which are covered under a three year warranty period. Whereas, for commercial use, it is for one year only.
The plates can be used both outdoors and indoors and are almost indestructible and highly durable.
Pros
Excellent material quality
Can withstand maximum drops
Precision-tooled steel plates
Rubber material assures twice the durability comparatively
Cons
Releases a bad smell
The extra bounce feature could be quite annoying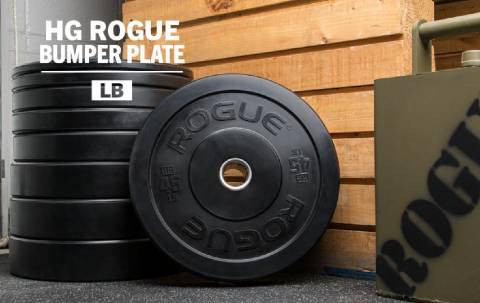 The main features that come to our mind immediately when we think about Rogue HG 2.0 Bumper Plates are their durability, consistent dead bounce, and unmatched smooth finish that's quite expected from HG.
Don't be surprised to hear that the plates are tested at the CrossFit Games and Regionals owing to their good performance.
The plates follow the IWF standard measuring 450mm in diameter but are manufactured quite thinly to accommodate more weights to be loaded onto the plates.
Rogue HG 2.0 weightlifting bumper plates could be purchased without seconds doubts for use in any training facility or for home gym use too.
The plates are made from rubber, and the inner stainless steel inserts locked to the rubber prevent them from coming off quickly as witnessed in low-quality plates.
Another great feature that needs to special mention here is the weight tolerance aspect of the plates, which is +/-1% of the claimed weight.
Coming only in black color, the plates are a good choice for using it at your home gym due to their different features, including durability, bounce, and safety.
Pros
Low bounce that's consistent
Stainless steel inserts add great strength to the plates
Good craftsmanship and design
Weights are thin to accommodate more of them in numbers
Cons
Some complaints about a black grease coming from the plates after use
Could smell sometimes
Some individuals find the pricing to be quite high
How about making plates that are designed specifically to be dropped? That's how it is with the XMark Hi-Impact bumper plates that are engineered specially to withstand any strenuous drops imposed on them.
Made by premium-quality natural virgin rubber material, the weightlifting bumper plates look slimmer and boast of a dead bounce assuring utmost safety to you.
But besides the rubber material used for making the plates, it is also how they are manufactured and the use of technology that impresses us more.
The precision-tooled and polished 2-inch stainless steel inserts help the plates to move freely on the bar.
Don't worry about pushing or feeling stressed about inserting the plates as they fit snugly due to their excellent finishing.
The XMark company has contributed greatly to the bending and breaking of 10lbs. plates by following IWF standards and reducing the height and diameter of the plates.
Instead, the plates are made with the same thickness as a 15-pound plate.
The only downside is that rubber naturally releases smell, and this cheap XMark bumper plate made using virgin rubber is no exception. Though tough and durable, the plates give off a distinct smell that vanishes over time.
Use them on your 2-inch Olympic weight bars such as Olympic barbells, hex bars, EZ curl bars, and any 7 ft. Olympic bar bands.
Pros
XMark is a brand that promises relentless quality and durability
Premium-quality rubber stays tough and long-lasting
Three year warranty period
10-pound plates too are strong here
Cons
Gives off a distinct smell initially which vanishes in due course
In Closing
Rubber bumper plates are a great value addition to your home gym set up. Buying a good, affordable bumper plate for your home isn't that hard when you have enough knowledge about the important features that are integral to any bumper plate.
Take care of the features mentioned above, choose the type of plate that you would like to buy, and then make an informed choice.
The quality of the plates is directly related to their costing.
While good-quality rubber and hub design cost you more, they are also a great assurance for durability and minimal bounce.
Color-coded plates are also helpful in recognizing the weight range of the plate without taking a double-take on the product.
Feel good exercising with the cool bumper plates on your equipment and achieve as much as possible with your strength training routine.
Read also:
Top 8 Best Olympic Barbells Under $200
Discover These Top 5 Best Barbells for CrossFit