Looking for the best weight bench with 1000+ lb capacity? Then your search will end here. We picked four high-capacity weight bench that boasts of unique features and accessories for you.
A high-capacity weight bench allows you to perform numerous exercises, focusing on muscle building, toning, or overall body strengthening.
Given here are three best adjustable weight benches with 1000 lb capacity for maximizing workout benefits. Check them out before making a choice.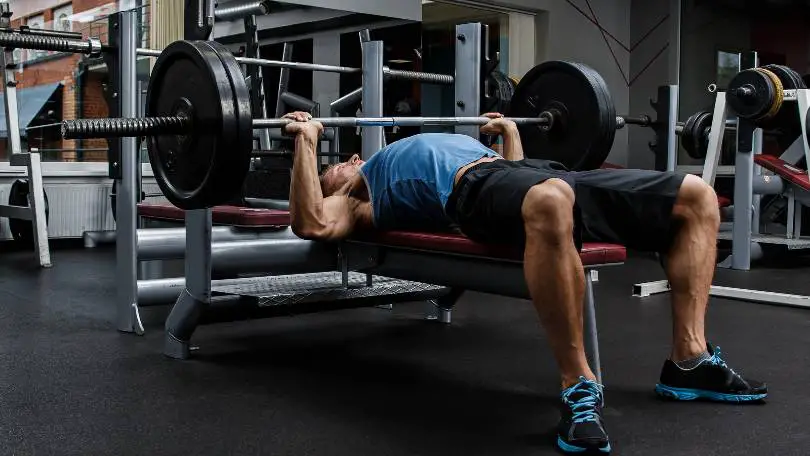 Weight capacity: 1000 lbs
Day 1 Fitness weight bench is made of heavy-duty steel, which can support up to 1000 lbs. And benefit from its well-made structure, it can use in high intensity for a long time.
It is an adjustable exercise seat that can be easily and safely to use. D1F weight bench has six ladder adjustments, providing you an ability to adjust multiple inclines and decline angles. It also features a hassle-free knob adjustment, so that you can lock into the position that you want.
What's more, the seat is made of 2" thick multilayer padding, provides not only more stability and durability, but also three adjustments that will make your lumbar, neck, and spine more easily to be adjusted into a comfortable position.
This weight bench weights about 83.8 pounds. And it's equipped with two high-grade wheels, making it easy to move. So you will not struggle to maneuver your bench across your home/gym floor.
In short, this is a high-quality and trustable weight bench that is perfect for beginners to bodybuilders for everyday needs. It allows you to perform flat, incline as well as decline workouts in an extremely stable experience.
Pros
The bench is rock solid
The cushion is supportive and firm
Most people can fit comfortably on the bench
It has six adjustments that can provide multiple workout choices
Cons
The leg attachment is not comfortable for some people
It has a non-user friendly assemble instruction, which may take you more than 30 mins to put it together.
Weight capacity: 1000 lbs
If you are looking to add a weight bench to your home gym, don't look beyond REP FITNESS as they manufacture some of the finest weight benches.
The AB 3000 model is one of the rarest pieces of equipment that allows the user to hit multiple angles-flat, incline, and decline (FID)—while working out without burning your pockets!
It has seven adjustable back positions and five adjustable seat angles, making it a piece of versatile equipment.
The frame and construction are incredibly solid made from heavy-density steel, and the padding is just right—2.5 inches padded upholstery that's comfortable, thick, and stable to use.
Don't worry about stability as the company has taken ample care of it. The five different seat angles can be easily made with the pin pull system that's present right under the seat and are comfortable to reach.
The bench seems to work perfectly fine and remains stable in all of the flat positions (which is a rarity in adjustable benches) but does experience minute wobbles in higher incline positions due to the tripod style frames.
But there does seem to be a 2-inch gap between the seat and backrest, which must be kept in mind.
The Rep Fitness gym allows for decline angles, which goes without saying that the seats are large. The big width of the seat could be a disadvantage for large lifters restricting their freedom of movement during foot and leg positioning.
The weight bench is comfortable, durable, sturdy, comes with the right amount of foam padding and vinyl covering, offers various exercising angles, and comes with a 1000lb combined user and weight load capacity making it ideal for challenging workout routines.
Pros
Easy to assemble within 30 minutes
Ten years warranty on the frame
Solid steel frame and good design
Excellent padding on the seat
Built-in transport rollers make the weight bench easily portable.
Seven different back positions that are easy and quick to change
Affordable
Cons
30 days guarantee on the upholstery (padding)
Absence of rubber padding on the steel feet could damage the flooring
The bench cannot be stored upright as the ladder system locks only in the horizontal position
Weight capacity: up to 1500 lbs
Be guaranteed to buy one of the toughest benches in the segment if you are planning to go for the Xmark weight bench as it is made from 11 gauge heavy-duty steel.
Having a 1500lb weight capacity, this could be the perfect equipment for serious weightlifters offering both comfort and durability.
Go to any angle of your choice from the seven different back pad positions that allow for a full-fledged FID angling.
With the three different seat positions that are ergonomically designed, this makes the adjustable weight bench as versatile as any commercial bench.
The solid steel bench is safely protected with slip-resistant rubber on all four corners of the equipment, making it stable—very much better than the tripod style design that wobbles at higher angles.
The ladder system is stable, easily adjustable, and stays firm on any angle using the rubber grips provided. The padding is a beauty here. And it's comfortable while exercising on the 3-inch Duracraft padding that's resistant to sweat and tear.
The design allows for a foothold down bar that helps you train harder for a longer time on this sturdy bench. The 22.5-inch height might be a concern here as it makes the bench too tall for some individuals.
Despite its elegant design and superb construction, the height must be considered if you are planning to use it equally for flat and incline angled exercises.
The Xmark could be an ideal choice for any type of trainer-beginner, intermediate, or advanced-with its high load capacity, durability, and strength.
Pros
Upholstery is comfortable as well as sweat- and tear-resistant
Lifetime warranty
Built-in transport wheels for easy portability
Rubber grip on the bench feet makes it skid-resistant
Commercial quality frame and construction
Foothold down bar enhances comfort
High weight capacity of 1500lb (combined user and weight load)
Best equipment for doing Arnold presses, pullovers, decline sit-ups, dumbbell rows, incline bicep curls, and seated hammer curls
Cons
No provision for adding an attachment
Weight capacity: 1000 lbs, drops to 600 lbs when in incline positions.
The Ironmaster bench is not only an excellent weight bench but could be transformed into a multi-gym equipment as it has the provision to add any attachments.
This is one rock-solid bench that's constructed from 11-14 gauge steel and powder coated to avoid rusting. It also has rubber feet protection to maintain maximum stability and to avoid ruining the flooring.
Though the bench might weigh only 32 kilograms, this lightweight bench can withstand a maximum load of 1000 lbs in the flat position.
But when individuals choose to workout in incline positions, the load capacity drops to 600 lbs, which makes individuals think twice before buying the equipment.
But believe me, this is a master blaster providing great features, specifications, and design that's high above most of the adjustable benches in this category.
The bench offers 11 adjustable back positions-flat, incline, decline, and upright angles-with an ability to rapidly shift between different positions.
While some benches do wobble at higher positions or decline angles, the Ironmaster super bench exceeds expectations—it remains stable even in decline positions-a rare feature in adjustable benches.
Also, though the bench is supported on a single central post, there is no inconvenience in the back pad. The gap between the seat and the back pad is also missing here, making it even better.
If you are not going to use the incline angle, removing the seat leaves you with a stable flat bench that could take your pressing exercises to the next level.
The padding is good here and lasts long made from high-quality vinyl. The weight bench is suitable for all types of people helping anyone have a firm grip on the floor, but it is preferable to use 1-2 inch blocks for feet support depending on the user's comfort.
The Ironmaster bench comes with mind-boggling attachment options making it a piece of versatile exercising equipment.
Besides the detachable seat, you are provided with the provision to use many other attachments such as dip, pull up, leg curl and preacher curl that comes at an extra cost.
With excellent construction, sturdy frame, versatile exercising options, and durability, the Ironmaster super bench is an equipment that's not to be missed.
Pros
Solid and strong in decline positioning
Rubber feet padding offers stability and protects flooring
Compact home gym equipment
A range of attachments such as leg curls, hyperextension, cable tower, spotting stands, chin-up bar, and dip handles could be added
Commercial grade thick padding offers maximized comfort with a one year warranty
Easy to assemble
11 adjustable back pad positions
Optimal pricing
Cons
Expensive attachments
Back pad measurement (10 inches) might be narrow for some individuals
Max weight capacity in incline position is only 600 lbs
Factors to Consider Before Buying a Weight Bench
A weight bench comes under the mandatory list of strength training equipment that should be present in any gym, home gym, or commercial spaces.
Modern weight benches play a vital role in everyday training as they are designed to aid the user train at any angle and focus on any muscle by minimizing injury risk.
There are different types of weight benches, including flat, adjustable, Olympic, folding, abdominal/core, Preacher Curl weight bench.
Your primary fitness goals, along with the choice of weights (dumbbells or barbell) for working out and total load capacity, help choose the best weight bench.
Certain features must be considered before choosing a weight bench, and this includes:
Weight load is the most vital feature to consider while picking the right equipment. Companies advertise as 'total load capacity,' but one has to remember that this includes the user and weight load together. Greater weight capacities indicate excellent design, construction, and robustness.
Ensure that the weight bench that you choose lets you do all your favorite exercises
Does the weight bench fit your space? There are foldable benches, but these are very flimsy, and precaution must be taken to invest in a model that is quite sturdy even with folding options.
The seat adjustment option is almost a mandatory need. Greater adjustment options higher are the benefits of using the weight bench. Any bench that you choose should have at least incline and flat angles.
Racks (fixed/adjustable height) for chest/shoulder buildup and storage posts to stack your weight plates or dumbbells is a great accessory to enhance your exercising experience.
The Verdict
Weight benches are an indispensable piece of equipment in commercial spaces and gyms as they provide the user with versatile exercising options.
The same holds good for home gym users too. Buying the right weight bench could do the trick acting as a multi-function equipment when the product comes with a range of attachments.
Choose the best weight bench, which ensures good frame construction, high-quality padding, different inclination positions, stability in all positions, and optimal weight load to benefit from strength training exercise routines.