When you buy through links on this site, I may earn an affiliate commission at no extra cost to you. Learn more
When you want to add weight lifting options to your home gym, you should consider safety. The Rogue power racks are built for this. It also makes lifting exercises easier.
Weightlifting is a competitive sport and was once considered a measure of strength officially. You need consistency and training to improve your strength, muscle tone, and flexibility which are possible only if you have the right equipment.
However, they are not used only for achieving some sports advantage for athletes or officials, but home users also use them to keep themselves fit.
When you say if any rack is the best weightlifting power rack for the home gym, it should serve all your weightlifting needs and offer you the best safety and at an apt price.
This is where Rogue weightlifting racks come into play. Rogue fitness is one of the best value power rack brands globally. They are designed to provide you with a full range of weight lifting exercises. They offer several functions that help you in enhancing your strength through weightlifting.
We added 12 Rogue power rack models that satisfy the features most people desire in their equipment in this post.
Along with a comprehensive buying guide that gives you an in-general idea of excellent racks, this article also helps you understand each rack specifically.
Here we review various power rack models from Rogue Fitness.
For those who want to see our top picks of the best Rogue power racks for a home gym, here you go:
See the overview, pros & cons below.
What to Look for When Buying Rogue Power Racks?
Rogue fitness is a well-known fitness brand in the USA. They break down the equipment, like squat racks and barbells, so you can know what exactly you will get and will not bother buying the equipment you don't need.
When we buy a Rogue squat rack, there're some factors we should consider.
Weight Capacity
The first thing is the strong weight capacity. The maximum weight you can safely load on the rack is the weight capacity.
All Rogue fitness power racks are made of 11-gauge thick steel, which is strong enough for performing heavy exercises.
This directly indicates the rack capacity without any doubt. So is the weight recommendation that comes with the rack, which are clear indications of its capacity.
Also, the rack's construction and the hardware quality give you an idea of how strong the racks are and how well they hold up.
Larger uprights indicate better capacity than the smaller uprights, which tend to be of lighter capacity and are usually made of lightweight hardware.
The same is the case with the cross members. Few racks come with weight plates and the bar, indicating that the rack can conveniently hold that weight.
Upright Size
The complete rack height can be termed as the upright size of the equipment. This is important because you should have enough ceiling clearance where you intend to place the rack.
But if you don't, find a short power rack for low ceilings room. Always keep in mind that your height also plays a major role in determining the proper rack height since a pull-up bar needs to be higher above the ground than your height for you to perform them in the right manner.
Footprint
Another thing you should consider is the footprint and the height. If you decide to build your home gym, this could make or break for success.
The footprint is a space the rack occupies on the floor. Make sure that it occupies only the designated amount of space as the equipment stays in place for the whole time, meaning you cannot use that space.
For storage consideration, it's better to find a power rack that can be easily folded up. A space-saving Rogue power rack will not compromise the quality. The only concern is the space is limited for performing a wide-range movement.
Also, check if space in-between is enough to move your body safely and comfortably.
Speaking of the height, you should check out the height of the power rack and the height between your gym floor and ceilings. You won't want to choose your favorite power rack but find that it fits your room. See more power racks for low ceilings here.
Stability
You should have a wide enough base to keep the rack stable even when you use it to its full capacity. Some power racks can also come with a bolting facility which adds more safety, but you cannot move the rack wherever you want.
When it is free-standing, it can be moved from room to room or indoors to outdoors as required.
Read Also: Do Squat Racks Need to Be Bolted Down?
Hole Spacing
The Westside style of hole spacing is pretty standard in most racks. This format of holes comes in the 1-inch distance and is present in the range of the bench press area.
This kind of arrangement helps you to enjoy higher flexibility and gives a comfortable lifting experience.
Another useful function of this setting is to easily adjust the distance between the bar and the bench based on your physic.
Apart from the bench press area, holes in the other parts, i.e., above and below, are 2-inches away from each other.
Finally, at the end of the rack on the upper side, you will find numerically labeled holes. These numbers will help you check if the bars and pegs are placed at the same height in the cage.
Hardware
Hardware plays a prominent role in keeping the rack stable. When the hardware is of high quality, it indicates that the equipment is also heavy-duty.
You get excellent strength, high capacity, and proper stability when you have the right hardware. The usually used bolts are ½-inch, whereas top-end models use 1-inch bolts.
Bar Containment
The peg system can contain various shapes of holders that are used to hold the bar when not in use or to rest them.
You get L and J-shaped brackets to contain the bar on the rack. The L-shaped pegs are not considered safe as they cannot contain the bar securely.
However, they allow the bar to be easily moved from the peg and are usually used in lower racks. On the other hand, J-shaped pegs are highly secure, and the bars cannot roll off easily.
They need a little lift to get them off the peg, and this arrangement is usually found in better rack models.
Options
Additional feature options differ from rack to rack, and usually, the pricier models come with higher options.
Low-cost Rogue power rack models usually come with a basic rack, and a few models allow you to buy additional accessories that allow further upgrading at your convenience.
Such provisions include pull-up bars, having different rod circumferences that help in improving the strength of your grip.
Also, a safety system for the bar with the help of a strap, an onboard storage facility for weight plates, dip bars, and post-to-use resistance bands are very useful.
Price
Budget is one of the main concerns since it decides your affordability and the possible specifications of your equipment.
Costlier power racks offer more bells and whistles, but if you have a little patience and time, you can save little money and get all the required features when you source them separately.
Again, you should keep your priorities first, decide the rack type, and then choose among them but not the other way around.
If you choose a basic power rack as it fits your budget, but you are an advanced user, it will be completely useless.
So, choosing a few models that suit your requirement and then sorting out the price is a better way to work on price.
Warranty
Another thing you should keep in mind is that check out the warranty policies. That way, you can enjoy the extra benefits that the Rogue power rack provides.
How to Choose the Right Rogue Weight Rack Model?
Now that you are aware of important aspects to look for while purchasing weight rack equipment, you now need to consider checking the different models. Each model has a specific standard construction and various options that influence the price.
Rogue power racks are intended to serve three main purposes, namely powerlifting, weightlifting, and resistance training. Each model serves one or more purposes and needs to be chosen according to your needs.
In weightlifting, you usually burn out your muscle to their maximum efficiency using heavier weights each time while doing repetitions.
During this process, you develop muscle strength, and the racks are useful to assist you in this progression.
You can execute the squat where the weight is distributed across both shoulders, and you bend down at your knees.
You again bring up your leg to a regular position where you complete one rep of a squat from this position.
Similarly, the bench press is performed while lying on the weight bench. You lower and lift the weights repeatedly.
Also, a shoulder press is done in the same manner as a bench press, but you do it in a seated position.
Finally, the deadlift starts with weight on the lowest rack bar or the ground, and you will raise it to the waist level.
All these moves contribute to the weightlifting activity where the racks come in handy to perform them without anyone's help, requiring somebody to assist you.
For resistance training, you use lighter weight but do more repetitions. Here, you do not gain the muscle bulk but tone your body, enhancing your overall performance.
It improves strength, health, and your performing stamina in sports.
When you do this workout using a weight rack, it gives you complete protection even when exercising alone.
Along with the above-mentioned, you can also do pull-ups using these racks.
Now that you know how a weight rack can be useful for your workouts for weightlifting and resistance training, we can focus on checking other important factors necessary.
If you are into powerlifting, they might not be useful in the lifting aspect, but they help you improve your strength and stamina.
By examining the key features and how they will support you in your training, you can check them with your needs, helping you choose the perfect weight rack.
Usage Frequency
When you use the rack for training 3 or more times a week, you fall into the serious weight training category. This type of workout needs a higher caliber rack than those who just use it once every week.
Required Capacity
Though you get several high-capacity racks, you need to put yourself into the right range of load requirements. This is because as the weight capacity increases, the price increases accordingly, and it may be an unnecessary investment when you do not plan to do such intense exercises.
Placement
Positioning the rack in the right place will also decide its durability and comfort in using it. Few models take up minimal space, such as wall units, and some occupy extremely large space.
The machine's footprint and the ambient temperature of the room where you keep the rack also matter.
Since the unbalanced surrounding temperature, which goes high and low or humid, constantly aids in corrosion of the steel, reducing the life of the rack.
Based on where you will place the rack and the space availability, you need to decide which model better suits your needs.
Compatibility
Sometimes this might not be your first rack, and you already have several accessories and attachments from the previous rack you wish to use with your new rack.
Otherwise, you simply got a few accessories from your friend or a family member who moved on to higher training, or they are simply not using them.
If so, you need to check the bar length and style for compatibility by seeing if it fits well into the brackets and stays there safely.
Similarly, make sure the plate storage system can store your weights without issues. Finally, after checking all these things in your model hunt, you will be able to make an informed decision without much difficulty.
However, these are all common features and specifications that do not recommend any model in particular.
Hence, we have compiled a review of 12 useful weight racks to help you further with your research. This in-detail information is sure to help you in buying a perfect rack that suits all your needs without any deficiencies.
We will share the best Rogue power racks that cover your needs most and discuss the essential factors that suit them below.
Top 12 Best Rogue Power Rack for Home Gym
These power racks come in different sizes, models, and budgets to easily choose your suitable model. The first Rogue power rack we are going to talk about is the Rogue R-3 power rack: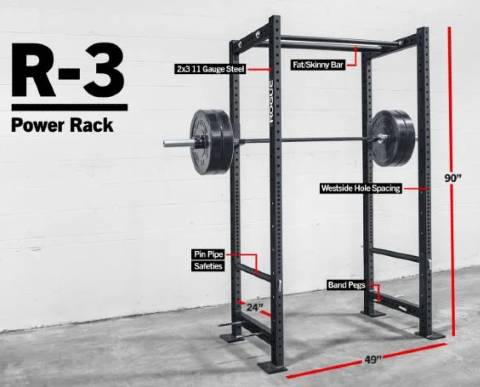 Rogue R-3 is one of the best value racks with a pull-up bar for beginners and advanced lifters. This power rack comes with a footprint of 53" x 34" and two different versions—the standard version (90" height) and the short version (84" height, suitable for low-ceiling places like a basement).
Along with basic attachments, you also have an option to add several accessories or attachments to enjoy many workout variations using the same rack.
Since it is compatible with R series racks, you can find many suitable budget attachments and accessories for this purpose. It contains all basic configuration and safety bars, i.e., type pin and pipe type, pegs for resistance bands, and J-cups for safely holding the bars.
If you need plate storage, it is available as an optional feature. As it is black powder-coated and comes with a lifetime guarantee, you need not worry about the rack's durability and enjoy the long-life promise it comes with.
The hole pattern is of Westside type and has a 2" gap all over the rack except a 1" gap at the bench press area.
The RE-4 and R3 racks were very close in many aspects, including price, but R3 made it to the top Rogue power rack in this list with slight differences, which made us rule in favor. R3 has better rail dimensions, hardware, hole pattern, and safety standards. R3 dodged it with its different height options that will serve wide customers, and this Rogue power rack is my choice.
Read my Rogue R-3 review here.
Pros
It is suitable for both novice and experienced weightlifters, plus it comes at a reasonable price.
The 2" x 3" 11-gauge steel is used for this rack, along with sturdy 5/8" hardware, which adds to the rack's stability. Tested at over 1,000 lbs without issue
As it is compatible with many optional accessories, you can expand your equipment depending on your needs and budget as per your convenience.
You get this equipment even in a shorter version, and hence you need not settle for one type that suits all models but opt for a more suitable model to your requirements.
Cons
Though it comes with 200 pounds of weight, you still need to bolt this rack to the floor to keep it perfectly secured.
Few might find the depth insufficient for squats, even though most people do not have any issue.
==> Get This Power Rack on Rogue Fitness <==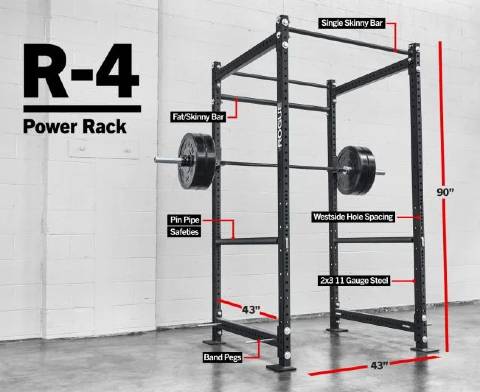 This budget weightlifting rack has plenty of space for you to work out without any hassles. However, you need good space to place this rack as it has a large footprint and interior depth, which occupies a considerable area.
You may call the R-4 Power Rack the big brother of the previously reviewed R-3 power rack. It weighs 50 pounds more than R-3, so it's sturdier. Though it is similar to the R-3 rack in most specifications, it comes with additional specs such as an extra pull-up bar and pegs for resistance bands.
It has a 53" x 53" footprint, and this rack is built using 2" x 3" 11-gauge steel and the hardware of 5/8". The whole rack is bigger than R-3. It is probably the best rack for a home or garage gym if you have enough space.
It is one of the tallest home gym racks available. The 90 inches height may not be a great choice for a low ceiling home.
Also, the steel part is black powder-coated for extra protection from corrosion and extends the life of the rack. Due to the depth of 43", you can do exercises such as squats very comfortably.
The J-cups are useful to keep the bar in place securely and come with a coating of plastic that makes them durable. This tracks standard equipment also includes the safety pipes and pins.
Pros
Decent price for a large weightlifting rack
You can keep adding additional equipment as you go using to improve your training constantly.
Though it is larger than many home gyms, it is the ideal home gym equipment if you have little space.
The 1" hole spacing at the bench press area gives you shorter intervals which help you in training using smaller increments.
Cons
Even though the rack is heavy, it still requires floor mounting for stability.
If you need a more secure option, such as an Infinity strap system, then you need to spend more bulks.
==> Get This Power Rack on Rogue Fitness <==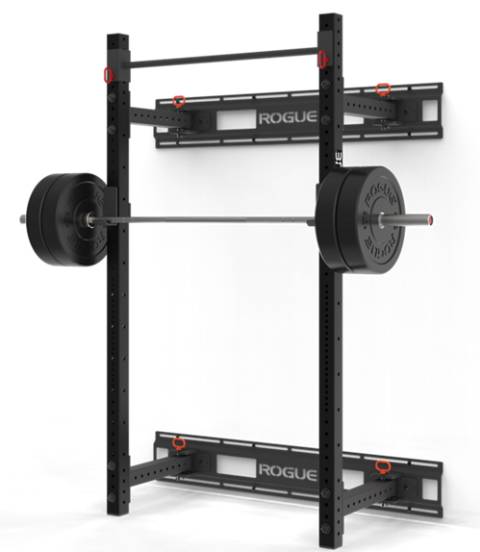 This Rogue RML-3WC folding power rack will be the best option for a comparatively smaller area. Not to mention that the reviews of this power rack are twice that of any other rack.
The foldability of this wall mount rack allows you to install it in even small places as you can fold it back and reclaim your space.
When folded, it only occupies a space of 5" from the wall, and this also makes it suitable for installing it in garages as you can comfortably fit your car after you fold it.
You can find it in two depth variations of 41" and 21", which is another good option to decide on the usable area based on your needs. This flexible rack is convenient to the lifter and has a lifetime warranty ensuring durability.
The black powder-coated steel is responsible for maintaining the longevity of the racks. The 5/8" hardware and the 11-gauged steel construction with 3" x 3" dimensions give it heavy-duty compatibility.
It weighs 190 pounds or 63 pounds, depending on the model you choose. It comes with the hole spacing model of Westside, meaning it has 1" apart holes at the bench press region and 2" apart on the remaining part of the rack.
Its compatibility lets you add extra accessories that you may need for a full-body workout. However, installing this power rack seems a bit challenging for some people.
Pros
Keeps your floor space free when not in use yet provides you the standard functionality of a weightlifting rack.
It is locked to the wall using a hinge and pin system of heavy-duty, which provides good support to the rack and keeps it stable while you work out.
You can even mount this on a wood stud wall securely and without any issues if you use the stringer system that comes as optional.
Highly flexible design, excellent functionality, and design for limited space at an affordable price.
Cons
It stays put in one place as you fix it to the wall and cannot be moved if you need some outdoor workout.
Does not come with a storage peg and a dip station.
It is fixed, and sometimes you might not want your wall bearing this weight.
The installation might be quite a challenge.
==> Get This Power Rack on Rogue Fitness <==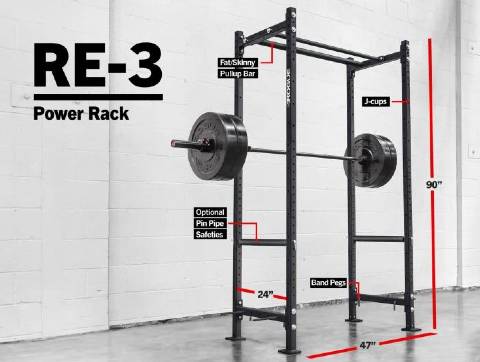 If you are on a budget, the Echo RE-3 is a great pick for you with still Rogue's trademark durability and quality craftsmanship.
It is a 90 inches height rack made of 2 x 2″ 11-gauge steel. It Weighs only 160 pounds with a footprint of 53″ x 32″, RE-3 is the most affordable power rack in terms of both costs and space.
The biggest advantage is the low price. But it doesn't compromise with the quality.
The Rogue RE-3 Echo power rack is the low-budget alternative to the R-3 Power Rack. It gives you a little more free space.
But if you are a huge man, this may not be the right choice for you for its compact body.
You will have to order the pin and pipe safeties while they do not come with this model.
Pros:
It comes with band pegs, a fat or a skinny pull up bar, and J cups
Quite compact and strong enough with 2X2" steel
Quite less total frame weight compared with other Rogue power racks.
Cons:
Unstabilized enough and must be bolted to the floor.
Separately sold concrete anchors.
==> Get This Power Rack on Rogue Fitness <==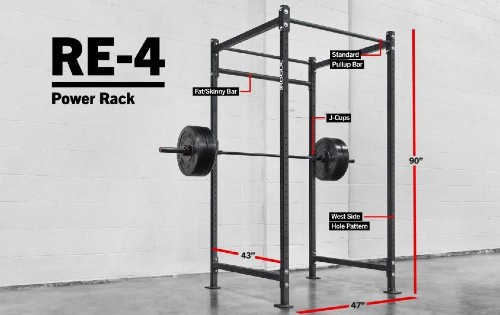 Rogue RE-4 Echo power rack comes with a weight of 190 pounds, making it a solid rack with excellent thickness.
Also, the assembly hardware comes in ½-inch standard. It has both the pull-up bars of thin and fat grip kinds and four pegs set that you can use for resistance band exercise.
As it comes with J-cups, you will not have safety-related issues such as bar rolling down accidentally.
This 90" tall unit is ample enough for most heights and fits suitably into your home as it has good clearance for standard ceiling height.
Coming to its 52" x 52" footprint, you can have plenty of workout areas to do your exercises comfortably, yet it does not occupy much space.
This rack can be utilized in several ways as it comes loaded with features. You can have a load of up to 260-pounds of weights and bar capacity, which helps you do intense workouts.
You get a 2" distance between holes around the bench press area and 6" of distance in other places.
Pros
Versatile rack with various features useful for both beginners and experienced uses alike.
The high-weight plate capacity available with this rack is ample for most weightlifters.
You have extra stability since the J-cups are welded solidly to the frame.
The plastic coating for pegs and black-coated steel keeps the frame durable.
Cons
You should purchase stability bars separately or bolt the unit to the floor
It does not come with onboard storage for plates
No dip stations
==? Check the price on Rogue Fitness <==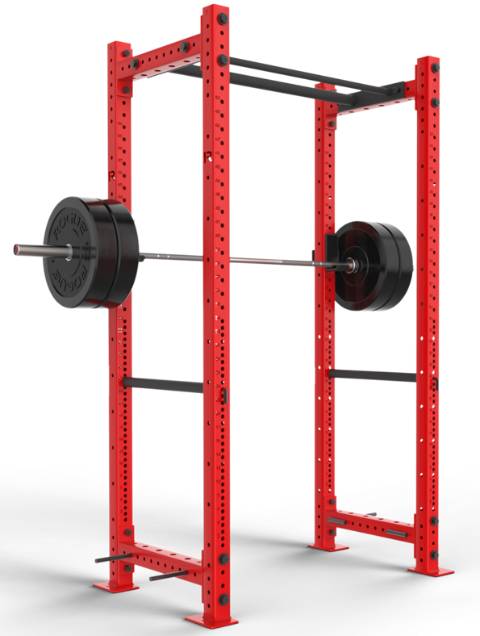 To get a colored rack for a low price, the RML-390C is a good option. It is the colored version of the Rogue RML-390BT Power Rack.
For its compact structure, it can fit in a comparatively smaller space.
The weight of RML-390C is around 265 pounds. With a height of 90.375″, it is a great choice for tall people if you have enough ceilings clearance.
The power rack comes with four band pegs, a pair of J cups, a pin/pipe safety set, and fat or skinny pull-up bar.
Surely, you can get upgraded racks at this price if the color does not bother you.
Pros:
Easy to set up and install
So many available colors to choose from
Compatible with monster lite series and other accessories
Quite compact and can fit in a comparatively smaller space
Cons:
The compact size may not be perfect for everybody, especially for big people.
==> Get This Power Rack on Rogue Fitness <==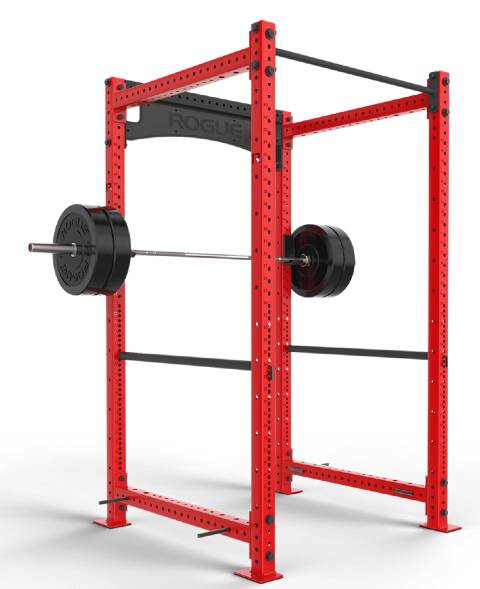 This Rogue RML-490C rack is one of the Monster series by Rouge and is one of the company's most functional power racks. The heavy-duty rack weighs 336 pounds and has a big enough 53" x 53" footprint for comfortable workouts.
It is made from 3" x 3" rails and comes with 5/8" hardware that lasts for a lifetime as it is constructed using these sturdy materials. The black powder coating on the steel frame makes the unit stand solid without rusting for years to come.
Its height is 90.375," and its weight is 340 pounds. It provides various color finish options for customers and features like stabilizing back-nameplate, Slinger-compatible cross members, and so on.
You get the standard features, and this rack is expandable as you go using the optional Monster equipment available. The Westside hole system on this rack gives you 1" apart holes at the bench press and 2" apart elsewhere.
The pipe and pin safety bars, J-cups, dual pull-up bars, and the pegs for the resistance band are part of the standard configuration. If you are looking for more options, you can get plate storage pegs and a dip station separately.
Though you get 49" x 49" inner working area dimensions, you should still use the stabilizer bar or mounting hardware to keep the rack stable. This equipment should also be bought and does not come with a rack.
With RML-490C, you have quite enough space to perform exercises. But still, you have to have sufficient room to place this beast.
Pros
Affordable rack in the line of upgradable heavy equipment offers greater durability and comfort.
High-quality build with first-class materials and comes with protective coats to keep it safer.
Compatible for further expansion of the unit, allowing you to perform more with lesser investment as you go.
Enough space inside to perform various movements
Easily customizable to build on with multiple accessories
It comes in custom colors to satisfy your aesthetic needs.
Cons
None of the stability equipment is provided, and you should buy it separately.
Facilities such as dip bar and onboard weights are not provided with the rack as default.
A bit pricy.
The mounting hardware not included
Optional stabilizers are available only with the matte black finish, not with any other color options
==> Get This Power Rack on Rogue Fitness <==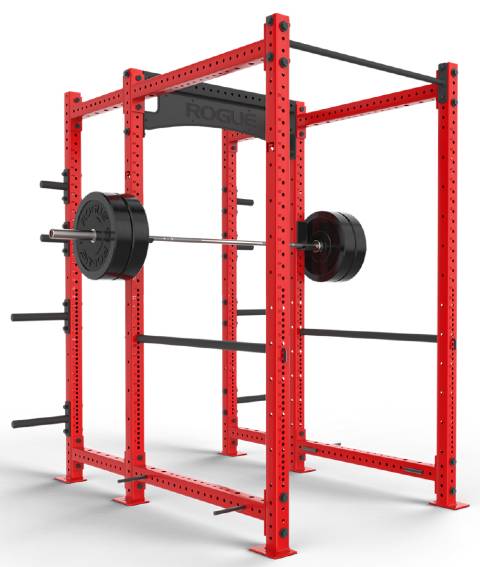 If you have been looking for a high-end model with both top functionality and aesthetically pleasing, then this is the model you were looking for.
Though I agree the price is not pocket-friendly, I also need to accept that it provides what you pay for.
It is one of the most attractive racks and is available in ten colors. This power rack has a large footprint of 80" x 53" and comes with uprights of dimensions 3" x 3".
The 11-gauge steel and the 5/8" hardware all together make up a beast of 530 pounds, making it stable by itself without the need for any harness.
Since you get the standard Westside hole spacing, you get the conveniently spaced holes that are useful in easily adapting the rack to your needs.
You can also customize the depth and height of the rack according to your choice apart from the color choice.
This professional-quality rack comes with several functions. Few features, such as storage posts, are available as default with this rack.
This rack also has resistance band pegs, a pipe and pin safety system, and similar facilities.
One of the biggest advantages of RML-690C is that it does not need to be bolted down to the floor to give stability  ( but it's still recommended for maximum stability).
But it only comes with a single skinny pull-up bar is included in the package with the power rack.
Pros
Heavy-duty machines are suitable for elite trainers and people.
Accessible to athletes of all heights due to its 90" height
Equipment is suitable for even heavy traffic areas such as gyms and training rooms.
It comes with several options as a standard, and you can still extend them if need be using compatible attachments.
Compatible with other accessories, including squat stands to provide more flexibility
Does not require bolting like other racks for stability.
Ample space to do inner space-based exercises where you do not bump into any rods even if the lifter is hefty.
Connectable with the wall if extra stability is required
Cons
Comparatively expensive than its counterparts
Since the holes do not come numbered, you need to figure out the proper holes, making it difficult to align the pegs equally.
90" height may not fit in all residential ceilings
The bulk size of the power rack may make it quite unsuitable for home gym
==> Get This Power Rack on Rogue Fitness <==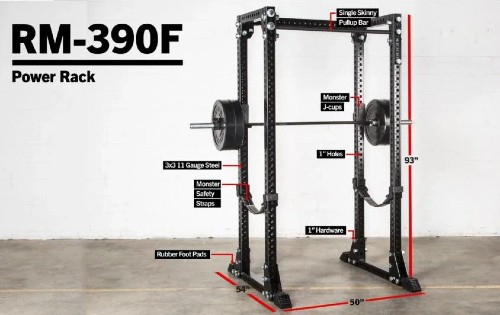 The sleek satin black finished rack with heavy-duty construction stability and solid weight is an apt description of this machine.
It is again from the Monster series, this time a true one with lots of facilities and functionalities that can give you the most engaging experience you ever had with racks.
Its standard features are treated as bells and whistles in other models, making it the most desirable racks.
It comes with a big enough footprint of 54" x 50" and a 24" inner depth and 93" of height.
You can conveniently do the squats interior lifts and hand your full body's dead weight from the pull-up bar with these dimensions.
The 3" x 3" rails with 11-gauge steel and 1" hardware have solid stability.
Also, it's a self-stabilizing footer, and with a weight of 336 pounds, you will not need any mounting to support it.
As it comes with number-labeled holes, you find it easier to keep the pegs in the right holes without any confusion.
Though you get high stability and strength, it is a little expensive for a home user and may be a good option for weight training studios and gyms.
Pros
It comes with all the assembly tools such as bolts and hangers included with the rack.
The monster J-cups are extra strong when compared to their counterparts.
Pin and pipe safety system is also included along with the other standard features.
Foot guards with rubber coating helps in protecting your floor and keep the rack stable while you work out.
Compatible with other accessories specifically made for the Monster range of machines that are of a high standard.
Cons
Dip station and plate storage facility are expected for a machine of such price.
It seems a little expensive, especially when compared to some other models which closely resemble this product.
==> Check the price on Rogue Fitness <==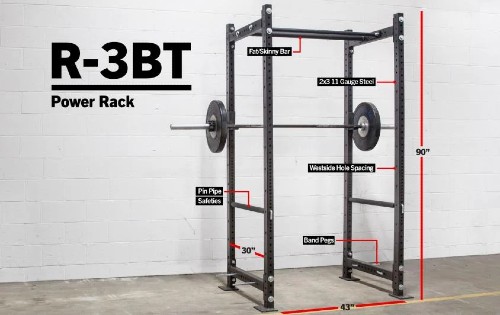 As the name itself says, it is an R-3, and yes, it is the same R-3 we did come across already but just that it comes unassembled.
You may need to carry the rack upstairs or through a low ceiling which is difficult when you have hefty equipment.
It is a modified version that can easily squeeze into tight spaces without any issues due to the divided rack.
The footprint of this rack is 53" x 34" and comes with a depth of 24" from inside.
You also get an option of 30" depth t an extra cost. Since it is not too large or too small, it can be considered a medium-sized rack and hence suitable for placement in-home or garage without hassle.
The height is 90" and is suitable for most ceilings and for taking advantage of bodyweight training.
It is a sturdy rack with 2" x 3" and comes with 11-gauge steel rails that use 5/8" hardware.
Though it is a basic model rack, you can further expand it by adding a few options as it is compatible with all R series accessories.
Pros
It comes with J-cups that are superior for safety compared to any other brackets.
It provides an advantage of flexibility in smaller spaces.
The pin and pipe safety bars and the resistance bar pegs are provided with the equipment.
You get a lifetime warranty along with a black powder-coated finish on the rack that ensures durability.
Suitable for both beginners and professionals alike.
Westside hole pattern is convenient and standard, which you can easily adapt to.
Cons
This equipment weighs 200 pounds but still requires bolting down to the floor for complete safety.
You need to assemble it by yourself.
No onboard storage for weight plates.
==> Check the price on Rogue Fitness <==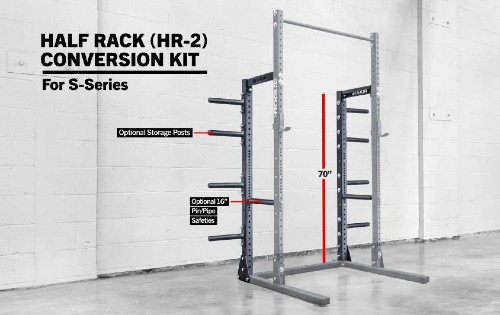 You can convert a few models of Rogue squat racks into half-sized weightlifting racks using this conversion kit.
This kit will enhance the rack's safety and add a provision to store more weight plates.
When you add this kit, you will be left with a 1000-pound weight load bearable half rack, which is also sturdy in its construction with 11-gauge steel and 3" x 3" uprights.
This kit consists of two rails, two-cross members on the top, plates that help attach the rails to the squat rack, and all the necessary hardware.
However, if you need more features such as long and short weight plate storing pegs, pipe and pin safety system, and so on, they come at additional cost.
When you already own a squat rack, this kit is a feasible option to improve the capacity and functionality.
However, it is not so advisable to buy both the squat rack and this kit together as you get a proper machine at that cost, and this kit might not be worth it.
Pros
By adding this kit, you can enhance their function if you have Rogue S-2 or S-3 squat racks.
You get more storage space for your plates when you opt for extra
The supporting plates that bind the uprights to the squat rack add stability to the equipment.
All the necessary hardware comes with the kit.
Increases the load capacity of the machine.
Cons
You get only partial equipment and need to have a rack already to use this kit.
The HR2 conversion kit is not a complete rack and has limited compatibility.
==> Check the price on Rogue Fitness <==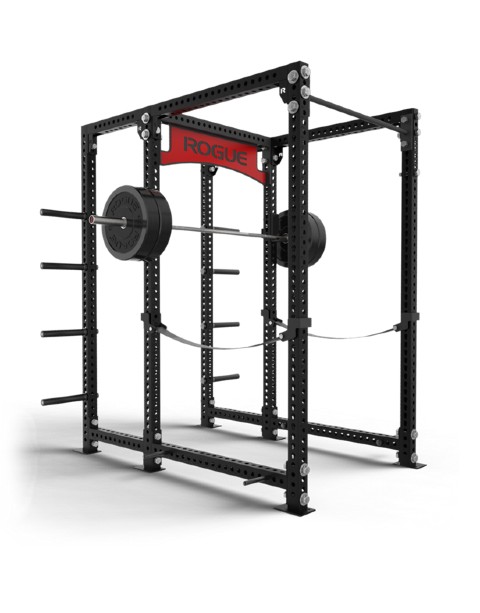 Though a little expensive, this Rogue power rack comes with plenty of options that suit even the advanced trainers such as elite athletes, top gymnasts, and professional weightlifters.
Its build is so standard that it is bound to last for generations together beyond any doubt, making it a worthy investment.
This rack is available in 11 different colors and has a footprint of 80" x 53" and a height of 90" x 108".
The giant size of this rack can accommodate various pull-up bar setups.
Its 11-gauged steel construction with 3" x 3" dimensions and 1-inch hardware make this beast strong enough for all the tough encounters.
You get the facility of both the standard pin and pipe system for safety and the strap system as an optional with a 10,000 pounds rating.
The 1000 pound rated movable J-cups are standard made and come with a high molecular weight plastic coating.
Storing the weight plates on the rack is possible using the 8 storage posts that come with the rack.
You also get to add optional attachments that leave you with innumerable applications for this rack which you can never get bored of.
Pros
The excellent stability offered by this rack does not require any permanent anchoring.
Its holes come marked and with neat laser cuts, which helps in easy alignment of J-cups
The four pegs are useful for resistance band workouts
It comes with a configuration that allows all standard workouts and several other options that you cannot usually find in many racks.
You get a high-level professional and commercial level of training using this equipment.
Cons
A highly expensive price is not affordable for everyone.
==> Check the price on Rogue Fitness <==
In Closing
Although a power rack is an essential part of a home gym, it is not quite cheap equipment to buy. That is why you should consider all the factors before buying just any power rack.
This list of Rogue power racks consists of weight lifting racks considering all kinds such as different budgets, dimensions, quality, ceiling height, capacity, and so on.
I came across the standard as well as unique features along with a detailed insight into their overview, the advantages they offer, and at the same time, the disadvantages they come with.
You got to know their specifications and their ability to deliver to be fully aware of what to expect from each piece of equipment. Their performance, value, and placement-related information have also been a point of discussion in most products.
Though all ten of them belong to the Rogue rack models, they still differ in many aspects. Some were stable without bolts, few required bolting, and we even came across the wall-mounted models. From super heavy to self-assembly models, you got every kind of rack here.
Just remember that it is a winner because it has the right balance of everything but not necessarily the right choice for you. You can decide which rack suits you well, and all I can do is provide proper guidance to help you make a decision.