When you want to add weight lifting options to your home gym, the first thing you should consider is safety measures.
The power racks are built for this. It also makes lifting exercises easy as well as provides space for your lifting materials.
Rogue fitness is one of the best selling power rack brands in the world. They are designed to provide you with a full range of weight lifting exercises.
We have tried to include all the aspects you should keep in mind before buying a Rogue power pack.
For those who just want to see our top picks of the best Rogue power racks for a home gym, here you go:
See the overview, pros & cons below.
What to Look for When Buying Rogue Power Racks?
Rogue fitness is a well-known brand in the USA. They break down the equipment, like squat racks and barbells, so you can know what exactly you will get and will not bother buying the equipment you don't need.
When we buy a Rogue squat rack, there're some factors we should consider.
The first thing is the strong weight capacity, all of the Rogue fitness power racks are made of 11-gauge thick steel, which is strong enough for performing heavy exercises.
The second thing you should take into account is the footprint and the height. If you decide to build your home gym, this could makes or breaks for success. A space-saving Rogue power rack will not compromise with the quality.
The only concern is the space is limited for performing a wide-range movement.
Speaking of the height, you should check out the height of the power rack and the height between your gym floor and ceilings. You won't want to choose your favorite power rack but find that it can fit in your room. See more power racks for low ceilings here.
Another thing you should keep in mind is that check out the warranty policies, that way you can enjoy extra benefits that the Rogue power rack provides.
We will share with you the best Rogue power racks that cover your needs most and will discuss the essential factors that suit them below.
Top 7 Best Rogue Power Rack for Home Gym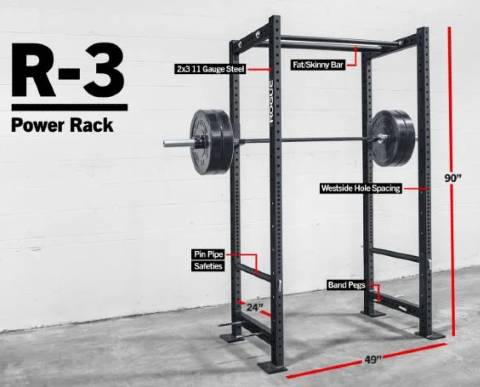 If you are going to spend some money, you better spend it on something that will last a long time.
R-3 is one of the best value racks if you are not into cheap racks. It is the best pick if you consider space-saving. But the 90 inches height may not fit every room ceilings.
R-3 weights around 200 pounds, it's the lightest power racks in R series. But it is super solid so you don't need to worry about the sturdiness. It also comes with a fat/skinny pull-up bar as an attachment. See more pull-up bar attachment here.
Being compatible with a wide range of accessories, it takes up minimal floor space.
With a depth of 24 inches, it is relatively compact and can fit well in the corner.
The Rogue R-3 Power Rack has welded side panels. It takes up a smaller footprint (53″ x 34″) than many other larger racks. But it is too unstable if not bolted down.
Pros
Reasonable price
Tested at over 1,000 lbs without issue
Compatible with a wide range of accessories
Cons
A big man may feel claustrophobic in the only 24 inches of open space
Needs to be bolted down to the ground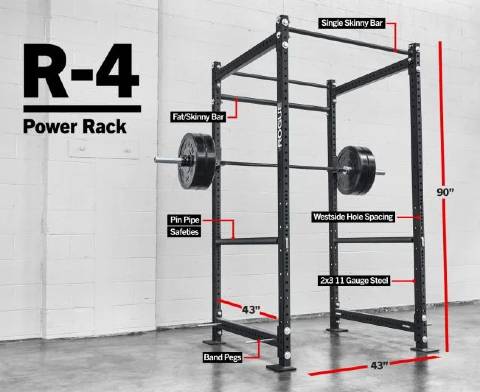 You may call the R-4 Power Rack, the big brother of the previously reviewed R-3 power rack. It weighs 50 pounds more than R-3 so it's sturdier.
It is one of the tallest home gym racks available. The same 90 inches height may not be a great choice for low ceilings home. If the ceiling height is your concern, here is a list of power racks for low ceilings.
The R-4 Power Rack contains the most popular configuration among the Rogue power racks.
The whole rack is bigger than R-3, it has about 43 inches depth. It is probably the best rack for a garage or home gym if you have enough space.
As some people say, the pipe and pin safety systems are junk; you should consider those default spotters before buying.
The option for switching back and forth between the skinny and the fat bar is quite awesome.
Pros
Increased space, more height, and depth than the R-3
Includes both front and back pull up bars
Compatible with so many accessory products
Includes safety bars
Cons
Requires to be bolted down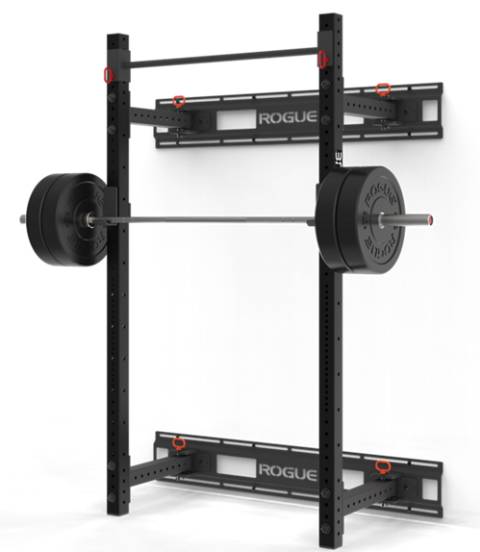 For a comparatively, smaller area, this power rack could be the best option. It is most likely Rogue's best selling squat rack.
Not to mention that the reviews of this power rack are twice to that of any other rack. It is also made of 3×3″ 11 gauge steel and weighs about 190 pounds.
The RML-3WC power rack is designed to be mounted on the wall. So it can be folded nearly flat, leaving a wider space for your garage or home.
Undoubtedly, the folding part is what most 'home gym' people look for.
Due to its compatibility, it lets you add extra accessories that you may need for a full-body workout.
However, the installation of this power rack seems a bit challenging for some people.
Pros
Space-saving efficiency
Includes a pull-up bar, mounting brackets, and a standard stringer pair in it
For micro-adjustments, there is Westside hole spacing in the bench area.
Perfect height to fit into any standard sized garage
Compatible with extra accessories
Cons
The installation might be quite a challenge.
Admittedly, it is not the cheapest folding power rack available.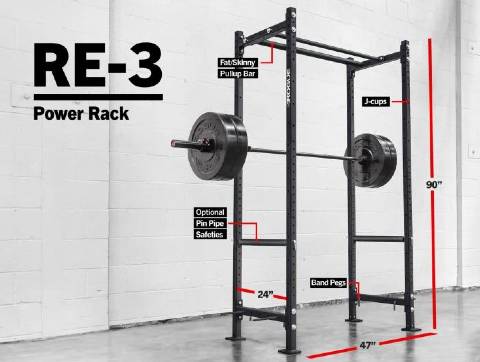 If you are on a budget, the Echo RE-3 is a great pick for you with still Rogue's trademark durability and quality craftsmanship.
It is a 90 inches height rack, made of 2 x 2″ 11-gauge steel. Weighs only 160 pounds with a footprint of 53″ x 32″, RE-3 is the most affordable power rack in terms of both cost and space.
The biggest advantage is the low price. But it doesn't compromise with the quality.
The Rogue RE-3 Echo power rack is the low budget alternative to the R-3 Power Rack. It gives you a little more free space.
But if you are a very big man, this may not be the right choice for you for its compact body.
You will have to order the pin and pipe safeties additionally as they do not come with this model.
Pros
Comes with band pegs, a fat or a skinny pull up bar, and J cups
Quite compact and strong enough with 2X2" steel
Quite less total frame weight compared with other Rogue power racks.
Cons
Unstabilized enough and must be bolted to the floor.
Separately sold concrete anchors.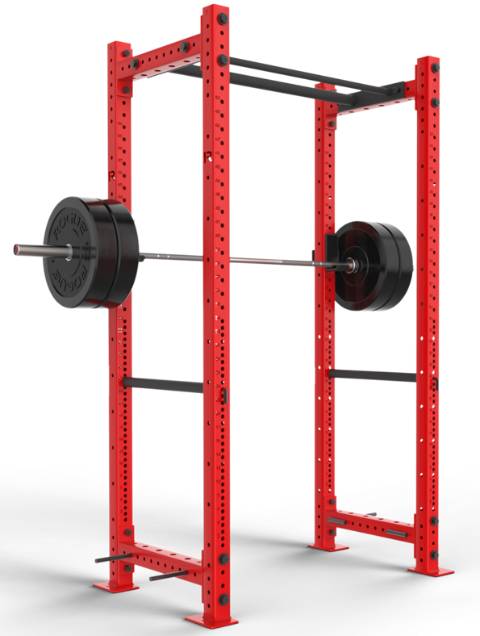 To get a colored rack for a low price, the RML-390C is a good option. It is the colored version of the Rogue RML-390BT Power Rack.
For its compact structure, it can fit in a comparatively smaller space.
The weight of RML-390C is around 265 pounds. With a height of 90.375″, it is a great choice for tall people, if you have enough ceilings clearance.
The power rack comes with four band pegs, a pair of J cups, a pin/pipe safety set, and a fat or skinny pull up bar.
Surely, you can get upgraded racks at this price, if the color does not bother you.
Pros
Easy to set-up and install
So many available colors to choose from
Compatible with monster lite series and other accessories
Quite compact and can fit in a comparatively smaller space
Cons
The compact size may not be the perfect one for everybody; especially, for big people.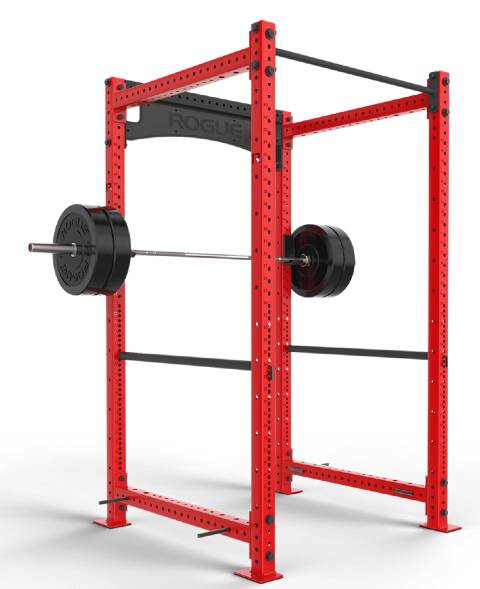 Rogue RML-490C is one of the company's most functional power racks.
The long-lasting construction earned positive reviews from all over the world.
It is built with a combination of highly durable 3×3" 11-gauge steel and 5/8" hardware of the Infinity R-4.
Its height is 90.375″ and weight is 340 pounds.
It provides various color finish options for customers and features like stabilizing back-nameplate, Slinger-compatible cross members, and so on.
With RML-490C, you have quite enough space to perform exercises. But still, you have to have sufficient room to place this beast.
The Rogue RML-490C power rack also comes with a built-in standard pull up bar with the package.
You can build on with multiple accessories, additionally for its easy customization.
Due to its high stability, you do not need to drill holes in the concrete floor.
Pros
Ensures long-lasting durability
A wide range of eye-catchy color options
Enough space inside to perform various movements
Easily customizable to build on with multiple accessories
Well stabilized
Cons
A bit pricy.
The mounting hardware not included
Optional stabilizers available only with the matte black finish, not with any other color options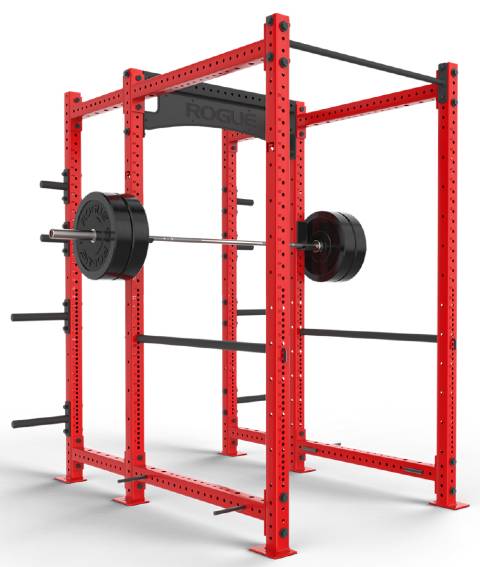 It is a unique blend of the Rogue R-6 Power Rack and RM-6 Monster Rack. So you may call the Rogue RML-690C the big brother of the RM-6 Power Rack.
It is a bit lighter in the budget than both of them.
The height of RML-690C is the same as RML-490C—90.375″. But this model is much heavier than 490C, it weighs 530 pounds.
Rogue RML-690C power rack provides enhanced safety features that prevent dropping accidents.
One of the biggest advantages of RML-690C is that it does not need to be bolted down to the floor to give stability.
But it only comes with a single skinny pull up bar is included in the package with the power rack.
Pros
Accessible to athletes of all heights due to its 90" height
Shipment includes pin/pipe safeties
Compatible with other accessories including squat stands to provide more flexibility
Connectable with the wall if extra stability is required
Cons
The sheer size of the power rack may make it quite unsuitable for home gym
Takes up a little more space than many other home gym racks
90" height may not fit in all residential ceilings
In Closing
Although a Power Rack is an essential part of a 'home gym,' it is not quite a cheap thing to buy.
That is why you should consider all the factors before buying just any power rack.
We have shared with you a vast review of the best Rogue power racks.
Hopefully, our review will make it very easy for you to understand what fits you best.