When you buy through links on this site, I may earn an affiliate commission at no extra cost to you. Learn more
When you want to add weight lifting options to your home gym, the first thing you should consider is safety.
The Rogue power racks are built for this. It also makes lifting exercises easy as well as provides space for your lifting materials.
Rogue fitness is one of the best value power rack brands in the world. They are designed to provide you with a full range of weight lifting exercises.
We have tried to include all the aspects you should keep in mind before buying a Rogue power pack.
For those who want to see our top picks of the best Rogue power racks for a home gym, here you go:
See the overview, pros & cons below.
What to Look for When Buying Rogue Power Racks?
Rogue fitness is a well-known brand in the USA. They break down the equipment, like squat racks and barbells, so you can know what exactly you will get and will not bother buying the equipment you don't need.
When we buy a Rogue squat rack, there're some factors we should consider.
The first thing is the strong weight capacity. All of the Rogue fitness power racks are made of 11-gauge thick steel, which is strong enough for performing heavy exercises.
The second thing you should take into account is the footprint and the height. If you decide to build your home gym, this could makes or breaks for success. A space-saving Rogue power rack will not compromise with the quality.
The only concern is the space is limited for performing a wide-range movement.
Speaking of the height, you should check out the height of the power rack and the height between your gym floor and ceilings. You won't want to choose your favorite power rack but find that it can fit in your room. See more power racks for low ceilings here.
Another thing you should keep in mind is that check out the warranty policies. That way, you can enjoy the extra benefits that the Rogue power rack provides.
We will share the best Rogue power racks that cover your needs most and discuss the essential factors that suit them below.
Top 7 Best Rogue Power Rack for Home Gym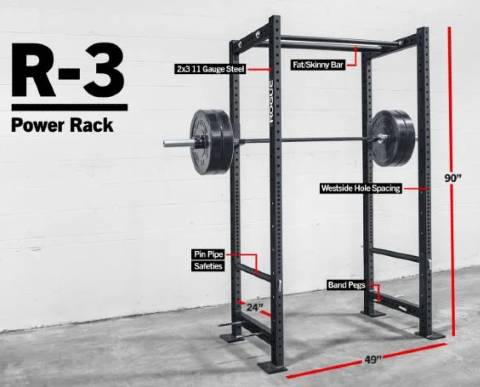 Rogue R-3 is one of the best value racks with a pull-up bar for both beginner and advanced lifters. This power rack comes with a footprint of 53" x 34" and two different versions—the standard version (90" height) and the short version (84" height, suitable for low-ceiling places like a basement).
Along with basic attachments, you also have an option to add several accessories or attachments to enjoy many workout variations using the same rack.
Since it is compatible with R series racks, you can find many suitable budget attachments and accessories for this purpose. It contains all basic configuration and safety bars, i.e., type pin and pipe type, pegs for resistance bands, and J-cups for safely holding the bars.
If you need plate storage, it is available as an optional feature. As it is black powder-coated and comes with a lifetime guarantee, you need not worry about the durability of the rack and enjoy the long-life promise it comes with.
The hole pattern is of Westside type and has a 2" gap all over the rack with the exception of a 1" gap at the bench press area.
The RE-4 and R3 racks were very close in many aspects, including price, but R3 did make it to the top Rogue power rack in this list with slight differences, which made us rule in favor of it. R3 has better rail dimensions, hardware, hole pattern, and safety standards. R3 dodged it with its different height options that will serve wide customers, and this Rogue power rack is my choice.
Read my Rogue R-3 review here.
Pros
It is suitable for both novice as well as an experienced weightlifter plus it comes at a reasonable price.
The 2" x 3" 11-gauge steel is used for this rack, along with sturdy 5/8" hardware, which adds to the stability of the rack. Tested at over 1,000 lbs without issue
As it is compatible with many optional accessories, you can expand your equipment depending on your needs and budget as per your convenience.
You get this equipment even in a shorter version, and hence you need not settle for one type suits all model but opt for a more suitable model to your requirements.
Cons
Though it comes with 200 pounds of weight, you still need to bolt this rack to the floor to keep it perfectly secured.
Few might find the depth insufficient for squats, even though most people do not have any issue.
Get This Power Rack on Rogue Fitness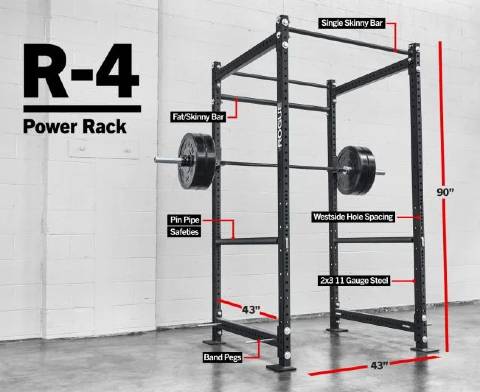 This budget weightlifting rack has plenty of space for you to work out without any hassles. However, you need good space to place this rack as it has a large footprint and the interior depth, which occupy a considerable area.
You may call the R-4 Power Rack the big brother of the previously reviewed R-3 power rack. It weighs 50 pounds more than R-3, so it's sturdier. Though it is similar to the R-3 rack in most specifications, it comes with additional specs such as an extra pull-up bar and pegs for resistance bands.
It has a 53" x 53" footprint, and this rack is built using 2" x 3" 11-gauge steel and the hardware of 5/8". The whole rack is bigger than R-3. It is probably the best rack for a home or garage gym if you have enough space.
It is one of the tallest home gym racks available. The 90 inches height may not be a great choice for low ceilings home.
Also, the steel part is black powder-coated for extra protection from corrosion and extends the life of the rack. Due to the depth of 43", you can do exercises such as squats very comfortably.
The J-cups are useful to keep the bar in place securely and come with a coating of plastic that makes them durable. This tracks standard equipment also includes the safety pipes and pins.
Pros
Decent price for a large weightlifting rack
You can keep adding additional equipment as you go using which you can improve your training constantly.
Though it is larger than many home gyms, it is the ideal home gym equipment if you have little space.
The 1" hole spacing at the bench press area gives you shorter intervals which help you in training using smaller increments.
Cons
Even though the rack is heavy, it still requires floor mounting for stability.
If you need a more secure option, such as an Infinity strap system, then you need to spend more bulks.
Get This Power Rack on Rogue Fitness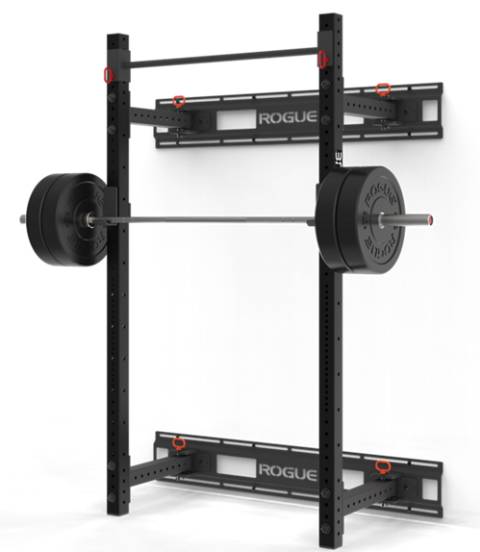 For a comparatively smaller area, this Rogue RML-3WC folding power rack will be the best option. Not to mention that the reviews of this power rack are twice that of any other rack.
The foldability of this wall mount rack allows you to install it in even small places as you can fold it back and reclaim your space.
When folded, it only occupies a space of 5" from the wall, and this also makes it suitable for installing it in garages as you can comfortably fit your car after you fold it.
You can find it in two depth variations of 41" and 21", which is another good option to decide on the usable area based on your needs. This flexible rack is convenient to the lifter and comes with a lifetime warranty ensuring durability.
The black powder-coated steel is responsible for maintaining the longevity of the racks. The 5/8" hardware and the 11-gauged steel construction with dimensions of 3" x 3" gives it heavy-duty compatibility.
It weighs 190 pounds or 63 pounds, depending on the model you choose. It comes with the hole spacing model of Westside, meaning it has 1" apart holes at the bench press region and 2" apart on the remaining part of the rack.
Its compatibility lets you add extra accessories that you may need for a full-body workout. However, the installation of this power rack seems a bit challenging for some people.
Pros
Keeps your floor space free when not in use yet provides you the standard functionality of a weightlifting rack.
As it is locked to the wall using a hinge and pin system of heavy-duty, which provided good support to the rack and kept it stable while you work out.
You can even mount this on a wood stud wall securely and without any issues, if you use the stringer system that comes as optional.
Highly flexible design, excellent functionality, and design for limited space at affordable price.
Cons
It stays put in one place as you fix it to the wall and cannot be moved if you need some outdoor workout.
Does not come with a storage peg and a dip station.
It is fixed, and sometimes you might not want your wall bearing this weight.
The installation might be quite a challenge.
Get This Power Rack on Rogue Fitness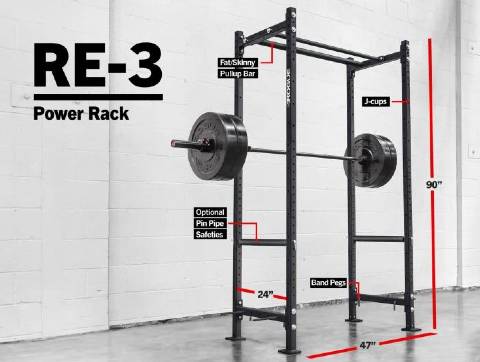 If you are on a budget, the Echo RE-3 is a great pick for you with still Rogue's trademark durability and quality craftsmanship.
It is a 90 inches height rack, made of 2 x 2″ 11-gauge steel. It Weighs only 160 pounds with a footprint of 53″ x 32″, RE-3 is the most affordable power rack in terms of both costs and space.
The biggest advantage is the low price. But it doesn't compromise with the quality.
The Rogue RE-3 Echo power rack is the low-budget alternative to the R-3 Power Rack. It gives you a little more free space.
But if you are a huge man, this may not be the right choice for you for its compact body.
You will have to order the pin and pipe safeties while they do not come with this model.
Pros:
It comes with band pegs, a fat or a skinny pull up bar, and J cups
Quite compact and strong enough with 2X2" steel
Quite less total frame weight compared with other Rogue power racks.
Cons:
Unstabilized enough and must be bolted to the floor.
Separately sold concrete anchors.
Get This Power Rack on Rogue Fitness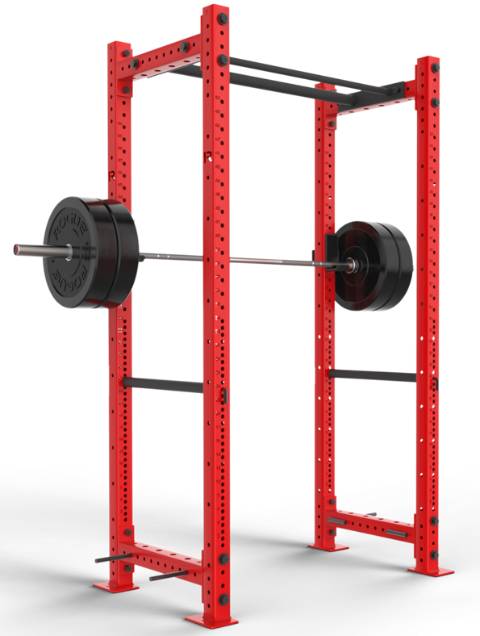 To get a colored rack for a low price, the RML-390C is a good option. It is the colored version of the Rogue RML-390BT Power Rack.
For its compact structure, it can fit in a comparatively smaller space.
The weight of RML-390C is around 265 pounds. With a height of 90.375″, it is a great choice for tall people if you have enough ceilings clearance.
The power rack comes with four band pegs, a pair of J cups, a pin/pipe safety set, and a fat or skinny pull-up bar.
Surely, you can get upgraded racks at this price if the color does not bother you.
Pros:
Easy to set up and install
So many available colors to choose from
Compatible with monster lite series and other accessories
Quite compact and can fit in a comparatively smaller space
Cons:
The compact size may not be the perfect one for everybody; especially, for big people.
Get This Power Rack on Rogue Fitness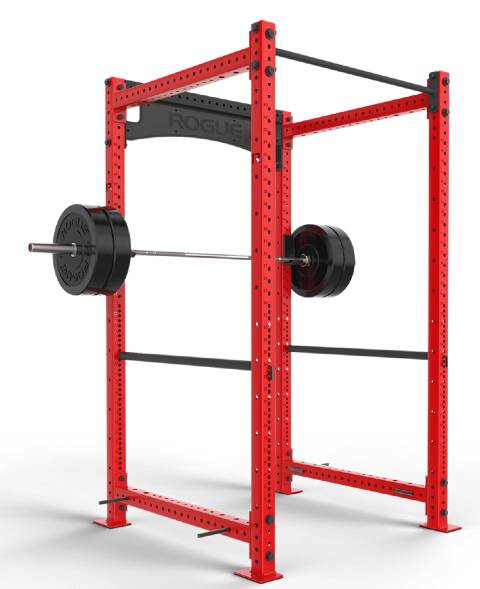 This Rogue RML-490C rack is one of the Monster series by Rouge and is one of the company's most functional power racks. The heavy-duty rack weighs 336 pounds and has a big enough 53" x 53" footprint for comfortable workouts.
It is made from 3" x 3" rails and comes with 5/8" hardware that lasts for a lifetime as it is constructed using these sturdy materials. The black powder coating on the steel frame makes the unit stand solid without rusting for years to come.
Its height is 90.375," and its weight is 340 pounds. It provides various color finish options for customers and features like stabilizing back-nameplate, Slinger-compatible cross members, and so on.
You get the standard features, and this rack is expandable as you go using the optional Monster equipment available. The Westside hole system is present on this rack giving you 1" apart holes at the bench press and 2" apart elsewhere.
The pipe and pin safety bars, J-cups, dual pull-up bars, and the pegs for the resistance band are part of the standard configuration. If you are looking for more options, you can get plate storage pegs and a dip station separately.
Though you get 49" x 49" inner working area dimensions, you should still use the stabilizer bar or mounting hardware to keep the rack stable. This equipment should also be bought and does not come with a rack.
With RML-490C, you have quite enough space to perform exercises. But still, you have to have sufficient room to place this beast.
Pros
Affordable rack in the line of upgradable heavy equipment that offers greater durability and comfort.
High-quality build with first-class materials and comes with protective coats to keep it safer.
Compatible for further expansion of the unit, allowing you to perform more with lesser investment as you go.
Enough space inside to perform various movements
Easily customizable to build on with multiple accessories
It comes in custom colors to satisfy your aesthetic needs.
Cons
None of the stability equipment is provided, and you should buy it separately.
Facilities such as dip bar and onboard weights are not provided with the rack as default.
A bit pricy.
The mounting hardware not included
Optional stabilizers available only with the matte black finish, not with any other color options
Get This Power Rack on Rogue Fitness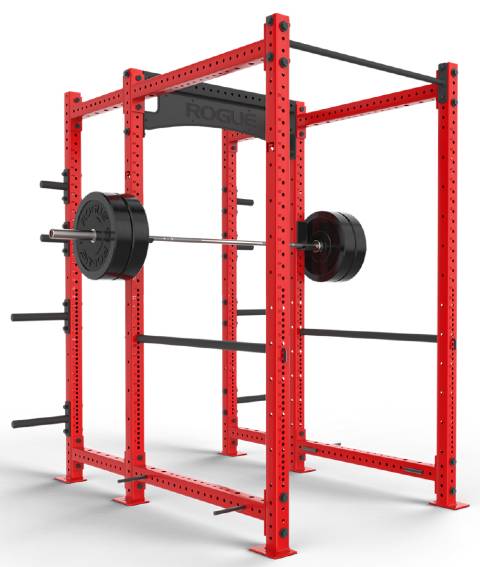 If you have been looking for a high-end model with both top functionality and aesthetically pleasing, then this is the model you were looking for. Though I agree the price is not pocket-friendly, I also need to accept the fact that it provides what you pay for.
It is one of the most attractive racks and is available in ten colors. This power rack has a large footprint of 80" x 53" and comes with uprights of dimensions 3" x 3".
The 11-gauge steel and the 5/8" hardware all together make up a beast of 530 pounds, making it stable by itself without the need for any harness. Since you get the standard Westside hole spacing, you get the conveniently spaced holes that are useful in easily adapting the rack to your needs.
You can also customize the depth and height of the rack according to your choice apart from the color choice. This professional-quality rack comes with several functions. Few of the features, such as storage posts, are available as default with this rack.
Resistance band pegs, pipe and pin safety system, and similar other facilities are also found in this rack.
One of the biggest advantages of RML-690C is that it does not need to be bolted down to the floor to give stability  ( but it's still recommended for maximum stability). But it only comes with a single skinny pull-up bar is included in the package with the power rack.
Pros
Heavy-duty machines are suitable for elite trainers and like people.
Accessible to athletes of all heights due to its 90" height
Equipment is suitable for even heavy traffic areas such as gyms and training rooms.
It comes with several options as a standard, and you can still extend them if need be using the compatible attachments.
Compatible with other accessories, including squat stands to provide more flexibility
Does not require bolting like other racks for stability.
Ample space to do inner space-based exercises where you do not bump into any of the rods even if the lifter is hefty.
Connectable with the wall if extra stability is required
Cons
Comparatively expensive than its counterparts
Since the holes do not come numbered, you need to figure out the proper holes, making it difficult to align the pegs equally.
90" height may not fit in all residential ceilings
The bulk size of the power rack may make it quite unsuitable for home gym
Get This Power Rack on Rogue Fitness
In Closing
Although a power rack is an essential part of a home gym, it is not quite a cheap piece of equipment to buy. That is why you should consider all the factors before buying just any power rack.
This list of Rogue power racks consists of weight lifting racks considering all kinds such as different budgets, dimensions, quality, ceiling height, capacity, and so on. I came across the standard as well as unique features along with detailed insight into their overview, the advantages they offer, and at the same time, the disadvantages they come with.
You got to know their specifications and their ability to deliver so that you will be fully aware of what to expect from each piece of equipment. Their performance, value, and placement-related information have also been a point of discussion in most products.
Though all ten of them belong to the Rogue rack models, they still differed in many aspects. Some were stable without bolts, few required bolting, and we even came across the wall-mounted models. From super heavy to self-assembly models, you got every kind of rack here.
Just remember that it is a winner because it has the right balance of everything but not necessarily the right choice for you. It is you who can decide which rack suits you well, and all I can do is provide proper guidance to help you make a decision.