A folding treadmill is a great value addition to those of you who lack enough space to set up an elaborate home gym.
If you are a fitness freak who can never accept that you have to miss cardio exercises, simply because the weather isn't amicable, don't worry. Bring the folding treadmill to your home would be the best great solution.
But there are a couple of points to have in mind before you make your treadmill choice.
Make a well-informed choice by keeping all integral features in mind, including the treadmill's maximum incline levels, highest speed, running deck are, and others more.
Above all, choose a model mainly based on your purchase's primary purpose—whether you are buying a compact treadmill for walking or running—as this plays a crucial role in helping you make a choice.
In a hurry? Here are my top 15 picks of the best folding treadmill for home use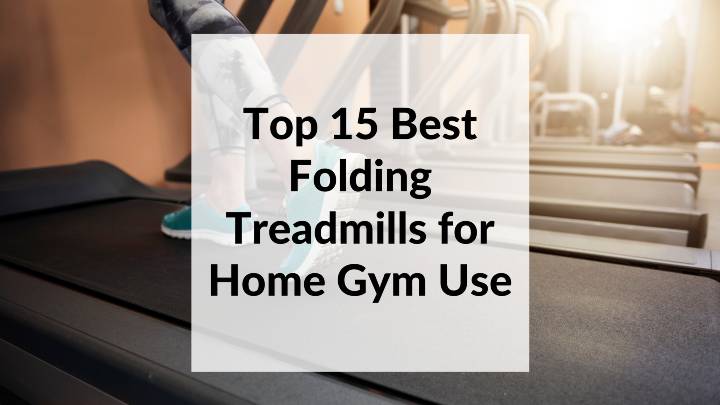 How to Choose the Best Folding Treadmill?
You wonder about the factors that you must consider while going to purchase a treadmill.
Though features such as size, maximum speed, running area, maximum user weight, inclination, and cushioning are some of the integral factors, the primary point to keep in mind is to decide whether you want a treadmill for sprinting, running, or walking purposes.
The next question is, how do we decide whether a treadmill is suitable for running or walking. It is none other than top speed and deck length that decide upon the machine's suitability for your purpose.
#1. Size
Even before you start hunting for a good-quality portable treadmill, you need to measure the available room space for setting up the machine.
How much space you can allocate for the treadmill, and how do you plan to store the machine? These questions are critical for choosing a machine of any size.
It is good to hear that some treadmills could be folded fully flat while others have a deck that folds to a completely vertical position.
Some treadmill models have a foldable deck up to an angle, but these help you save only minimal floor space. Contrarily, some extremely foldable models are so compact there they could fit inside a closet or even under a bed.
The market has plenty of foldable treadmills, but it is completely up to you to decide what model would be suitable for you.
Make a choice depending on your priority—are you interested in allocating some more space to get a sturdier treadmill in return, or are you willing to go for a compact model despite a certain lack of features simply because you cannot afford to sacrifice more room space?
Find more apartment-size treadmills here.
#2. Max Speed
Running requires increased efforts mainly because you do the activity at an increased pace, and for this, the treadmill should be capable of running at a higher speed.
Hence, once you decide to buy a treadmill for running, you should never forget to make a note of the top speed possible in the machine.
Generally, the walking speed is around 3 miles/hour, and the jogging speed is around 5-7 miles/hour, while the suggested speed for running is above 7 miles/hour.
This might be good for general use, but if you are interested in interval or sprints in the workout, getting a treadmill offers a speed of at least 12 mph or more.
If you would be using the treadmill for both walking and running purposes, ensure that the treadmill speed never crosses 7 mph.
#3. Running Area
So, once you have made up your mind to run on the treadmill, it is ideal that you look for a deck that's at least 55 inches long.
Some of you might be surprised by this big number but believe that such a number would do you good if you are tall, has long legs, or a long stride.
If you are a tall person, find a treadmill with a large running area, in the 20-22″ x 60-62″ range.
Be wary of one point—though you might feel good walking on a treadmill that's under 55 inches, never opt for such compact models as the running area is too short and hence, dangerous.
#4. User Weight
Treadmills offer different features, of which maximum user weight is an important one. Every model you consider specifies the maximum user weight permitted on the machine, and hence, it is necessary to note it.
Generally, the maximum permitted weight is mostly between 220 lbs and 425 lbs, and be sure to cross-check that the weight is suitable for your body weight.
Find more heavy-duty treadmills with a high weight capacity.
#5. Incline
This is a feature that helps you achieve challenging workouts every day when you exercise. But, before buying an incline treadmill for cardio exercising, two factors must be considered regarding it.
1) Inclination Height
If you feel the adrenaline rush while engaging in challenging workouts, the maximum inclination height offered by the machine is a valuable factor to consider.
The treadmill might have a slow speed but still provide an intense workout experience when setting the machine at a high inclination. Hence, inclination height is a primary factor to consider.
2) Inclination Operation
If you wish to have a simple and easy inclination operation, you need to go for a machine with an automatic or electric operation.
Though such a mechanism would help you change levels even during the middle of the workout, you must also remember that such models are quite expensive.
But you do have manual choices too. In such treadmills, you are required to adjust the inclination levels (that's present at the base or near the treadmill feet) manually using your hand.
The only problem here is that if you wish to change inclination levels, you must stop the machine, get off it, and adjust it.
#6. Cushioning
Unlike exercise bikes, a treadmill might not be a machine on which you sit and exercise still. The cushioning effect has a primary role in deciding your performance.
Track cushioning plays a great role in safeguarding your joints from the impact of exercising. A well-cushioned treadmill helps reduce the impact by almost 15-40% compared to running outdoors.
Some treadmills have an adjustable cushioning option that allows you to select your convenient option.
If you look at advanced treadmills, they come with differential cushioning that helps you get firm support as you keep pushing off the track and allows greater cushioning when you land.
Don't miss out on looking into the treadmill's cushioning effect, as adjustable cushioning helps you choose the preferred level of support.
Find the best treadmill with cushioning for your bad knees here.
#7. Other Features
Besides all the essential factors that affect the machine's performance, there are quite a few factors that enhance your exercise experience.
These are none other than providing a cooling fan, in-built speakers, or even pre-programmed workouts.
Frankly, none of these features are indispensable for the treadmill's functioning. Still, it is finally up to you to decide whether these are important for your daily exercise routine.
Another important point to consider is how much extra amount you are willing to pay to get these additional features.
When we look for home gym machines, it is necessary to remember that they are primarily designed for not more than an hour or so daily. Anything much beyond this might affect the durability of the product.
Maintenance is yet another primary factor to consider when you are using the machines regularly. All treadmills require maintenance, of which lubrication is of utmost importance.
When you don't care to lubricate the machine, you end up shortening your beloved machine's life.
Hence, I suggest that you go through the instruction manual carefully and regularly extend your treadmill's functioning and durability.
If you are one of those who want to spend some time working out while watching television but can't set up a full-fledged home gym, a treadmill with tv would well meet your need.
If you want to bring more interesting elements to your daily running routine, try using a treadmill with the Zwift—an workout and gaming App that will bring you a visual running experience.
TOP 15 Best Folding Treadmills for Home Gym Use
Listed below are the top 15 best folding treadmills that come equipped with all integral features for home gym use.
Though this treadmill comes from a well-reputed brand that has created a niche for itself in the fitness market, the pricing doesn't is extremely affordable, even surprising.
Whatever might be your goal, walking, running, or jogging, this treadmill should be an apt choice as it has a 55-inch deck that is adjustable.
If you choose to run, there is ample leg and elbow space for running. Hence, you get to enjoy the same running experience as you would get on the road or if you wish, you can set it for a shock-absorbing ride.
If you are a fan of inclination, this model has a 10% OneTouch incline control, and for more challenges, you can make use of the OneTouch speed control that can go up to 10mph.
The motor in Nordic Track T 6.5 S folding treadmill is suitable for an interval, speed, and endurance training, thereby suiting the needs of all kinds of individuals and the different goals that you set.
Still, combining entertainment with exercise is always preferred, and the treadmill brings home interactive personal training through iFit (1-month membership included with the package).
This way, you can run through mountain terrains and train with well-reputed coaches from around the world.
Don't worry about space as the machine comes with innovative SpaceSaver design implementation. Hence, once you finish a workout, you can always fold it up and store it compactly.
This model is most suitable for home gym use as it is the best combination of all your requirements, along with the sturdiness and additional features desired by all.
The LifeSpan TR 1200i foldable treadmill comes designed with a spacious running deck that measures 20 by 56 inches.
The company has taken ample care to design the machine with the utmost comfort. This model comes fitted with a Biomechanically correct deck suspension system that can support up to 300 pounds of user weight.
Choose from 15 incline levels and even from three different intensity levels for 20 built-in programs available for your ease of use.
The 2.5 HP motor is powerful and can help you reach up to a maximum speed of 11 mph. You needn't stop the treadmill midway through the workout but use the handlebars' buttons to adjust workout intensity.
Integrate entertainment with your regular exercise routine as the TR 1200i comes fitted with good-quality speakers, a headphone jack, and a smartphone port.
Here is a treadmill worth every penny spent as it comes designed with high-quality engineering and great electronics.
Besides being fit with the FlexDeck shock absorption capability, the treadmill offers you the choice to choose from two different consoles—the 'Go' and 'Track' console.
The console is the basic one with 13 pre-programmed workouts and stores 2 user profiles. The Track console is the advanced one that allows you to gain access to any third-party fitness app, thereby making it highly suitable for advanced trainers.
This treadmill has a 0-12% power incline and can reach up to a maximum speed of 10mph. Enjoy doing any of the 13 pre-programmed workouts available and track your progress from any of the two chosen consoles.
Don't worry about heart rate, as this piece of equipment comes fitted with contact and wireless heart rate monitoring options.
The motor needs a special mention here as the company has used the 3.0 CHP MagnaDrive motor that promises noiseless performance.
For an extremely affordable price for a treadmill, you still get to enjoy up to 12% inclination, workout using any of the 12 pre-programmed workouts and set your fitness targets using the Advanced Goal Center to achieve your long-term health goals.
The Horizon T202 folding treadmill comes fitted with a powerful 2.75 CHP motor and has a 60-inch 3-Zone cushioned deck for comfortable exercising and saving your knees from any unnecessary impacts.
Engage in any challenging workout yet track your body's ability to track with the exercise routine by monitoring the pulse using the dual grip monitoring system. This way, you can set a target heart zone and achieve maximum advantages from the workout.
Track your progress by operating the stylish console that has two LED data windows. The treadmill comes fitted with a cooling fan and Bluetooth speakers that help you stream music and connect to multiple devices.
If your main purpose for purchasing a treadmill is running, here is a commercial-grade treadmill that satisfies your requirements.
Enjoy up to 15% inclination on the treadmill, which gives you the feel of climbing steep peaks or likewise, and the maximum speed possible here is 12 mph.
The running belt area is apt for running as it is 60-inches long and suitable for all. Choose from any of the 9 workout programs for attaining different fitness goals.
There is no need for any hesitation regarding the treadmill's performance as the BXT116 Zwift-certificated treadmill comes equipped with a 3.75 CHP motor. People as heavy as 375 lbs can comfortably use the Bowflex treadmill for any purpose—running, jogging, or walking.
When you have such exemplary features, you must get to track your performance too. Bowflex has done a good job by setting up a 7.5-inch full-color backlit LCD.
The console needs a special mention here as the machine is fitted with a burn rate console that displays your calories burned per minute. This motivates you to reach your goals rapidly and with enthusiasm.
There is even an option to instantly save your workouts with a real-time custom programming option using Bowflex JRNY that functions as your trainer.
The Sunny treadmill stands a class apart in terms of looks, functionality, and performance. The machine's design offers a large deck space that's highly suitable for running and walking yet compact for placing it in most home gyms.
In terms of design and construction, the Asuna Treadmill comprises sturdy handrails and textured deck rails, which increase the safety of the equipment multifold times.
Keep your feet secure and run as fast as possible without worries due to the solid frame and premium-quality materials used in making the machine.
12 different incline levels assure a maximum speed of up to 8 mph. Choose from any of the 8 preset workout programs and achieve your goal by diligently exercising daily.
The inclination levels are easy to change with smooth-functioning buttons, and any shock is absorbed using integrated shock pads, thereby protecting your knees and joints.
Follow up on the different challenging workouts performed and track progress using the 6 separate LED windows that display integral workout data, including speed, time, and distance.
While the equipment is compact and small, it could also be folded completely flat and placed against the wall or flat surface.
Are you looking for a treadmill that's compact yet good enough to run but not necessarily provide the ability to make sprints? If so, the Merax Electric Folding Treadmill must be your ideal choice.
It could be walking, jogging, or running, do what you like to do on this treadmill as it is equipped with a powerful motor that allows you to go to a speed from 0-10 mph smoothly.
Coming to inclination, this model provides manual inclination with three levels possible, and the treadmill belt (16.5" x 47.5") is quite spacious, thereby promoting you to run as fast as you can.
Though you might have all these features, not all of us are self-disciplined to exercise regularly. Merax has taken care of this by providing interactive personal training that's powered by FitShow Sports app.
The Bluetooth connectivity helps you track your progress, and the sound system keeps you entertained while working hard towards your target.
Despite such good functionality, the machine is extremely compact, and the hydraulic folding system helps you achieve this.
A running treadmill usually requires a large belt to allow for a comfortable running experience. While this treadmill does the job perfectly it is also one of the very few models that can be folded flat and stored under a bed.
Change inclination levels from 0-15% and hence, reap the benefits of custom training that could take your fitness goals to another new height altogether.
The maximum speed possible in this model is 0.5-11 mph, and the drive motor size of 3.0 HP assures smooth and quiet performance.
One of the highlights of the 3G Cardio 80i Fold Flat Treadmill is its folding ability. Fold it up, fold it flat, and keep it as small as possible using the machine's superb folding design implemented.
When folded flat, the machine has a low height of 9.75 inches only, and hence, you could roll it under a bed or shelf using the wheels provided.
Combine fitness with pleasure by engaging in exciting music, using the built-in speakers and MP3 connections provided.
The 3G Cardio Treadmill is good for running or jogging as it has a powerful motor, high inclination options, and a high user weight limit.
You are seeking a treadmill for home gym use, the Sole Fitness F85 functions equivalent to a commercial-grade treadmill that satisfies all your exercising requirements.
The most special feature about this model is its build quality, and the maximum user weight of 400 pounds is proof of the machine's sturdiness.
The Sole treadmill comes with 0-15 levels of inclination and the maximum speed possible here is 12 mph that allows you to do a variety of challenging workouts.
There are 10 built-in programs, and the double horse horseshoe design makes it possible for heavy individuals to use the machine peacefully.
Sole has done a commendable job in fitting this equipment with a 4 HP powerful motor that guarantees its excellent performance and a noiseless operation.
Besides great features functionality-wise, the F85 also has good secondary features, including a convenient tablet holder, an optimal compartment for placing your important things, and a USB port for charging your electronic devices.
XTERRA is a company that constantly strives to introduce excellent design fitness equipment, and the TR150 model treadmill from this company combines both quality and performance in a well-balanced way.
This affordable treadmill comes fitted with a 2.25 HP motor that brings about quiet and smooth performance, helping you exercise when you want without disturbing others.
Whatever might be your fitness level or your choice of exercise (running or walking), the large running deck (16 inches by 50 inches) is suitable for all kinds of individuals.
In terms of inclination, the company has provided 3 manual incline settings to bring about maximum variety to your exercising ability.
Track your performance using the large 5-inch LCD that helps you know about your speed, performance, distance, calories burned, and more.
The speed range of 0.5-10 mph offers more space for customized workouts, and the 12 different preset workout programs are a joy to any individual to try out any of them.
The TR150 treadmill is foldable, and you could do this using a simple knob—fold or unfold the deck using this knob.
If you are looking for a NordicTrack folding treadmill that comes loaded with extra features, don't miss the NordicTrack Commercial Treadmill 1750. Not only is this machine performance-oriented, but it also is fun to use.
You can use this machine for running purposes as it comes fitted with a powerful yet quiet 3.75 CHP motor and can withstand up to 300 pounds of user weight capacity.
Another feather to the cap is this treadmill's incline and decline options, as it is provided with a 3% to 15% decline/incline feature that helps you achieve challenging levels of exercising.
There are over 50 different workout programs unique to this model and a well-received feature by all.
This way, you needn't invest any money in hiring personal trainers but get to achieve all your fitness goals by choosing the best workout program that suits your need.
Make your choice from different sessions, including speed training sessions, interval training workouts, and heart rate control options.
Combining such incline/decline options and different workout programs helps you achieve higher calorie-burning abilities and improve resting metabolic rate. The tread belt size is long (60 inches), which helps you run as much as you can.
As this machine supports the Explore the World app, you can feel free to try running through virtual exotic locations worldwide and experience a classic exercising experience.
While three free courses come with the machine's purchase, you can unlock other levels by making a subscription.
The running belt is 55 inches long and comes fitted with a SoftTrack deck cushioning system. Also, the belt is thick for the pricing and hence, guarantees durability and noiseless operation.
You can run, jog, or walk up to a maximum speed of 10 mph and even make use of the 10% motorized inclination levels to make the fitness session challenging and interesting.
Don't worry about space-related issues, as the Soft Drop folding system helps you fold and store the treadmill out of sight after use.
Besides the integral features, this model also supports exciting secondary features, including in-console speakers, USB charging port, water bottle holder, media shelf, and transport wheels.
The maximum user weight possible on this treadmill is 275 pounds, and you can store up to 2 user profiles.
Here is a commercial-quality treadmill that comes fully loaded with all essential features for top-class performance.
The 3.5 CHP Mach Z commercial motor does a commendable job helping you go from 0-12 mph QuickSpeed as rapidly as possible.
The incline and decline options are also admirable—you get to enjoy a 0-15% quick incline and a 0-3% quick decline. The machine is suitable for running purposes as the running deck is long, measuring 60 inches.
ProForm is a well-reputed company, and hence, the quality of the product is also optimal. The machine is built using solid steel and can withstand up to a maximum weight capacity of 300 pounds.
Being integrated with ProShock Cushioning, you never have to worry about any impact on your joints. There is even an EKG pulse heart rate sensor to monitor your heart rate constantly while running.
Enjoy training with world-class trainers from around the globe with iFit and achieve your fitness goals.
You couldn't have seen a treadmill so small and compact like the GoPlus treadmill that if space is a concern, you needn't think twice but choose this model.
The treadmill is compact and designed as stylishly as possible, making it the perfect fit for home and office use. The equipment comes assembled, and hence, you need not waste any time setting up the machine.
All that you must do is start using it regularly to maintain health and tone your body. Choose from any of the 12 preset workout programs that offer you various challenging workouts.
Follow up on your exercise targets, using the simple but effective LED touch display monitor as it shows all important metrics, including time, speed, calories burned, and distance covered.
The motor guarantees quiet operation but is capable of operating at speed from 0.5-6.5 MPH.
Still, there is no impact on the joints and knees as there is a 5-layer non-slip and shock-absorbing running belt.
Handrails are important for safety, and the machine is fixed with rotating foam armrests whose position could be adjusted. There is even a safety key to halting the machine instantly during emergency times.
Here is an attractive and stylish treadmill from Reebok, which is also affordably priced. Aren't these extremely inviting features that persuade you to have a look at this model?
Experience good state and interval training using the machine's Air Motion Technology, which guarantees minimal impact on knees by reducing stress with every passing stride.
The Jet boasts of a 2-HP motor that can go up to a speed of 16 kph and provide up to 12 levels of incline to help you achieve exciting exercising targets.
You could be a novice or an experienced trainer, but don't worry, as the Reebok Jet is here to cater to all of your needs—it has 24 different pre-programmed workouts that promise varying levels of challenges.
Monitor your progress using the 6 windows LED display with an integrated heart pulse sensor to monitor heart rate.
Enjoy peppy music as the machine is MP3 compatible and has built-in speakers for better sound outputs.
The Reebok Jet 100 Treadmill is foldable as the machine is designed with a soft-drop hydraulic folding mechanism that guarantees space efficiency and utmost functionality.
Can the folding treadmills support heavy people?
Yes. If the treadmill has heavy-duty construction and consists of high-quality materials, including steel, you can be assured of the machine's durability and sturdiness.
When such features are incorporated in a folding treadmill, these machines support high weight capacities, even that of a heavy adult.
Some equipment can withstand more than 200 pounds of user weight, making it suitable for various individuals.
Is it safe to use folding treadmills?
Folding treadmills come with excellent handrails that are ergonomically designed to provide us with a comfortable grip. This way, you can balance yourself and provide self-support to your body during any dire situation.
Stability and sturdiness are also complementary features that enhance a treadmill's safety. These are assured when the treadmill comes with a smart design, sturdy construction, and usage of good-quality materials.
This way, you can prevent slippages or wobbling of the machine. Some machines even come with a safety key and an emergency stop button, which assures greater safety.
Is it easy to use folding treadmills?
Firstly, most folding treadmills need minimal assembly, and hence, it is simple and easy to set them up.
You also find that these treadmills are easy to use when you start exercising as they come fitted with a user-friendly control panel and a multi-functional LED display.
These help you monitor your performance by tracking metric details such as speed, time, heart rate, distance, and likewise.
Read Also: