Barbells are a handy pick for any level of a trainer who loves to lift weights. Most fitness-oriented people love CrossFit training. It involves high-intensity movements with ample variations, and the programs and workouts are modified according to the individual needs and fitness level.
Choosing a CrossFit barbell is not a simple task as it is not cheap to buy. Different features must be considered before finalizing.
So what are the factors to consider before purchasing the best barbells for CrossFit training? Keep reading.
In a hurry? Here are our top 5 picks.
See the overview, pros & cons, and features below.
How To Choose the Best CrossFit Barbell?
A CrossFit bar is expected to have numerous features, just like your regular barbell, but must guarantee durability.
Other essential features that are indispensable while choosing a barbell for CrossFit training include price, low maintenance, low whip, medium knurl, high-density steel frame/body, and bushings.
Knurling is very important for a good grip, and picking the right barbell without being deceived by low-quality products and cheaper pricing is extremely important for reaping benefits.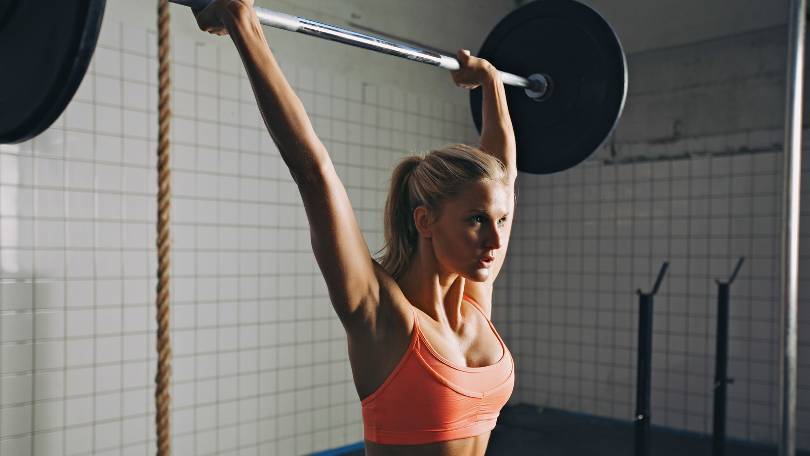 Top 5 Best Barbells for CrossFit
Below are the best barbells that help you enhance your CrossFit training as they have the best durability and knurling.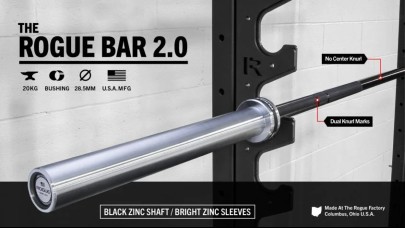 This equipment is the updated version of the original Rogue Bar, which means that it is better in terms of features, durability, and performance comparatively.
The bar is made of high-quality zinc and durable 190,000 PSI steel. It has CNC-machined groove sleeves, and inside them are multiple bushings that help in the smooth rotation of the bar.
The company has ensured that the Rogue-branded bands are intact in the 2.0 version and offer them in various colors depending on the user's likes.
The composite bushings are a highlight as the materials used here could be compared to those used in military vehicles.
They reduce friction and help in an optimal spin.
Pros
Unmatched durability
Lifetime warranty
Excellent value for money
Passive knurling
Cons
The black zinc coating fades away in due course of time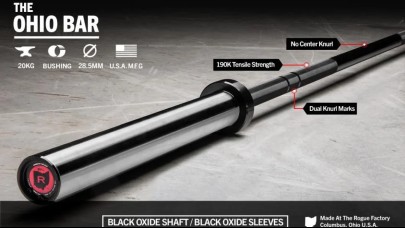 Each Ohio bar offers various coating options, including bare steel, black zinc, Cerakote, and stainless steel, each of them competing to provide multiple levels of oxidation protection.
Knurling is useful in an OHIO bar as the 'volcano' style knurl pattern maximizes grip strength. This Rogue bar comes with a 190,000 PSI tensile strength making it extremely strong and durable.
The bronze bushings that help rotate the sleeve guarantees optimal spin, and their design is fit for doing any weightlifting.
You can try doing strength training exercises, basic lifting, or ultimate CrossFit workouts to reap ultimate fitness benefits.
Pros
Lifetime guarantee
F rating makes the bar highly demandable
Normal whip
The steel used in the bar enhances weightlifting performance
Cons
Bare steel OHIO bars are quick to rust
As the name suggests, the RAGE fitness barbell is built with the most durable materials available and offering maximized durability.
Performing with a RAGE barbell guarantees unmatched intensity, resistance, and versatility. This barbell is made of aluminum material making it ideal for mastering the basics of weightlifting.
The user is assured of excellent grip strength as it has a diamond knurling in the center. It offers excellent weight capacity, too designed to withstand weight as much as up to 300lbs.
The bar alone weighs 15lbs and is 6 ft long apt for use with Olympic plates with a 2-inch center hole.
Pros
Medium knurl promises maximum grip
The rotating sleeves with bushings are durable
Suitable for building stamina and cardiovascular strength
A product from an authentic fitness brand that promises durability and value for money
Cons
Suitable for beginners only
One year warranty period
The CAP brand manufactures barbells that suit every kind of user, satisfying their whims and fancies. It offers numerous specialty bars (The Beast, The Rebel, The Boss, The Master, The Warrior) suitable for Olympic and powerlifting.
Every bar is made with the utmost care using only the best materials (cold rolled steel) and durable coatings (zinc finish) that enhance performance.
Knurling is at its best as the bar comes with a center and side medium knurling.
The CAP brand has been in the sports equipment business for more than three decades, and this 7-foot Olympic barbell promises the maximum durability and versatility that is possible.
Pros
Zinc material used prevents oxidation, and the bar henceforth is easy to maintain
A warranty period of 5 years
Versatile use for CrossFit training as it promises full-body workout or can target specific muscle groups to increase strength
Cons
Threaded sleeves have metal splinters that start hurting in due course
Not durable enough
A little pricey
This is the best bar for someone looking out for a full-body workout experience with a higher weight capacity.
It's a darling barbell for performing CrossFit training, and you can be sure of doing squats, deadlifts, bench presses, and lunges working every muscle in the body, including the biceps, triceps, and lats.
The bar weighs around 45lbs and can hold up to 700 lbs of weight, making it the perfect pick for Olympic weight lifting.
The equipment is made of high-quality cold-rolled steel that doesn't rust and lasts a lifetime.
Pros
Suitable for any level of users
The diamond knurling promises a sturdy grip even when you sweat hard
Has 700lb weight capacity making it suitable for upper- and lower-body workouts
Cons
It doesn't hold many weights as promised
Final Thoughts
CrossFit bars must turn quickly when used but should also offer enough grip and maximized durability.
Knurling and bushing are two essential features besides durability when making the final choice while buying a CrossFit barbell.
Consider all the important elements to gain maximum benefits from your purchase.
Read Also: