When you buy through links on this site, I may earn an affiliate commission at no extra cost to you. Learn more
It shouldn't be difficult to choose the best CrossFit barbell. It's a piece of basic training equipment that we all rely on to grow stronger, perform basic workouts, and provide variation to our workouts.
When it comes to barbells, though, there's a surprising lot of difference in style, quality, and price, just as with any other modern fitness gear. Furthermore, within this product line, certain bars are clearly better suited for a CrossFit routine than others.
Most fitness-oriented people love CrossFit training. It involves high-intensity movements with ample variations, and the programs and workouts are modified according to the individual needs and fitness level.
Fortunately, we've tested and reviewed 5 of the best barbells for CrossFitters Any of these items would be a great addition to a home gym.
We've included a summary of our findings, as well as an outline of the elements you should be aware of and consider while buying for a new barbell. Keep reading.
In a hurry? Here are our top 5 picks.
See the overview, pros & cons, and features below.
Why You Should Use a Barbell for CrossFit?
The barbell is a fantastic piece of equipment that, when used correctly, may help you build many muscles at once.
Using a barbell to accomplish a normal deadlift, for example, targets the majority of your body's muscles.
Primary muscles including your glutes, hamstrings, and quadriceps, as well as stabilizer muscles in your lower back, neck, and abs, are included.
Only a few pieces of exercise equipment accomplish this, and most machines these days are designed to target specific muscle groups. This allows for muscle-specific training, but it is exceedingly inconvenient and inhibits the development of important stabilizer muscles.
Overall, a barbell with weights serves as the foundation for a full-body weight training program and is one of the most effective muscle-building and weight-loss exercises accessible.
How To Choose the Best CrossFit Barbell?
A CrossFit bar is expected to have numerous features, just like your regular barbell, but must guarantee durability.
Other essential features that are indispensable while choosing a barbell for CrossFit training include price, low maintenance, low whip, medium knurl, high-density steel frame/body, and bushings.
Knurling is very important for a good grip, and picking the right barbell without being deceived by low-quality products and cheaper pricing is extremely important for reaping benefits.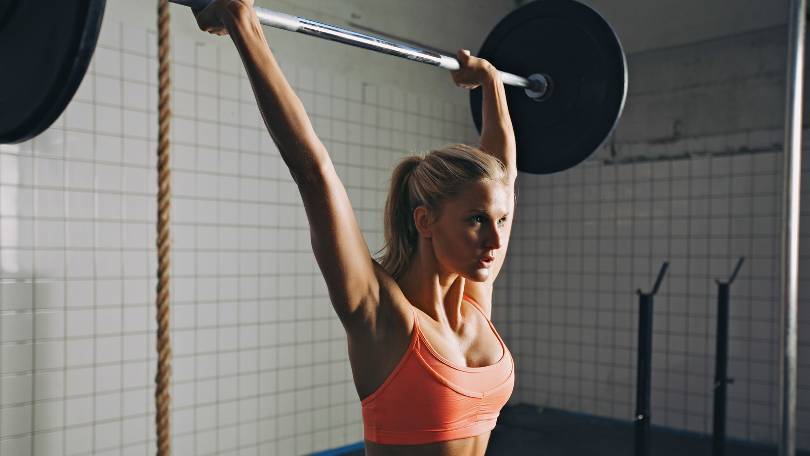 Olympic Barbell or Standard Barbell for CrossFit?
A barbell, in its most basic form, is a metal rod to which weighted disks can be connected for weightlifting.
However, like everything else in life, there are a few factors that distinguish barbells and make them more suited to specialized training.
An Olympic barbell, for example, has a standard design with the only difference between a men's and a women's bar.
The Olympic barbell for men is 7.2 feet long, 44 pounds, and has a 28 mm bar diameter. The Olympic barbell for women is 6.9 feet long, weighs roughly 33 pounds, and has a 25 mm bar diameter.
The snatch and the clean and jerk are the only two lifts in Olympic weightlifting, hence this bar is always utilized.
Fortunately, these movements aren't the only thing a barbell can do, and there are now power lifting and multi-purpose barbells to choose from.
Here are some things to look for in a barbell.
Steel Barbell
The steel used to make a barbell is the most significant component, and its quality is measured in two ways: tensile strength and yield strength.
Tensile strength is the amount of pressure a barbell can withstand before breaking, measured in PSI (pounds per square inch). High grade steel has a high PSI, whereas bad quality steel has a low PSI.
The tensile strength of a barbell is essential, but it is not as critical as the yield strength. The amount of pressure applied to a barbell before it gets deformed and will not return to its previous straight shape, resulting in the bar being permanently bent.
Most individuals will not lift heavy enough to be concerned about a bar's tensile strength and it breaking during a workout, but a permanent bend in a bar is a serious problem.
A barbell with a tensile strength of at least 190 PSI is advised with a bend in mind; a barbell with this number is unlikely to bend with "typical" heavy lifting.
Knurling on a Barbell
The rough etch on the shaft of a barbell that is utilized for grip when weight lifting is known as knurling.
A men's Olympic barbell has a central knurl, whereas a women's Olympic barbell does not.
A powerlifting bar will have severe knurling throughout, whereas a multipurpose bar would have medium grade knurling on the outsides of the shaft and a clear centre to avoid chafing or scratching during specific motions.
Multipurpose barbells often feature smoother/finer knurling across the length of the shaft, allowing for a wider range of grip distances.
This is a useful feature, but it isn't a distinguishing one because changes can be performed using tape, chalk, grips, and gloves.
Barbell Spin
The bushing or bearing in the sleeve assembly that permits the sleeve to revolve or spin on the shaft of the barbell is referred to as the spin of a barbell.
Various spin rates will be required depending on the barbell's intended function.
Olympic weightlifters prefer a bearing system because it spins quicker and smoother, allowing them to get under the bar faster, but power lifters prefer a bushing because it spins slower and is more stiff.
A bushing system is used in the majority of barbells since it is less costly, requires minimal maintenance, and lasts for years. Due to the high cost of bearings, they are only found in top-end Olympic barbells.
Barbell Whip
The flex, movement, or momentum of a barbell after lifter action has halted is known as the whip.
Whip is perfect for an Olympic weightlifter who wants to exploit the bar's momentum to execute moves such as the clean and jerk, but it's bad for a powerlifter who needs a stiff bar to complete movements like the deadlift.
The movement or usage of a barbell will be the determining element on whip, but this is a tough item to assess and is best appraised by real users rather than the manufacturer.
In any instance, the narrower the bar, the more whip it has, and the broader the bar, the less whip it has.
Diameter of Barbell
Olympic barbells have a standard men's bar diameter of 28 mm and a standard women's bar diameter of 25 mm, which are believed to have the best whip for Olympic lifting when constructed from high-quality steel.
However, there are a number of barbell diameters to choose from.
A powerlifter, for example, usually utilizes a bar with a minimum diameter of 30 mm for better grip and less whip.
Diameters have been made for different users, such as youngsters, bigger hands, and so on, in addition to movement-specific bars.
Most people consider diameter to be an indicator of steel quality rather than a major concern.
When a bar has a big diameter but a low tensile strength, it is most likely constructed of low-quality steel. The producer saved money by employing scrap steel and creating a thick bar with a low PSI measurement and pricing.
Barbell Construction
So far, the steel, knurling, spin, whip, shaft structure, and diameter are all factors to consider when choosing a barbell.
Taking into account all of these elements, you'll want to consider the overall design and building quality.
What are the combos you're searching for? What are the requirements for a barbell?
The list goes on and on, but I think we can all agree that we want a sturdy bar that will allow us to lift weights without breaking.
To fulfill this basic need, it is advised that you purchase something created in the United States rather than saving a few dollars on a low-quality scrap steel bulk import.
Rogue is a well-known brand that provides this service; you can learn more about Rogue barbells here.
Barbell Finish / Barbell Coating
A barbell's finish or coating can affect how long it lasts, but it's normally considered a personal preference.
You may purchase a simple unpolished steel bar or something more high-end like a Cerakote-coated steel bar (a polymer ceramic coating).
Obviously, whether your barbell will be used indoors or outside will play a role in your selection, but most barbells will have some form of coating to prevent rust or oxidation due to perspiration, salt, and other factors.
Colored coatings are available on certain barbells for a more customized look while also preserving your equipment.
Barbell's Cost
You may get the lowest choice or spend entirely too much money on something needless, just like everything else.
Just remember that you get what you pay for, so stick to a pricing range that is proportional to the characteristics you desire in a barbell.
A strong barbell should cost between $200 and $400; anything less will compromise quality, and anything more expensive will only be required for extremely sophisticated exercises.
Barbell Warranty
When considering a barbell's guarantee, the manufacturer is more significant than the warranty; if the company goes out of business in a few years, the warranty is worthless.
Lifetime warranties have been the norm in recent years, but some are still better than others; some require you to pay for delivery, while others enable you to bring the item to a shop for exchange.
If you invest in a good barbell, you won't have to worry about this.
Top 5 Best Barbells for CrossFit
Below are the best barbells that help you enhance your CrossFit training as they have the best durability and knurling.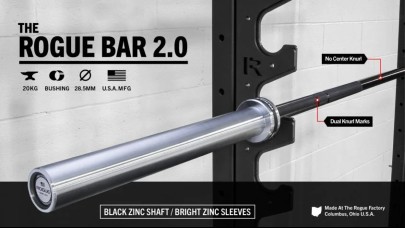 This equipment is the updated version of the original Rogue Bar, which means that it is better in terms of features, durability, and performance comparatively.
The bar is made of high-quality zinc and durable 190,000 PSI steel. It has CNC-machined groove sleeves, and inside them are multiple bushings that help in the smooth rotation of the bar.
The company has ensured that the Rogue-branded bands are intact in the 2.0 version and offer them in various colors depending on the user's likes.
The composite bushings are a highlight as the materials used here could be compared to those used in military vehicles, reducing friction and helping in an optimal spin.
Pros
Unmatched durability
Lifetime warranty
Excellent value for money
Passive knurling
Cons
The black zinc coating fades away in due course of time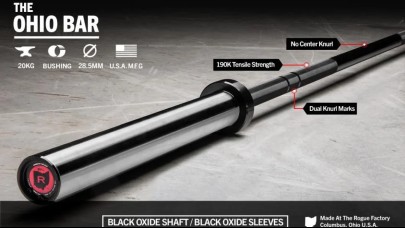 Each Ohio bar offers various coating options, including bare steel, black zinc, Cerakote, and stainless steel, each of them competing to provide multiple levels of oxidation protection.
Knurling is useful in an OHIO bar as the 'volcano' style knurl pattern maximizes grip strength. This Rogue bar comes with a 190,000 PSI tensile strength making it extremely strong and durable.
The bronze bushings that help rotate the sleeve guarantees optimal spin, and their design is fit for any weightlifting.
You can try doing strength training exercises, basic lifting, or ultimate CrossFit workouts to reap ultimate fitness benefits.
Pros
Lifetime guarantee
F rating makes the bar highly demandable
Normal whip
The steel used in the bar enhances weightlifting performance
Cons
Bare steel OHIO bars are quick to rust
As the name suggests, the RAGE fitness barbell is built with the most durable materials available and offers maximized durability.
Performing with a RAGE barbell guarantees unmatched intensity, resistance, and versatility. This barbell is made of aluminum material making it ideal for mastering the basics of weightlifting.
The user is assured of excellent grip strength as it has a diamond knurling in the center. It offers excellent weight capacity, too, designed to withstand weight as much as up to 300lbs.
The bar alone weighs 15lbs and is 6 ft long apt for use with Olympic plates with a 2-inch center hole.
Pros
Medium knurl promises maximum grip
The rotating sleeves with bushings are durable
Suitable for building stamina and cardiovascular strength
A product from an authentic fitness brand that promises durability and value for money
Cons
Suitable for beginners only
One year warranty period
The CAP brand manufactures barbells that suit every kind of user, satisfying their whims and fancies. It offers numerous specialty bars (The Beast, The Rebel, The Boss, The Master, The Warrior) suitable for Olympic and powerlifting.
Every bar is made with the utmost care using only the best materials (cold rolled steel) and durable coatings (zinc finish) that enhance performance.
Knurling is at its best as the bar comes with a center and side medium knurling.
The CAP brand has been in the sports equipment business for more than three decades, and this 7-foot Olympic barbell promises the maximum durability and versatility that is possible.
Pros
Zinc material used prevents oxidation, and the bar henceforth is easy to maintain
A warranty period of 5 years
Versatile use for CrossFit training as it promises full-body workout or can target specific muscle groups to increase strength
Cons
Threaded sleeves have metal splinters that start hurting in due course
Not durable enough
A little pricey
This is the best CrossFit bar for those looking out for a full-body workout with a higher weight capacity.
It's a darling barbell for performing CrossFit training, and you can be sure of doing squats, deadlifts, bench presses, and lunges working every muscle in the body, including the biceps triceps, and lats.
The bar weighs around 45lbs and can hold up to 700 lbs, making it the perfect pick for Olympic weight lifting.
The equipment is made of high-quality cold-rolled steel that doesn't rust and lasts a lifetime.
Pros
Suitable for any level of users
The diamond knurling promises a sturdy grip even when you sweat hard
Has 700lb weight capacity making it suitable for upper- and lower-body workouts
Cons
It doesn't hold many weights as promised
Final Thoughts
CrossFit bars must turn quickly when used but should also offer enough grip and maximized durability.
Knurling and bushing are two essential features besides durability when making the final choice while buying a CrossFit barbell.
Consider all the important elements to gain maximum benefits from your purchase.
Read Also: