Air resistance exercise bikes have been quite a popular trend in the world of fitness.
The use of these bikes is found to be in close proximity with CrossFit athletes and fitness-conscious individuals.
If you are desiring to inculcate a high-intensity interval training (HIIT) workout in your exercising routine, then these bikes are must-have equipment to your assortment.
What Is an Air Bike?
Air bikes, or more commonly, air resistance exercise bikes derive their name pertaining to the type of resistance they inherit.
All air bikes are designed in a manner such that they utilize the surrounding air to create resistance every time you are pedal.
This pedaling action causes a flywheel to spin which in turn rotates the fan attached to it through a pulley-based arrangement. As soon as the fan starts turning, the air is compelled to push against it.
The faster is your pedaling, more is the degree of rotation of the fan, hence, more is the resistance created through the pushing of air.
It's completely your manual labor, no automatic settings or functions have a role to play. You are liberal enough to utilize your potential to the best, according to your will.
How Is Air Resistance Exercise Bike Better Than Other Exercise Bikes?
As you know, the prodigious characteristics of any air bike lie in the type of resistance it has. Based on the same facet, the three prominent categories are:
Direct contact resistance
Magnetic resistance
Air resistance
Let us explore the distinctions exemplified in each of these categories of air bikes.
Air bike grabs certain advantages over the other two. Want to know how? Then here we go, elaborating it for you.
#1. Affordability
Air resistance bikes are always going to fit your budget. They are generally cheaper than direct contact and magnetic resistance bikes.
Magnetic resistance bikes emerge out to be superior to the rest in many aspects but they don't comply with everyone's financial status.
#2. Electronic monitors
Mostly air bikes come embedded with digital monitors that display the number of calories you are burning during your pedaling.
The readings are watts, the rate per minute, or any other similar unit. Some of them even have got heart rate tracker inserted in them.
#3. Amiable for people with arthritis
For someone with painful joints, these are going to cause no extra troubles. As the bike for sale stationery, the impact is very low on knees. Further, the rate of pedaling is entirely under your control.
The awesome advantage is that anyone in the world can perform exercise sessions with air bikes.
#4. Wear and tear factor
Although, air resistance exercise bikes are not much different than direct contact, yet there is one thing to hover upon. The maintenance aspect is quite less for air resistance bikes.
Parts won't wear out fast as they don't have direct contact. Instead, the fan is connected to pedal, the friction created is rolling type due to the rotation of the fan.
The people who are good enough in mechanics know that rolling friction is far less than sliding friction.
Therefore, your maintenance cost is going to cut down.
#5. Flexibility
The flexibility feature offered by air resistance bikes is reflected in its ability to work on our will.
You don't need to preset any resistance mode or speed settings, it's all up to you.
Whether you prefer smooth pedaling or the rigorous pedaling for intense workout sessions. You can have variable speeds and that too without any hassle.
For instance, start with the moderate and then turn on to rapid mode.
#6. Best for HIIT workout
Are you on the journey towards your transformational weight loss? Then, you can't find a partner better than this.
Air bikes are undoubtedly best for HIIT workouts but literally, anyone can have a great time with them, even he/she is not willing to have high-intensity training intervals.
#7. Full body workout
For the ones who are fighting obesity, this is no less than a boon. You can maintain good heart health, lose tonnes of calories and get a complete workout done for your body.
All these things happen simultaneously at a time. Such a fabulous strategy for fitness freaks, right?
How to Choose a Good Air Resistance Bike?
So, you have rigidly made up your mind to get an air bike for you but stuck with the thought of how to choose the best one out of the crowd.
Your this problem can be simplified if you take into consideration the following criteria while surfing for the best air bikes.
Here's a quick checklist for you before making the final purchase.
Because of comfort matters! There is no bike manufactured with 100% comfortable seats but when seats are adjustable, there is scope for better grip while exercising.
This is the most significant spec you must look out for while making a final decision. Always go with the bikes having a 5-10 warranty period.
This, in turn, ensures top-notch quality and durability if the equipment. Also, the warranty for the allied parts must be between 3-5 years.
This is probably the most underlooked criterion by most of the buyers. But don't you think the lightweight model cannot withstand working for long spans?
The ideal weight should be about 30 kg. Higher the weight, the better the performance. That's how it goes. Secondly, make sure that item weight is such that it can sufficiently bear yours.
Consoles exemplify great variability in their attributes. Some have basic display characteristics while others provide a plethora of information.
In general, seek out for preset HIIT programs, heart rate monitor, and rpm display. This combo would make an impeccable model.
This is because a belt based system confers a higher magnitude of smoothness and lesser noise emission than chain-based systems.
It's time to have a glance at the features of best air resistance exercise bikes along with comprehension of their pros and cons.
Top 7 Best Air Resistance Bikes (Listed In No Particular Order)
If I ask which air bike you have seen the most CrossFit athletes program. The answer will be Assault bikes for sure. But this is not the only reason to list this bike here.
The model scores high in quality and durability. Vertically and horizontally adjustable seats for an enhanced experience.
There are wheels that permit portability and a cooling fan to soothe you through the exercise durations.
Further, the inserted computer presenting a clarified view of heart rate, distance, time, and calories information.
The consoles are programmed with basic instructions, not much but yet informative enough with a large and clear display.
The maximum user weight supported by the bike is 350 pounds while the bike itself weighs 98 pounds.
And the area it is going cover will be 49 inches length, 22 inches width, and 51 inches height.
It also enfolds a holder for phones/tablets. That's good if you love listening to music amidst the workout sessions.
Assault offers a warranty for the time period of 5 years on the main skeleton and 2 years warranty is provided for associated parts. See the full review.
Pros
Made of high-quality sturdy stainless steel. It can support overweight people (more than 300 lbs)
Professional design & Elegant framework
It has two front wheels that facilitate transport
Adjustable seats. Compatible with both tall and short people
Control screen (console) where it shows the main characteristics of the training including our heart rate
Unlimited resistance
Its assembly is simple, easy and fast
Low maintenance coupled with a high warranty time frame
You can perform 8 different exercise programs.
Anti-slip, wide and comfortable pedals and easy replacement.
Its assembly is simple, easy and fast.
Its price, worth it
Cons
Fan produces noise
The pedals have no safety or straps for better support
Numerous people put forward the anomalies in their customer service
Covers wider area, not much compact
Not foldable, can be cumbersome to lift it to places
Saddles become loose after some time
The console screen has no light
​
This model curated by Schwinn comes with an extra-large fan wheel than the rest. Suitable for tall-height and fat individuals too as it supports up to 350 pounds weight.
It has got multi-grip movable handlebars for stimulating exercise of an upper portion of the body.
Not only this, it has been inculcated with nine workout programs.
The AD7 variant has the potential to survive high-intensity workouts for long durations and that too with smooth resistance.
You can conveniently place the water bottle on the holder molded on the front side. The dimension of this bike is 53 L x 26.5 W x 53 H inches, which means that this will suit you even if you are tight in space.
The warranty period provided by the manufacturers is 5 years on basic frame, 1 years for electronics and spare parts, whereas labor warranty is labeled as 3 months.
It's indeed a great deal! See the full review here.
Pros
The bike is sturdy due to its excellent frame structure and frame material used for production
Fulfills entire body workout requirement as the moving handlebars help the individual succeed in upper-body workout requirements
Infinite resistance offered due to huge fan wheel
Water bottle holder
Telemetric console
Highly adjustable saddle in all directions
Footstep pad frame and foot resting pegs are present
An excellent console system that displays all metrics clearly
Target metrics can be set
Excellent quality and warranty promised
Easily movable due to the presence of wheels and rubber padding protects the surface from destruction
The product is simple to assemble and requires no external help
The best choice for fulfilling weight loss, fitness, and health requirements
Cons
Although the seat is adjustable the initial size is small
Labor warranty is just 6 months
Toe cages and straps are missing features in the pedals
Relatively simple monitor. Absence of light can ruin your workout experience as the monitor is not self-illuminated and requires external lighting to display numerics
Designed to aspire for fitness and wellness, therefore AD6 has conferred the ability to thrive under any level of challenge. Lucrative appearance, compact size, and wireless telemetry are the peculiarities.
The digital monitoring presenting time, speed, calories, watts, pulse, and so on. The seat will be somewhat less adjustable and the weight seems to be lesser as when compared to the AD7 model.
These lack inbuilt training programs too but moving handlebars are still a marvelous advantage.
The rest of the features closely resembles AD7 as for water bottle holder, compact size, wheels for easy translocation, etc.
Here, you will get footrests cast along with the design of the bike.
Built to endure for years with 112 pounds of weight and spacious dimensions measuring 49.7×25.7×50.9 inches.
As coming to warranty duration, 5 years is impelled for the main structure, 2 years for electronics and parts, and 6 months is for labor.
For the ones who desire to get great things under not so great budget, this is not to be missed.
Pros
Moving handlebars
Water bottle holder
Data monitor
Compact
Portable
Wireless telemetry
Footrests embedded in the bike
Appreciable warranty time frame
Cons
No workout programs
Limited adjustability with respect to seats, an upgrade may be required
There exist scope for quality enhancement
AD2 is the cheapest model manufactured by Schwinn. Being cheaper, it is sure to be robbed off some fascinating features but still a rocking piece under pretty affordable prices.
Weighing 250 pounds, it has got an LCD display with speed, time, calories, and rpm information.
The seats are adjustable and the saddle is covered for elevating the ease. Moving handlebars enable entire body workout.
Altogether, it consumes a space of 46 inches length, 25 inches width, and 50 inches height.
No workout programs availability is a flaw but this is going last for years. High durability is beheld.
The company has offered 5 years warranty for the frame, 1-year warranty for parts/electronics and 90 days free labor.
Pros
Long-lasting model
Affordable
LCD console
Customizable seats
Comfortable saddle
Cons
Low warranty period as compared to AD6 and AD7
The non-existence of training programs
As the name signifies, the bike is nurtured with top-grade quality infrastructure to face the challenges like a pro.
Made with sturdy steel, this can support 350 pounds of weight. The bike weighs 113 pounds which further justifies its rigidity.
The steel skeleton is polished and lacquered to offer moisture repellence and withstand bouts of sweating.
The phenomenal feature if this bike is its incorporation with solid stabilizing bars that optimize it to perform optimally in uneven floors.
Be willing to a vacant considerable area of your house for this bike as the size magnitudes are 55 inches long, 26 inches wide, and 53 inches tall. Footrests, moving handlebars, wheels, all are there.
Thinking of adjustability? Yes, it there. Four ways of adjusting seats – upwards, downwards, forwards, and backward.
Whatever suits your comfort. You won't face any issue related to a height even if you are 7 inches tall.
Handgrips are provided a covering of foam so that your hands don't develop sores.
It's LCD display screen is really fabulous with clear and accurate readings of time, distance, rpm, pulse, watt, and speed.
Three default main interval programs which further flexibility to choose your own targets for calories and timings. You can monitor your heart rate as well.
There is 10 years warranty on frame, 2 years on electronics and parts, and 6 months on labor.
Pros
High in sturdiness and hardness
4 ways seat adjustability
Holders for bottles and phones
Moisture repellant
Footrests
Impressive consoles
Supports height up to 7 inches tall
Built-in programs
Cons
Chest strap not included
Pedals lack safety straps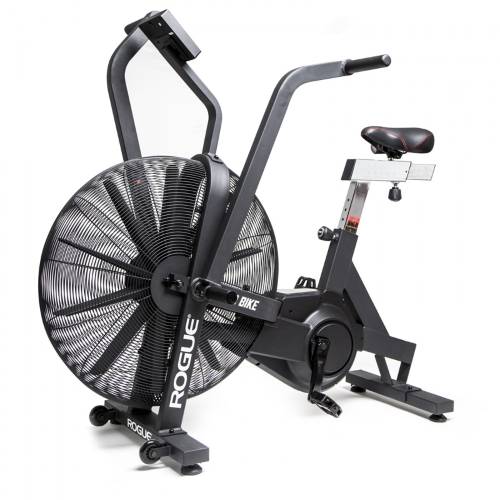 A consummate blend of high-grade heavy steel and fine engineering tactics produces a remarkable rogue echo air bike model.
This 127 pounds bike comes with an alluring screen to get abreast of distance, calories, heart rate, and speed. Customizable seats and rubber pedals are just wow additions.
Steel fans for a smooth experience, steel tubing with a precise finish and rubber grip handles are another array of features that make that bike more attractive.
The exact dimensions of the bike are 58.8×29.8 inches. Rogue provides all its customers with a 2-year guarantee on all its products. Read our full review.
Pros
Its stability when pedaling is very good
Its material is anticorrosive
A robust metal structure capable of supporting up to 350 pounds
It presents wheels to help in its displacement
Exercise anywhere in your home
Simple assembly
Your belt drive is quiet and maintenance-free
Comfortable, self-adjusting and interchangeable seat
LCD monitor or console to control the most important details of your training (heart rate, distance, etc)
Handlebar movements are independent and you can exercise your entire body
Cons
Rubber lined pedals are susceptible to wear and tear
The accessories are not included
The warranty time is not enough
With the height of 5 feet 5 inches, this puts limitations to be utilized by people with bigger heights. Only vertical adjustment of seats is permitted.
Handlebars in these are sedentary and not movable as we have been discussing till now.
The chain-driven system declines the smoothness factor. The bike weighs 47 pounds and can accommodate 250 pounds of user weight.
The dimensions are 45 inches long by 22 inches wide by 44 inches high.
You will get good handlebars and LCD console with all the basic set of information to track your progress. A humming noise will be accompanied throughout the workout schedule.
No additional accessories are there.
Pros
Great affordability
A simple but large display including speed, time, distance, and calories
Adjustable seats
Compact and covers less area
Cons
No wheels, therefore no portability
No footrests
There are not holders for bottles or phones
Seat is uncomfortable
No built-in training programs
Not suitable for people with a height greater than 5 feet 5 inches
Final words
Pick anyone among the list, you won't regret anyway. The final decision will be influenced by the number of factors.
Your budget, requirements, additional accessories you wish to imbibe, space affordability, and many more.
You know your circumstances better.
If you love the most consummate pieces of equipment loaded with multifarious features without worrying about budget, Schwinn AD Pro is the perfect fit for you.
To avoid maintenance and up-gradation charges, later on, go with Assault and Schwinn AD7 models.
You get myriads of benefits and amenities with this.
AD 6 is an amazing choice for the amazing price until and unless you are desirous for having inbuilt workout programs which it lacks. The same applies to the AD2 model.
Rogue bikes are yet another master blaster version offering numerous add-ons and Android application compatibility.
Best for those who critically want to monitor heart rate, pulse, speed, and activity progression.
For those who are presently incapable of stretching their budgets, you have a wonderful option for Body rider exercise upright bike lacking some features.
Please note that shipping charges will be extra for most of the bikes. Manufactures provide refunds too, however, terms and conditions always apply.
The consoles require AAA batteries which need to be replaced after some time. Other up-gradation and maintenance costs that will across your way, later on, pertain to your own needs and modifications.
Some pedals, saddles and other parts may impel you to do so.
Get geared up to kickstart your healthy routine today and revolutionize your life to a better one.