Ever since CrossFit and HIIT training became popular, the passion for air resistance exercise bikes has also increased exponentially due to their multitudinous health benefits.
For home gym use, purchasing an air resistance bike for either CrossFit or HIIT workout can be a smart move as it saves ample space. But, you are guaranteed maximum benefits only if you choose the perfect model that meets your requirements.
To make an informed choice, you need to have optimal knowledge about the bike and the integral features that make it the right choice. Read further on this fan bike review to get a detailed insight into all that you must know about air bikes to make a wise decision.
In a hurry? Here are my top 14 picks of the best air resistance bikes for high-intensity workouts:
See the overview, pros & cons below.
What Is an Air Resistance Bike?
Let's start defining the air bike from its name itself—this bike is named mainly because of the type of resistance system it uses to function.
Air is used to generate resistance as fans attach to the flywheel (this is just like your cycle's wheel, which spins when you pedal).
The spinning action of the fans pushes the air, and the resistance intensity depends on how fast the fans spin. The resistance generated purely depends on your efforts, meaning that there are no upper limits for resistance levels possible—the harder you pedal, the greater the resistance that you create.
Besides, you needn't waste time changing resistance level every once a while, stopping your workout efforts, nor bother about choosing between manual and electronic resistance settings.
Benefits of Using an Air Resistance Bike
You are already aware of a couple of advantages as I've mentioned them right above. But, what are the main factors that make air bikes one of the most sought-after exercise equipment in the home gym sector?
It's primarily due to the craze of CrossFit training. Most CrossFit athletes use the air resistance bike diligently to burn ample calories and benefit from a total-body workout.
Don't be surprised here as I am sure when I say that this bike offers a total-body workout. That's because these air bikes come with moving handles as well as moving pedals. So, you can move your legs as well as your arms when you exercise.
But, if you feel like moving only your arms or legs, that's also possible. High-quality fan bikes provide an additional stationary footpeg to rest your feet while you divulge your dedicated attention towards exercising your arms.
Now we've understood the vital reason why these bikes support tons of calorie-burning ability compared to typical exercise bikes.
With calorie-burning ability comes the advantage of burning more fat and losing weight too. Besides weight loss, you improve your strength levels as well as cardiovascular health.
But, if you are worried about whether all types of individuals can use the bike, you are in for good news.
Despite its ample benefits and weight loss abilities, the air bike has minimal impact on your joints, making it a good choice for people with arthritis and joint problems.
In short, making use of an air bike helps you achieve unlimited resistance levels, greater weight loss effects, low-impact workout, heart benefits, HIIT workout benefits, and a full-body workout.
Who Is the Air Fan Bike For?
In short, anyone can benefit from using an air bike. It's not only for those who are seriously into CrossFit training or intense workouts but even for those of you who want a regular home gym workout.
But this comes at the expense of shelling additional money as fan bikes are costlier than upright bikes.
Getting yourself an air bike is a smart choice if you are interested in HIIT training. The unlimited resistance possible helps you create intense intervals needed to benefit from the workout.
How to Choose the Best Air Resistance Fan Bike for Short Persons
I recommend that you carefully look through these features below before deciding upon an air bike. One point of caution before you start looking for models is to avoid air bikes that boast of having resistance settings as these are not air bikes but a hybrid model between air resistance and magnetic resistance.
Workout Intensity
How fast or long are you planning to ride an air bike? Based on your answers, it is highly suggested that you choose your fan bike.
If you plan to use your fan bike considering it as a regular exercise bike, you needn't invest more money in buying an expensive model.
But, if you wish to focus on CrossFit, HIIT, and consider going fast and furious as much as you can, it is always suggested that you choose high-quality wind bikes that can withstand your efforts and last long despite tremendous pressure applied onto them.
Types of Air Bike
There are two types of air bikes, belt- or chain-driven. The use of either depends on the budget of the bike. High-end bikes comprise belts, while budget models make use of a chain drive.
Chain: Comparatively noisier and having a rough start than belt-driven bikes, these require the same efforts and maintenance similar to your real bike. They require more maintenance too.
Belt: Belt-driven air bikes assure smooth and quiet operation comparatively and also boast of requiring lesser maintenance.
But, both types do succumb to wear and tear over time, requiring you to comply with their adjustments needs.
Console
High-quality fan bikes never miss out on offering a console, though some might only provide a basic console. Some others offer a high-tech console that gives you the provisioning even to upload or download data.
Look for a console that has:
Programs such as HIIT, Tabata, and 30/90 types programs that are easy to follow
Data information including time, speed, calories burned, RPM, and distance. While these are included in the basic models, it's the accuracy that differs depending on your budget—the greater the pricing, the higher is the accuracy
High-end models generally provide an RPM display that's an utter delight while exercising as the visual display motivates you to compete against yourself.
Heart rate monitoring is not provided by all models, and some bikes provide the option at an additional cost.
Bike Quality
Excellent quality is indispensable for the long-lastingness of the bike that we purchase. To ensure that the air bike is made of good-quality material, check if it has higher metal to plastic ratio.
It is even more recommended if the fan blades are also made of metal guaranteeing higher durability.
Seat
In general, air exercise bikes are very poor performers when it comes to seat comfort. Most of them are either hard, very narrow to seat heavy people, or don't offer comfort when you wish to exercise for longer durations.
It isn't surprising to even find high-end models that come with uncomfortable seating options.
Only a few of them come with good cushioning, but seat comfort is a problem that could be solved easily as most fan bikes allow you to change the seat. So, choose a good cushion seat cover and get started.
It is even better if you stand on the bike and exercise instead of sitting down as this posture gives you greater benefits as you generate more resistance by standing.
Top 14 Best Air Bikes for CrossFit and Home Gym Reviewed
Given below are the best air bikes that incorporate the best of the features and functioning. Go through them to pick your choice.
The Assault air bike is one of the most recommended bikes for high-intensity interval training (HIIT) and CrossFit.
The beauty of this air resistance bike is that its seat is fully adjustable, and hence, anyone could exercise using the bike, fitting the seat to its suitable height.
Coming to the console, the Assault air bike doesn't boast of a great one but comes loaded with the basic console features.
Still, it is easy to read with a large display of metrics that are displayed on the same screen. You even have built-in workout programs, both interval and target workouts displayed on its screen.
The Assault air bike supports up to 300 pounds of user weight capacity (most home-use fan bikes have a maximum user weight limit between 300 and 350 pounds).
This proves the bike's sturdiness, stable frame construction, and durability making it highly suitable for those of you preferring to do intense workouts regularly.
The warranty offered is also pretty decent, with a 5-year warranty on the frame and 2 years on the parts. The Assault air bike is one of the most well-constructed bikes.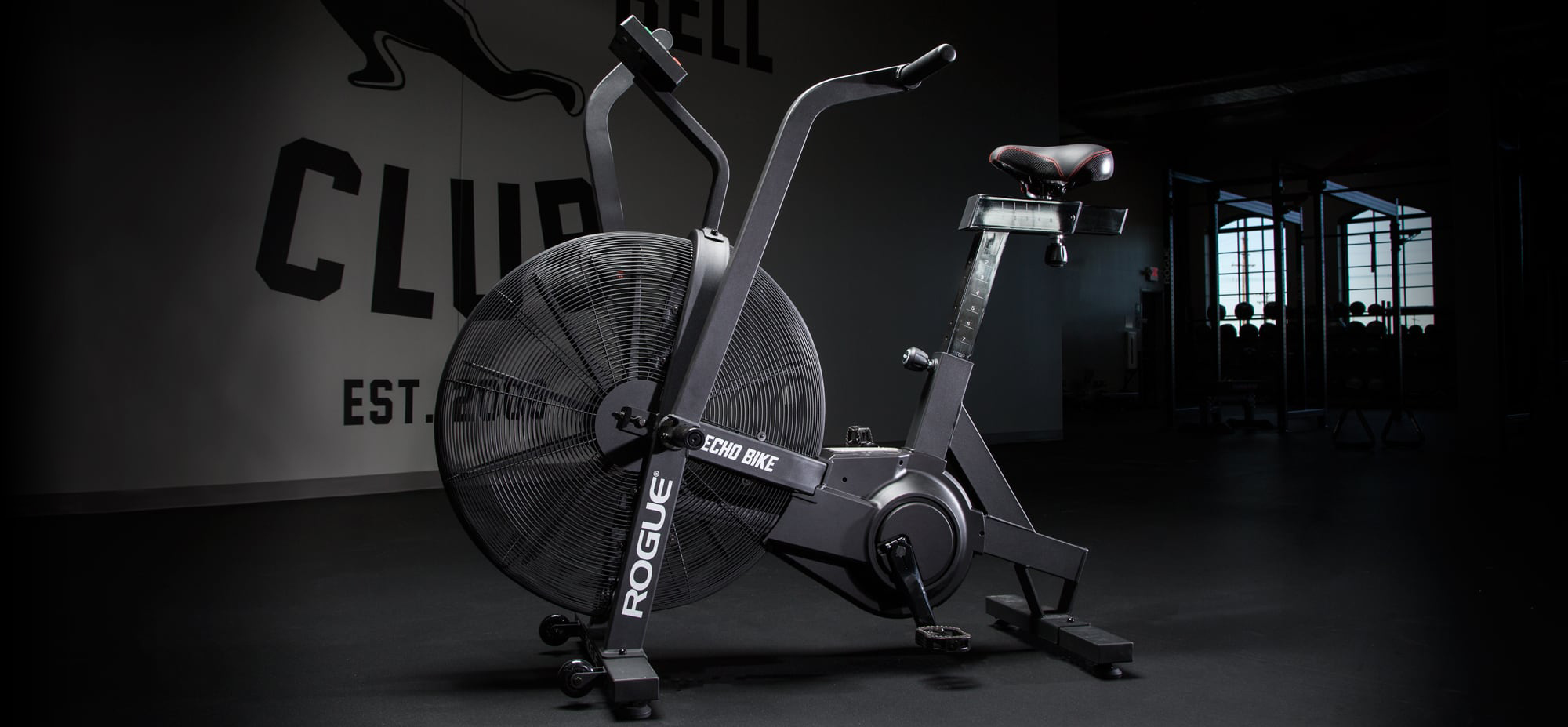 Rogue is a pro brand in manufacturing Crossfit gears, barbells, powerlifting equipment, and additional accessories.
And the Rogue Echo air bike is one of their best launches, coming with a heavy-duty frame, affordable pricing, and a good warranty.
Looks aren't deceptive here—the bikes look beastly with a huge and steel-heavy frame that comes with a powder coating. The machine's performance is also highly laudable, with maximum functionality offered.
Weighing around 127 lbs, it is almost 30 lbs heavier than normal air bikes, which tells you about its heavy-duty construction.
This lightweight air bike can accommodate up to 350 pounds of user weight which means that the Echo air bike is suitable for tall and heavy users.
Don't worry about the assembly even though the air cycle is heavy as the assembly process is easy. The seat is even pre-attached.
Functionality-wise too, the bike comes with a belt drive system, ensuring a smoother and quiet operation.
The console is basic but helps you monitor workout metrics easily as the readings are large and bright. There are a couple of intervals and target workouts available besides being heart rate monitor compatible.
Schwinn AD7 is one of the most durable fan bikes. If you are pretty heavy and would like to go for a heavy-duty air bike that could withstand intense workouts, you can choose this AD7 model without hesitation as it can withstand a maximum weight capacity of up to 350 pounds.
The AD7 air bike excels in every regard possible. The seat is fully adjustable, and given its mid-range pricing, the fact that it's adjustable horizontally and vertically is a great advantage.
Besides the seat, the handgrips are also adjustable, which leaves you with even more exercising options.
The single-stage belt drive system offers the ultimate quiet and smooth cycling experience, and hence, you can exercise any time of the day according to your choice.
The console is good with an easy-to-read and large display of different metrics, including time, speed, calories burned, etc.
Also, you get an RPM meter at the top of your console, which is a great benefit as it displays how fast you are pushing it during your workouts. This is a great motivating factor for any of you to exercise harder.
The Schwinn Airdyne AD6 model is a more budget air bike compared to AD7. The AD6 model has got equally good user ratings and has been established as one of the best air bikes for beginners due to its functionality.
One major disadvantage of this bike is that it doesn't have fully-adjustable seat belts—you cannot adjust your seatbelt horizontally. Still, the beauty of AD6 is the possible seat positioning, which helps you experience a comfortable ride.
The progressive wind resistance makes it challenging enough for you to keep yourself challenged. The fans present are frictionless and help to keep yourself cool.
Like the AD7, this fan bike also has a belt drive that assures a smooth and quiet performance.
The console of AD6 is comparatively smaller than AD7, but it has a large metric display and offers details on important metrics. But, you don't get the RPM meter as in AD7.
Warranty-wise too, AD6 stands tall as it comes with 10 years on the frame, 2 years on the parts, 1-year electronic warranty, and 3 months on labor.
Don't be surprised that there is another Schwinn model given in the best Airdyne bike list as the brand is one of the best, having established its forte in exercise bike production.
The AD2 air bike is well-designed and offers a fully-functional fan that's admirable in terms of pricing. If you are a short user and require a budget-friendly fan bike, I suggest you go for this model.
The console is very tiny and has the potential to display only one metric detail at a time. You need ample patience here as you must wait patiently to get every stat displayed on the screen.
The fan design is impeccable and patent-pending, helping dissipate the air effectively for any number of resistance levels.
The single-stage belt drive system is efficient and keeps the bike running efficiently and smoothly.
Another highlight of the AD2 model is its good warranty coverage despite the optimal pricing. You get to enjoy 5 years warranty on the frame, 1 year on mechanical, and 90 days for parts and labor.
However, the seat of Schwinn AD2 is not fully adjustable. Moreover, the seat is pretty uncomfortable too, cannot be adjusted horizontally, and above all, you cannot change it to get one of your choices fixed on the bike.

Though not as popular as the Schwinn bikes, Sunny is a brand that functions well, provides optimal performance, and good construction.
This Tornado air bike comes with a fully adjustable seat despite belonging to the affordable segment. It is 4-way adjustable, and you can adjust it forward, backward, up, or down depending on your requirement.
The non-slip foot pedals are quite large and assure foot stability while pedaling. The handlebars are also ergonomically designed, and the grip angle is perfect, which engages various muscles simultaneously.
You get a good console that can display all required metrics simultaneously, unlike some models such as AD2 that give you readings one by one due to cheaper pricing.
I was impressed with the 7 built-in workout programs offered and their compatibility with Bluetooth heart rate monitoring. Also, the bike has got a maximum user weight of up to 330 pounds.
To compensate for the enhanced features provided for a budget-friendly model, Sunny has compromised on the warranty part. The Tornado air bike offers only 3 years on the frame and a 90-day labor warranty.
The Xterra Air 650 Airbike is elegantly designed with a compact construction and glossy white finish that you could keep in your living room.
Made with a commercial-quality finish, this bike comprises an industrial-grade chain-drive system that is durable and reliable.
You can use this bike for anything from rehab to HIIT, as controlling the machine's resistance levels is completely in your hands. The smooth air resistance helps you pedal at low resistance at slow speeds and high resistance faster.
The fan bike is sturdy and stable, holding up to a maximum user weight of 350 pounds.
The LCD console is good with large and easy-to-read metrics, including time, speed, distance, calories, and heart rate monitoring options. But, you need to purchase a chest strap transmitter for heart rate display.
There are multiple engaging programs, including target time, target calories, intervals 20-10, and interval custom.
The ergonomic pedals and handlebars offer you the utmost comfort while you work out. The pedals provide excellent grip with the anti-skid finish, while the handlebars come with multi-padded grip options to withstand intense workouts.
Moreover, coming to the seat, it is 4-way adjustable helping you get a proper fit. Reap benefits from exercising on this air bike on any surface as the oversized stabilizer levelers make sure you are safe while working out.
Body Rider stationary fan bike a noiseless and pocket-friendly model for both beginners and advanced trainers.
For its low pricing, the bike doesn't miss to amaze us with its sturdy steel 'H' frame design, stability, a basic console that displays speed, time, and calories burned, and a fan wheel to keep you cool.
Be it fitness or rehab, and you use this bike to achieve your goal as the machine is ergonomically designed with a belt-drive system. You can achieve a total-body workout using this air bike as it engages your arms.
Though air bikes depend on the fan and your power to increase/decrease resistance, the air bike has provided an additional resistance knob to increase resistance beyond what's provided by the fan.
The seat is also adjustable bidirectionally, which enhances your comfort levels while pedaling. The fan flywheels are good and encased safely, guaranteeing a smooth and quiet workout session.

Marcy Air 1 Exercise Bike is another perfect fan bike for home gym use. The price is not too high nor too low for the numerous features provided.
This is the classic example of a true air resistance bike as the intensity of your pedaling increases the resistance from the fans helping you benefit from intense workout sessions.
Using a fan instead of resistance is admirable, and as you pedal faster, the cool air coming from the fan is a treat to your body.
The bike looks quite elegant at first sight but coming with a 14-gauge steel tubing and a powder-coated finish. The framework and design are nothing short of maximum durability and stability.
The company has the Air 1 Exercise Fan Bike to give you the maximum benefits possible for the price paid.
Hence, they have designed a dual-action exercise arm that helps you enjoy upper and lower-body workouts targeting multiple muscle groups simultaneously. The pedals come with adjustable foot straps that keep your feet safely attached to the pedals.
The seat is 4-way adjustable, accommodating anyone of any size. The LCD computer screen coming with the bike acts as an odometer and displays basic metric values including speed, distance, time, and calories burned that is easy to read.
Octane, the manufacturer, has taken good care to design a great quality product that's made the ADX fan bike one of the best fan-resistant exercise bikes that's suited for commercial use.
As with any other Octane bike, this piece of equipment comes with heavy-duty construction and a stable frame that's moisture-repellent so that it stays strong through any season.
This bike is suitable for all kinds of trainers—right from beginner trainers to advanced level trainers—as you could choose your pace and resistance depending on your needs.
It could be for your day-to-day general fitness needs or HIIT training, and the machine is fully equipped to handle all your requirements. There are multiple training programs, including 20/10 intervals, 30/90 intervals, and custom routines.
You get a console tachometer and even a cup holder, which is a good additional feature. There is a 26-blade performance fan and comes with a single-stage belt for an instant performance and quiet operation.
The seat is also fore/aft-adjustable and comes with optimal cushioning to keep you comfortable.
This Schwinn Airdyne bike is specially built to fit the intense workout needs of both CrossFit trainers and fitness enthusiasts.
The fan bike is nothing like the previous models and is built uniquely with enhanced standards. It is built with high-quality material with more metal, minimum plastic, and excellent grip holds that are way above that of other Airdyne bikes.
The company has used a single-stage belt drive here instead of a chain, thereby promising an excellent and efficient workout that's smooth and quiet without interrupting others.
Using progressive wind resistance, the CrossFit bike helps any of you benefit from it—you could be a beginner trainer, a rehab patient, or a pro athlete—it is up to you to pedal at your pace and reap fitness benefits.
A special feature here is the 26 blade fan that helps you burn ample calories, and that's exciting and motivating to use.
The console is good and even has a tachometer that is highly motivating to exercise intensely. You have multiple preset workout programs such as 20/10 or 30/10 to keep challenging you constantly.
Fitness Reality 1000AR is a bike with sturdy construction, comfortable seats, and a good console that's good to read and motivating to exercise.
You can use the Fitness Reality 1000AR bike if you are looking for a piece of fitness equipment with low impact on your joints.
Moreover, you can work out both your arms and legs, benefiting from a full-body workout as there are dual-action handlebars that help you focus on various muscle groups simultaneously.
The seats are 4-way adjustable and provide optimal comfort. This cardio machine is highly suitable for performing high-intensity interval training workouts as there are multiple preset HIIT programs included. You could even stand up and pedal.
Another great feature of the 1000AR air bike is its Bluetooth connection to My Cloud Fitness, and it is integral for tracking your exercise performance.
The LCD console display many different metrics, including speed, calories burned, max watts, sprint recovery, and more. The console is backlit, and the tachometers are included for watts and calories burned/minute.
This air fan bike is a great choice for toning your muscles, doing HIIT and cardio workouts, and more. Having manual friction resistance, the Stamina Air Resistance bike is also one of the best budget fan bikes for home use listed here.
This is a fan resistance bike that is adjustable, having a dynamic air resistance that's well-suited for beginners and those others with a primary requirement of purchasing an inexpensive bike that's suited to burn fat and lose some weight.
The upright design is well-suited for short or tall persons as it is easy to get on and off the bike.
You also enjoy riding on the bike as the seat is height-adjustable. Besides, the anti-slip pedals and the foam-padded handles improve your comfort levels multi-fold times.
Keep track of your performance, making use of the multifunction LCD monitor that displays metric details.
Though extremely affordable, the Sunny Zephyr air bike's highlight is that its arms and seat height are adjustable, which is a rare occurrence in this price range.
While the fan helps create using the belt-drive system, the pedals are connected to the chain-drive system mimicking an outdoor bike.
The steel frame and solid construction are highly appreciable as this keeps the bike sturdy and protected through any intense workout sessions.
You can make use of the adjustable handlebars that come with foam hand grips and pedals at any speed as the pedals are slip-resistant, increasing your comfort and safety levels.
Make adjustments to your seat, too, depending upon your height, and don't stop pedaling away furiously until your target for the day is achieved. So, how do you whether or not you meet your goals?
It's simple. You use the performance monitor to track metric details, including speed, rpm, distance, and calories burned. You could even play a song or video, keeping your smartphone in the device holder provided to stay entertained too.
Final Thoughts
As air bikes provide resistance depending on your intensity of pedaling, they are a great choice for home gym equipment for those looking to achieve intense workout benefits.
Also, being a supportive aid for CrossFit training and benefitting pro athletes, don't hesitate to buy an air bike that helps you burn ample calories in a short time.
Ensure that the model you choose comes fitted with good features that increase the bike's durability and functionality.
FAQs:
Are Air Bikes Good for Cardio Workout?
Yes. They are an excellent choice for cardio. In CrossFit training, the WODs during which you use an air bike improve your cardiovascular endurance and capacity.
Most air bikes have HIIT training programs in-built in the list of preset workout programs offered. HIIT is extremely beneficial for heart health as exercising at max intensity for shorter durations promises improved cardiovascular fitness levels.
Is Using Air Bike Good for Weight Loss?
Air bikes are not a good choice but an excellent choice for weight loss benefits. CrossFit training is one of the vital ways in which you can lose weight.
Think about doing 10 rounds of air bike exercises where each round lasts for 3 minutes. You would surely acknowledge the intensity offered by air bikes.
Invest 100% of your efforts in exercising on your air bike and reap maximum benefits.
Why Is the Air Resistance Bike So Hard to Pedal?
There are two main reasons why air resistance bikes are tough to use, including full body and resistance type.
You make use of your whole body, incorporating the push and pull movement simultaneously. The arms (upper body) are used as efficiently as your legs (lower body), thereby guaranteeing a full-body workout.
The air resistance used when you exercise on an air bike is translated into resistance on the pedals. If you want to work out hard, you need to pedal faster, and to pedal hard, you need much power.
Read Also: