Who does not like to enjoy good training in the comfort of our home? A good fashionable sport that makes us sweat the most is spinning.
Get these bikes at an affordable price is possible.
But it is possible that before the great number of offers that exist in the market, you will lose a little and you do not know which one to choose.
Therefore, we have dedicated this review to the best spin bikes under 1000, so here we go.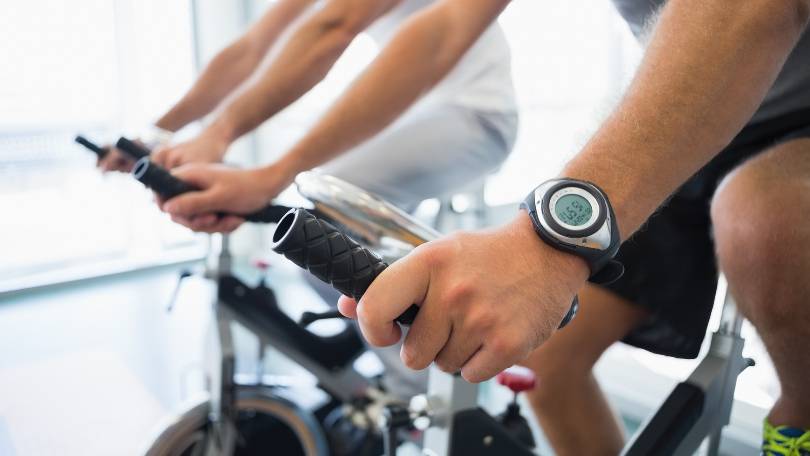 Top 5 Best Spin Bikes Under 1000
This product is characterized by the weight of its flywheel which is 48 lbs.
This weight will make your leg muscles work perfectly and you will see the results of your training in the short term.
Also, its belt drive and magnetic resistance are great for those looking to train quietly.
The comfortable pedaling that the SB900 offers and its economic price places it among one of the most sought after bikes among users.
In addition, this model also stands out for including an adjustable seat according to your comfort, i. e., you can change its height and horizontally position.
Its handlebars can also be adjusted at your convenience.
In case you find any problem in its frame, don't worry because its guarantee is for life.
Also, Sole offers a 3-year guarantee on its parts. Although for the quality that the brand offers, most probably you will not need it.
Pros
Supports overweight users up to 300 lbs.
Be comfortable adjusting your seat.
Adjust your handlebar depending on your posture.
Exercise with a 48 lb flywheel.
Enjoy good music with its silent magnetic resistance.
Its belt drive is of high quality.
Cons
Its LCD screen does not show all the necessary metrics.
Now is possible to improve cardiovascular endurance and strengthen your legs with the IC3's 40 lb flywheel.
Although its resistance system can be of low quality because it works with a felt brake pad, you should take into account that we are dealing with bikes that are low price.
On the other hand, it compensates for having integrated a belt drive that compared to a chain drive, belt drives do not produce annoying noises and last longer.
As for its seat, it is a good quality padded and fully adjustable.
Also, you can adjust its handlebars so that you can adopt the correct position and train different areas of the legs.
As for its weight capacity, do not worry, it allows users with 300 lbs.
When it comes to pedaling fast, you won't have to worry as its dual-adjustment pedals are non-slip and perfect for any shoe size.
Pros
High-performance training thanks to its 40 lb flywheel.
Its double pedals offer maximum support.
Train safely thanks to its adjustable handlebar.
Feel comfortable in a vertically/horizontally adjustable seat.
People with up to 300 lbs can train.
The space it occupies is very small.
Its assembly is very simple, it will not take more than 30 minutes to do it because it is already partially assembled. Once ready, thanks to its front wheels you can change its place as many times as you need.
We also highlight its 40 lb flywheel which is the ideal weight to work the legs.
If you are on a tight budget, this is the bike you need. Its padded and adjustable seat provides comfort.
Its handlebar is also adjustable and non-slip although it does not include a monitor to check your physical progress.
However, if this is not of great importance to you since your budget comes first, the Sunny SF-B901 should be considered.
Pros
Adjust the resistance knob according to your preferences.
Transport the bike with its front wheels.
Its pedals support the feet thanks to its cage.
Train comfortably with its padded and adjustable seat.
Padded and adjustable handlebar for a better grip.
Cons
It does not include an LCD screen.
Here is a video that shows you how to put together this spinning bike.

Forty-five minutes of training, eliminating toxins and having a good time! If you have practiced this type of bike, you will know well what we are talking about.
And it is a discipline where this model offers so many benefits that whoever tries it will not go a week without its corresponding dose of training.
Start by exercising your legs with its 32 lb flywheel, which if we compare it to other models on this list, is a little lighter but enough to burn calories with intense pedaling.
This model also features a magnetic resistance system, which means it is completely silent.
Besides, you can choose between its 12 included training programs and change its resistance directly from its monitor.
Train completely at ease with its 300-pound weight capacity, adjustable seat, and handlebars, and included cage pedals for better foot support.
Pros
Heavy people up to 300 lbs can exercise on it.
Exercise with its 16 different levels of magnetic resistance.
Enjoy its 12 included workouts.
Feel comfortable training with its adjustable seat and handlebars.
Moving it is easier thanks to its wheels.
Cons
The seat can be a bit small for some users.
Our last option in this list of bikes with affordable prices, although not the least important, is again Sunny Health & Fitness but with its model SF-B1714.
This model features a 44lb flywheel, ideal for those looking to have an intense workout.
At the same time, it is accompanied by a magnetic resistance system and a belt drive makes pedaling smooth, quiet and does not require much maintenance.
As with the other model options mentioned in this list, this model also features an adjustable seat and handlebar with which you can change positions according to your comfort.
A very positive feature to highlight is that this bike can support users of up to 330 lbs since its frame is highly resistant and has very good stability.
Besides, its pedals are also a feature that it shares with the other models. Features a cage for better support.
This model does not have much to envy to those more expensive bikes, because it has the main features that a spinning bike should have.
Pros
Train silently thanks to its belt drive.
Its magnetic resistance will last a lifetime.
Get intense exercise thanks to its 44 lb. flywheel weight.
Feel comfortable adjusting your seat and handlebars.
Overweight people up to 330 lb will be able to train on it.
Cons
It does not have a monitor.
What to Look for When Choosing a Spin Bike?
Exercising from home is a perfect option to be fit and if it is on a spin bike and to the rhythm of the best music, much better!
For this reason, in this section, we want to help you make the best choice when purchasing this item and name some tips that you can keep in mind at the time of your purchase.
1. Drive types: belt or chain?
The chain drive is the most economical and offers the most realistic and road-bike-like feel, but it's the noisiest and most maintenance-requiring option.
In contrast, the belt drive is quieter and needs less maintenance, so we advise you to choose this option.
2. 4-way adjustment possibilities for seat and handlebars
The 4 seat adjustment options (vertical/horizontal and height) and the handlebar are closely related to greater or less comfort when exercising and avoiding positions that may cause injury.
The same applies to the handlebar, which should be adjustable in length and height to adapt to the user's size and avoid back discomfort after training.
Keep in mind that an uncomfortable seat and handlebars can lead to a bad experience during exercise.
3. Monitor/Console
The console is essential since it is from where the different functions of the bike are controlled and important information is displayed such as speed, RPM, calories burned, time, distance, etc.
4. Flywheel weight
It is one of the main characteristics that you should value when choosing a spin bike to use at home.
What is the flywheel? It is the name given to the wheel that allows the pedal axis to rotate and which replicates the impulse we give it.
The resistance it has is what will ultimately help us exercise better.
The greater the weight of the flywheel, the smoother and more fluid the feeling when pedaling, and the greater the possible variation in resistance, so more demanding workouts can be carried out.
5. Resistance type: magnetic or friction?
Friction resistance is the most widespread in the domestic environment, mainly due to costs.
Magnetic resistance is the most used in high-end Indoor bikes aimed at professional use.
In this system, the inertia wheel is braked thanks to electromagnets that follow the instructions that the user transmits through the monitor.
Unlike friction resistance, it is much quieter and does not require any maintenance, which is why we recommend it.
6. Wide weight capacity
If the bike is for the family, it is important that the chosen bike has a wide weight capacity, if possible, one of up to 300 lbs, that way, everyone can use it without problems.
Regarding its height, the seat adjustment is important, so if there are family members with different heights, everyone will be able to make its own adjustment according to their comfort.
7. The guarantee is important
Many people neglect the warranty. It is important that both the warranty and the brand of the bike are evaluated.
The longer the warranty lasts, the better the brand will be because they trust the product they sell.
8. Search one with a high resistance adjustability
Having the ability to manually adjust the resistance gives you the ability to decide when to exercise more intensely.
Above all, if the bike will be shared with other people, it should be noted that not everyone has the same physical capabilities.
9. Extra Features
If you are looking for a full spin bike, you should also pay attention to its pedals.
These must have the cage included for better support of the shoe. You should also have the option to change them in case they are uncomfortable or have broken.
Other details that contribute to the good choice of a spinning bike have to do with the convenience of having support for water bottles and a console in which to view the training data mentioned above.
Evaluate to what extent these elements are essential for you. Botle holder should be unless your spinning sessions don't exceed 10 minutes.
Check that the frame is predominantly constructed of metal or stainless steel, that welds are tidy, that the overall finish is good with no sharp or rough edges, and that moving parts are adequately protected.
A solidly built indoor bike must also be stable.
Also, you can put a mat to place under the bike.
And is that in addition to providing good cushioning for the machine, you can thus protect the floor.
Final Words
Spinning bikes offer a wide variety of possibilities to strengthen cardiovascular activity, increase strength and endurance of the lower body and improve sports ability. And all this in a single physical activity!
Do a routine and you will see how your physical fitness improves in a short time.
These types of fitness machines are intended for high-performance exercise, but if your budget is tight, we advise you to keep in mind this list of home spin bikes at affordable prices.
If you're new to spinning, gradually increase your workouts so your body gets used to it and unfortunate injuries don't occur.
There will be no excuses for not exercising since you will have the items available before going to work when you arrive from the office or on weekends.
If you liked the article we would love to know your opinion with a comment, we will be delighted to answer it.
And don't forget to share it on your social networks!