When you buy through links on this site, I may earn an affiliate commission at no extra cost to you. Learn more
NordicTrack exercise machines have been in the market for many years and are reputed as one of the leading brands for home fitness equipment. They have a large variety of equipment from treadmills to ellipticals since 1980 with the home gym department.
No wonder that many fitness enthusiasts consider this brand as an ICON of fitness and health. You can find different ellipticals that give you ample scope to choose from. They come in a high to low range of prices, small to large-sized models, varying power, diverse drives, and various advanced features.
They have several impressive features such as Bluetooth-compatible speakers, HD screens, iFit connection capability, and so on. What's more impressive is some of these usually high-end features are also found in low-priced models.
Hence, we are sure that you will find the best NordicTrack ellipticals for home use from the below-listed ellipticals as they are the top-selling products loved by many.
Why Choose a NordicTrack Elliptical?
NordicTrack ellipticals are not just exercising machines but carefully crafted equipment to keep you on track and motivated throughout your fitness journey. They offer a variety of affordable elliptical machines for your resistance training and cardio needs.
Below are few important reasons why you should be choosing NordicTrack Ellipticals.
Resistance levels: They have several resistance levels suitable for improving your intensity from beginner level to professional level.
Stride Length: Ample stride length choices allow you to find a perfect machine for your height and weight. The adjustability feature gives you different workout possibilities to target various muscle groups.
Soft cushioned handles: The handlebars you move while working out are equipped with a soft grip to provide you with a comfortable grip when working for a long time.
HD screens: Most models, especially the newer ones, come with HD smart displays from 7" to 14" that can stream videos or trail paths to help you through your workout session in an interactive manner.
Monitor: Even the older models are equipped with consoles that let you check various statistics related to your exercise regime.
iFit compatibility: All these machines are compatible with iFit making your workout more interesting with the training sessions.
Other useful functions: Several other functions such ad built-in speakers, tablet holders, Bluetooth compatibility, workout fan, and so on are an added advantage.
Top 11 Best NordicTrack Ellipticals for Home Gym Use
These feature-packed workout machines support interactive physical activity that keeps you entertained throughout your training session. You can choose according to your suitable budget, load capacity, height, stride length, and many other factors as you have a wide range of choices.
Drive Type: Front Drive
Resistance level: 22
Incline: 20 degrees of power incline
Stride length: 18 – 20 inches
Weight: 220 pounds
Capacity:325 lbs
This front-drive elliptical is equipped with iFit technology that connects to your tablet or smartphone using Bluetooth. The NordicTrack C 7.5 elliptical model comes at a reasonable price as it is an entry-level machine.
However, you get to enjoy even a few advanced features such as choosing your destination in Google maps to visually work out on a trail, share your results, and track them. This NordicTrack elliptical machine offers a 20-degree power incline combined with 22 resistance levels allows you plenty of workout options.
The 26 built-in workout modules included with this machine have been designed with a personal trainer's help and are available offline. Also, the online training videos offer you a wide scope of training as you get to watch several fitness masters plan and execute your workouts accordingly.
It has a weight-bearing capacity of 325 lbs. The stride length of 18" to 20" mimics the natural movement and does not cause any high impact while you work out. Though it weighs 220 pounds, you can still transport it easily using the wheels provided.
Pros
The fan automatically matches the intensity of your workout
Oversized pedals are cushioned for foot comfort
Handlebars are loaded with a soft grip cushion
5" LCD screen displays useful metrics
Cons
You need to buy iFit membership separately after a free period.
Drive Type: Front Drive
Resistance level: 25
Incline: 20 degrees of power incline
Stride length: 19-21″
Weight: 230 pounds
Capacity: 350 lbs
The 10.9 E model of NordicTrack Elliptical has the front-drive capability with 25 resistance levels. This elliptical comes with iFit compatibility that allows access to global trainers, but you need to purchase the membership for accessing it.
It is made comfortable with features such as an auto breeze fan, cushioned pedals, bottle holder, and soft foamy handles. Also, the SMR, i.e., silent magnetic resistance, facilitates smooth and quiet working. The durable elliptical machine stays firmly in place due to its weight of 230 lbs and can bear a weight of 350 lbs.
In-built workout sessions of 30 types offer you enough variety to mimic natural terrains of various types, such as hills. They also contain several other activities such as cardio, calorie-burning, intervals, and so on, which you can use quickly.
Adjustable length of the stride anywhere between 19" to 21" to your comfort is an excellent feature. Similarly, the incline level is also adjustable up to 20 degrees allowing this machine to suit your needs to work for different muscle groups.
Facilities such as bottle holders and tablet holders keep you worry-free and provide easy access to required things.
Pros
The touch screen of 7" comes with HD smart technology.
The 20lb flywheel offers good resistance.
Speaker with music port helps you enjoy workout better.
This elliptical has a low impact on joints.
Heart rate monitoring facility.
Cons
Assembly is not easy as it does not come with proper instructions.
Drive Type: Front Drive
Resistance level: 24
Incline: 20 degrees of power incline
Stride length: 20"
Weight: 210 pounds
Capacity: 350 lbs.
NordicTrack C 12.9 elliptical features front drive along with many improved features. It has the capacity of 350 lbs load-bearing, making it an ideal elliptical for even heavier people.
The outstanding characteristics such as heart rate monitoring using the pulse from the hand grips are helpful to track your workout results easily. You also get to work using 24 resistance levels that help you build up your strength as you master each resistance level.
Assisted by the power incline of 20 degrees, you get even more challenges and variations that keep you going forever. As the stride length is 20" and closes to the natural movement, you will not experience any stress on your joints.
The weight of this elliptical is 210 pounds, but still transporting it from one place to another is a breeze as it has wheels. Apart from the above-mentioned specs, you have several other useful features such as Bluetooth compatibility for listening to music, an auto-breeze fan, and large pedals.
The iFit technology compatibility allows you to connect to professional trainers worldwide for interactive training sessions. The Google map connectivity through this elliptical makes it possible to choose from many trails for your run using the elliptical.
Pros
Cardio grips on both handles to measure heart rate.
Compatibility with iFit technology gives access to many resources.
The heavy flywheel of 30 lb for extra stability.
It is easy to assemble and had a good warranty.
Cons
It comes with only a 7" touch screen.
Drive Type: Front Drive
Resistance level: 26
Incline: 20 % adjustable
Stride length: 19"
Weight: 210 lbs
Capacity: 350 lbs
The 32 lbs weighing flywheel has effective resistance creating power due to the inertia-enhanced technology. Its front drive and silent magnetic resistance are both beneficial features that keep your workout smooth.
The 20% incline is adjustable from 0% onwards and offers both challenges to your muscles and comfort to your legs at the same time. The stride length is auto adjustable, giving you the customizability according to your height and requirement.
This adjustable stride elliptical machine offers you 26 digital resistance levels to adjust easily whenever you need to improve your resistance. It can bear a load capacity of 350 lbs due to the solid steel construction of the frame.
Despite the weight of 210 lbs, you can move it easily using the front-mounted wheels that come with this elliptical. The levelers are oversized for accommodating even large-footed people, and the bottle holder is useful to keep water handy.
The 2" speakers are Bluetooth compatible which can be connected to your tablet or smartphone for listening to music. You also get a holder to place your device safely on the machine while you work out.
Pros
Warranty of 10 years on frame, 2 years on parts, and 1 year for labor is useful
14" touch screen is large enough for viewing the videos
One-Touch technology for adjusting the stride and incline is easy to use
CardioGrip sensors on both handles for recording the heart rate
Autobreeze fan keeps you cool as you workout
Cons
The machine makes squeaking sound for few days
Drive Type: Rear Drive
Resistance level: 22
Incline: 8 degrees of power incline
Stride length: 18"
Weight: 215 Pounds
Capacity: 325 lbs
This base model, a rare drive elliptical, has an 8-degree power incline and 18" stride length, making it a good entry-level machine. As it comes in a compact size, you need not worry about space constraints and can buy it even you have a small place.
The 22 resistance levels and the 24 built-in workout programs offer excellent challenges to make your effort worthwhile. This compact elliptical machine comes equipped with the latest technologies such as iFit compatibility, Bluetooth connectivity, and power incline, which keep you in pace with current fitness modules.
You can experience a quietly working machine as it is equipped with SMR. The workout fan gives you a breeze automatically, which keeps you cool while working out. The foldability allows you to save space while you need to store it further.
Its built-in backlit display gives you statistics of time, distance, calories, resistance, speed, incline level, RPM, and important metrics. Finally, the load-bearing capacity is 325lbs, whereas the machine's weight is 215 pounds and easily movable using the wheels.
Pros
Built-in tablet holder.
Wheels for easy transport.
Pedals of large size.
Backlit display of 5".
Cons
It does not come with an interactive screen.
Not suitable for long people
Drive Type: Rear drive
Resistance level: 24
Incline: 10 degrees of power incline
Stride length: 18"
Weight: 190 pounds
Capacity: 325 lbs
Folding and unfolding this rear-drive machine is a breeze. As it utilizes a tiny space when folded, it is ideal for people looking to save space in the home gym. This foldable elliptical trainer has an HD touchscreen with a full-color display.
It is designed with convenience in mind as you can easily assemble it and use it comfortably. Though it is a lightweight machine of 190 pounds and with a small footprint, it does have the required power to give you enough challenge using its 24 resistance levels.
The Android browser touch screen with a 7" size allows you to have online access while you work out. The iFit technology has limitless workout videos and allows access to interactive sessions with fitness coaches worldwide.
The 10-degree power incline and 18" stride length help you maintain comfortable movement that feels like natural jogging, walking, or running. As it has a 325 lbs capacity, it can accommodate different users within the range.
Pros
30 built-in workout programs
Large pedals with adjustability
Wireless chest strap for heart rate monitoring
Vibrant full-color touchscreen
Cons
Small stride length is not suitable for tall persons.
Drive Type: Central
Resistance level: 22
Incline: None
Stride length: up to 32″ adjustable
Weight: NA
Capacity: 350 lbs
The 3-in-1 NordicTrack machine comes with several excellent features such as large stride size, floating suspensions, oversized pedals, and so on. Along with physical features, you also get to enjoy 22 resistance levels that allow you to improve your intensity.
It works like an elliptical, stepper, and treadmill since it has an adjustable stride length of 32" with a central drive making it ideal for all these actions. The NordicTrack FS5i hybrid elliptical is an affordable exercise machine as it saves you money on not only two other equipment but also the space required for them.
It has a load-bearing capacity of 350 lbs. It is compatible with iFit application compatibility; however, you need to connect to a smartphone or tablet to access it as it has only a 5" backlit display screen.
Pros
Training feels less impact and seems like due to the pedal belt.
Large and adjustable stride length.
Compact size saves space.
Three-in-one action gives the most of the machine.
Cons
It does not come with decline capability.
You need a separate device to connect to iFit.
Drive Type: Central
Resistance level: 24
Incline: 10%
Stride length: up to 32″ adjustable
Weight: 320 pounds
Capacity: 375 lbs
Like the above, even this elliptical is a hybrid with triple action and works using mid-drive technology. With a heavyweight of 320 pounds, this machine stays rock solid and gives you excellent stability while you work out vigorously.
It has no negative impact on your joints and gives you a floating feeling when you drive the elliptical as the pedals are operated with the help of a belt rather than a rail as in a traditional elliptical.
Its 24 resistance levels, 10% incline capability, and 32" adjustable stride length are the highlights of this machine. With a load-bearing capacity of 375 lbs, it is capable of accommodating even heavy persons.
Pros
It gives you a complete cardio workout.
Three machines in one for enhanced fitness training.
Adjustable stride with wide pedals keeps you comfortable.
Incline ability allows for more challenging workouts.
Cons
The small screen size makes it difficult to view.
View FreeStrider FS7i on NordicTrack
Drive Type: Central
Resistance level: 26
Incline: -10% to 10%
Stride length: up to 32″
Weight: 317 pounds
Capacity: 375 lbs
You get a unique feature of incline with this central drive elliptical as it offers a -10% to 10% range, i.e., 10% decline, and 10% incline. This three-in-one machine offers endurance training and cardio workout that gives you excellent results.
This powerful machine easily works your upper and lower muscles and offers you a stride length of 32". Its 26 magnetic resistance levels are quiet enough to give you numerous workout variations, and when combined with the incline, you can achieve countless exercises.
The extra-wide pedals of FreeStride are very comfortable to ride on. Moreover, the pedals run with the help of a belt, giving you a floating kind of feeling that does not impact your joints. It can connect to iFit and enjoy all the benefits it provides.
If you are looking for an elliptical trainer with a high capacity for heavier people, this is the one. Also, the 317 pounds of machine weight keeps the equipment steady while working out.
Pros
Autoblow fan keeps you cool.
A floating-like feel gives you a comfortable workout.
Variable stride length for different actions.
Resistance is easily adjustable.
Cons
The machine is tall and heavy.
View on Amazon
View on NordicTrack
NordicTrack FreeStrider FS10i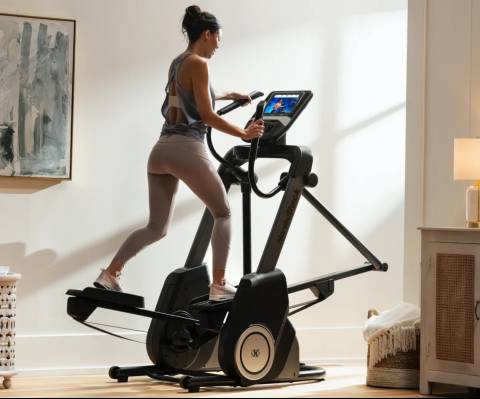 Drive Type: Central
Resistance level: 24
Incline: 10%
Stride length: up to 32″
Weight: 284 pounds
Capacity: 375 lbs
This excellent quality machine comes with Bluetooth connectivity and other advanced features that make it one of the most hit models of NordicTrack. The central drive can give you low impact training experience using its belt system that moves the pedals as if you are floating.
The auto-adjustable stride length up to 32" gives several variations of workout and serves the purpose of three machines with just one. Also, a 10% incline allows you to work out leg muscles that would not be easily targeted without the slope.
You get iFit exercises and expert training advice and trail select ability from Google maps that offer enhanced interactive training experience. Ten-inch touchscreen facility for a unique experience of comfort while using the machine.
The 24 resistance levels offer you enough challenge, and the 375 lbs load capacity allows even obese persons to use this. Several other features such as cushioned pedals, workout fan, transport wheels, and solid steel frame are mention-worthy features.
Pros
1-year free membership for iFit along with the machine
Operate the screen using touch gestures for easy access
20 lb flywheel for smooth operation
Keep water bottle handy using the holder
Cons
NordicTrack FreeStrider FS14i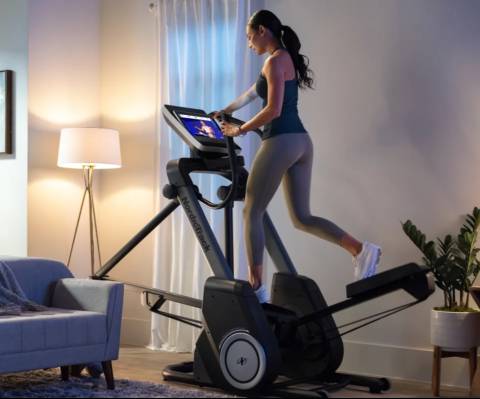 Drive Type: Central
Resistance level: 26
Incline: -10% to 10%
Stride length: up to 32″
Weight: 287 pounds
Capacity: 375 lbs
NordicTrack's latest released model, FS14i, is the most advanced elliptical, and it comes with a central drive. The stride length of 32" with auto-adjustability gives you several workout choices that can give you complete cardio training.
Its load-bearing capacity is incredible and stands at 375 lbs. It offers 26 resistance levels and a 10% incline and decline, which again provides further challenges for your exercises. The 287 pounds weighing machine is less heavy than few other FreeStride models.
The pedals are cushioned and oversized for extra comfort when you ride the elliptical. A workout fan gives you the required cool breeze. The handgrips are soft to touch and are easy on your fingers even after a long time of gripping.
The zero-impact movement of the pedals allows you to step, run or walk as if you are flying since the machine has such smooth movement.
Pros
The touchscreen of 14" with smart HD technology
Incline and decline training capability
Expert guided training using the iFit facility.
One-touch control for easy operation
Three-in-one functionality
Cons
Different Series of NordicTrack Elliptical Machine
NordicTrack has been long enough in the race to produce excellent ellipticals models as it keeps pace with the latest advances. Check out their different series and understand how they differ and what advances were made for each of them.
NordicTrack – Elliptical Series
Though you can classify ellipticals under various categories, a division based on the drive type is the most common. Machine size depends on the type of drive, i.e., the flywheel's placement, and hence is an important factor to consider.
They come as the front, center, and rear drives. The front-drive elliptical requires less space and the center drive needs even lesser. However, the rear-drive elliptical machine takes up a lot of space. What's interesting is the space occupied by a machine does not determine its range of motion. Learn more about the latest elliptical machines as you read.
Front-Drive
The front-drive elliptical series of C 9.5, Commercial 14.9, and C12.9 by NordicTrack has an automatically adjustable stride length of 19 to 20. It gives the dual advantage of adjusting the stride length to a natural feel for various heights and adapting the machine for various challenges.
The maximum resistance range of this series of ellipticals ranges from 25-32 pounds which makes the force of these home gym equipment comparable to commercial ellipticals. One thing to note is that they occupy a lot of space, and since they are not foldable, you cannot save on space even while you store them.
Despite the lower cost, they allow you to gain access to iFit membership, however only the Commercial 14.9 model has a large screen of 10" for having a good view of the videos. The other two models have a 7" screen, makes it a little difficult.
Rear Drive
These foldable ellipticals with model numbers SE9i, SE7i are also popular as SpaceSavers. I agree they take up 80 inches of space when in use, but they fold vertically, allowing you to gain space after you are done.
This series has a shorter stride measurement of 18" in comparison to the above-mentioned. They come with 18 pounds flywheel and offer resistance of 22 to 24 levels and 24 to 30 built-in workouts.
SE9i is superior to SE7i in terms of the screen as it has a 7" HD smart touchscreen, whereas the other has a 5" backlit display. The SE7i model requires using your phone or tablet to gain access to iFit benefits.
You get speakers with a music port for both models to play your favorite music during a workout. These machines are ideal for people who are starting with cardio for the first time.
Unlike front-drive machines, which require you to maintain balance, they offer good posture support.
They are ellipticals suitable for people who have short stride distances and have less body weight. If you are tall and heavy, you might find them to be less smooth and uncomfortable.
FreeStride
The NordicTrack FS5i, FS7i, and FS9i are compact yet have a stride of 32", which is also adjustable.
Though all three machines can use iFit and come with a 1-year free subscription, FS5i does not have an onboard screen to support this feature. So, you need to use your phone or tablet to connect to the application.
The 10% incline they all offer, along with FS9i's special 10% decline feature, will give you the real feel of the terrain as if you are exploring the place in person. As you have the facility to connect through Google Maps, and you can run or walk along the selected trails all over the globe right from your home.
Read Also