When you buy through links on this site, I may earn an affiliate commission at no extra cost to you. Learn more
The Rogue RML-3W Power Rack is a home lifting equipment specially designed for people who want to transform their garage into a gym and make the garage use for its sole purpose.
Many weight lifters or bodybuilders out there have one dream in common, having a personal gym. Most of them have a garage, but the family or friends somewhat disagree with your decision.
This is where Rogue Fitness will help you achieve your dream gym. Rogue Fitness has built its trust through time as the go-to place for lifting gear for over 15 years.
They are the experts when it comes to squat racks, power racks, and other stuff. One thing is for sure, and they won't let you down.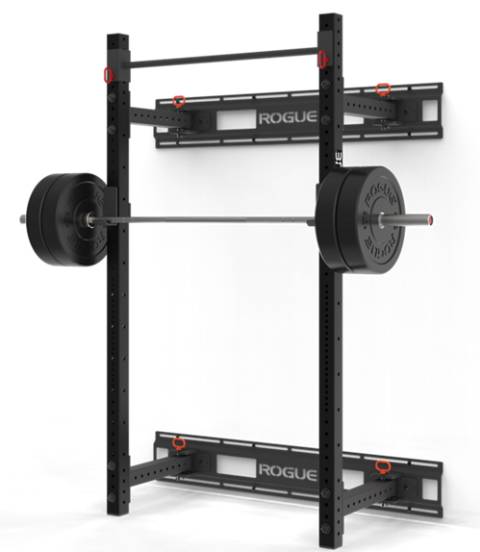 I've used this power rack, and believe me, they know their job and completes it with great accuracy. They won't leave a doubt or make you question your investment while handling their equipment.
Rogue Fitness's racks come in 4 tiers: Echo, Monster-lite, Infinity, and Monster. Each and every one of them is great in their arena. As the name "Monster" suggests, it comes with heavy-duty material to make sure that you cover up your part like a professional.
What I Like
Just like its other equipment, this too has many advantages and reasons why to invest in it. Let's take a look at 11 such reasons. Already interested? Wait till you read it all:
Well, I will be honest, you will be facing problems when it comes to parking issues in the garage. But, there's a rotating hinge set up so that you can fold up the power rack and get back your space.
One more choice you have is of color, and you can choose from the offered ones and pick the best that suits your garage. This is the main difference between RML-3WC and RML-3W.
The Rogue RML-3WC Power Rack has the same material as the Monster series (which is considered the best). They use 3" x 3" 11-gauge steel to build a robust body.
Titan Fitness, Rogue Fitness, and Rep Fitness have one thing in common: they use the same geometry rack tubing. Hence, you can use all the lines of accessories they provide and put them in the 5/8" hole in your power rack.
Without a doubt, you will be squatting or benching without any harm or issue as the rack will be at a certain distance from the wall when unfolded.
A detachable pull-up bar will help you stabilize your body or remove it if you have something else to do.
The US-sourced steel has its part in manufacturing in this power rack. So, don't worry about quality and reliability.
The Rogue has upgraded itself to a laser-cut stringer system, facilitating setting up the rack pretty easily.
1000+ LB, the rating j-cups have received. That number is enough to tell you that the power doesn't look tough but is true.
Also, you won't have to sacrifice your floor to be bolted; the power rack has something else in its mind.
What I Don't Like
Just like other great equipment, this also has its downsides. Let's take a look at some:
The main part is the price. Some people can afford it, and some can't.
Some people don't have any storage issues and can maintain an equilibrium with the situation, and then there is no purpose left of being foldable.
If you have storage issues and want a better opinion from me, you can turn yourself over towards The PRx Performance Profile Rack.
Check the Best Price on Rogue Fitness
Frame and Construction
Let me ask you a simple question: Whenever you buy a power rack or any lifting equipment, what is the first thing you want to check? The body or frame, right?
There's no doubt that the construction of the equipment must satisfy us before we move ahead with it. But Rogue Fitness didn't disappoint us here as well. They made the best lifting platform there could be.
It comes with 2 3" x 3" 11-gauge steel columns. They are so strong that they can make the equipment hold over 1000 lbs, provided they are static.
It has been tested by weighted barbells, and they have impressed the customers. PRx Profile Rack uses 2" x 3" columns, and they too can handle 1000 lbs. So, you can relax your mind that as the RML-3WC has the upgraded version of it.
When talking about 3" x 3" columns, they are the largest provided wall-mounted ones are not considered.
It can hold weighty weights if you throw them at it, but as mentioned, provided that they are static. If you have some dynamic movements, then the holding capacity may differ slightly but not so much to make a difference.
The folding is part is as easy as it sounds. There will be 4 detent pins given to you. Take them out, then push the power rack towards the wall.
When confirmed that it won't go any further, set the pins again in their respective holes (you won't be applying any force while folding it). But, when compared the same with the PRx Profile Rack, it uses the vertical folding pattern. This is faster, but it comes at a price.
What Are My Favorite Features of Rogue RML-3WC Power Rack?
The Features are the best part when you're satisfied with the Frame and Construction. Let's take some time to see what this lifting equipment has for us to offer:
Quick-attach pull-up bar: The Rogue Fitness will never keep your hopes down when it comes to a fit body. For the same, they have provided you with a detachable pull-up bar. There will be 2 hitch pins on your power rack. Attach this bar there and start the workout. If you want to hop on another exercise that doesn't include the bar, consider taking it off.
Pair of J-Cups: if you are hoping to adjust the columns a bit, consider them as your best friend. And not just that, they work on every model on the monster lite series.
2 plastic floor caps: I'm pretty sure you wouldn't want to harm your garage floor with some sort of scratches or scraping. Don't worry about it. They've got you covered here as well. They have provided you with 2 plastic floor caps that will keep your floor from being all scratched and ensure a level, just so that your experience must not get compromised.
Westside Spacing: thinking about benching higher weights? Take my advice, and you can do that as well on The RML-3WC. All the credits go to the Westside Spacing. The 25 mm spacing will give you the ability to set your j-cups precisely on the power rack.
Choice of Depth: there are two depths: 21.5" and 41.5". The 21.5" is the standard version of the RML-3WC Power Rack but add some more money to it, and you can get 20" extra, which will make it 41.5". if you take my advice, go with the 21.5" if you have some space issues or you are going to have some simple exercises. If you are going to be dynamic regarding the workout, you should go with the 41.5".
Assembly
This is the tough part, and I've heard from many people that they feel it's very hectic to assemble such heavy-duty parts. Some people decided to set it up by themselves, but it turned out to be very wrong for them. So, it's a recommendation that you keep extra help with yourself.
The power rack comes with all the necessary tools that will be needed during the installation. But here's the twist, you can also order the stringers for some extra money.
It will take a lot of time to make the right holes, and if you make any mistake, there might be some consequences. But with the stringers, they come with holes at the exact positions.
Not only do you have less work in front of you, but also the positioning of the rack isn't as difficult as it might sound. Just bring them closer to the right point and fix them. If you feel it's still difficult, then I recommend watching the installation guide by Rogue Fitness.
They have uploaded one such video. It might come pretty easy to install it but remember, they are professionals, the ones working in the video, and experienced.
Warranty
Another best part of any equipment is its warranty, and till now, I've not been disappointed by Rogue Fitness. They offer you a warranty for a lifetime.
If there might be some problem like a faulty part or it becomes faulty after use, then Rogue will replace the part without any questions.
But if you made some changes that aren't adaptable, then it's on you. Rogue Fitness will not be responsible for such a thing.
Conclusion
In the end, I conclude that the Rogue RML-3WC Power Rack is a boon for people who want to turn their garage into a gym but still use them for parking purposes.
The rack comes with tonnes of features and advantages. You can trust Rogue Fitness for its product.
If not that, then their lifetime guarantee (terms and conditions applied) will make you have second thoughts for sure. Its assembly might be a bit tricky, but for what it's all about, it's worth every penny.