When you buy through links on this site, I may earn an affiliate commission at no extra cost to you. Learn more
If you plan to buy a squat rack for your home gym space to tone your butt, strengthen your core and lower body muscle, you have made the right choice.
You probably have limited space for training equipment at home unless you've turned the garage or basement into a home gym. So, whether you're looking for a power rack or a squat rack, you're well aware that these are substantial pieces of equipment.
A few power racks and squat racks are intended to fit in tiny areas, which is fortunate. These smaller footprint racks fold up for out-of-the-way storage while remaining sturdy enough for your workouts.
Finding a space-saving rack that is both high-quality and durable while still having a tiny footprint is the key. We can assist you in selecting the ideal compact squat or power rack for your home gym.
What Are the Benefits of Using a Compact Squat Rack?
Any exercise equipment offers maximum benefits when used correctly, and a squat rack is no exception. Making correct use of a squat rack helps improve your glutes and quads muscle health. 
Apart from helping you strengthen these muscles, a squat rack focuses on your core muscles, helping strengthen them. Once you start working on a squat rack, you are bound to witness the difference and ease with which you start lifting heavier weights.
Besides, core strengthening also helps in improving your squat techniques. Above all, you can be sure of maintaining your body upright and avoid falling forward with the help of your abs.
How Much Space Does a Squat Rack Take?
We are talking about acquiring a squat rack for compact homes that suffer from space crunch, and hence, the unit must come in compact measurements. Most squat racks measure from 46-49 inches, and the exterior width of a squat rack is generally 47.4 inches.
If you are a weight lifter who loves to add as many weights as possible, you must go for the widest squat rack (49 inches). Some racks are only 44 inches wide, and hence, you must use shorter barbells to perform weightlifting.
Can You Use a Squat Rack for Bench Press?
Yes. Don't doubt but proceed to use a squat rack for the bench press as we don't have spotter provisioning in the gym, which is completely safe.
Whenever you think that you don't gain much strength from your bench press activity, it is time to use the squat rack to make up for lost straining training sessions.
You can arrange the bench and the safety bars near the squat stand such that they help you with a complete range of motion. In case there is some complication in this setup, you can always lower the barbell as slowly and carefully as you can to stay safe.
What Should You Consider When Buying a Squat Rack for Small Spaces?
There are a huge number of squat racks available in the market, but when you are particular about selecting a model that fits your small room space, you must consider important features such as safety, maximum weight capacity, and durability of the unit that can guarantee better performance and durability of the squat rack.
#1. Safety
Safety becomes a concerning aspect when you work out in your home gym, and using a squat rack relieves you of any safety-related issues while performing squats or presses.
Even when you use a barbell, the presence of safety pins, straps, and arms available in the squat rack prevents any mishaps. This way, you not only remain safe but attain the confidence to use heavier weights that are usually not picked by you.
Hence, a squat rack exists as a vital factor for achieving progress in your exercise goals.
#2. Maximum weight capacity
Though most squat racks don't reveal the steel thickness used for construction, they mention the maximum weight possible. Hence, you get a good idea about the rack's durability, but this could be misleading too in certain cases.
Some racks mention the weight capacity for J-hooks but don't provide inputs on maximum weight for the whole rack. For instance, some racks have a maximum weight capacity of 350 lbs for the hooks, but the rack capacity stands at 1000lbs.
It is suggested that you choose any squat rack model having a weight capacity of 800lbs or more.
#3. Durability—Steel Gauge
Any rack made from a 7-gauge steel material guarantees durability and strength, but these are expensive.
It is suggested that you use any rack made from 11-gauge steel for home gym use. Such racks provide 99.9% durability and hence are recommended for your whole family use.
Top 7 Best Squat Racks for Small Spaces
Based on the vital features mentioned above, seven squats are recommended for small spaces that help you achieve your exercise targets.
Rogue Fitness S-1 Squat Stand 2.0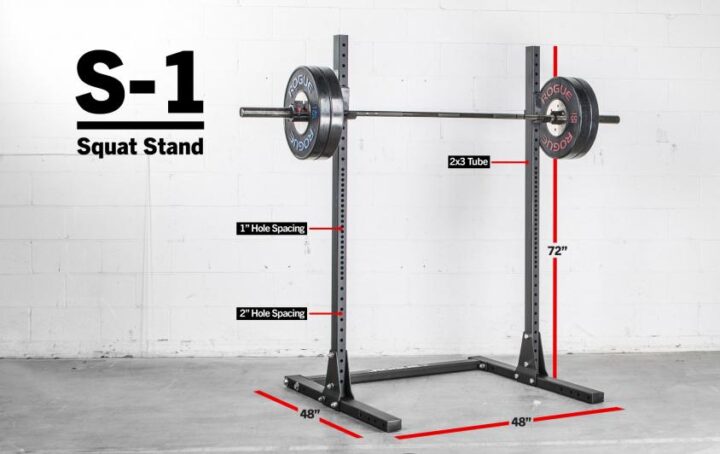 Rogue is a well-known fitness brand that's popular among individuals, and the S-1 squat stand from this company is a classic model that provides the best value for money.
The unit is an updated version. Hence, it comes with an updated base, thereby improving the unit's overall stability—this is mainly because the formed socket is substituted with the bolted triangle plates.
Rogue has done a good job constructing the unit using 11-gauge steel uprights and has tested it using a weight capacity above 1000lbs.
There are Westside hole spacings and J-cups provided with protective liners that improve the overall durability of the rack.
A squat rack is a versatile unit that acts as an all-in-one workstation for doing squats, bench, overhead press, floor press, and more.
Pros
One of the best models that occupy the smallest footprint (48″ x 48″)
Updated base with triangle plates
Sturdy and durable
An exciting weight capacity of 1000lbs
A versatile squat rack
Cons
Absence of pull up bar holes
Check the Best Price on Rogue Fitness
Ollieroo Multi-function Barbell Rack
The most commendable feature regarding the Ollieroo multi-function barbell rack is that the unit is high-quality steel, promising maximum safety.
The rack comprises dual resistance springs and has a durable frame, and you can achieve total-body workouts using it.
The squat rack comes with an adjustable height from 41 to 65 inches, making it preferred to do squats and presses. You could even adjust the width from 31 to 49 inches.
Don't worry about slippage, as the rack comes with non-slip rubber feet that protect you as well as the flooring from damages. The unique design on the base and the multi-functional design of the rack helps you try various exercises using it.
With a maximum weight capacity of 480lbs, this rack is most suitable for meeting many of your squatting requirements.
Above all, as you are looking for a compact rack, the Ollieroo model perfectly fits the bit as it is a space-saving piece of equipment.
Pros
Durable and sturdy steel construction
A versatile piece of equipment
The maximum weight capacity is 480lbs.
Easily adjustable height and width
Best budget squat rack
Cons
The effectiveness of the safety bars is questionable over time.
Check the Best Price on Amazon
Sunny Health & Fitness Power Zone Squat Rack
The Sunny Health and Fitness squat rack is a versatile piece of equipment with an adjustable and reversible pull-up bar. The bar could be set in 8 various positions helping you perform a variety of exercises.
Using the pull-up bar, you can do narrow and wide-grip pull-ups without bothering about safety issues as safety latches are provided. Hence, feel free to squat using heavy weights without the fear of hurting yourself.
Do you love challenging workout experiences? Then, this rack is the right choice as it comes with 6 resistance band pins to enhance resistance and offer better versatility while performing lifts or squats.
Also, there are more than 18 adjustable points provided that make it suitable for different individuals.
If you love to do power or weightlifting workouts, don't think twice about purchasing this rack, as the powder-coating incorporated in it makes it an ideal choice for home gym use.
Pros
High-quality steel frame and construction guarantee durability.
Utmost safety is guaranteed as safety locks latch tightly.
Maximum weight capacity of 805 lbs
Cons
Doing pull-ups is slightly uncomfortable for certain individuals.
Check the Best Price on Amazon
F2C Adjustable Height Squat Rack – Best for Low Ceiling Rooms
One look at the F2C height-adjustable squat rack, and you feel relieved that you can perform different squat variations using it as the unit boasts sturdiness and stability.
The adjustable height provisioning ranges from 41 to 66, thereby making it suitable for different individuals. Being foldable, it is portable and also the best rack for small spaces.
Versatility is the key feature of the unit as 14 adjustable positions make it a sought-after model for doing various exercises.
Despite profound use, the unit assures protection against scratches and scuffs on the flooring and protects you from slippages due to the presence of rubber end caps.
The manufacturer has included a stable overhead workout bar that makes this model a good option for those seeking versatility.
Pros
Can withstand up to 550 lbs of weight
Adjustable spotters guarantee safety.
You can make easy and rapid adjustments to the rack.
The frame and construction are stable and durable.
Recommended for low ceiling homes
Cons
Many individuals feel that the arms could be longer.
Check the Best Price on Amazon
PRx Performance Profile Squat Rack
Folding squat racks are perfect for compact places because they can be folded away when not in use. When not in use, the PRx Performance Profile Squat Rack is the best folding squat rack since it just takes up 4 inches of space and is simple to fold up or down.
The squat rack comprises 23 11-gauge steel uprights, four 100-pound gas shocks, and plastic foot plugs. One of the main major disadvantages of this squat rack is that it requires a high ceiling to be used. They recommend at least 108", but you can install a modified version that only requires 95".
With the PRx Performance Profile Squat Rack, you can choose between a kipping bar, a multi-grip bar, or a straight pull-up bar.
The kipping bar extends further away from the wall, allowing you to perform toes-to-bar, muscle-ups, and butterfly pull-ups without banging your head against the wall. Anyone who wants to complete CrossFit WODs at home should consider this option.
Six separate bars on the multi-grip bar allow you to change your pull-up grip. You have the option of using a narrow, broad, or neutral grip (with your hands facing each other). However, it is more expensive than the kipping bar and conventional pull-up bar.
The multi-grip bar isn't required if you're a recreational lifter, but it's something I'd recommend if you have elbow pain when performing pull-ups.
All three pull-up bar choices have a powder-coated grip texture, which is a good bonus. You won't have to tape the bar or use a lot of chalk to keep your hands from slipping.
Check the Best Price on Amazon
Rogue Echo Squat Stand 2.0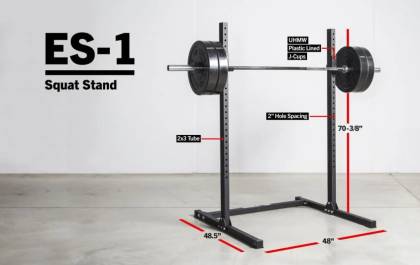 The Rogue Echo Squat Stand 2.0 is the best squat stand for rooms with low ceilings, standing just over 70″ tall.
This squat stand is much lighter than Rogue's previous squat racks, at only 95 pounds. It only holds 500 pounds, so if your squat is greater than that, it may be too much for you.
However, it's still strong enough to use at home, and the weight capacity is sufficient for novices and most recreational lifters.
Rogue's Echo Squat Stand 2.0 is their most basic squat stand. You can't use it with attachments like a matador or a pull-up bar. However, if you only need a tiny squat stand for squats and bench presses, this one will suffice and endure for years.
It also includes plastic feet that not only protect your flooring but also make it simple to move about when you're not using it.
This is Rogue's most affordable squat stand, making it a perfect choice for anybody on a tight budget. However, because of its little height, it may not be suitable for tall lifters.
Check the Best Price on Rogue Fitness
Fitness Reality 810XLT
If you have one of the smallest available spaces for a home gym set up and wish to install a squat rack in the available space, the Fitness Reality 810 XLT model is an ideal choice being compact.
The most noticeable feature of this model is the provisioning of the lat pull-down attachment and the adjustable leg hold-down.
Feel free to do squats, shrugs, bench presses, chin-ups, strength training exercises, and more using this unit having dual mounted safety bars and dual chrome lock-on safety. You could add a variety of attachments such as dip bars, weight bench, and more.
Like its name, the Super Max power Cage can withstand a maximum weight capacity of up to 800 lbs in each pair of the bar.
Experience a varied range of workout options using the 19 different height levels provided that are easily adjustable.
Don't worry about stability, as the unit's base comes with two rear stability bars that guarantee solid performance when you do any strength-training exercise.
Pros
Dual safety bars provided
Foldable and easy to store
Overhead chin-up and pull-up bars included
The maximum weight capacity is 800 lbs.
The rack is suitable for individuals up to 6'4" in height.
Cons
The unit does not include Olympic bars, weight plates, and a bench.