When you buy through links on this site, I may earn an affiliate commission at no extra cost to you. Learn more
You won't find any fitness equipment that can provide you the effective full-body workout as rowing machines do. The rowing machines provide low-impact, natural workout movements, and they will engage all your major muscle groups and work both your upper body and lower body at the same time.
But the wide range of features can indeed be very confusing to new buyers. So, we have assembled a list to point out the importing things to consider before buying a rowing machine.
Break Down Your Needs
The first thing you need to do before setting out on a quest for the ideal rowing machine is to break down your needs.
There are many things to consider when buying a rowing machine. You ought to ask yourself whether you need to buy a machine to get in shape or work out incidentally.
It is essential to consider your weight and what number of users will use it, as some rowing machines are not designed to uphold a lot of weight.
Price
Budget is also an important factor to consider, to keep away from impulse buying. Also, figuring out your budget will help drastically slender down the number of different models to pick out from.
Like anything you buy, less expensive doesn't always suggest a better deal. So, just settling on the budget and purchasing one would not be a good decision.
Resistance Types
It is necessary to know about the resistance type of rowing machine because each type of resistance has its arrangement of attributes alongside advantages and drawbacks.
Knowing about the resistance types gives you a fundamental understanding of how rowing machines work.
Air Resistance
It is the most well-known resistance type. It requires an initial thrust to propel the fan. And the resistance level will automatically be adjusted to your pace and stroke intensity.
Higher intensity implies more resistance. Air resistance rowers will offer a smooth and natural rowing stroke.
But their longer rail makes it hard to store.
Magnetic Resistance
The magnetic resistance rowing machines are amongst the most inexpensive ones in the market, this type of resistance is less noisy, and the resistance level is adjustable.
Its rowing motion is very smooth. But due to its long main rail, it cannot be folded up for compact storage.
Hydraulic
These resistance types are more compact than other models and the least expensive rowing machines that offer a quiet exercise. They are straightforward to maintain and convey a smooth, rowing motion.
Hydraulic rowers are easily adjustable and amazingly simple to store away. But they are not as durable as other types of rowers.
Water
This kind of rowing machine is the most proficient and result-inducing rower on the market.
They provide a true-to-life rowing experience over your workout, and the resistance level will be determined by your pace and stroke intensity.
They typically function through the blades that have been suspended in a tank of water to supply an extraordinary sensation of rowing outdoors.
The water tank makes the machines extremely heavy, but the good thing is that they have a higher weight capacity, fitting well for heavy persons.
Space Consideration
As rowers are longer than most exercise equipment, it is ideal to consider the available space in your home gym before deciding.
Besides measuring the dimensions of the available space and matching it with your rower choice, it is also recommended that you have some extra space for easy hand movement.
Tall people should go for machines with longer seat rails (track length), which might occupy more space.
If you live in an apartment and want to buy an apartment-sized rower, the noise level should be considered. Instead of buying an air resistance rowing machine, choosing a magnetic-resistance or hydraulic-resistance rowing machine would be wiser.
Durability
Like any piece of fitness equipment, durability or longevity is critical.
Getting hyped about working out, therefore putting resources into a costly rower, using it for some days or months, and then cramming it in a corner where it will gather dust and rust for a long time, is a very well known pattern.
Occasional users searching for a fast and short-term solution should settle for a lower quality yet less costly machine.
And users who are passionate and diligent, should without a doubt, purchase a strong and dependable machine that will likely keep going for quite a long time.
Weight Capacity
Average-quality rowers bear only up to 250 pounds of weight as they are constructed with cheap materials.
Heavy people require a heavy-duty rower that can bear at least 300 pounds (the standard weight limit among home rowers) of user weight as this makes the equipment sturdy.
Higher weight capacities guarantee great frame solidness and safety to the user. Buy a rower that offers extended weight capacity.
Track Length / Inseam Length
Rowing is the perfect choice for tall people, but rowers aren't generally designed to fit tall individuals.
Track length can be a tricky attribute as manufacturers generally don't display information about it like resistance levels or others.
So, if you are tall and need help buying a rower, the first thing you must consider is 'inseam length.'
What is the inseam length? Inseam is the length of your inside legs while rowing. The height of a person can be the same, but the inseam length differs.
Budget rowers rarely satisfy this criterion and don't offer adequate space for good form and 100% extension. User reviews and forums discussing could also be of help here.
But you can also use this inseam length chart to help you pick the right one.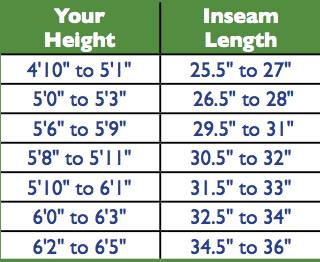 Workout Goals
What is your ultimate fitness goal? Are you planning to purchase a rower for CrossFit, weight loss, muscle building, or overall fitness?
The answer you give plays an integral role in choosing equipment. If muscle building is important, it is ideal to choose hydraulic rowers as they offer varying resistance levels.
If weight loss is your priority, most rowers are designed to fulfill this requirement.
Monitor Control
Most rowers have monitors. The only difference is that it might be basic (displays time, distance, speed) or an advanced (heart rate monitoring, calorie counter, preset programs besides basic features) one, and choosing either is entirely dependent on you.
Rowing machines with advanced monitors are expensive and are recommended only if you know how to use the features available in them.
Key Features
Comfort and durability of certain key features such as seats, handlebars, and footplates can make or break your exercise experience in a rower.
Padded seats and handlebars are suggested, and the seat's height is also important, particularly if you have a tall stature.
The equipment should also be easy to fold and move, for which wheels provided with the equipment are a great addition that can't be ignored while making a purchase.
Recognized Brands
Famous brands such as Concept2, Stamina, and WaterRower exist in the market for a long time, and brand value isn't the only criterion that could help you decide.
Ensure that whichever brand rower you pick has all your required features and specifications that meet your needs besides fitting the space and being comfortable to use.
Find the Rower that Suits You
Like any other fitness equipment, putting resources into a rowing machine is what you should pay attention to.
An inappropriate decision isn't just unfavorable to your spending. Thus you should cautiously reflect on consideration of your choices and choose wisely.
For each situation, it is prudent to explore user feedback, reviews, and examinations before arriving at conclusions.
There are tons of rowing machine brands in the market, some are just there to acquire the less expensive option, and no sooner you get them, you start experiencing different issues with them.
A rowing machine can unquestionably be considered a good piece of equipment in your home gym. It is an ideal machine for every user, regardless of whether an amateur or an expert.
Best of all, rowers work on your legs, arms, and shoulders and lead towards good health with minimum effort.