Nowadays, gyms are equipped with rowing machines to do cardio exercises, but on the other hand, it is also possible to have it at home.
By exercising in it, we are developing healthy lungs and strong muscles. But the meantime, it will not affect your joints.
So if you are finding the best full-body workout machine for home, try the rowing machine.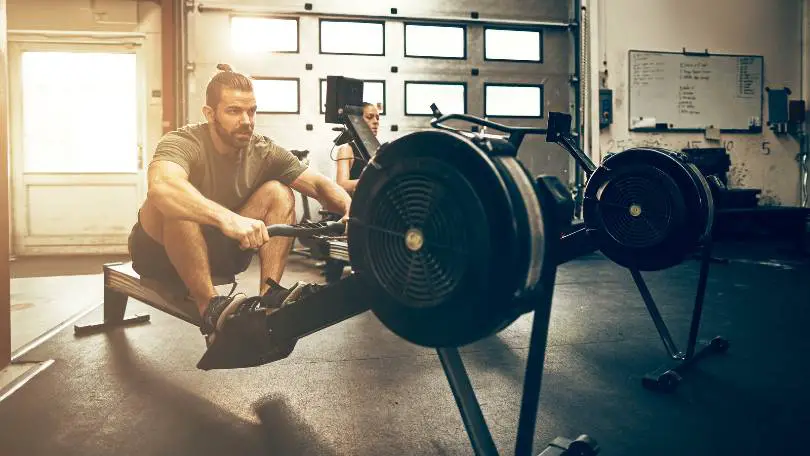 Next, we'll do a full review of the benefits of working out on a rowing machine and other machine models to improve our health.
Why Rowing Machine Gives the Best Total-Body Workout?
Indoor activities are growing, and the use of the rowing machine even more.
This is because it provides a series of benefits such as caloric expenditure in a short period of time, no joint impact, improvement of anaerobic capacity, and above all, a good dose of fun in each session.
And the indoor rowing sessions are gradually being introduced and reaching the same level as the spinning training.
Rowing Machine: What Is It?
This machine gives the feeling of being rowing a real boat.
In other words, the device offers the possibility of pushing and simulating the typical movements that are made when rowing in the water.
Its technology provides resistance where it allows exercising all the muscles of the body so we can do strength and resistance exercises horizontally.
What are its main benefits?
#1. Everyone can use it
The action of rowing is effortless to learn, and obviously, it will not take much more than the first session to get the necessary foundations of the rowing technique.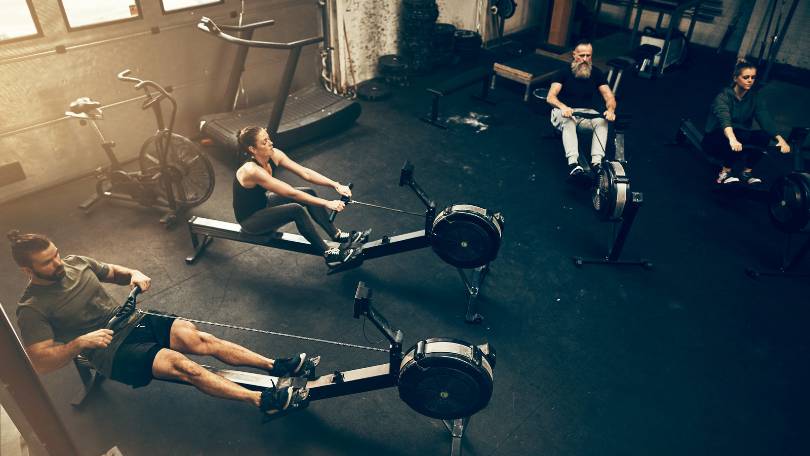 #2. Calorie expenditure
By recruiting a large number of muscles (around 85% more than other types of cardiovascular exercise), both lower and upper body, such as quadriceps, hamstrings, buttocks, dorsal, mid-abdominal area, triceps, and biceps, and go producing muscular contractions, it is going to be able to generate an excellent work, both muscular and cardiovascular, involving the consumption of a good number of calories.
#3. Minimizes risk of injury
It does not cause a joint impact like other sports, in addition to those who are overweight, the way in which the knees must maintain the load will be lighter.
#4. Cardiovascular improvement
Any activity of medium intensity will create a series of benefits for our cardiovascular system, from the heart muscle itself to the blood oxygen transport system.
For all these reasons, we encourage you to have your own rowing machine at home, but for this, first, we want to present to you the top 3 best rowing machine, so you know which one to choose.
Top 3 Best Rowing Machine  
Next, we have selected the three best rowing machines that are models that stand out for offering workouts by calories or by the power variable with which you can train your whole body.
We tell you what they are about.
#1. Concept2 Model D Indoor Rowing Machine with PM5

This rowing machine develops a very reliable performance that makes it one of the best tools on the market.
It has so much recognition within the rowing world that even Olympic athletes use this machine for training, saying that they are able to increase the physical level and tone the body.
This great machine has been designed always to work efficiently and have lifetime durability.
You can train every day without fear that the machine has some type of wear due to a malfunction.
Also, you can store it comfortably and quickly since it can be separated into two parts without having to use any extra type of tool.
Besides, you can transport it since it has wheels located on the front.
The footrests are adjustable to various positions, and with them, you can adjust the feet quickly and comfortably regardless of the size of your feet.
The handle is made with a 10-degree curvature that will allow you to have your arm and hand placed naturally.
Also, its assembly is very simple, and it will not take you more than half an hour to do it.
Features:
Air resistance.
Padded seat and prepared for long workouts.
It is constructed of aluminum and steel.
Adjustable resistance level for personalized workouts.
Adjustable console (model MP5) capable of measuring speed, distance, calories, and heart rate.
It supports a maximum weight of 500 pounds.
54 x 96 x 24 inches long.
We highlight that the D model can be used with internal memory to record your workouts and enjoy five years of guarantees for you to train and develop muscle mass in the comfort of your home.
2. Stamina 35-1402 ATS Air Rower
This Air Rower is an excellent rowing machine to choose from since it is made of steel that resists corrosion, so you should not worry about sweat.
Also, its metal chain makes this rowing machine durable since it does not have a tension cable that could break.
Due to its durable construction, it makes it possible for people with 250 pounds to exercise and lead a healthier life.
During your training, you can have control of your heart rate thanks to its LCD screen, where you can also have other essential parameters.
On the other hand, its seat is wide enough to sit comfortably and carry out your responsible movements without hurting your back.
Features
Easy assembly and does not require much maintenance.
Its frame is steel and durable.
Comfortable and padded seat.
It includes an adjustable monitor that shows distance, calories, time, etc.
It can be folded to save space when you don't use it.
It has wheels that help in its sliding.
Its dimensions are 77 x 18.75 x 22 inches
The brand provides users with a 3-year warranty period in case of damage to its frame and a 90-day warranty for the remaining parts of the machine.
You will be able to exercise on a rowing machine that is at a very affordable price but with first-class features.
#3. Sunny Health & Fitness SF-RW5515 Magnetic Rowing Machine

This magnetic rowing machine is one of the most popular for fully training at home.
It has eight adjustable resistance levels, which are ideal for changing the intensity of your exercise, also through the LCD monitor that includes records of time and calories spent so that you can monitor your progress.
It is made of durable steel to last a long time. It was designed with your comfort in mind; for that reason, it has a quite padded seat, and both the handlebars and the pedals are non-slip and of the right size.
In addition, it includes some wheels to make it easier for you to transport it. The maximum weight it supports is 250 pounds.
Features:
Magnetic tension system with eight adjustable resistance levels.
Comfortable LCD console displays time, count, calories, total count, and scanner.
A fully padded seat and non-slip cuffs for optimal comfort.
Large, non-slip pedals with adjustable straps for secure support.
Its measures are 82 x 19 x 23 inches.
Easy maintenance includes wheels to move it according to your convenience.
Thanks to its 3-year guarantee for its frame and 90-day guarantee for the rest of its parts, you can train with this rowing machine safely.
Anyway, this brand assures you a high-end machine so that you prepare without making a high impact on your joints.
It should also be noted that it does not produce annoying sounds while you exercise.
Despite the fact that these three rowing machines are the most popular on the market due to their high performance and quality, there are also other very home machines that we would like to share with you.
Other Best Full Body Workout Machines for Home
#1. All In One Home Gym – Total Gym XLS
We recommend this Home Gym so that you train safely and comfortably.
With this complete home exercise machine, you can train all muscle groups from the comfort of your own home because our goal is to motivate society to practice a healthier lifestyle and to help personal trainers in their professional practice.
Therefore, this fitness machine offers the force of gravity and training with bodyweight.
Perfect for setting up your own home gym, the Total Gym XLS has been designed to tone and strengthen all muscle groups in just 20 minutes, offering its users a complete body workout without impact and adapting to any level of physical condition.
Its structure, formed by a platform for squats, a sliding bench and a system of pulleys, allows its users to exercise the upper body, lower body, and core by performing up to 80 different bodybuilding, cardio and flexibility exercises; a possibility not available in other home gym machines. See the full review here.
Features:
Its simple assembly and easy storage do not require tools.
It permits you to perform more than 80 exercises.
Its frame is steel with chrome rails.
Six different levels of resistance.
Its cables are made of vinyl.
It has non-slip synthetic rubber lined handles.
The straps are made of high-quality nylon.
Its dimensions when it's displayed are 19″ W x 90″ L x 43″ H
Its dimensions when it's folded are 19″ W x 51″ L x  9″ H
#2. Gorilla Bow Portable Home Gym
This training tool has gained popularity among those who choose to exercise at home.
Its bow-shaped design is made up of a resistance band that provides a workout where you can exercise all the muscles in your body.
Also, since it is not so big and light, it can be transported to do outdoor exercises.
These bands can be replaced by weights since the result is the same but with fluid movements that help prevent joint injuries. According to its material, it is made of high scratch resistance aluminum.
This material is lightweight, yet can withstand 300 pounds of force, making it durable and robust.
Also, it should be noted that its elastic band can be interchangeable. You will receive different bands that provide different resistances so that you exercise according to your strength.
These bands are hypoallergenic latex ranging from 10lbs to 45lbs. Although if you want more weight, you can get them without problems. See the full review here.
Features:
You can choose to exercise at home or outdoors since it is portable.
Its material is highly durable; you can exert force without fear of breaking.
You will get four interchangeable latex bands of different weights.
Anyone can exercise with this bow.
Its warranty covers two years.
It presents its own transport bag.
3. Power Rods Machine – Bowflex Xtreme 2 SE
This gym is ideal for your home because it is complete equipment that you can use to lose weight.
It offers 210 pounds of resistance, but you can get it up to 410 pounds if you wish.
We recommend that if you don't have much experience, start with just 5 pounds and add weight slowly, so you don't get hurt.
You can perform more than 70 exercises with the accessories, such as, for example, it includes a tower that can be adjustable with two different positions, a lower pulley for squats, etc. to work the muscles of your legs.
Also, you can work your abs, back, and tone your arms. Also, you can exercise your shoulders thanks to its integrated harness. See the full review here.
Features:
This complete machine can be used by people with up to 300 pounds.
It can be placed in any room as it is compact.
It can be replaced by free weights since it takes care of your joints since its impact is less.
The high quality of its bars offers durability.
It has a comfortable seat that can be adjustable, always taking care of your back.
You can do squats thanks to its pulley system and 70 other types of exercises.
Its grip bar features five different ways to grip.
Its cable and pulley can be repositioned for better comfort and flexibility.
You will receive a nutritional plan and exercise guide so you can see the variability of the exercises.
#4. Verticle Climber – Relife Rebuild Your Life Vertical Climber

This home gym equipment is perfect for those who cannot go to a gym for different reasons.
We must emphasize that it is a simple machine, but it works your body a lot and guarantees you to burn many calories with only 30 minutes a day.
Due to its simplicity but effectiveness, users choose it as one of their preferred vertical climbers.
In addition, while you train, you can have control of calories, time, etc. thanks to its included LCD screen.
You can also adjust it in 5 different ways according to the level of exercise you want to do, and as it is made of resistant steel, it supports users of up to 250 pounds.
Features:
Its assembly is very simple and easy since it brings an instruction manual and the necessary tools to do it in a few minutes.
It has five different adjustable levels for height.
Its frame is made of steel that offers stability and security.
It takes up very little space.
Lose weight with just 30 minutes of daily training.
Final Thoughts
Due to our daily chores and work routine, going to the gym is a bit tricky, even if you have young children.
In case you are one of those people who do not have much free time in the week to exercise, but who intends to do it, then the solution is to have our own gym in the comfort of our home.
The good thing is that you only need a few square meters to be able to acquire a healthy life.
Now having your own rowing machine is very easy since you can fold it.
Also, keep in mind that in the case of a rowing machine, you can tone your whole body and do intense exercise.
One of the best things about rowing is that it is not an aggressive activity that can be combined with others.
For example, if you are a runner, after several sessions, your knees, soles, or other parts may start to hurt, and then it is an ideal time to spend a few days rowing.
We hope this informative guide and review will be of great help to you in case you were looking for a home machine.
Remember that these home gym machines take up less space than you think and are also cheaper than paying the annual subscription in the gym.
You can assemble them in just a few minutes and fold them in case you want to have even more space when you are not using them.
Also, keep in mind that you don't need to be an expert; these mentioned machines are suitable for both beginners and athletes.
Take care of your joints and exercise all the muscles of your body safely and comfortably. Along with a healthy diet, you can lose weight and see results in no time.
Choose the home exercise machine that suits you best and start training your body today.