If you are looking to build your core muscles as well as achieve full-body workout using a home gym equipment, rowing machines would never disappoint you. The rowing machine is considered the best total-body exercise equipment as it targets 85% of your muscle while you work out.
The Total Gym Incline Rower is a highly recommended equipment that caters to your cardio as well as strength training requirements bringing to you a low-impact but effective workout.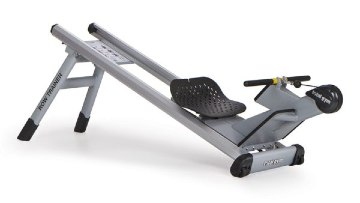 Overview of Total Gym Rower
Rowers are an integral home gym equipment used by serious exercisers. Total Gym Row Trainer is unlike other conventional rowers in many different aspects.
The design and construction of this rower are more similar to the rowing benches that are found in conventional weight training racks.
This is mainly because of its use of bodyweight resistance and how the equipment is constructed.
You get to choose from two different incline settings to amplify the resistance load.
Simply by adding a sliding seat to this, you get a piece of superb equipment that offers versatility to your exercise routine.
Total Gym has come out with its rower with the primary aim of designing the equipment more in the line of a training bench than a rower.
That's why the company is extremely suggestive of adding a bicep curl motion to your row or even insists that you make use of the multi-grip handle offered by it.
Make use of the Total Gym rower to exercise various parts of the body, including the torso, biceps, and more without causing any impact on your joints/knees.
Read further to get a detailed description of all the features, the working mechanism, and the pros and cons of the equipment.
How Does Total Gym Incline Rower Work?
The machine is designed and constructed smartly such that it benefits trainees of every skill level with its ease of use.
The equipment primarily works by making use of your body weight to bring about resistance required for performing rowing workouts. Otherwise too, the machine is offered with two different resistance levels—at 17% and 20% of your body weight. You could also make use of the variable inclination option to bring about some elevation, thereby making the rower more challenging.
Other times, the inclination levels could be lowered when you are pretty tired.
Yet another option is to add 0-15 pounds of variable band resistance to increase your workout intensity even more and make it extremely challenging.
All of us love to reap benefits for our hard work, and the computer here helps track various performance statistics, including distance, covered, calories burned, and split/stroke rate that shows your progress every time you exercise.
You could choose the Total Gym rower if you are looking for a perfect balance between cardio and strength training, specifically when you are extremely comfortable with weight training.
The equipment could be a good fit in commercial gyms too, being extremely versatile and carrying a commercial warranty—this justifies its expensive pricing.
Space-wise, too, the rower is pretty decent as it can be stored vertically and is also foldable, which reduces its footprint space when not in use.
Read Also: Top 18 Best Compact Exercise Equipment for Small Spaces and Apartments
Who Is Total Gym Rower Suitable For?
The rower is designed and constructed with unmatched sturdiness and a tough steel frame that can withstand up to 400 pounds of user weight. So, you can be assured that the equipment can be used by different people, especially those of varying height ranges, as the rower has a 31-inch glide board motion range.
The rower's excellent height and weight accommodation make it useful for most people wanting to use it.
Features of Total Gym Rower
The machine comes loaded with all kinds of features that one would desire while purchasing a home gym equipment. Let's look at the important features available in the rower.
#1. Resistance
The Total Gym rower seems unique and strikingly different from other rowers just by the look of it as there are no hydraulic cylinders, flywheel/damper, or water tank for activating the resistance mechanism.
It's mainly because the machine uses your body weight as resistance. You would be using your own body to work magic on yourself.
By this, I don't mean to say that you pull your entire body weight, which would be otherwise become a burden on your hands.
The two resistance levels set at 17% and 20% of your body weight helps you with the right amount of weight to work with.
#2. Multi-planar Movement
The rower's design is simple yet extremely quiet and smooth.
The design allows for multi-planar movement, which means that you can pull the handles straight towards you, to your sides, to the top, or in multiple other ways ensuring that you get to work out on different muscle groups in your body.
#3. Incline
A rower mimics the rowing action of a boat sailing on the water.
But the Total Gym rower comes with a unique incline design that creates an intense workout helping you tone your body and become fitter.
If you are a beginner, please don't panic as the incline angle is adjustable.
You can slide the rear leg inwards to elevate the bench on one side for a steeper incline or slide them outward, lowering the bench for a reduced incline (good for beginners).
#4. Optional Weight Addition
You could add 0-15 pounds of weight using resistance bands. This, along with your body weight, makes your workout tougher, intense, and challenging.
#5. Low Impact Design
I assure you that the Total Gym rower is ergonomically designed to bring about the perfect rowing action that's safe on your joints.
The low-impact equipment gives no room for pain in your knees, spine, or any other part of your body. Other exercise machines like ellipticals and treadmills are also good for bad knees.
The foot platform is yet another unique feature of the rower to enable single foot positions that help you work out with one foot in position–this way, and you can add versatility to your exercise routine.
Besides these, you also get a 2-year warranty on all the parts, lifetime warranty on the frame, and a 30-day refund guarantee if you are unsatisfied with the product.
What I Like
No equipment is 100% perfect, and this rower comes with its benefits and disadvantages. The best features that I  love about the rower include:
Easy Assembly: The machine is simple and easy to assemble. You can have a look at the step-by-step video guide available on the Total Gym website for any help.
Full-body Workout: Rowing is an exercise that works on your core muscles training all major muscle groups.
The Total Gym Rower not only includes 85% of muscles during the traditional rowing cycle but also supports performing numerous other exercises that help do full-body workouts.
Easy Storage: The machine might have a solid steel frame, but it weighs only 98 pounds making it easy to move around, especially with the presence of transport wheels.
You could even fold the incline legs inwards to store it compactly in an upright position.
Sturdy Frame: The company has done a commendable job providing the rower with a premium-quality solid steel frame construction to support commercial usage too.
Extruded aluminum beam with steel coating helps in the smooth gliding of the machine.
Performance Stats: What's a piece of exercise equipment without displaying your performance results? The Total Gym rower never lets you down in this regard.
Be sure of getting to know your performance data, including stroke rate, calories burned, and distance covered using which you can track your daily progress.
One Size Fits All: Unlike other Total Gym home gyms, the Total Gym rower is designed with such preciseness and versatility that mostly all people belonging to various height ranges and body weight up to 400 pounds can comfortably work out on the machine.
Ergonomic Design: Contrary to traditional rowers that make use of hydraulic cylinders, air resistance, magnetic, or water tank designs to create resistance, the rower here uses your body weight to create resistance making its design simple but effective.
Trainers also have multiple options to add resistance.  You could add up to 15 pounds of bungee (resistance band) or use two levels of resistance (17% and 20% of your body weight) provided by the machine.
Low-impact Workout: Generally, rowers are specifically designed to be joint-friendly and easy on your knees.
You can benefit from a full-body workout on the rower without causing any injury/impact on any of your joints, including your spine.
What I Don't Like
Despite the advantages I've mentioned above, there are quite a few downsides to the Total Gym Rower that makes some people second-guess its pricing. These include:
Heart Rate Monitor: Though one of the much-needed metrics that help you regulate your exercise speed, the Total Gym Rower has no provisioning for measuring heart rate—neither through a hand grip nor a wireless receiver.
Size: Rowers generally occupy more space, and this rower is longer than most. Measuring 98 *23.5 inches and 30-inch height, you could find the equipment to occupy more space in your room.
However, the ability to store the machine in an upright position makes it compact to store after use.
Read Also: Top 5 Best Rowing Machines for Apartments
No Training Programs: The machine doesn't support or challenge you with pre-set training programs. You have to rely on yourself for including various workouts making use of online videos.
Warranty: The roller is covered only under a one-year warranty period, which could ruin the deal for some.
Total Gym Rower Alternative
If you don't find the Total Gym Rower to fit your requirements but would like to go for another home gym equipment in the same category, the Concept 2 Rowing Machine (especially Model D) should be a great choice.
Let's make a comparison of a few important features to understand the differences and similarities better.
Weight Capacity
The Total Gym Rower can accommodate up to 400 pounds of user weight. But the Model D and Model E from Concept 2 can withstand up to 500 pounds of user weight.
The difference might not be huge, but it does promise usability to a greater number of users' comparatively.
Performance Monitor
Total Gym Rower has a tracker for basic metrics, but Concept 2 can track a wide range of data, including pace to stroke rate, calories burned, and watts.
You could even store the information in the internal memory available or using a USB drive.
Concept 2's performance monitor also has Bluetooth and ANT+ connectivity helping you link with your preferred fitness apps and other devices.
Resistance
Total Gym's rower proves its uniqueness in using body weight resistance, making its operation smooth and quiet.
You could adjust the resistance levels using adjustable inclination and resistance bands, exercising various muscle groups in the body.
Concept 2 rower uses a flywheel and damper system to create air resistance, which is not so quiet as body resistance.
However, Concept 2 has made it advantageous by making use of the flywheel to draw power for the monitor and extending the lifespan of the batteries used.
Storage
 Both the machines can be stored upright, but Total Gym rower has foldable legs, which makes it further compact.
Likewise, concept 2's machine could be split into two pieces, which makes it extremely compact to store away.
Weight
Total Gym's rower is heavier, weighing 98 pounds compared to any of the Concept 2 models.
Size
Though both the machines occupy similar amounts of floor space, Concept 2's models are slightly smaller than Total Gym's rower.
Concept 2 makes use of a monorail that measures 54 inches while Total Gym uses a glide board that measures only 31 inches.
Ergonomics
You cannot compare which equipment is better ergonomically as both are highly ergonomic in their design
Total's rower has a contoured seat and an ergonomic design while Concept 2 trainers have an ergonomic seat, handles, and footrests that are easy for a wide array of users.
Warranty
Both machines provide a 2-year warranty on parts. Total Gym provides a lifetime warranty on the frame whereas, Concept 2 comes only with a 5-year warranty on the frame.
Additionally, you get a 30-day refund policy too on the Total Gym's rower if you are unsatisfied with the product that's missing with any of the Concept 2 models.
Final Words
Total Gym Rower is an excellent choice of equipment for people interested in full-body workouts, weighing up to 400 pounds, and wishing for a piece of versatile equipment that challenges you with intense exercise sessions.
The resistance mechanism is superb, but if your interests are to monitor performance data and establish connectivity to other devices, you might see a drawback here.
However, Total Gym rower helps you lose weight as well as build stamina and endurance without any compromise.