When you buy through links on this site, I may earn an affiliate commission at no extra cost to you. Learn more
You won't find out anything new if we tell you that the training is of high intensity on the CrossFit on CrossFit and that sometimes, it costs more than it costs to finish a WOD.
You suffer, but the reward is very high because you improve your physical condition like no other sport.
You already know that strength, endurance, balance, coordination, speed, power, agility, etc., can develop and improve by leaps and bounds with a good and constant training routine.
Of course, although you know that CrossFit is hard, you are not fully aware until you try the Rogue Echo Bike.
With Rogue Echo Air Resistance Bike, you can exercise your upper and lower parts of your body like never before.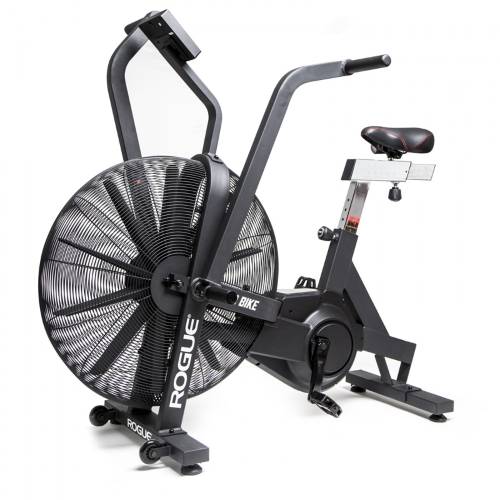 Pros & Cons
Pros
Its stability when pedaling is excellent.
Its material is anticorrosive.
A robust metal structure capable of supporting up to 350 pounds
Your belt drive is quiet and maintenance-free.
Comfortable, self-adjusting, and interchangeable seat
LCD monitor or console to control the most important details of your training (heart rate, distance, etc.)
Handlebar movements are independent, and you can exercise your entire body.
It presents wheels to help in its displacement.
Exercise anywhere in your home
Simple assembly
Cons
The accessories are not included.
The warranty time is not enough.
Rubber lined pedals are susceptible to wear and tear.
Frame and Design
The manufacture of this air bike is based on a reinforced steel structure that provides the rigidity and balance necessary to prevent rocking or jerking while pedaling and pulling the handlebars.
Also, it has as a finish an industrial powder coating layer in black color.
The Rogue Echo Bike is characterized by presenting strong and rigid blades on its fan to create resistance.
This one is at the front of the bike instead of having a typical wheel.
These blades are made of steel and are inside a protective "cage" and welded to a central hub.
It should be noted that these blades are practically silent at the time of your training.
Another feature to highlight of this bike is that it features anti-slip footrests. These are located on both sides of the front cage.
They have been designed to rest your legs or place your feet when you only want to exercise your arms.
On the other hand, it has also been made with a comfortable and resistant seat, with anti-breathable material and slightly padded so that your long training sessions are completely comfortable.
However, its pedals are also non-slip and wide so that any foot size can pedal without problems.
And if you want, you can purchase its accessories such as the holder's phone with which you will have the possibility to place your mobile under the LCD control screen so you can listen to your favorite music. At the same time, you exercise or cover the fan cage so that the air caused by pedaling does not feel it on your face.
Seat and Handlebars
The seat is adjustable since it has 8 height adjustments and 5 adjustments to move backward or forwards.
This makes it possible for the user to place himself in the position he considers convenient according to his comfort.
Also, changes can be made in terms of seconds due to their pins.
To adjust the seat's height, you will notice that in the same tube that supports it, in its front part, it has a knob which you must turn it to adjust or undo for its subsequent movement.
If you want to adjust the seat forwards or backward (horizontal position), you will see that under it, there is another knob which you must turn to adjust the seat in the position that you most want.
As we mentioned before, the seat is quite wide, and its first quality material is anti-breathable for a better duration.
This seat is considered the typical seat of a mountain bike, and you can replace it when you think it is necessary.
As for its handlebars, these were designed to move simultaneously when you pedal, i. e., while exercising your legs, you can also exercise your arms, shoulders, and back. Still, only want to exercise your upper part, you can also do it.
These handlebars have a movement similar to that of a rowing machine; that is why the Rogue Echo Bike is considered two machines in one.
You can adapt the training to your level by choosing the different programs for your session.
These handlebars' material is two metal bars covered by a non-slip and hypoallergenic rubber with a diameter of 1.5".
Resistance
Traditional stationary exercise bikes are quite simple.
Basically, you sit on them, adjust the resistance you want, and you're ready to pedal.
That way, you know from the beginning how hard you are going to work. Instead, the Rogue Echo Bike is much more challenging.
The trick of this Air Bike is that the more you strive to pedal, the more difficult the exercise becomes due to the format of its wheel, fan style, which puts you to deal with the air's weight.
The effect is more or less the same as when the wind hits a ship's sails, making navigation difficult.
In case what was said so far was not enough, it is worth mentioning that exercising with the Rogue Echo Bike implies using the feet and the arms.
Analysis indicates that this feature causes the heart rate to rise by up to 20% when you work on them, an excellent machine to perform full-body cardio routines.
Drive
Unlike many other air bikes, the Rogue Echo Bike has been designed to be quiet.
This means that it does not have the typical chain drive; on the contrary, it is designed to work with a belt, which allows obtaining quiet and smooth training.
It is a great advantage that this great air bike present belt drive since the chains usually make noise and need permanent maintenance since, like any chain, it needs to be greased from time to time.
Even so, these chains eventually rust and break. Definitely, its belt drive will not break and does not need maintenance.
Console
This air bike has an LCD screen or console with Bluetooth connectivity, where you can select from a wide variety of modes, including intervals and targets in time, distance, or calories.
The screen shows the evolution at all times and countdown towards the objective.
Likewise, a heart rate monitoring is shown that works through the data provided by a heart rate transmitter.
Besides, according to your needs and performance, According to classic program time, distance, and calories to your own goals.
There is also the option to choose the exercises already pre-loaded on the machine for 100% assured high-intensity training.
On the other hand, the console is wide enough, which includes the data in relatively large font sizes for better viewing, and it should be noted that it also works with two AA batteries.
Warranty
Presenting a guarantee means that the Rogue Echo Bike is covered in case the air bike has any defect or damage per factory for a period of two years.
Of course, it does not cover the damage from daily use.
It is not enough for many users for the warranty time, although the robustness and high quality of its frame and design make it almost impossible for it to break or damage.
Assembly and Maintenance
Its assembly is straightforward and fast because it comes partially assembled.
You will receive all the necessary tools so that you can have your bike ready to begin your training after half an hour.
Also, the package includes a guide on how to assemble it in case you need help.
You can have your air bike in the comfort of your home and enter any room or garage as it has a length of 58-7/8 ″, a width of 29-7/8 ″, a height of 52-3/4 ″, and a 44-1/2 ″ x 23-3/4-footprint.
Remember that you can use its two front wheels to place it where you like.
In terms of maintenance, it is also straightforward.
You will only need a cloth or towel to clean the sweat and the blades from time to time to prevent dust accumulation.
Read Also: