When you buy through links on this site, I may earn an affiliate commission at no extra cost to you. Learn more
Ab wheels, wrist wraps, weighted vests, and medicine balls are some common fitness accessories that will help your body gets a more efficient and safe workout. Besides, using proper fitness gear helps avoid injury and force yourself to work out harder.
Having a strong core leads to total body strength, power, and athleticism. And investing in an ab roller helps you get mind-boggling 6-pack abs. The major muscles of your core include your transverse abdominis, multifidus, internal and external obliques, erector spinae, diaphragm, pelvic floor muscles, and (of course) your abs, the rectus abdominis. And using an ab wheel is going to hit all of that.
An ab wheel/roller is shaped like a small wheel (rubberized) with a handle on either side that helps you with the exercises. Some ab wheels come with foot straps that enable you to perform quite many exercises apart from abs workouts. Ab wheels provide a better ab workout than traditional flexion exercises, helping you achieve a rock-solid core.
This additional feature is an excellent provision for improving the versatility of the equipment. But, what's the best ab wheels with foot straps available in the market?
Here are our top three picks.
You can see the overview, pros & cons, and features below.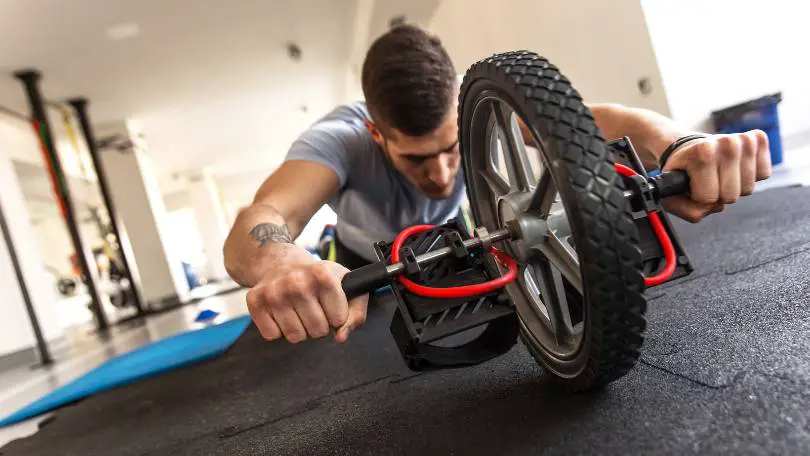 What To Look for When Buying Ab Wheels With Foot Straps?
The ab wheel is designed with a mechanism that helps the user move in any direction (forward, back, or side) with his/her bodyweight—this helps perform different exercises that benefit the abs, back, arms and shoulders.
They are easy to use, offer excellent resistance, reduce stress and pressure in your back, arms and shoulders, and bring about good results to anyone who uses them diligently.
Looking to try out an ab roller? Ensure that the below-given features are met before buying an ab wheel.
Stability
This is of utmost importance here as you don't want the ab wheel wobbly and makes you skid in the middle of a workout. Ab wheel that comes with foot straps that enhance your exercising experience keeping you stabilized. Sturdy ab wheels normally have a steel core (with a tread on it) covered with rubber for additional friction.
Optimized Grip
The ab wheel has handles on each side, which are the only point for gripping hold. Go for a product with padded/cushioned grips, which helps you hold onto them without injuring your palms or straining your hand.
All exercises are performed by moving the wheel with your hands. This means that most of your body weight falls on the hands, and they need a good grip to hold on to the equipment.
Accessories
Our knees constantly touch the floor when doing certain exercises with an ab wheel. Protect them safely with exercise mats if your ab wheel comes with one.
Top 3 Best Ab Wheels With Foot Straps
Get going with the best ab exercises by choosing one of the top 3 equipment given below.
Lifeline Power wheel helps develop your stability, balance, coordination, and stamina, helping you strengthen core muscles and the entire body.
The handle grips are designed such that you are forced to place your hand's shoulder-width apart, and your feet slide into the foot straps for a versatile exercise experience.
The 13-inch wheel with tire tread is made of heavy-duty material promoting friction. It is also extremely smooth to roll on any flooring in your preferred direction.
This is the ideal equipment for doing upper body workouts (push-ups and crawls to strengthen arms, shoulders, back, and chest), lower body workouts (strengthen thighs and glutes with curls and leg lifts), and core training.
Pros
Work up to 20 different muscles in the body simultaneously
The wheel has soft foam handles that are comfortable to hold and safe to exercise
The wheel itself is bigger than usual, enhancing the workout experience
Foot straps facilitate doing intense workouts
Provided with a workout DVD
Cons
The wheel might be too big for some users
Exercise both your hands and feet easily with the Prism Ab Wheel, thanks to its combined handle, foot pedal system, and Velcro foot straps.
Don't be surprised to get an exercise mat as an extra accessory by the manufacturer to make your exercising experience more enjoyable. Besides, the mat is printed with six different workouts that could be quickly referred to while exercising.
Achieve toned abs with this ab wheel, but that's not all. You are guaranteed an effective full-body workout using this single piece of compact equipment.
It is lightweight and foldable (handles), making it a versatile piece of portable fitness equipment to carry along when you travel.
Pros
Switch between hand and feet exercises smoothly
Exercise mat with six different exercises printed on it
Compact, portable, and lightweight
Great price
The GoFit ab wheel comes with high-quality rubber tires with a knobby tread that promotes positive friction for an intense workout experience. It helps you make your 6-pack abs dream become a reality ensuring balance and stability while working out.
You can be sure of providing a good workout for your glutes, thighs, abs, back, and core. This ab wheel comes with rubberized hand grips that offer comfort while holding.
The foot pedals have adjustable Velcro foot straps, which provide better grip and bring about versatility to your workouts.
The company is one of the best fitness equipment manufacturers with its simple philosophy 'Train, Recover, Repeat,' which makes its products stand apart from the rest in terms of design and performance.
Pros
Affordable
Offers good stability
Heavy-duty rubber ab wheel promises durability
Training manual with video exercises included
Cons
The wheels might squeak a little sometime
The Verdict
An ab roller/wheel with foot straps is the perfect gift to give yourself if you look forward to a great abs workout.
Choosing the right ab wheel built with soft grip handles, strong rubberized wheels with a tread to avoid slips, and ergonomically designed. Foot straps can enhance the entire workout experience and will take it a notch higher!
Additional accessories or a great warranty are an added advantage when you finalize a product.
Read Also: