Once we decide to start on a regular workout schedule the first few days are exciting and inspiring as we are busy preparing for this new inclusion in our routine that promises to become a habit in due course.
We rush to the shops or order online for exercise gears, proper workout clothes and above all, look out for an exercise mat that can withstand our hips and grips without giving away.
While an exercise mat seems to be a simple piece of base that should save you from the dusty floors the vitality of its presence starts dawning once you start using it.
It's importance booms up, even more, when you work out on the right mat enhancing your overall exercising experience.
It is not wrong to say that an exercise mat is the backbone of your workout routine.
But with attractive colors, cheap pricing and different varieties it becomes a difficult task to choose the right exercise mat.
Keep These in Mind While Choosing Your Exercise Mat
Colors entice us but never be lured away by fancy words or charming looks of the mat.
Make a note of the following criteria before finalizing on your mat.
1. Thickness –  Greater the thickness better is your protection from injuries and pain to the knee, back and joints as the mat would have optimal cushioning.
Never choose thin mats as this intrudes with your comfort levels while doing HIIT exercises.
2. Size –  Choose a mat that fits your body length- and width-wise within it: neither too long nor too short. The right size ensures that you don't get hurt while doing exercises.
3. Material Used –  This is of great importance as exercising involves sweating and it is always recommended to use resin- or rubber-based mats as they prevent slips. Allergic to the smell of rubber?
Then PVC made of vinyl is ideal to use. Once these criteria are fulfilled it's upon you to choose your favorite color mat and start working out!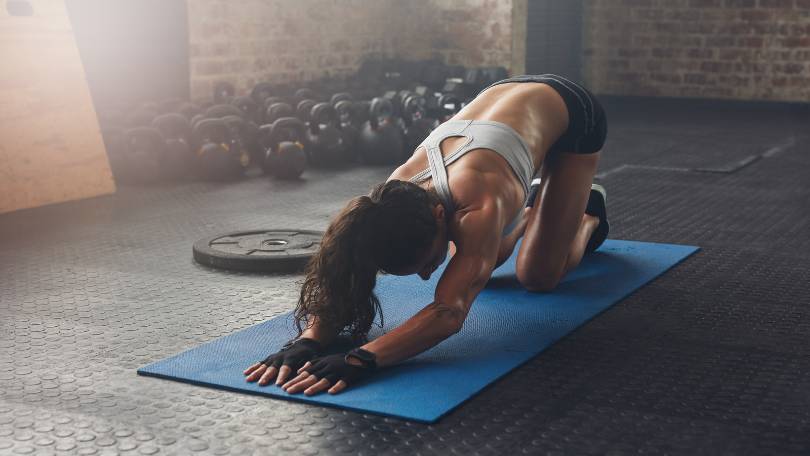 Top 3 Versatile & Best Exercise Mats for HIIT
Based on the above-mentioned points we have listed down the top 3 HIIT mats that could make your exercising experience blissful.
The one important thing you instantly notice about this mat is that it's big, very big-almost twice as big as your regular exercise mats.
If you are looking out for a fitness studio atmosphere in the comfort of your home you have to just lay out the mat: made of high-quality eco-friendly, premium material and weighing as much as 14 pounds, the Gorilla mat assists in bringing out your highest performance possible.
It is thick and hence one should have no concerns about its durability and comfort.
The size, thickness, and the material used provide an enriching workout experience as your knees and joints are well-protected by the features in the mat.
Pros
Lifetime warranty shows the manufacturer's confidence in his/her product and hence, should definitely be a good buy
The mat comes with a 100% microfibre towel as an accessory which helps in minimizing moisture by using it whenever required.
No odor, non-toxic and non-slippery
Stays as it is even when you perform any intensity exercise-Zumba, HIIT, dumbbell workouts, kettlebells or even core exercises
Shock-absorbing mat
Cons
Comparatively expensive
Not quite suitable for powerlifting workouts but working out with lightweight barbells should be fine
Though it's not the thickest mat available in the market, it is built of dense foam that helps in offering much comfort when laid upon the floor surface.
Square36 is big enough-6 ft by 6 ft (hence the name square 36 maybe!)- and weighs around 19 pounds which makes it a great workout mat for exercises such as HIIT, kettlebell, ropes workout, P90x, cardio workouts and more.
Though thick, carrying it around is easy enough-anywhere from one room to another, to your fitness class or the park.
The manufacturer has produced these mats keeping the environment in mind as they are from non-toxic material and extremely durable.
Pros
Comfortable and durable to use
It comes with an added accessory in the form of a storage bag and strap. The straps help in keeping the mat rolled while the bag fits the mat inside keeping your space tidy and neat
Square36 comes with a lifetime warranty which proves the faith of the manufacturer in his/her high-quality product
Easy to carry
Made of non-toxic material
Dense foam guards you from hard surfaces
Cons
Available only in a single color, black, which would not be everyone's favorite
If you want a thick mat which is also easy to carry around the HemingWeigh mat could be your best choice.
It provides cushioning to your back and knees, it's non-slippery and suitable for HIIT training as the mat is sturdy.
The memory foam used keeps the mat cushy enough on both sides offering better durability and comfort than your regular yoga mats.
Pros
Thick but light enough to carry around easily
Suitable for any kind of exercise-right from yoga or Pilates to stretches and other floor exercises as it offers protection to the knees and joints
Moisture-resistant making it easy to clean
Economical
Cons
Fishy or a bad smell emanates from the mat
Does get a little slippery when wet
Final Words
Exercising involves intense jumping and movement which causes an impact on your joints.
Using an exercise mat on a hard floor helps in absorbing all the impact relieving your body from side effects.
But this depends on the thickness of the mat and the quality of the product used.
Choose a mat rather wisely keeping important factors such as comfort, durability, value for price and exercise preferences in mind.
Go for an eco-friendly mat that surely does good to your environment and yourself as well.
Whatever mat might be your final choice always maintain hygiene by cleaning it after each use and not sharing it with others.