Looking for the best Olympic barbells under 200? Then your search has reached its horizon. We are here with the guide to the best Olympic barbells under the price range of $200.
Many of them come equipped with both bearings and bushings that make them ideal for a whip. Center knurling is another spec that distinguishes Olympic barbell from the crowd.
The prominent advantage offered by Olympic barbells is an effective bearing of loads, even the heavy ones.
If you are the one seeking to harness those benefits and get the best out of your fitness exercise sessions, then you are exactly at the right place.
In a hurry? Here are our top 8 picks of the best Olympic barbells that the price is under 200 bucks.
Things to Consider Before Buying a Barbell
Here's a cheat sheet of the things you must compare before buying the barbell.
#1. Price 
The more the features more is the price. For the best-in-class barbells, you will surely need to pay a reasonable amount.
Those who are high in quality, durability, non-corrosive, and other aspects come with expensive price tags. But they are worth buying.
Besides, bearings account for extra money. Cheap barbells have feeble bearings that easily break away.
Therefore, always look for a standard barbell with sturdy bearings.
#2. Strength 
The strength of any Olympic barbell is best to determine by two elements – tensile strength and yield strength.
Tensile strength is the amount of longitudinal stress that a barbell can bear. In simple words, how much force will break the steel apart?
Mostly, barbells score high in terms of tensile strength with the range of 130k-220k PSI (pounds per square inch).
High tensile strength barbells are best suited for powerlifting as they have less whip, while low tensile strength is still good for weightlifting.
Now, coming to yield strength. It is the quantity of stress a barbell can bear without bending.
Tension strength is a more accurate element for subjecting any barbell to a highly durable standard. This is done by scrutinizing the metal used in the construction of the barbell.
But surprisingly, the barbells available in the market come with a yield strength label.
The one I've been using has got 1000lbs marking. It's because people are more hooked up over a number of pounds than PSI.
#3. Knurling 
Greater knurling means more forceful exercise. The barbells are grouped into three categories that are light, medium, or aggressive.
Depending upon the extent of knurling, their category is decided.
Aggressive knurling favors heavier lifts but is cautious enough as it may rupture your hands.
You might look for center knurling while choosing the Olympic barbell.
Usually, barbells oriented for males have got knurling in the center, whereas those for females don't. Here are the lists of the barbells with center knurling.
But, always wear a barbell pad when you perform lifts with a centrally knurled barbell.
By doing so, you are minimizing the risk of tearing your neck and chest parts.
#4. Coating 
Different metals and alloys are deployed into the coating process. The main points of difference among different coating materials are listed below.
Zinc—best guard for corrosion, knurling texture varies, and costly.
Black oxide—comfortable knurling, repels corrosion, and cost-effective.
Chrome—best against corrosion, elegant look, but most expensive.
Steel—not so effective with corrosion and cheapest of all.
Manganese phosphate—It's a better corrosion resistance compared to steel with comfortable knurling.
#5. Bearings 
Bearing barbells are typically used for Olympic lifting or other fast lifts.
The bearings are meant for efficient spins. Checking the capacity of bearing is crucial because if the bearings break, the sleeves will fall off too.
These are round balls or needles that are inserted between sleeves and bars. Apart from spin, they aid to smooth motion.
If we compare deeper, needle bearings are superior to ball bearings as they take up load efficiently. So, you can do faster lifts in a better way.
And you certainly don't want that to happen. The wisdom impels to look for the good bearings permitting greater weight limit.
All bearings required oiling in a timely fashion. But don't fall for cheap bearings for the sake of a few dollars. You will regret this later!
#6. Bushings 
Bushing barbells are often used for a deadlift, powerlifting, and other heavier, slower lifts.
Is this important? Yes.
But why? Because they are responsible for the smooth motion of the sleeves. They are assigned the roles of reducing friction.
And friction, as you know, can cause wearing and tearing of parts when not taken care of. Bushings are good in the sense that they neither require maintenance nor they are initially costly.
Rather, they are long-lasting and prove to be a smart bet.
People intending to do slower lifts must not chase anything other than this.
#7. Warranty
Products with a lifetime warranty are the ultimate symbol of durability and reliability.
Nevertheless, many Olympic barbells come with a competitive warranty for 2-5 years, which is pretty good.
I just want to be aware of those models which lack warranty bearings.
You must rather be sure of the quality of bearings beforehand.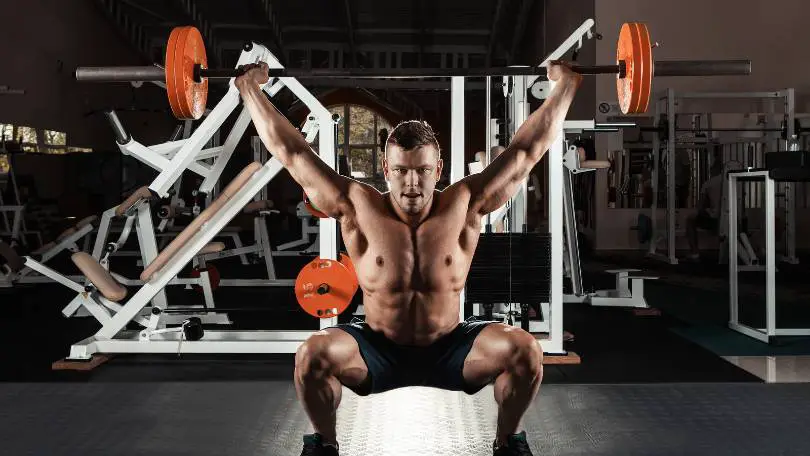 Top 8 Best Olympic Barbells Under $200
Here's our compilation of the finely sorted Olympic barbells. All of them fall under 200 dollars.
They are best-in-class provenly and that too without fluctuating your budget.
If you are a beginner trainer interested in learning the technique of Olympic weightlifting, the RAGE Fitness equipment is the right choice.
RAGE is a brand that's passionate about manufacturing the most durable and sturdy fitness equipment.
Their products are built for the strongest people who have the burning desire to sweat, repeat, and don't rest until their goal is met.
The bar is made from high-quality aluminum, is the perfect choice for basic weightlifting.
The equipment has rotating sleeves that are provided with bushings that guarantee moderate rotation.
This is optimal for fitness-seeking individuals as the fast rotating bushing sleeves in the equipment guarantee a smooth weightlifting experience without many jerks.
The bar comes with a neat medium diamond knurling with center knurl and weighs around 15 lbs making it lightweight but durable.
The equipment can withstand maximum weight up to 300 lbs that's pretty decent.
Pros
Great grip strength provided with the help of diamond-patterned knurling which helps the user experience a stronghold on the bar even when he/she sweats hard
Durable and lightweight
Made of high-quality aluminum
Cons
Suitable for beginner trainers only
One year warranty but guaranteed replacement of equipment when it doesn't function as promised
Can be used with Olympic steel plates with a 2-inch hole only
As the company's tagline suggests, this barbell has been designed with the utmost care and construction to make your exercise experience as comfortable as possible.
Choose the Yaheetech barbell to strengthen your core, arms, legs, glutes, and back.
Made of premium-quality iron and coated with anti-rust paint, this equipment guarantees rust-free performance for years to come.
The knurling is perfect here—diamond-shaped texture on the handles are present to help the user with the maximum grip possible during a workout.
Besides offering varied-weight plates, the product also comes with a set of star lock collars.
These collars help in fixing the plates in your desired place securely and safely.
Pros
The knurling offers superb grip with anti-slip tread design
Star lock collar with rubber o-ring prevents the plates from falling off keeping you safe
The W-shaped bar is a clever design from the manufacturer as it is comfortable and steady to hold
Cons
The screws don't lock as promised
This weightlifting and weight training Olympic Bar from Body-Solid is made with the utmost care and great design to take your weightlifting workouts to the highest level possible.
All the equipment made from this manufacturer promise ease of use and durability, and this Olympic bar is no different.
The equipment is longer than most bars measuring 7-foot long, making it the ideal choice for weight lifting, powerlifting, CrossFit training, and more.
The bar is made of the highest-quality materials and comes with a black-oxide finish. This makes it untouchable and free from rusting, peeling, scarring, or chipping.
The bar weighs around 44 pounds but has a maximum weight plate capacity of up to 600 pounds.
The barbell is equipped with a shoulder bolt collar bolt, which is built with a 33mm diameter.
Pros
Sturdy and durable
Ideal for bodybuilders and championship lifts
Excellent for CrossFit training and weightlifting
Protection against rusting and corrosion
Helps you take your weightlifting experience a notch higher as the bar can support high-weight plates
Cons
Bolts often loosen
Aggressive knurling
With a tensile strength rating of 130,000 PSI and a pocket-friendly price, there is not a better power bar than this one.
This is best suited for those who are beginners at the gym.
The barbell has a corrosion-resistant black oxide with silver zinc coating. The looks are sharp enough to cast a spell on you, and will make you work out every single day of your life!
This beast has a diameter of 28.5 mm with a smooth surface at the center.
If you want the best Olympic barbell under 200 dollars, then this beast should be on your gym essentials list.
The knurl markings provide a perfect grip for your palms and enough comfort to make you exercise a little longer.
It will deliver satisfying workmanship during Olympic and other powerlifting movements.
You can use this barbell for any garage gym or training studio you prefer to work out in.
Since it has a weight capacity of 1000 pounds, the name 'Beast' was given to it.
There are single ring hash marks on it. There is no central knurl.
And, it has a medium depth diamond knurling. The total length of this barbell is 86 inches.
It has a black phosphate finish, so you can trust it to be built from solid cold-rolled steel.
Tell you what, it has a yield strength of 120,000 PSI, the one that promises it to be called as the beast!
Pros
Affordable to your pocket
Sturdy design
Cons
The spin may be weak.
There could be scratches formed easily on the bar.
You might have to watch your spins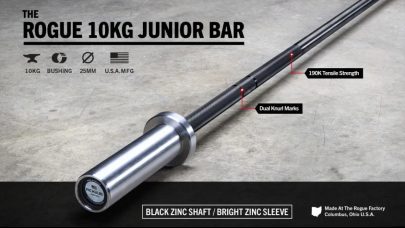 While the Rogue Junior Bar might be a beginner's bar, it is designed and manufactured with the same care, quality, and standards as Rogue's other bars, including the competition bars.
This is the perfect bar for both men and women irrespective of their age.
That's mainly because of the reduced sleeve length that keeps the total weight of the bar lower comparatively—almost 11lb lower than a typical women's bar and only about half the total weight of a men's bar.
The sleeves are made of zinc, and the shaft comes with a black zinc coating that has a 190,000 PSI tensile strength.
Bushings and knurling are integral to any barbell, and the Rogue Junior bar provides users with the highest quality possible.
The equipment has bronze bushings that offer optimal spin equivalent to most competition bars sold in the market.
The dual knurl marks without center knurl offer average grip without being rough on the hands.
Pros
Good whip
The steel and zinc coating makes the bar extremely resistant to oxidation
Excellent durability
Bushings provide reliable spin
Apt for beginner trainers belonging to any gender and of any age
Made in the U.S.A.
Passive knurling
Don't ever worry about unnecessary strain, back pain, or shoulder aches as the Titan Fitness Bar is here to prevent this all even when you lift heavy weights.
The Yukon bar is black oxide-coated and is 6 inches long with a curved design to help you avoid any pain in the shoulders while squatting or doing other exercises.
The barbell is made of heavy-density steel that helps you pull easily through any tough workout session as easily as possible.
Above all, the Yukon fitness bar has the highest weight-bearing capacity of 2000lb compared to other products from the manufacturer. This makes it a versatile choice for all types of trainers.
Pros
The oxide coating is an excellent choice from the manufacturer, as this ensures that the equipment is rust- and corrosion-resistant. The black coating makes the Titan bar elegant to hold and is a treat to the eyes as well.
Durable
Center knurling and knurls present across the handle promise good grip against sweat
Prevents any sorts of pain while exercising
Passive knurling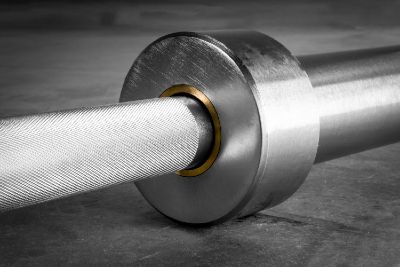 With a tensile strength of 150,000 PSI, this power bar has been holding the charts since 2012. It comes with a lower price as compared to Rogue bars.
Best suited for powerlifting, bench press, squats, CrossFit training and workouts, weightlifting, and deadlifts.
The bronze bushing used for this barbell offers smooth sleeve rotation for weightlifting. The bushing design comes with snap rings.
The coating used to make this barbell is zinc, so it will not rust very easily and also demand low maintenance.
It consists of dual knurl markings and does not have a central knurl, which turns out best for high rep clean workouts. The diameter of this barbell is 25 mm. It can hold 15-20 kg.
It can bear weight capacity up to 1000 pounds. It has a medium depth knurl. Consists of dual knurl markings that can help very well in powerlifting and weightlifting exercises.
It does not have a sharp tooth knurl that will hurt your palms. The diameter of this barbell is 25 mm.
There is not a better barbell than this one, one that is the best Olympic barbell under 200 dollars!
If you are a beginner and you want to try doing cross-training style workouts, then this barbell should be your choice.
Pros
Best suited for CrossFit type workouts.
The revolving feature is smooth for the palms.
Extremely solid construction
Cons
Some customers claim the knurls are not too aggressive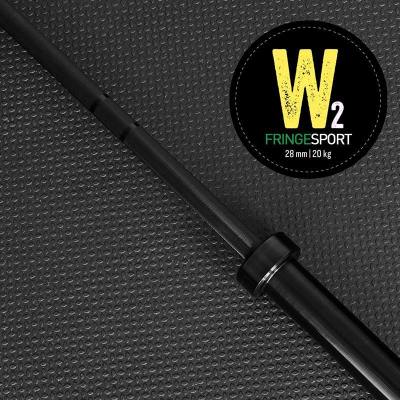 Referring to the barbell that comes with a bundle of promising construction features that suggest both durability and versatility. The bushing version of this Wonder Bar makes it come under $200.
The whip is stiff, spin is moderate, and the weight capacity is 1,000 pounds.
The killer all-black zinc plating over the bar is a durable finish. It will not get slippery when you get sweaty. A little of the knurling makes it have a smooth, easy feel on your palms.
The bushing used for this bar is bronze oil-lite bushings, ones that can self-oil and prove to be of standard quality.
The bushing barbells are best suited for heavy or slower lifts, such as powerlifting.
Don't worry about the quality, as you get a lifetime worth of warranty for any kind of defect or design issue! They are easy to disassemble, clean, and reassemble.
With a tensile strength of 205,000 PSI, this one is the strongest there is. The best part about buying this bar is that you get free shipping! Don't you want a product delivered to your den free of shipping charges?
Pros
Great grip for the bench press at the dual knurl marks
A thinner shaft that allows better grip and better form in transition and overhead positions
Cons
The black zinc finish over the bar may fade over time.
The coating may eventually lead to being scarred easily.
The Verdict
So, this was all about the best Olympic barbells under 200. Each equipment listed above has its own key USP.
Which one fascinates you most is uncertain. Your decision is driven by your needs. The certain thing is the satisfaction you receive in every case.
We have also provided the cheat sheet to help you shape your decision better. Finalize things based on quality standards.
You don't need to compromise with the quality every time to cope up with the financial boundaries. Especially the ones that are long term investments like Olympic barbell. They are highly durable.
Most importantly, they all come with a price tag that doesn't stress your pockets. Therefore, all of them are good bets.