We know how difficult it is to choose your new elliptical due to the stride length, that's why we have designed this best 20-inch stride elliptical guide to guide you during the purchase process.
Stride length is one of the most important but hard-to-deal-with details to take into account when choosing your elliptical for your home gym. With this complete review, we aim to save you time and speed up the purchase process.
We invite you to continue reading!
In a hurry? Here are our top 5 picks. See more details below.
What Is Stride Length and Why It Matters?
The stride length on an elliptical refers to the distance between the tip of the front pedal and the heel of the pedal that is currently placed behind.
On the best ellipticals, this measurement is about 18 to 20 inches and is known for being an optimal measurement for people between 5′ 4″ and 6′ 5″ tall. This is due to the user's leg length.
Consequently, the movements adapt to the user for greater comfort and exercise versatility, making his workouts more effective. We must emphasize that the stride length is very important.
The function of an elliptical is to provide natural movements from a walk or ski to burn more calories and work for different muscle groups in one session.
For the workout to be comfortable and feel authentic, the stride length should be neither too long nor too short, which is why 18 to 20-inches is ideal because it facilitates considerably better quality of movement, since movement is perceived as more natural.
In this way, the hip, and legs will not be affected, and the exercise will not be tiring.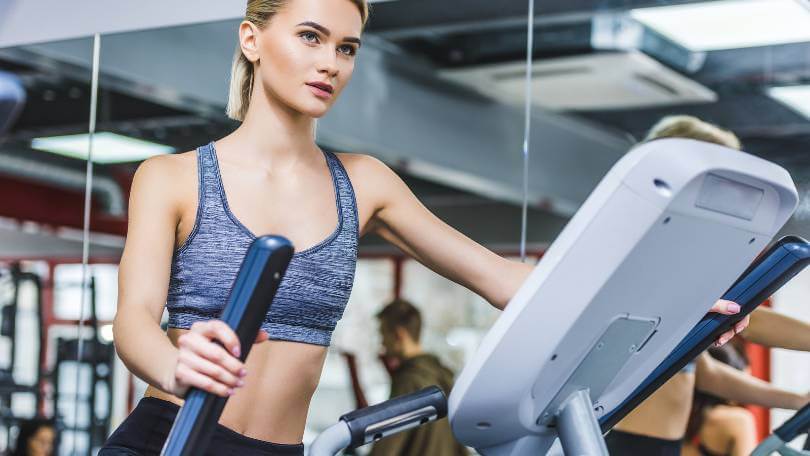 How to Choose the Best Stride Length?
To choose the best elliptical with the ideal stride length, you can measure your natural stride, as mentioned above, taking into account the length of your leg.
Also, you can go to your local gym and try the different machines they have there to feel the difference or, we also offer you the following guide to keep in mind and know which is the best stride elliptical for you:
Stride length between 16 to 18 inches: If you are no more than 5' 3", this is the elliptical for you.
20 Inch stride length: If you are between 5' 4" and 6' 5" tall, this is the machine you should consider. This is because a standard length is the most comfortable for most users.
Stride length over 22 inches: If you are taller than 6' 5", you should consider this option.
Adjustable stride length: If there are people in the home with different heights, this kind of elliptical is the best. In this way, it will be possible to customize the stride.
Now, it is time to take a closer look at each of the 20-inch elliptical machines that we have selected for you.
Top 5 Best Ellipticals with 20-inch Stride
Given below are our top 5 picks.
This elliptical machine has a great design and is ready to go home with you.
With dozens of training programs and resistance levels, the E616 creates unlimited training options, while a Bluetooth console easily connects to RunSocial and synchronizes training data with other popular fitness apps.
RunSocial is an app with which you can synchronize and travel 19 locations with 27 routes together with people from all over the world in real-time.
It has a motorized inclination of 0 to 11 degrees. Also, it includes 12 training programs: including four fun rides, four mountain rides, and four challenges.
Also, nine heart rate controls, four custom tests, two fitness tests, one recovery test, one quick start.
On the other hand, for your best comfort, stability, and balance, this machine offers a 20-inch stride length.
Also, you can change its resistance for one of its 25 levels for a wide range of training intensity options.
But this doesn't end here; this super elliptical brings a high-speed, high-inertia drive system—with a perimeter-weighted flywheel for easy starting and smooth, consistent workouts.
Pros
Its weight capacity is up to 300 lbs
Enjoy its 12 workout programs
20-inch stride length for better comfort
It includes a motorized inclination of 0 to 11°
It includes DualTrack™ LCD screens
Cons
The only disadvantage is its inclination degree, which could be a little more
This elliptical machine has very interesting features due to its spectacular value for money.
Without being a high-end machine, it has very good characteristics and offers high performance at an affordable price.
The Schwinn 470 has an automatic inclination adjustment capacity, but it is only possible to obtain a degree of inclination of up to 10.
On the other hand, regarding its resistance level, it offers 25 levels, which you can change quickly depending on your needs.
Also, we will highlight its LCD screen, where it includes 12 training programs, including four fun rides, four mountain rides, and four challenges.
Best of all, it allows you to create up to four different profiles and get separate training tracks. Read the full review here.
Pros
It supports up to 300 lbs of weight
Automated incline up to 10°
12 workout profile programs
25 resistance levels
Train naturally with its 20-inch stride length
Cons
You can not adjust its stride length
And we continue with the Schwinn series but, in this case, with the 430 models. This elliptical machine is another option to start in this type of training.
The elliptical is ideal for exercising your upper and lower body simultaneously at home.
Besides, its quality is very remarkable in terms of robustness, durability, and features.
Let's start by mentioning its workout program. This elliptical brings an integrated LCD screen where you have nine profile programs, including three fun rides, three mountain rides, two challenges, and one interval ride.
With this sophisticated computer, you will also be able to adjust the resistance, which brings up to 22 different levels.
Regarding its inclination capacity, this elliptical offers six levels of inclination of up to 10°.
But, because this feature must be changed manually, it will be necessary to stop the exercise from changing it whenever you need it.
Pros
It has a 300 lbs weight capacity
Nine workout programs
22 resistance levels
Perform natural movements with its 20-inch stride length
Cons
The inclination must be done manually

This elliptical machine combines robustness and usability.
With a structure designed to be respectful of the human body, users who use it find that they can exercise in a demanding way while taking care of their joints.
As for the technical characteristics of the new NordicTrack C7.5, it is compatible with the famous iFit system.
Many will know it for a large number of routes and training it offers, allowing you to train anywhere in the world with a single click.
Another remarkable aspect of this elliptical machine is its electronic incline system.
This allows you to modify the degree of race's slope (from 0º to 20º) with a simple button touch.
Increased incline means that strides require more effort from the user, which translates into more focused and intense workouts.
Something that, combined with the 22 resistance levels that this machine offers, makes each user adapt the training to their specific objectives.
For this reason, the new NordicTrack C7.5 is made for people who are demanding in terms of physical performance.
Pros
Train with its 26 workout programs
22 resistance levels
325 lbs weight capacity
High resolution 5" LCD console
Feel the comfort with its 20-inch stride length
Cons
Its maintenance may be is not easy
This machine is the result of biomechanical investigations carried out to accurately reproduce the movements of the human body and design comfortable machines that are not harmful to the joints.
Life Fitness is one of the most popular brands in the world and offers quality and long-term durability, and the E1 was not going to be less.
Its combination of functionalities and excellent quality features makes training a unique and enjoyable experience.
This machine offers comprehensive, low-impact routines that are effective thanks to its finishes and the layout of the pedals, which are spaced slightly apart to minimize hip sway with a 20-inch stride length.
It has 12 workout programs and effective for all types of users, two customizable programs, and the possibility of creating two different user profiles.
Continuing with the training line, thanks to the high technology of its LCD console and its media holder, you can have 14 workout programs, 12 customizable programs, and four user profiles.
Also, you can change its resistance level since its mobile handlebars have 20 resistance levels integrated so that you can change it according to your needs.
As for the degree of inclination, unfortunately, the E1 does not offer the possibility of changing it, it is fixed. S
till, for users, this elliptical stands out in terms of its finishes as well as the absence of noise during exercise, making it perfect to have at home without causing any type of discomfort during training.
Pros
It includes 20 resistance levels
Its weight capacity is incredible, up to 400 lbs
LCD console with 12 workout programs
Excellent frame construction
Enjoy its 20-inch stride length
Cons
You can not change its inclination degree
Final Thoughts
We hope this informative guide has been very helpful to you. All the ellipticals mentioned in this list are the quietest on the market and of extraordinary quality.
The finishes in its structures are designed down to the last detail for excellent durability over the years, and its consoles have all the necessary functions to perform safe and enjoyable workouts while facilitating their registration and monitoring.
Also, we must emphasize that their stride length is incredibly natural, so the exercise is not aggressive for the joints.
Without a doubt, these options are excellent, and you can get the best out of yourself and make the most of all their features. We are confident that if you choose one of them, your investment will be worth it.