One of the most versatile weight training equipment, power racks, is generally heavy and tall to provide stability and help you lift weights safely.
But if you have a low-ceiling room, then choosing a short power rack that's sturdy and high-quality is a tricky thing.  Because most power racks are 7 feet tall, and if you don't have enough clearance in your apartment or basement, you might hit your head while doing pull-ups or chin-ups.
I did wide research and list down my top 5 picks of the best power racks for low ceilings rooms below. 
No matter you are looking out for a power rack under 90 inches, under 7 feet, or 80 inches, this list helps.
How to Determine If a Power Rack Fit Your Low Ceiling's Room?
First and foremost, before proceeding to choose from a list of short power racks, it is mandatory to determine the maximum power rack height that could be accommodated in your room. This is a simple three-step process:
1. Determine the total vertical height of the room
You might have your room's floor plan, which gives the readymade measurement. But you must also remember that the flooring (sub-floor) could be covered with tiles, wood, carpet, or a combination of any of these.
You might know that the room is 8 ft high, but now it becomes necessary to measure the height manually.
Standard heights are measured from the bottom (sub-floor) of the floor that's covered with your favorite choice of tiles/carpet to the ceiling with the help of measuring tape.
2. Protect your flooring from the power rack
Power racks are rock-solid equipment, and we must protect the flooring where we place the equipment. So, any protection that goes underneath the low-profile power rack occupies additional space.
The protective flooring's height must be deducted from the room's total available vertical space to come up with the perfect height available for installing a power rack in your low ceiling room.
3. Add some generous amount of space for doing pull-ups
You are quite happy with the final available vertical height measurements as there are several short power racks that fulfill your height restrictions.
But you need to remember that there comes the need for an additional 1-1.5 feet above the equipment if you plan on performing pull-ups.
Read also: How Much Space Do You Need for a Power Rack?
4. Calculate the final rack height for the room
After you have done a few calculations adding the height from the flooring to the ceiling to come up with the total vertical space height, subtracting the protective flooring height from the total available height, and giving an extra one foot for pull-ups, you have the final figures which should be of aid while purchasing a shorty power rack. Putting it in the form of a mathematical formula:
Ideal Power Rack Height=
Room Height – Gym Flooring Thickness – ( 1 ft to 1.5 ft for a pull-up bar )[optional]
Using this formula, if your room has an 8 ft floor-to-ceiling height, 0.5 in sub-flooring, and another 0.5 goes in protective flooring, we are left exactly with 7.11 ft.
Subtract another foot for pull-ups, and all that we are left with is 6.11 ft to accommodate a power rack.
Other Factors
Once you've figured out the exact height available for your power rack, it is essential to consider few other critical factors before purchasing a small power rack for no matter placing at apartment, basement, or garage.
These include the frame quality, adjustability options, rack type (full cage, compact racks, squat stands, and collapsible racks), and price.
Top 5 Short and Low Profile Power Racks for Low Ceilings
Based on the factors above, I have come up with the best short power racks that could do great in low-ceiling rooms offering ultimate exercising options and versatility.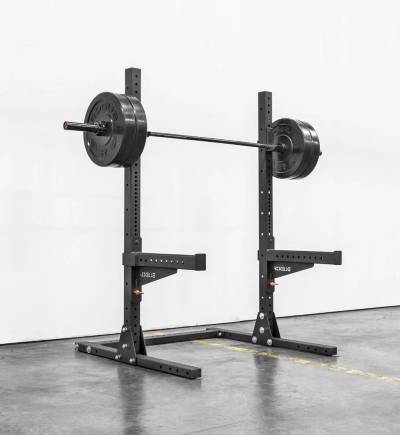 You could call the ROGUE SML-1 power rack a hybrid unit—somewhat of a crossover between a power rack and a squat stand.
The primary feature that makes this compact Rogue power rack stand out from the rest of the low-profile power racks is its smaller footprint and lower height, making it suitable for low-ceiling rooms.
The complete unit is only 6 ft tall (72 inches) with a footprint of 48" x 49". This makes it ideal for most home gyms, basements, and garage workouts.
This budget-friendly home rack has an excellent frame and construction made from heavy-duty 11 gauge steel, precise laser-cut holes that snugly fit your barbells, and comes with a smooth black powder-coat finish that makes the unit dashing and powerful.
This Rogue power rack is best suited for your home gym and low ceiling apartment, and with its 1000 lb+ capacity, you have no worry about damage yourself.
Just place the order for the rack and relax as the SML-1 comes with the entire set of accessories and hardware needed for setting the squat stand.
I mean the complete package right from bolts and fasteners to J-cups that come with protective inserts by the entire set.
The product does not include provisional holes for a pull-up bar, which means that you don't require additional clearance space from the power rack to the ceiling to do pull-ups.
Read more here if you want a power rack with lat pulldown.
Pros
Weight capacity up to 1000 lbs
Small footprint and ideal for low-ceiling rooms
Heavy-duty steel and powder coating
The shorty power rack can be combined with additional ROGUE accessories
Cons
No pull up bar holes provided
This should be one of the rare squat racks that have the smallest heights with its double-height adjustability option.
The bracket height ranges between 41 and 65 inches, while the base range is between 31 and 49 inches to accommodate bench press exercises, making it one of the best short power racks for 6′ ceilings.
If you are looking for a piece of versatile equipment that helps you perform a full-body workout that helps to tone different muscle groups, achieve core strengthening (with the help of dual-resistance springs that support ABS too), and fulfill your strength training goals, the Ollieroo barbell rack will be the best choice.
You might be a novice to fitness, an expert fitness trainer, or an intermediate looking for a versatile power rack for increasing resistance.
The adjustable resistance option provided by this equipment makes it suitable for all levels of trainers.
The barbell stand, squat stand, and entire equipment are made of high-quality steel that makes it durable.
Pros
Offers various workout options
Non-slip & abrasion-resistant rubber caps
Simple to assemble and ideal for home use
Suitable for any trainer level
Cons
Maximum weight capacity only up to 480 lbs
Average-quality product
Having a total height of just 71.5 inches (not even a full 6-ft height), this short TITAN FITNESS power rack is the optimal choice for individuals having small-height rooms and basements.
It also occupies a smaller footprint measuring just 48 inchesx58 inches of the floor. The power rack comes with a pull-up bar that's placed 68.5 inches above ground level.
So, this pull-up bar's presence makes it necessary for users to make sure that the ground-to-ceiling height is at least 83.5 inches to accommodate different exercises done using this pull-up bar.
Else, be sure of hitting your head on your low-ceiling height. It must be mentioned here that this equipment is lightweight, close to 123 lbs. However, it is strong and durable enough to support up to 700 lbs of user weight.
The frame is made from heavy-duty steel that promises durability and longevity.
Though short in height, unlike most power racks that boast of greater heights, this product guarantees versatility.
Be sure to perform numerous exercises, including chin-ups, curls, deadlifts, dips, and squats, comfortably using this short power rack.
If you aim to do bench presses, don't worry. All that is to be done is to place a bench underneath and perform the exercise to become slim and trim.
Pros
The product comes with J-hooks, which means you need to spend the minimum time possible assembling it.
Low power rack height
100% of the steel body guarantees lifetime durability
Cons
Many missing parts
Bad customer service
Wouldn't it be nice to choose a low-profile power rack that fits your short ceiling height and your budget too? The REP FITNESS short power rack could be the best choice to buy for your garage gym or put in your spare bedroom.
The entire unit is only 6 ft (72 inches) in height, 48 inches wide, and 48 inches deep, providing plenty of working space for doing your exercises.
The equipment has a weight capacity of up to 700 lbs, while the pull-up bar and dip bar have a maximum weight capacity of up to 400 lbs each.
This makes it clear that apart from the 72 inches height, users need another 12 inches of clearance space up to the ceiling to perform pull-ups using the pull-up bar; otherwise, you can be sure of ending up with a concussion in your head.
The back of the power rack is provided with weight storage pegs that increase the unit's overall stability and utility.
The unit is sturdy and durable as it comes with black powder coating and J-cups with a plastic covering that gives a perfect look to this budget power rack and protects bar knurling.
The laser-cup holes present at a 2-inch spacing throughout the rack's length are numbered at every 5th hole, and the unit comes with an extra bar holder in the front for safety.
Pros
The power rack comes with two pull up bars: 1.25 inch and 2-inch grips
6 ft high, making it suitable for low-ceiling rooms
Durable and stable with a high-quality finish
Weight storage pegs improve the utility and safety of the rack
Comes mostly assembled
Cons
It does not come with a dip attachment or bench
Not compatible with REP lat/row attachment due to its short height
This 9-gauge power rack with a rock-solid steel body and welded side bracings makes it one of the strongest equipment one could purchase for your low-ceiling homes.
Are you a beginner trainer, an athlete, or a weight lifter? Don't worry as this product is compatible with all levels of trainers.
Engage yourself in performing various exercises and workouts with the help of the Titan Rack Mounted H-PND, which doesn't disappoint you in terms of muscle building and toning.
Exercise using the power rack to find that the glutes, hamstrings, legs, calves, and back are well-toned.
This could be the ideal product for trying out various options, right from weight lifting and strength training to CrossFit training and core strengthening.
The frame and construction have been well done as the equipment is built with a heavy-duty and premium-quality steel frame that assures durability and sturdiness.
Exercise productivity improves greatly with varying resistance levels, and the Titan short power rack doesn't disappoint us in this aspect.
The H-PND comes with a cross brace that helps trainers benefit from varying difficulty levels with different resistance bands.
Though the entire rack measures only 78 inches, you need another 12 inches for doing pull-ups comfortably.
Hence, ensure that you have a total vertical height of 90 inches before you proceed to buy this power rack.
Pros
Extremely simple to assemble
Two different pull-up bars provided—1.25 inch and 2 inch
Sturdy and durable
How Tall Is the Ceiling in an Average American Home?
Most American homes/garages have a ceiling height of 8 feet, and we are talking about traditional homes here.
Newly constructed homes have taken care of the ceiling height aspect, ensuring that they have higher ceilings.
But when it comes to basements, new or old don't matter as most of them have lower ceilings that are only 7 feet high, which means that your power rack should measure not more than 6 feet in height if you are going to set your home gym in your basement.
How Much Clearance to the Ceilings Do I Need to Do a Pull-up?
The extra height needed for performing pull-ups depends on both your height and the ceiling height.
Ensure leaving some extra headspace, at least 18 inches above the power rack, if you plan to fully utilize the pull-up bar, not compromising the range of motion.
It will also help if your power rack holds the pull-up bar a little below the maximum height of the equipment, just like in the TITAN T-2 short power rack.
Is It Possible to Cut Down a Power Rack?
You may be shifting to a low-ceiling house that cannot accommodate your older power rack.
If so, you might even think about cutting it to match your ceiling height.
It is, in fact, possible to cut your rack to suit your height requirements. After cutting, though, you might be required to drill a few extra holes.
Final Thoughts
In a time when home gyms are becoming popular, especially when most people set up home gyms in their garages or basements, choosing a low-ceiling power rack (a must for most home gym users) becomes a mandatory requirement.
Power racks are mostly tall, and choosing a short rack needs much probing. The Rogue SML-1 power rack is a killer choice for people with low ceilings.
It's affordable, the specifications are unmatchable, and the pull-up bar is even placed below the power rack height giving the user extra clearance space while doing pull-ups.
Whatever might be your final choice to ensure that the power rack you choose fits your maximum height, is durable and sturdy, and above all, fits your bill.
Read Also: