When you buy through links on this site, I may earn an affiliate commission at no extra cost to you. Learn more
The recumbent bike is one of the favorites of fitness lovers and one of the unique bikes on the market due to its curious appearance.
Despite this, many people are looking to buy the best recumbent exercise bike for an apartment, but because so many recumbent bikes are released per month, users don't know which one to choose.
Many of them offer a more productive or innovative feature to try to stand out from the rest.
So, before choosing any apartment-sized recumbent bike at random and start training, you should know a little more about this type of exercise and then decide what features you are looking for.
In this way, you will reduce the chances of knee pain or injury and lower back injury.
In a hurry? Here are my top 7 picks of the best recumbent bikes for apartments:
See the overview, pros & cons below.
Why Get a Recumbent Exercise Bike for Apartment?
#1. Comforts
A recumbent bike is the most comfortable type of bike out there. You can relax in a lying position while your legs do all the work.
Forget about pain or numbness in strange places and get a fast and effective cardiovascular workout.
While effective in its way, a standard upright bike is not designed to make the most of the human anatomy.
This is especially a problem for people who have limited mobility and those who suffer from back or wrist pain.
#2. Recumbent Bikes Offer Focus
While cycling is arguably the most advanced form of cardio, recumbent bikes can take it to the next level. One way they can help to do this is by focusing on the actual cycling movements, i.e., the turning of the legs.
They do this without negatively affecting the rest of the body. Thus, the back is well supported, the neck is in a relaxed position, and the spine is neutral.
This allows even the unfit or injured to maintain and obtain good physical shape and makes great cardiovascular benefits more accessible.
#3. Recumbent Bikes Are Good for Rehab
Although gym instructors and other fitness experts recommend most fitness equipment, recumbent bikes are often recommended by doctors.
This is good news for people dealing with an injury, are at risk of injury, or are currently unable to perform conventional exercise. To the same extent, it can also be a great option for athletes recovering from injury.
How to Choose the Best Recumbent Exercise Bike for Apartment?
Choosing the best recumbent bike is quite different from buying a bike for home use. You have to take care of many different factors while buying a bike for an apartment.
#1. Noise Levels
When you live in an apartment, you are typically sharing a space with other fellow apartment owners. If you exercise with a bike that creates high noise due to its heavy flywheel, then you have to take care of others' peace of mind while exercising.
Recumbent bikes generate vibration while used on a hard surface, tile, or wooden floor. The vibration noise can irritate the neighbors.
So, always buy a recumbent bike that creates less or no noise during a workout. You can also use a treadmill mat that blocks the sound and vibration created by the bike.
#2. Comfortable Seat and Handlebars
Comfort is an essential factor while choosing a bike that you regularly use for work out.
Always check the comfort fasciitis before buying a recumbent bike for the apartment—the more comfortable the bike, the more time you can exercise.
No one can sit on an uncomfortable seat for a longer time, so you have to choose one wider seat that comforts you during the whole exercise.
Similarly, adjustable handlebars provide a smoother experience in using the exercise bike. So, always take care of these things while buying your exercise bike.
#3. Resistance
Adjustable bikes are easy to use as you can adjust the whole bike and exercise level as per your requirement. So, it is necessary to buy a high resistance recumbent bike.
#4. Add on Features
As you will be working from your residence, you may not get add-on features like gym classes – music and video.
So buying a recumbent bike that comes with an MP3 port to plug your music system and USB port to charge your mobile can be a plus.
A water bottle holder, an adjustable fan can give you more comfort while exercising. So always check for some extra add on features in the exercise bike to make your exercise smoother.
#5. Warranty Period
The warranty period helps in repairing the parts, motor and makes labor charges free. You have to cross-check whether the bike has a more extended warranty period so that all these can be covered.
#6. Adjustable Pedal and Backrest
Adjustable pedals help in a smooth and more comfortable workout, and you can pedal faster or slower as per your choice. The backrest supports your back and lowers back so that you won't feel uncomfortable.
Always choose a bike with a wider pedal and backrest to enjoy seamless exercise.
#7. Safety
Safety is the primary concern when you buy an exercise bike for your apartment. It would be best to choose a bike with no harmful parts that can hurt you or anyone else.
#8. Display
Staying updated about your workout progress is as necessary as your exercise. It would help if you got a bike with a display option to show your time, speed, distance covered, resistance level, pulse, and heartbeat rate to get a proper idea about your training.
#9. Price and Quality
Always get a quality recumbent bike as it is a kind of a lifetime investment for your health. Usually, cost and quality are integrated, and you have to spend a bit more bucks to get a quality bike for your apartment.
Top 7 Best Quiet & Compact Recumbent Exercise Bikes for Apartments
Here are our brief recommendations for the best recumbent bikes for beginners and experts.
These results have emerged after performing training on these recumbent bikes, evaluating the functionality, technical characteristics, the comfort offered, and the price of the different models that we have found on the market.
We've considered both apartments' use and a gym option, so we're hoping that one of these recumbent exercise bikes will be yours.
Marcy ME-709 is the most budget-friendly recumbent bike that comes with 8-level magnetic resistance recumbent bike to improve cardiovascular performance and fitness, adjustable size, and stylish design. You can also use it at any time of the day without interrupting your neighbors with noise because the flywheel uses magnetic resistance.
Like most recumbent bikes, the Marcy is not foldable, but you can move it thanks to its wheels.
Its measurements are 48 inches long, 24.5 inches wide, and 38 inches tall, which means that its innovative design is smaller than conventional ones to accommodate them in tight spaces.
With it, you will not have problems because it is very comfortable. Its back and seat are padded for better performance when exercising.
Its handlebars are adjustable, it is a very resistant bike (made of steel), and it has a weight capacity of 300 pounds.
Its pedals have straps that keep your feet in the correct position. And it features an easy-to-read LCD screen showing distance, speed, time, and calories burned.
Pros
Magnetic resistance with eight levels
Weight capacity of up to 300 lbs
Quiet, smooth, and easy to move
Cons
Small LCD screen and does not measure your heart rate
With the R3i recumbent bike, you can exercise comfortably as it is built with armrests on both sides of the seat. In turn, these are also designed with heart rate sensors for better control.
Also, its flexible seat and back are made of moldable and anti-breathable foam for better comfort.
On the other hand, this reclining bike model presents 21 exercise programs that will allow you to perform a wide variety of exercises.
It includes two types of heart rate training programs; Heart rate interval and constant heart rate. But you also have the option to configure your custom program.
It should be noted that the R3i is a quiet recumbent bike. It features 16 levels of magnetic resistance and offers safety with strap pedals.
This high-capacity exercise bike also comes with a well-designed console that allows you to control your workouts better since it offers a lot of functions.
Pros
Includes transport wheels and audio
21 programmed workouts
Supports up to 400 lbs
Heart rate control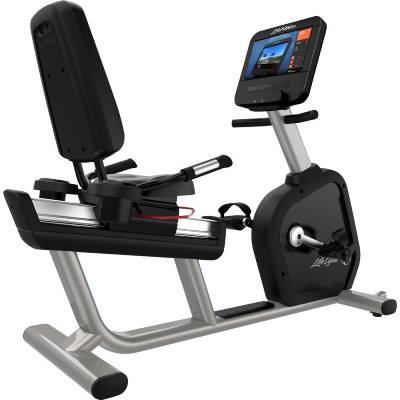 Here you have another option if you need to know another model to perform high-intensity training. That is why many gyms also choose it.
It has a maximum weight capacity of 400 pounds, so it is a bike designed for use by anyone who wants to lose weight or have a more active life and, at the same time, take care of their joints.
Your training will be silent because it is built with 20 levels of ECB magnetic resistance, great for not disturbing the neighbors. In case there are different heights in the family, the seat fits the user perfectly.
Also, this model has 25 training programs with a console that helps you see your progress.
This model also includes Lifepulse ™ heart rate sensors on the handles and connects your tablet to watch videos because it includes the USB connectivity option.
It is a pleasure to train with the Life Fitness Platinum Club Series because it is a very safe and comfortable bike.
The pedaling is smooth, and you can adjust them to your feet with the straps, and the seat is wide and padded so that the training is even better.
Pros
400 pounds of weight capacity
Stable and high-quality frame
25 training programs
20 resistance levels
Cons
It does not include the wireless heart strap.
This bike model is robust and safe as it has 5 support points, which help to reduce vibrations and, at the same time, provide great support to your back.
Although it is not foldable, it does have wheels to make it more comfortable to move. This back support recumbent bike gives you the option to choose one of its 25 resistance levels.
As you carry out your exercises, you can also see your results on its LCD screen, and if you want, you can connect it by Bluetooth for more options such as connecting it with your smartphone and listening to music through the speakers the bike includes.
Its seat is adjustable and padded, its pedals have adjustable straps, and you will find handles both on each side of the seat and in front of you.
Pros
Console with 29 programmed workouts
25 resistance levels
Bluetooth and USB connectivity
Maximum user weight: 300 lbs
Three-speed cooling fan.
Cons
The control panel is not height adjustable
Our next model is the Exerpeutic 900XL, a great option for those who live in apartments and need intense but comfortable physical activity.
This model can be used by people weighing up to 300 pounds, so its construction is of high quality for those looking for better stability.
Although this model of bike is not foldable, it has wheels to make it easier to move.
Its petals are built-in with adjustable straps, and its seat is very comfortable since it is padded and wide enough for a better position.
On the other hand, the seat can be adjusted depending on the height of the user.
This model is silent as it is built with a flywheel with a magnetic tension system. Also, it has eight levels of magnetic resistance.
This model stands out in performance, durability, features, and price. Its frame is made of steel, and although other parts include plastic, it is a perfect plastic.
It should also be noted that the handles next to the seat include a cardiac resistance control, and you will have more stability knowing that in front of you, you also have two handles, right next to the LCD screen, and you can connect it to Bluetooth.
Pros
Sturdy and portable
Provides a weight capacity of up to 300 pounds.
Quiet
Cons
Can be hard to adjust the seat
This recumbent bike model is very economical; it is available in case your budget is tight, although not for that, it is of poor quality. You can perform exercises without worrying because its base is solid and stable.
Its design is simple; it is quite small (35.4 x 25.4 x 57″) compared with other recumbent bikes, and it is not heavy (57 pounds), so its movement is easy thanks to its front wheels.
The user weight capacity is 220 lbs, which influences the final purchase price since it does not bring advanced features either, but still, it is a good option to exercise.
As for its resistance, this model includes eight levels, which you can adjust manually with its tension knob, depending on your need.
Although this model may be a bit classic for advanced athletes, it is an excellent option for those just starting. Still, it is also perfect for those who must rehabilitate their knees.
On the other hand, another feature that Sunny Health & Fitness has is that it is silent. This is due to its magnetic resistance, so it is ideal if you live in an apartment.
While you train, you can listen to music or watch TV without any noise disturbing you.
This model also includes an LCD screen that includes all the general measurements for your training, although the heart rate can be obtained if you grab the handles located on the sides of your seat.
As you can see, even though it's not an advanced model, it has many of the same features that a top-of-the-line recumbent bike can have.
Its seat allows the body's weight to be better distributed, avoiding putting pressure on those sensitive areas.
Pros
Includes wheels for transportation
Quiet operation
It does not require much maintenance.
The belt drive does not need lubrication
Cons
No so compact and lightweight
Might take 1 to 2 hours to assemble it
Are you looking for a recumbent bike for high-intensity workouts? Then the 3G Cardio Elite is for you. This model offers 12 programs, of which four are for cardio exercises.
It also offers the option of creating four different user profiles in case different people use the bike.
This model will give you stability as it is robust and has a user weight capacity of 350 pounds. Without a doubt, the 3G Cardio Elite RB will give you a low-impact workout so you don't hurt your joints.
Also, don't worry because thanks to its ECB magnetic resistance, your training will be silent. Your workouts will also be very comfortable, thanks to its adjustable seat for those of different heights and with the ability to tilt it back.
Monitor your heart rate thanks to its sensors included in the handles on both sides of the seat.
It also includes a wireless heart strap if you want to use it, which gives you another positive point on why you choose this model.
On the other hand, you can control your exercises on its LCD screen (time, distance, etc.), and then when you no longer use it, you can move it from place thanks to its included wheels.
Pros
16 levels of resistance
12 training programs
ECB magnetic rasistance
350 pounds of user weight
Cons
No Bluetooth connectivity
Final Words
We do not believe in including anything other than the highest quality products in our listings and with excellent prices.
All of the recumbent exercise bikes listed above can accept a user weight of 300 pounds or more, and each is the best in its class.
Also, we consider the user's feedback to create this genuine user guide and help you save time in your purchase.
Choose any of them with confidence and put them to good use in your apartment, and you will not regret it.
Read Also: