When you buy through links on this site, I may earn an affiliate commission at no extra cost to you. Learn more
If you are reading this post, you might be suffering from back problems. A study from UNC Health and UNC  School of Medicine shows that more than 80 percent of Americans will experience an episode of low back pain at some time in their lives.
But fortunately, performing proper exercises can strengthen the muscles that support your spine, thus helping relieve back pain.
With a low-impact aerobic exercise machine, you can increase circulation and relieves stress, which can cause tight back muscles, resulting in back pain (source).
A recumbent bike falls in the catalog of low-impact cardio machines. Thus buying a recumbent exercise bike for your home gym use might be one of the wisest decisions made by you.
It is comfortable to use, offers a versatile low-impact cardio workout, and above all, easy on your knees and your back.
A recumbent bike is easier to use for people with back pain as it comes with back support and is suitable for beginners and who don't want to strain their joints.
In a hurry? Here are my top 8 picks of the best recumbent bikes for back problems:
See the overview, pros & cons below.
Is Recumbent Bike Good for Lower Back Pain?
One look at a recumbent bike, and you would understand the foremost reason why the model is most suitable for those of your back-pain related problems—the presence of a backrest.
Recumbent bikes might offer better comfort for people with lower back pain problems or degenerative disc diseases primarily because of a backrest that provides better support than the other exercise variant, the upright bike.
Stationary bikes are an ideal choice to reap a great aerobic workout and strengthen your lower body with zero/negligible impact.
Which Type of Bike is Better for Back Problem? Recumbent or Upright Bike?
If you are prone to regular back problems but would love to engage in a cardio activity to keep yourself fit and healthy, the recumbent bike model is a better choice at any time of the day compared to upright bikes.
An upright bike is more suitable for intense cardio workouts and mimics the experience of cycling on the road.
Designed similar to standard road bikes, you must sit straight and have a grip over the handlebars. Thus, if you want to challenge yourself during workout sessions, an upright bike must be your choice.
Recumbent bikes are designed with utmost care to help you sit closer to the ground in a seat that offers enhanced comfort than the upright bike.
Besides this, you also get to enjoy a reclined seating system with back support that provides the best cycling experience for people with lower back problems.
You can also exercise for a prolonged duration on a recumbent bike as they are more comfortable and don't cause any strain on your joints/knee.
Hence, it is observed without any doubt that a recumbent bike is the best option for people with back problems.
How to Choose the Best Recumbent Bike?
Choosing a recumbent bike might be quite tricky as they are complicated cardio equipment. You need to have optimal knowledge of the important features to make the right decision on buying a bike that's suitable for your home gym use.
Be sure to look into features such as frame, design, construction, resistance, and console before deciding upon your preferred model.
#1. Design
All recumbent bikes look the same to the naive eyes, but there are a couple of key differences that would help you make the right choice.
The most important difference lies in the seat design. A majority of the bikes comprise seats mounted on a track. This helps you adjust the distance from the pedals, which helps you experience a comfortable workout.
Another major feature to consider is a bike's flywheel design. Heavier the flywheel, the greater the resistance provided by the bike.
The flywheel design is essential to consider if you are an experienced trainer as you get to experience challenging workouts and benefit more from your cardio session.
Generally, recumbent bikes try to avoid a larger flywheel (above 20 lbs) and incorporate a smaller unit that occupies less space. This way, the workout might not be challenging but is perfect for beginners and those in rehab.
Finally, the pedal setup is also important while deciding your model. Every bike varies in terms of height and width between the pedals. The width might be the same across different models, but there could be a definite difference in pedal height.
In some models, the pedals are placed such that your legs are at an equivalent height to the seat or higher.
Some other models have pedals lower than the seat on the chassis. This way, the rider is almost in a natural sitting position.
You should check the various designs and then make a choice.
#2. Frame & Construction
If you take good care to choose the right exercise bike, I guarantee that it would last for years without any problems because of the solid frame and construction.
In general, recumbent bikes are one of the sturdiest models, which means that you can accommodate heavy users without any restrictions or concerns.
Simultaneously, a recumbent bike weighs more, and its seat is further away compared to other models and occupies ample space compared to upright or spin bikes.
Such stability comes at the cost of portability, though, as most recumbent bikes aren't foldable.
Portability should not be a problem if you plan to place the bike at one fixed place, but if you want to move the equipment around, you should get a model with transportation wheels.
#3. Resistance
Bikes might look similar but what makes them different from each other is their resistance levels. Some models come with 20+ resistance levels, which provides you with optimal challenges, while some come with lighter resistance levels.
It is better to choose resistance levels depending on your training level. If you are a beginner trainer, it is better to choose bikes that offer a lighter resistance.
If you are an advanced trainer, choosing a model with plenty of resistance levels provides you with optimal chances to improve.
Another advantage of bikes with higher resistance levels includes a smooth transition between two levels.
The type of resistance also is important for better performance. The magnetic resistance system common in mid-and high-end bikes promises smooth, lost-lasting, and quiet performance.
Bikes with fan wheels are more difficult to work out with and also generate more noise.
#4. Console
Generally, recumbent bikes don't have a flashy console, but you start to realize that you needn't have a hi-tech console for accomplishing a good workout.
Most recumbent bikes come with a basic LCD screen comprising a large panel that displays your workout stats. There could be smaller sections to track other stats in certain models.
The screen might come with/without a backlit LCD option. You could also get a set of buttons that help you adjust resistance levels and likewise.
#5. Other Features
Though secondary features don't occupy an important place in our requirements, a couple of features could affect the machine's overall performance.
For instance, seat padding helps enhance the seat's comfort levels helping you perform for longer. Depending on your budget, you can choose between plain molded seats or molded seats that flex and bend while exercising, enhancing comfort levels.
Handlebar placement is not crucial for recumbent bikes, but it is better to notice the handlebar's placement and ensure it is optimally placed.
The style of the bike you choose is completely up to you. But I suggest you go for models with built-in heart rate monitors if your budget permits as you get an idea about your performance.
This is mainly because the bars measure your pulse through grips provided and provide you with information displayed on your console.
Top 8 Best Recumbent Bike for Back Pain
Based on the integral features above, I've made a concise list of the top 8 recumbent bikes for home gym use.
Your search for an affordable recumbent bike ends here as the Sunny Health & Fitness SF-RB4880 bike comes fully loaded with optimal features for a budget model.
We usually get home gym equipment to work out during any time of the day. Still, our exercise mustn't annoy others in our home or our neighbors too.
This equipment assures a smooth, noiseless, and top-class performance with a maximum weight capacity of up to 300 lbs solving your noise-related problems.
The frame and construction are good as you get an adjustable seat and adjustable non-slip pedals, helping each of you feel comfortable using the bike, whatever might be your fitness level or body size.
The pedals come with foot straps to help you focus on your workout without worrying about stability. Enjoy performing your workout using the 24 different computer-controlled magnetic resistance levels provided.
View your performance statistics using the color monitor that provides you with your exercise data, including heart rate seats (monitored via pulse grips).
Pros
Patented easy seat adjustment
Non-slip pedals with adjustable straps
Workout data display through the color monitor
Includes built-in speakers and a media-charging station
Transportation wheels and handlebars for easy movements
Cons
Assembly is quite tricky and time-consuming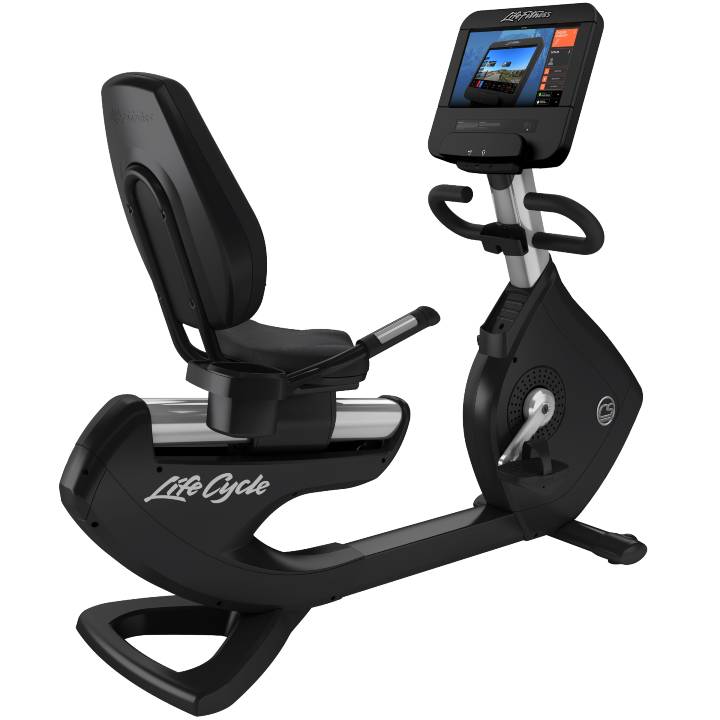 This heavy-duty recumbent bike is similar to any commercial-grade gym bike. The Life Fitness Brand, pioneers in producing superb gym equipment, has taken utmost care in including a balanced flywheel that assures a smooth, quiet, and vibration-free workout.
There are 20 different resistance levels to choose from, and the bike comes fitted with ECB magnetic resistance that's best in terms of quiet performance. There are also 25 workout programs available to choose from.
Design-wise, the seats are ergonomically made with the option to not only move forward and backward but also tilt, offering maximum comfort.
Monitor your performance using the console that displays all essential metrics, including heart rate.
The highlight of the Life Fitness Platinum Recumbent Bike is its ability to withstand up to 400 pounds of user weight.
Pros
Lifetime warranty on frame
400 pounds user weight capacity
25 user programs
ECB magnetic resistance is the best type of resistance
Pedals with toe straps
Tablet holder with USB charging facility
Cons
Chest strap heart rate monitor not included
Not affordable by all
If you are serious about exercising regularly and achieving your fitness targets, the Nautilus R614 could be the best recumbent bike for home gym use as it comes with goal-tracking functionalities.
The 20 levels of magnetic resistance help you set challenging targets and feel good achieving them.
Set your goals and monitor your progress using the Dualtrack LCD offering you 22 workout programs—9 profile, 8 heart rate control, 2 custom, 2 fitness tests, and 1 quick start program.
So, you needn't break your head trying to formulate your workout plans but get going by selecting any of these options.
The LCDs' different performance statistics for monitoring your progress keenly and bringing about any changes needed to your exercise routine.
The high speed, high inertia drive system with perimeter weighted flywheel assures you of a smooth and quiet experience while using the bike.
Nautilus has made a smart move by providing vented seats for a comfortable ride. There are also sliding seat rail systems provided for easy adjustment and solid locking, keeping you safe.
Pros
20 different magnetic resistance levels
22 different preset workout programs save you from making your own workout plans
Flywheel ensures smooth performance and guarantees an enjoyable ride
DualTrack LCD display
Includes a media track for enjoying music/videos, a USB charging port, and an adjustable fan
Cons
Negligible seat padding
The LCD screen is not backlit

If you are one of those looking for a recumbent bike that's available at a low-cost price still functions optimally, I suggest that you look into the Schwinn 270 model.
Though all of us love to stay fit and healthy, many of us suffer from knee/joint problems and lower back problems. The Schwinn 270 bike could be a great choice if you are prone to these issues as it guarantees a low-impact performance.
The bike also features 25 levels of magnetic resistance that also keeps advanced trainers engaged and in love with the machine.
The wide range of levels is also good for those recovering from an injury as you can keep increasing resistance levels as you recover slowly.
Schwinn, having been manufacturing exercise equipment for a long time, knows the pulse of the customer. Hence, the bike has been designed smartly with 29 different workout programs.
The programs are attractive to all trainers as each of you can choose the desired program (easy/intense) based on your training experience.
The secondary features offered are admirable given the affordable pricing of the bike.
You get to enjoy tracking performance using two blue backlit LCD screens, a three-speed fan, a water bottle holder, padded seat bottom for a comfortable workout, sealed speakers, 4 user set-up, and an aluminum slider seat rail system for easy seat adjustment.
Track your calories, time, and distance with the goal tracking option provided. The Bluetooth data transfer functionality and compatibility to MyFitness App are a great value-addition for enjoyable training sessions.
Pros
10 years warranty on frame
Single piece frame assuring solid construction and durability
Excellent secondary features enhance the overall exercise experience
29 built-in workout programs
Affordable pricing
Cons
Seat comfort is not great
Pedaling action generates noise
Sole Fitness, one of the best exercise equipment manufacturing brands in the market, has built a recumbent bike to help all of you, including those with lower back pain, benefit from a well-done exercise session.
This is mainly because of the 12 different seat adjustment options provided and the pedals' ergonomic design to prevent sore knees and feet.
You could be of any size or experience level still, and you can enjoy working out on the R92 bike due to the specifications and design implementation of the model.
The 20 different magnetic resistance levels keep you challenged enough, and there are 10 different workout programs to choose from.
The 20lb flywheel is a highlight of the R92 model as it guarantees a comfortable riding experience for beginners and experienced users.
Track your progress and improve performance by monitoring the statistics displayed on the 9-inch backlit LCD screen.
Pros
Transportation wheels help to move the bike easily
The maximum user weight is 300lbs
Additional features such as a cooling fan, water bottle holder, built-in speakers, Bluetooth connectivity, and an onboard USB port
Ergonomic design suitable for those with knee/joint and back problems
Sturdy frame and construction
Cons
Comparatively expensive than other recumbent bikes in the same range
Novice trainers looking for a simple-to-use exercise bike with light resistance levels and a smooth ride would love the Xterra SB2.5r as it specifically targets new users' needs.
The 24 levels of resistance make it easy for any trainer, especially beginner users, as you can start from a light resistance and conquer challenging levels by making steady progress.
Another great advantage for beginner trainers is that the bike offers zero tension helping them build strength, while the same might not be desirable for advanced trainers.
The 22lbs heavy-duty flywheel offers fluid motion, and the 24 pre-set workout programs help you achieve versatility in your workout.
The molded seat bottom and large back pad promise you a comfortable sitting experience while exercising.
Monitor your progress using the large dual-color LCD display that's easy to read and comes equipped with the functionality to track your heart rate.
Pros
Premium-grade steel frame guarantees durability and stability
Value for price
Heavy-duty flywheel for the affordable price paid
The audio jack and MP3 player comes built-in with the console
24 levels of resistance make it suitable for beginner trainers
Cons
The console is small and a bit outdated
Lower resistance levels offer negligible tension making it unsuitable for advanced trainers
Recumbent bikes generally promise a wholesome lower-body workout. Still, the Stamina Elite Total Body bike is designed to offer a full-body performance with its unique pair of hand pedals.
The two cranks placed on either side of the console are your ticket to accomplish upper body workouts and achieve dual benefits (upper and lower body exercise) from your exercise routine.
The bike comes with 8 levels of resistance that are easy to change using the easy-to-reach tension dial. This suits beginner trainers' and intermediate users' needs but could not be sufficient for advanced trainers as it doesn't offer enough resistance.
The frame and construction are appreciable as the company has taken care to manufacture the bike with a sturdy steel frame promising durability and stability.
The seat of this recumbent bike is ergonomically designed with padding and an angled backrest that offers the utmost comfort for tall and big riders when you sit and exercise.
Pros
Comes with upper hand pedals and lower foot pedals for a full-body workout
Durable frame and sturdy construction
8 levels of resistance benefit the needs of beginner and intermediate users
The streamlined design is best-suited for novice trainers
LCD screen helps in tracking your performance and speed metrics
Cons
Lighter resistance levels are disadvantageous to advanced trainers
Lack of secondary features might not interest many buyers
For those who desire top-class functioning of the recumbent bike over anything else, including features, the Marcy ME-709 bike is the best in town.
The step-through frame also guarantees a smaller overall equipment size comparatively. So, in case you suffer from space crunch and looking for a portable recumbent bike, do have a look at the Marcy ME-709 model. The step-through design also enables easy mounting and dismounting, making it suitable for those with back/knee problems.
The frame made from 14-gauge powder-coated steel assures sturdiness and stability despite the small footprint.
You get to enjoy 8 magnetic resistance levels, which can be easily adjusted using an adjustable dial beneath the central console.
The seat comes with comfortable padding and a contoured design providing great support for the back.
Pros
The pedals come with foot straps for additional stability
Superb steel frame assuring stability
Simple LCD display
Step-through design suitable for people with lower back problems
Cons
Seat distance adjustment is difficult
Makes noise
Final Words
A recumbent bike is a great choice for a low-impact workout, especially when you are looking for equipment that offers back support.
Make a wise choice by looking at all the integral features essential for a good exercise experience and buying the right bike that provides value for money and helps you reap health benefits.
FAQs
Will a Recumbent Bike Tone Legs?
Yes, you can tone your legs exercising on a recumbent bike. But you need to incorporate changes to your workout to accommodate your toning, comfort, and fitness needs.
Are Recumbent Bikes Easier to Ride?
Yes, recumbent bikes are easier to ride, although you might not find them simple during your initial few minutes after starting to exercise.
Perhaps, you could even be angry at me for stating that recumbent bikes are easy! Though they are different to steer, ride, start, stop, and climb hills, recumbent bikes are fun to ride.
What Are the Benefits of Riding a Recumbent Bike?
A recumbent bike offers multiple benefits, including a low-impact workout experience, optimal balance, and good exercise to your thighs, calves, and glute muscles.
Recumbent bikes come with back support and are known for causing minimal impact on the joints, being ideal for those with arthritis.
Above all, recumbent bikes are comfortable with wider and lower seats compared to upright bikes.
Read Also: