When you buy through links on this site, I may earn an affiliate commission at no extra cost to you. Learn more
A power rack is a piece of versatile equipment that can be used to do back squats, bench press, military press, and more. And with a lat pulldown attachment, a power rack's versatility can be enhanced to a higher level.
This feature gives you the benefit of doing pull-ups without actually performing them, and you can be sure that the exercises are done to involve more muscles than you could imagine. But picking the right equipment is necessary to enjoy 100% benefits.
In a hurry? Navigate directly to the list of best power racks with lat pulldown attachments:
Things to Consider Before Buying a Power Rack with Lat Pulldown Attachment
Are you thinking of setting up a home gym that would be as versatile as a commercial gym space? If so, it would be ideal to buy a power rack to minimize the risk of injury and help you work out safely without an instructor to monitor your movements.
A power rack is a piece of equipment consisting of four upright beams measuring 5-7 feet in height, and these are supported by horizontal beams that keep the equipment stable.
Some of them are even taller to accommodate pull-up bars. Certain specifications and accessories can enhance or ruin your entire workout experience.
Consider the following things before buying a power rack.
#1. Weight Capacity
It's good that most power racks (including inexpensive ones) offer an ultimate weight capacity as high as 1000 lbs.
This makes it suitable for most individuals without having to worry too much about max weight load.
The main concern here is the max weight capacity of the attachments such as pull-up bar, dips, and safety bars as each of them have different weight capacities.
#2. Height Positions
Higher numbers here indicate better versatility of the equipment. The height position holes help in setting the J-hook heights, safety bars, and various attachments.
Safety, too, increases/decreases depending on the number of height positions offered.
The lower number of positions makes it difficult to set the bar for easy unpacking. The space between height positions should also not be greater than 2 inches for safely setting the rack.
#3. Space
Power racks generally take up much space, and those with lat pulldown attachment occupy a greater footprint.
This is primarily due to the attachment's backspace, which increases rack depth, thereby occupying more space.
#4. Stabilizer
Some racks come with stabilizers, and some don't. Again, the choice of buying a rack with/without a stabilizer depends on the user as some find it to be a hindrance rather than of help.
You can bolt the racks to the floor to avoid any wobbling, or the presence of a stabilizer does this job for you.
If you plan to buy a rack with stabilizers, ensure that they don't cause trouble while doing pull-ups or other similar exercises. It is best to choose a power rack that has a stabilizer that lays flat on the floor.
Read Also: Do Squat Racks Need to Be Bolted Down? [4 Reasons Why You Should]
#5. Attachments
Any power rack should provide a set of accessories when you purchase to reap maximum benefits. The most important ones include cable crossover, weight plate pegs, chin-up bars, dips station, and resistance bands.
The greater the number of attachments better is the exercising experience. Here is a list of the best lat pulldown attachment for power racks.
Above all, the power rack must be easy to use with various options for adjustments that make you comfortable while exercising.
Which Is the Best Power Rack with Lat Pulldown Attachment? My Top 6 Picks
Given below are the power racks with lat pulldown that you might want to go through before making a final decision on which you want to purchase.
This budget power rack has multiple features and functions and is so designed that it serves multiple purposes. This power rack has an H- shaped base for extra stability and safety. Also, it is made of heavy-duty steel, and it is squared in shape. It basically has two colors—black and yellow.
Along with the J-Hooks, two additional solid steel bars are provided for safety. This brand also provides additional J-Hooks.
This power rack also has dip bars along with a safety locker. The J-Hooks and the dip bars can be adjusted in height.
A pull-up bar is angled that is included, and it is not actually a bar. However, it is just two grips that pull-up as they aren't connected. They are only attached to the frame. They not only have a narrow grip for other extra exercises, but they are also angled.
There is an attachment available for lat pulldown, along with cable-cross and weight bench.
The weight of just the cage is 165 pounds, and the rack's dimensions are 81" x 44" x 47".
Almost all the users would agree that this is a relatively easy power rack to put together. If you are doing this on your own, you will take an hour on the maximum, and if you have help, it would only take you half an hour.
The HulkFit does not give you an instruction manual on putting together this power rack at the time of purchasing it.
Once assembled, either you can let it stand by itself, or you can attach it to the ground. Considering the weight of this power rack, it is usually unnecessary to anchor it to the ground as it stands pretty stable by itself, regardless of the floor type.
Welds with which the dip bars are made are of good quality, and the adjustability is so good that it will fit the user of just about any height. Though not so common amongst power racks, HulkFit does provide dip bars in this power rack. This could be considered a plus.
The grips or pull-up bars are extremely well-designed. You can use the same grips to do chin-ups, muscle-ups, or even pull-ups as these grips aren't attached to the frame, which lets you decide the grip you want to choose.
The only missing thing in this power rack is the storage pegs for weight plates. These are a standard for power racks, yet it doesn't come included with this power rack. You have to buy them separately. Storage pegs also have to be bought from another brand as they do not fit properly.
Pros
Sturdy construction with steel
Included dip bars
Reasonable price
Multiple function pull-up grips
Easy assembly
Cons
Quality control could be enhanced.
No storage pegs included
If you are looking to do any workout, including heavy workouts, this power rack is the right choice. It has a tubular frame along with chrome plating. This makes it extra durable and heavy-duty.
There is a lot of space for walking in this power rack so that you can do a lot of different kinds of side exercises without any problems. The size of this power rack is huge, and you need quite a space to store it.
It cannot be stored in a room with many other machines or a low ceiling room. It needs a lot of space because it cannot be stored anywhere close to the room walls.
Coming to the assembly of this power rack, it is fairly easy to assemble it. There is no particular instruction manual that comes along with this power rack.
However, there is no need, too. A socket and a wrench will do the task. You can finish assembling this power rack in an hour or so by keeping the final image of what the power rack looks like at hand.
The welding is so perfect that the holes line up exactly. The hooks and the bars make it ideal for all the lifters, be it a professional or a novice.
This power rack has ensured an abundance of safety features put in place because safety is one of the major things that one needs to keep in mind while investing in any gym equipment.
While working in the home gym, a person is bound to be alone, and if anything goes wrong, there won't be anyone to help. Therefore safety features play a paramount role.
This power rack has 2 safety pins, which ensure that everything stays in its designated place.
Shoulders, arms, and muscles can be worked out using the grip bars by doing pull-ups. This power rack is also reasonably priced while comparing with others.
Pros
Holds weight of 800 pounds
Sturdy construction
Affordable
Easy assembly
One year warranty
Plate storage that is built-in
Cons
Cage attachments must be bought separately
Small for people over 6 feet
Requires a large space
The transition between plate to plate is slow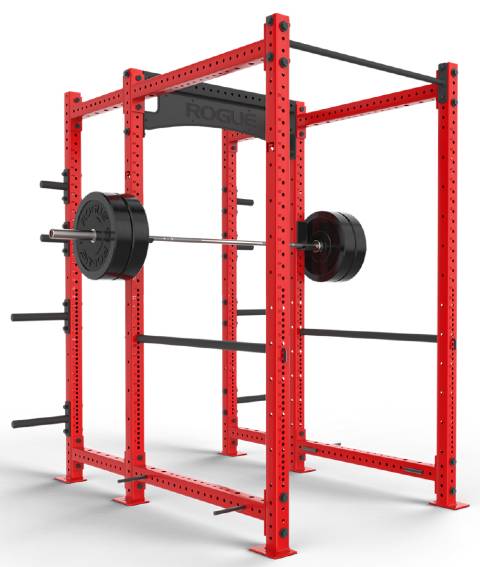 This budget Rogue power rack is so made that it has holes for upgrade attachments and J-cups. A semi-gloss powder coat protects the power rack so that there are no blemishes in the steel.
You can anchor this power rack to the ground by bolting it to the floor. This rack is made of 3" x 3" steel throughout, which makes it extremely durable. Optional cross members add years to the long working life and the durability of the power rack.
The Rogue nameplate, which is optional, can be customized to match this power rack, which is now available in 10 different colors.
This nameplate is extremely important because if you own a gym, your gym members will feel catered to a power rack from this brand as it is trendy.
You get pull-ups, connecting bars of steel, J-cups, uprights, cross braces, and mounting bolts with this power rack. If you need another add ons, they will cost you extra. I suggest that you get a pair of spotter's arms for safety first.
If you need someone to install this power rack, Rogue will send you an expert to do the job for you. Learning to use this power rack takes time, and you need to be patient with it.
It requires a learning curve, and once learned, this Rogue 690C power rack is a great one to use.
Pros
Steel tubing and 11" gauge thickness
Hole spacing on Westside
Scratch-resistant
Corrosion-resistant
Band and plate storage pegs included
Cons
Includes single skinny bar for pull up
For some residential ceilings, the height of uprights wouldn't work
Fitness Reality X-class is one of the best heavy-duty power racks that come with pull-up bars and lat pulldown attachments. The name itself suggests that the power rack is a commercial quality item suitable for commercial and residential use.
The tubular steel frame (2 inches by 3 inches) is most durable, with the potential to support any heavy workout.
There are two 11.5 inch and 35.5-inch safety bars, and this power rack has its dip station (support up to 600 lbs of weight) and comes with free J-hooks.
All these support as much as 1500 pounds of total weight on the cage. The equipment is compatible with 7 feet Olympic bars and bumper plates, making it an ideal choice for the choosiest powerlifters to do squats, bench press, and deadlifts with enormous weights.
The multi-grip pull-up bars enable doing chin-ups and muscle ups coming with two different adjustable positions.
The power rack also comes with an Olympic lat pulldown attachment and low row cable attachment that helps individuals strengthen their upper back, shoulders, and arms.
The equipment comes with an instruction manual for set up, and the lat pulldown attachment has the manual that makes it extremely simple to assemble.
Add variety and reap more benefits from your workout by using the lat pulldown attachment.
Pros
Sturdy and durable
The assembly process is simple and easy.
The lat pulldown attachment provides 360 pounds of real weight capacity and a smooth gliding experience
The rack needn't be bolted to the floor
Cons
Fitting the safety bars into the rack is quite a daunting task
Difficulty to put safety bars in the rack
If you are seriously into fitness, weightlifting is your passion. You prefer buying a power rack that's as versatile as a piece of commercial equipment, buying the Valor power rack would be an ideal choice.
The frame is made of a high-quality 12-inch steel gauge that makes the power rack strong, durable, and firm. The rack comes with four steel adjustable weight bars and two squat steel bars.
It also comes with a lat pulldown bar that consists of a plate loading cartridge, lap bar, curl bar, and a low row. This power rack also comes with a pull-up bar that can help you work out your back and core muscles.
The lat pulldown bars work great on your shoulder, back, and arm muscles. The cage comes with a pulley station, which helps in the easy performance of stand-up curls, squats, stand-up rows, and much more.
While the safety bars can withstand up to 800 lbs, the bar catcher outside can hold up to 500 lbs and the inside up to 650 lbs of weight. The cage offers 17 variable positions for the barbell-anywhere between 17.5 inches to 68 inches.
You can bet your money on this model if you want a versatile power rack with lat pulldown attachment at home.
Pros
It enables the user to perform various exercises
The heavy-duty steel frame makes the equipment strong, sturdy, and durable
Effortless assembly
The catch bars promote easy handling of heavyweight lateral pulldowns
Versatile equipment for strength training
Cons
It doesn't hold heavyweights as advertised
Pulley mechanism could do much better
The Marcy Diamond Elite power rack could be described as a combination of three machines—the Smith machine, an Olympic free-weight rack, and a cable crossover system.
This product could be called an all-in-one home gym as it comes with a dual-function leg developer, lower/upper pulley system, press bar with linear bearings, pec deck station, footplate for seated rowing, free weight squat rack, and a Marcy Olympic weight bench.
The pulleys function independently, which increases muscle activity while resistance levels could be changed with weight plates (these should be purchased separately as an additional accessory).
All the provisions and the attachments provided support in performing over 100 different exercises.
The machine offers a maximum weight capacity of 600 lbs, making it suitable for all users. It provides adequate safety and sturdiness irrespective of the weight that you lift.
The Marcy Diamond Elite provides numerous attachments, including triceps rope, ankle straps, lat bar, shiver bar, two single handles, and one chrome row handle.
Pros
The power rack is made with a commercial-grade bar, which makes it extremely durable and safe
It supports over 100 different exercises.
Squat positions are great
The smith-style bar is sturdy with linear bearings and safety stops that elevate overall safety
Cons
Assembly of the equipment is one of the biggest disadvantages as it takes ample time-even as high as 5-7 hours
Price is not too economical
The rack legs are not provided with rubber protections, which affects the safety of the flooring
Needs much space
Final Words
Power racks are one of the best equipment for strength training. It's great for barbell and bodyweight training, making it a versatile home gym product.
If you have planned to buy a power rack for your home gym, don't worry as this is not complicated at all.
Match your needs with the specs and budget before making the right choice.
Ensure that the product you choose ranks high in versatility, safety, space occupied, attachments provided, durability, and materials used.
Read Also: