Our body begins to burn fat after 20 minutes of intense physical activity, but for the training to be complete it must be done about 40 minutes.
With the exercise bike, we work many muscle fibers for a long time, as with any cardiovascular exercise and in the comfort of your home.
For this reason, in this review, we want to tell you everything about the JOROTO X1S Indoor Bike.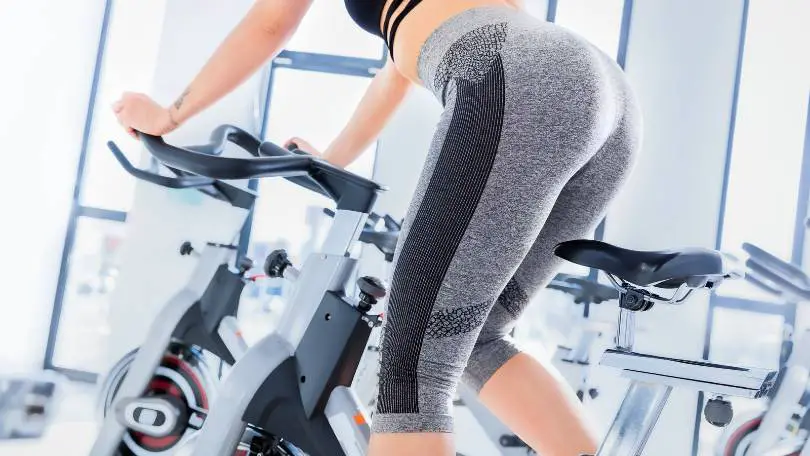 Overview
Social networks have become faithful promoters where more and more fitness influencers want to instill physical activity from home.
This is because many women and men do not have time to go to a gym and decide to occupy those free minutes they have to exercise directly at home.
Therefore, today there are many options to be fit according to our schedules.
That is why the JOROTO X1S stationary bicycle is an essential tool to have it at home and exercise comfortably.
This indoor bicycle is very popular for being a very resistant exercise bike since it is built-in steel and a corrosion-resistant coated and has a very remarkable aesthetic.
Its tubes are welded, which indicates that it is very safe and resistant if you want to perform high-frequency training.
We know that a sedentary life is not advisable for the health, that's why the doctors advise to carry out the physical activity for at least 30 minutes a day.
A stationary bike is generally a great option because the workout is low impact, which is great for the joints.
Therefore, the JOROTO X1S will give you many benefits and help you lose weight.
However, this indoor bike has also gained popularity because, compared to other stationary bikes, this one is lighter.
Also, it has something that many other bikes do not have, which is an adjustable stabilizer which means that you will be safe doing your exercises regardless of the type of floor you are on.
Even so, you have the possibility of moving and changing it thanks to its two front wheels, which facilitates this action.
To discover more details about Joroto X1S, we have prepared an informative review where we analyze in-depth its characteristics and benefits.
JOROTO X1S Monitor
There is nothing safer than when you train, you can have many controls in one place.
For this reason, this indoor bike, apart from being chosen for its great resistance, is chosen by many users for its fitness meter located on the front of the bike.
This monitor is much more sophisticated than ordinary stationary bike monitors.
This monitor stands out for presenting five different windows where you can view the time you have exercised, the distance, the speed used, the RPM and the number of calories you have burned.
You will be able to observe in large size, each one of the metrics separately, for a few seconds on the top of the screen.
You will be able to configure both the time and the distance and calories that you want to burn as a target, thus, you will see how time runs regressively for these values and in another part of the screen, you will see the remaining values.
Thus, you can improve yourself day by day.
This monitor works with batteries and you will start it up just by pressing the mode button, but it also turns on automatically when you start pedaling.
In case you want to take a break, the monitor will automatically pause when you stop pedaling and continue when you continue the activity.
Pedals
This bike has been designed for intensive spinning type workouts.
For this reason, it is manufactured with very resistant and good quality cranks so that it can support people who are overweight up to 280 pounds in case they want to continue pedaling vertically.
To follow a safe workout, it also features two pedals made of high-quality nylon and where they have an adjustable cage where you can place your feet.
This ensures that the feet stay in place on high intensity pedaling. It should be noted that these cages are suitable for standard size shoes.
In case you have difficulties putting your feet on the pedals or maybe because of their constant use they have been damaged, you can easily change them when you think it is necessary.
To be able to change them, you only have to screw the left pedal to the left and the right pedal to the right.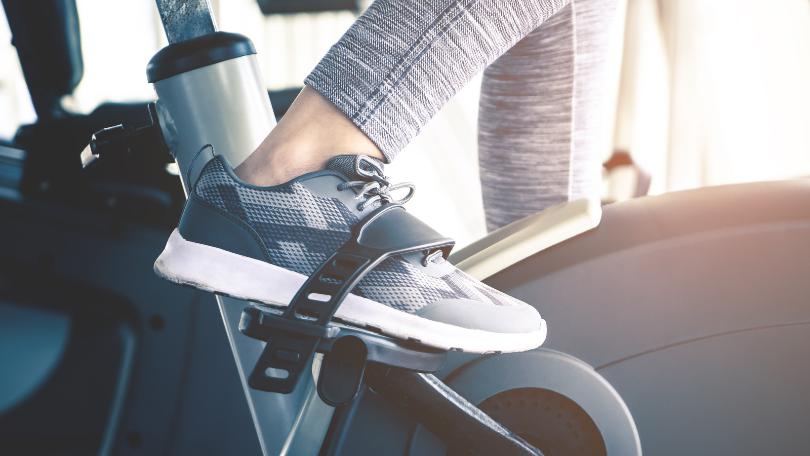 JOROTO X1S Flywheel
When talking about the flywheel of this magnificent JOROTO bicycle, it should be noted that it is very quiet even though it is integrated with a chain.
While training, you can watch TV, listen to music or have fun with your tablet as the bicycle will not make any annoying noise.
This flywheel has a resistance of up to about 35 pounds, this means that you can work your legs intensively and gain muscle mass.
You can calculate this just by moving its adjustment knob for resistance. Also, you will see that the cover of this flywheel is very striking due to its red, black and chrome colors.
This gives it a special touch and its design is easy to clean.
This bicycle is stationary, which means that thanks to its flywheel design and its internal chain, it moves in conjunction with its pedals.
This provides two pedaling directions, right and reverse, to vary exercise movements. It should also be noted that the pedals do not stop until the flywheel does.
The flywheel does not need a lot of maintenance since its cover is also made of scratch-resistant material, you only need to clean its exterior with a towel, especially to avoid dust accumulation.
Resistance
This popular stationary bike features a standard resistance system that works by friction, which is connected to the tension dial located on the main tube obliquely of its structure.
Each time this dial is turned to the right, the friction increases and is felt on the flywheel when pedaling.
his means that the resistance increases and can be felt when pedaling.
It should be noted that the tension does not have numbers as resistance levels, to apply it, it will only be necessary to press down until you obtain the tension you need at the time of your exercise.
This is just like any other bike model you can spin with.
The resistance can be of such difficulty that you will feel almost impossible to pedal. This pressure can be felt in your muscles.
On the other hand, this tension dial also has the function of acting as a brake in case of an emergency.
This means that you can press it to make the flywheel to stop.
Since it has a chain system typical of a common bicycle, if the flywheel keeps running, the pedals also do it, that's why in an emergency, you can use this brake in case you can't continue pedaling.
Also, we would like to clarify that this tension dial can be replaced when the original one wears out due to its continued use.
In addition, you will need to lubricate it to prevent it from making noises.
Drive System
The JOROTO X1S bike is characterized by working with a chain drive, which makes this stationary bike have many benefits.
On the one hand, the material of its chain is highly resistant, which makes it very durable.
You should only provide the care it needs, such as lubricating it from time to time.
Doing so will last you for many years, even for life.
However, if over time, you notice that when you exercise it slows down, you will have other chains at your disposal to be able to replace it easily since it is a chain of a common bicycle.
Besides, the bike owns a flywheel weighing 35 pounds.
This weight makes the bicycle more stable when pedaling and helps the training to be intense so that the muscles work properly.
Besides, these characteristics make it a bike suitable for high-performance exercises or spinning.
However, this flywheel allows pedaling in the right as well as the reverse, i. e., it provides a two-way movement.
This way, you can choose how to exercise your legs.
Also, it is worth mentioning that its flywheel is not very large in size compared to other stationary bikes so this bike does not need a large space to be stored.
Its dimensions correspond to a height of 42.5 ", a length of 43″ and a width of 20".
You can easily place it in a garage if you wish.
Handlebars & Seat
This stationary bike with which you can exercise your body safely has a wide and very comfortable seat.
People of different heights can adjust it depending on their comfort since it has 4 different directions.
This is something that you can notice in its vertical bar where it shows the different positions to adjust it to the desired height.
However, it will also allow you to move it from front to back so that your knees do not bother you in case you are tall or you do not find the handlebars too far away in case you are shorter.
In addition, this bike supports a weight of up to 280 pounds so that people who are overweight can train easily.
Speaking about the structure of the seat, we can say that you can enjoy your training without interruptions because it is made with an internal cushioning and covered with leather, which gives extra value.
Its comfort is also due to its irregular shape, as its surface is not flat like many stationary bikes.
Also, it should be noted that it is made of an anti-breathable and hypoallergenic material since perspiration is known to be a corrosive component.
This way, this seat will last you a long time.
Anyway, in case one day you decide to change the seat, you have the possibility to replace it with another one of your likings since it is considered a standard design and you will find many compatible models.
On the other hand, as for its handlebar, it is made of urethane, which provides a secure grip that you can move up or down, depending on your comfort.
Thus, it is considered a multi-grip handlebar.
Also, it features a stand/support to place a tablet to watch your videos or listen to music while you train.
Warranty
As for its warranty, you can enjoy one year in case any of its parts are broken or damaged.
It should be noted that this warranty does not cover damage from user use.
You should contact your seller if you receive any of the damaged or bad parts, as well as if you have not received any tool or any of its specific parts.
Also, we can mention that at the time of your purchase, you may find your accessories available, such as the spinning belt.
Although another of its accessories, such as the phone holder is already included.
For many users, a one-year warranty may be a very short period, but compared to other stationary or spin bikes, the JOROTO 1XS is the best.
Assembly
The main structure of this stationary bike is already assembled, i. e., the flywheel, the resistance system, and the chain are already assembled.
In this way, you only have to place the pedals, the seat, the console and the stabilizers of the base.
You will be able to complete this task in about 30 minutes thanks to its instruction manual where you will have the steps to follow to assemble piece by piece in detail and also with graphics for your better understanding.
Also, you will receive the specific tools to finish assembling your bike easily.
As for its maintenance, as we mentioned before, it is recommended to lubricate the chain at least once every two or three months and for this, you can use any lubricant that you have at home and that you also use on your regular bike.
Also, it is recommended that you wipe the perspiration in all the tubes and the seat with a clean towel, at least once a week or if it is used by more than one person, it should be cleaned after each workout and check that the screws are secure and its place.
Pros
Its construction is robust and safe and supports overweight people (280 pounds).
Striking and futuristic design.
It has stabilizers at its base, which can be adjustable for greater safety.
It has two front wheels that facilitate its transport.
You can change its handlebar's position.
Safe and resistant crank for high intensity pedaling and in a vertical position.
Its seat can be adjustable in four different directions.
The seat can be moved forwards or backward for better space.
Its seat is reinforced, padded and lined with anti-breathable material.
The seat also has an irregular shape for better comfort.
The seat can be changed when necessary.
Your flywheel has a resistance of 35 lbs.
It includes a tablet holder.
Its pedals are wide, comfortable and safe with a basket to place your feet.
Its drive chain is of high quality and can be changed when necessary.
Monitor to control physical condition capable of verifying RPM, calories, time, etc.
Its assembly is very simple and fast.
It does not need much maintenance.
Cons
Its monitor does not have any light.
No place where to put water of bottle.
Final Thoughts
Doctors recommend doing physical activity on a daily basis.
Although many people are aware that following an active life and having a healthy diet is the best thing we can do for our health.
Therefore, more and more users are choosing to exercise at home.
One of the most popular machines and recommended by professionals is the stationary bike.
For this reason, the JOROTO X1S is gaining popularity since it is possible to follow a training where the joints are not damaged.
For example, it is known that people who have had knee surgery, for the postoperative there is nothing better than starting to ride a bike at home.
For those who want to follow more intense training, this bicycle has a friction resistance, which you only have to press until you obtain the desired resistance.
It also has very safe and resistant cranks for those who want to do spinning exercises in a vertical position.
The cranks will hold you effectively for as long as necessary.
In addition, thanks to the changes in position that the handlebars allow you to do, you can move them up or down so that when you decide to spin vertically, you can position your arms comfortably.
This is very personal and will depend on the choice and comfort of each user.
Don't forget that you can control the training time or calories burned thanks to its included monitor.
You can lose weight safely and quickly if you exercise at least 30 minutes a day.
It is suitable for both men and women who want to change their lifestyle.
Last but not least, it should be noted that its price is very affordable when compared to other stationary bikes.
We firmly believe that it will be a good investment for your life but above all for your health.