When you buy through links on this site, I may earn an affiliate commission at no extra cost to you. Learn more
The PYHIGH S7 Indoor cycling bike is a reliable, durable, and best budget spinning bike. Even though they are a late entry into the market, they have made a remarkable presence in market share and customer satisfaction with their quality and inexpensive spinning bikes.
This spinning bike is equipped with many innovative features such as a fitness meter, flywheels, friction resistance system, belt-based system, 4-way adjustable seat and handlebar, and a new structural resistance feature.
And if you are looking for a high-quality spinning bike that price is under $500, then PYHIGH S7 is worth having a look at it.
Technical Specification
Dimensions: 42.5 L x 22.5 W x 44.5 H inches
Assembled Weight: 114 lbs (52 kg)
Drive Mechanism: PK Belt drove
Recommended User Height: 4'9" to 6'3"
Weight Capacity: 330 lbs (150 kg)
Resistance: Friction, manually adjustable felt-pad
Bluetooth/ANT: No
Assembly tools: Included
Warranty: 1 year limited
Pros
Well built machine with a differential design and easy assembly
Support weight up to 330lbs
Chrome and rustproof body finish
Integrated ABS parts
Less space consumption
Easy mobility with heavy transport wheels
Sturdy 48 lbs flywheel (Perimeter Weighted)
Belt driven mechanism smooth and easy pedaling
4-way adjustable seat and handlebars with multi-grip
Multi-layered and multi-grip handlebars with inbuilt pulse sensors and aero bars.
Unique drop-down grip handlebars
Super soft cushioned seat with shock absorption technology for immense comfort
Metallic pedals with anti-slip guards
A Fitness meter with goal setting shows time, distance, RPM, pulse rate, and calories burned.
AUTO ON and SHUTDOWN Fitness meter
Device holder/Tablet holder
Low maintenance with minimal wear and tear.
1-year full bike warranty
Cons
Absence of SPD clips.
Non-telemetric fitness meter
Horizontal adjustment of the handlebar is not possible
No Bluetooth or ANT facility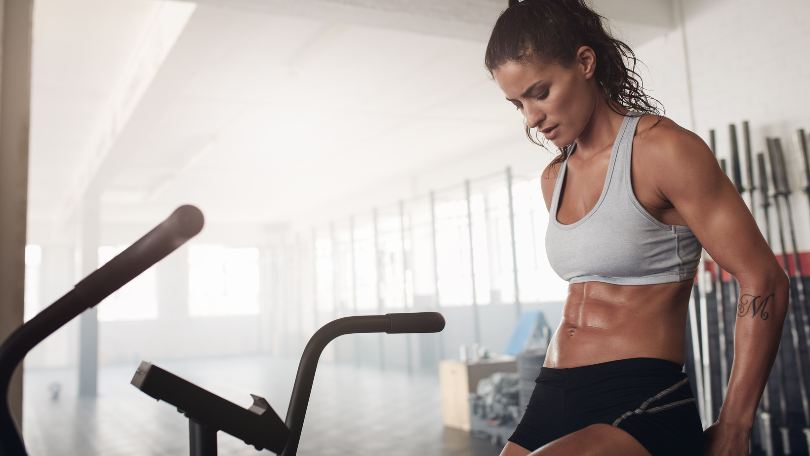 Frame
The PYHIGH S7, a sturdy short and lightweight spin bike, comes in a black and white frame with rust proof paint finish. The seat and handlebar posts are covered with chrome paint to offer it a classic and vivid touch.
And when it comes to the frames, they are made with thick steel bars joined by robust precision welding joints, making the spin bike withstand weight as much as 330lbs.
The PYHIGH S7 is ABS incorporated with brake pad cover, belt cover, and other few covers and weighs 100 lbs.
To accentuate the spin bike's firmness and grip, it has rubber pads joined to the bottom, which makes sure that the slightest jerk is also not felt.
The large silicon wheel fixed to its front base guarantees that the bike is the mild weight once upraised.
Length of the bike: approx. 42.5″ (108 cm) long, and 22.5″ (57 cm) wide
Bike space usage: 5″L x 60″ (190 x 152 cm)
Height above floor level: 44.5″ (113 cm)
Flywheel
It also comes with a solid flywheel (two-directional), which gives an actual twist to the spin bike driving system.
The perimeter weighted model system guarantees a high quantity of momentum and helps to simulate the feel of outdoor cycling dynamics.
The flywheel's weight is 48 lbs(21.7 kg), which enables the bike to spin faster and pool in extra energy.
These heavyweight flywheels ensure more stable and comfortable motion while pedaling with very little noise and shakes.
Seat and Handlebars
The PYHIGH S7 comes with an aesthetically designed seat, which could provide an extraordinarily snug and cushy feel while exercising on this budget spin bike.
The vinyl fabrication on the seat with cutouts for extra airflow and basic connection sliders makes the seating a fascinating one.
There are two shock absorption springs attached to the rear end of the seat, and these springs, in turn, give the users a high density cushioning effect.
And what makes the seats stand out is that they have 4-way adjustability in all up-down, left-right directions.
So, users who are range from 4′9″ to 6′ .5″ tall could benefit from this adjustable seat feature.
Handlebars
The PYHIGH S7 is developed with comfortable holding position handlebars using multi-layered rubber material and an anti-grip for more erect and stable workouts.
This spin bike makes it an astounding tough competitor in the market for the drop-down grip's uniqueness.
And the sophisticatedly integrated handlebars come with aero bars and metallic pulse sensors.
However, the adjustment of handlebars can be made only in the vertical direction at an upright adjustment span of approximately 11.4 cm, from 101.6 cm above floor level to 113 cm.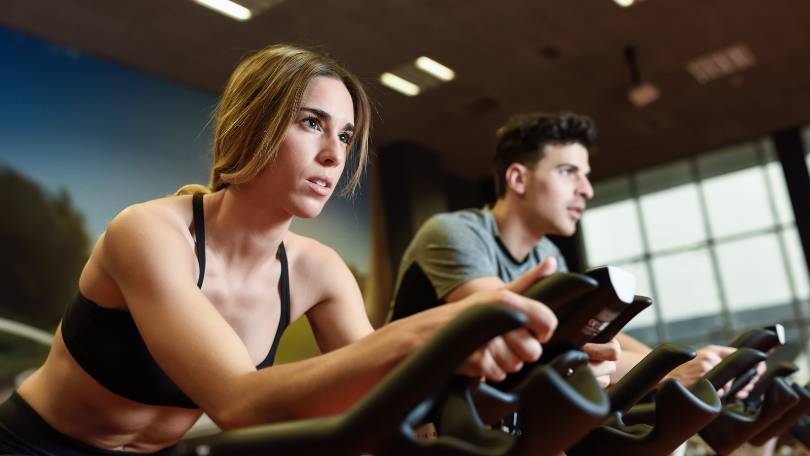 PYHIGH S7 Resistance
The PYHIGH S7 comes in handy due to its friction resistance system, which could give the real feel of an uphill drive.
Moreover, the friction resistance system gives the comfort of a quiet and low maintenance bike.
But the whole mechanism needs to be adjusted manually, which is totally different from the air resistance bike.
The resistance system of PYHIGH S7 is built with a wool felt pad having sweat protection attached to the mainframe tube.
We can see that these high-quality pads are connected to the tension dials, which would increase the resistance when turned in the clockwise direction.
These tension dials also play a dual role as an emergency/sudden brake system, which comes as a warning of high-speed pedaling.
The brake pad is subject to wear and tear because of the friction resistance system.
Drive System
PYHIGH S7 has a belt based drive system covered with ABS protection, ensuring the spin bike gets smooth, maintenance-free, soundless, and adjustable pedaling.
This drive system is incorporated with a heavy-duty crankset with solid steel arms and metallic pedals.
And the PYHIGH S7 uses a PK belt to provide more durability.
Pedals
PYHIGH S7 has metallic toe caged pedals that allow forward and reverse motion. The metallic pedals and anti-slippery will ensure safety and fixedness to the bike.
The only hitch is the absence of SPD clips, which could have given a better fitment to the bike.
However, the pedals come with standard 9/16" threads, enabling easy replacement and easily detaching.
Monitor
The PYHIGH S7 comes inbuilt with a 6- panel LCD fitness meter, which is battery operated.
It will get booted on when pedaling begins and also has an auto-shutdown feature that gets activated automatically when the bike comes to a standstill.
This fitness meter is designed to shows numbers like time, speed, RPM, calories burned, and the pulse rate using the handlebars metallic sensor.
However, the LCD monitor does not track or store any data, which is one of the setbacks of PYHIGH S7.
The meter buttons include the UP/Down buttons on the side of the spin bike and the ENTER buttons in the center that can be put to RESET to give the user's the flexibility to adjust the goals and value based on their needs.
PYHIGH S7 Assembly & Maintenance
The PYHIGH S7 bike can be assembled easily without any hassles as it comes with complete assembly tools and an instruction manual.
The spin bike's mainframe comes pre-assembled, but the other parts such as seat and handlebar posts, seat, handlebars, base stabilizers, fitness meter, and console need to be attached.
As the PYHIGH S7 works on belt based drive mechanism, it doesn't require maintenance. The only part that would require timely silicon lubrication is the brake pad to make it noise-free.
But a daily check on the bike is always good to ensure durability and long-lasting usage.
PYHIGH S7 Alternatives
The alternative of PYHIGH S7 that is available in the market is PYHIGH S2, which has been successful for its pricing and also of the improved belt.
This model comes with a 35 lbs flywheel, non-magnetic friction resistance system.
It is highly durable and low in maintenance. However, not SPD compatible.
This spinning bike has comfortably padded seats, aluminum alloy pedals, and two-way adjustable handlebars.
S2 weighs around 70 pounds and is apt for people of height ranging from 4′9″ to 6′1″.
What's more, it is one of the most cost-effective and cheapest model manufactured by PYHIGH.
Final Thoughts
Lastly, to sum it up, the PYHIGH S7 is one of the most longed for and a must-have indoor spinning bike that answers any economic customer's needs.
PYHIGH S7 had defined itself as a sturdy, imperishable and light commercial bike.
As a new entrant into the market, PYHIGH has built trust and confidence among customers by designing a very cost-effective and technologically updated product.
Read Also: