When you buy through links on this site, I may earn an affiliate commission at no extra cost to you. Learn more
The treadmill has always remained a favorite among exercisers among the many exercise equipment. It guides individuals to walk or run on it at varying speeds and levels per every user's ability and fitness level.
We look forward to more challenges and fun, even when using treadmills. How about mixing up running with some serious fun elements in the form of video games? The concept sounds alluring and worth attempting. Fortunately, Zwift is such an App that provides these possibilities. Running on a Zwift treadmill will bring more fun to your journey.
While not all treadmills are Zwift compatible, you can find the right model from Zwift.com. To save time, we collected the necessary information for you below.
Our Top Picks:
Product
Features
Price
Rating

Zwift-certificated treadmill
Bluetooth connectivity and HR strap
22 x 60" deck with 3-zone cushioning
Sprint 8 HIIT program for fat burning
Low impact with 0-15% incline

9.5



Comfort Tech™ deck cushioning
Compatible with Zwift
Adjustable HD touchscreen to stream your favorite shows. (Netflix, Hulu, HBO, etc.)
10" interactive console
0 – 12 mph

9.8

Zwift-certificated treadmill
0-15% incline
33 preset workout program
Reader-friendly 7.5" bright blue backlit LCD
Handlebar mounted speed and incline controls

9.4
Top 10 Picks of the Best Treadmills for Zwift:
See the details of why each treadmill made our best list below.
What is Zwift?
Zwift is a virtual running game and workout app that can elevate your treadmill workout session to unimaginable levels of fun, competitiveness, and fitness.
While exercising on a treadmill might sound good, initially, the process becomes monotonous in a while for those who seek adventure and variety.
Also, climate and weather conditions play havoc with our exercise schedules many times of the year. Running on a Zwift treadmill is the perfect solution to all these—you can run with the world through virtual reality, train during any time of the day, rain or sun, and from anywhere in the world in a fun-filled way.
Are you interested in competing with a friend? The Zwift community is there for you.
Do you want to run against athletes or participate in an event running laps with them? Zwift guides you through the entire experience from start to finish. Enhance these experiences by creating your personalized avatar, just like how you do for your video games.
Glide through snow-capped mountains, run through rugged jungles, or try some stunts alongside the serene park by using the different landscape options in Zwift.
All in all, exercising using Zwift will transform you into another imaginary world, improving your overall exercise experience. Most importantly, make your running hours more productive and enjoyable.
Treadmill for Zwift? Does It Matter?
With a Zwift treadmill, you can get an entertaining and effective running experience and compete with other athletes in the virtual world in the comfort of your home. You will motivate and make your running time more productive and enjoyable.
Once you decide to take your exercise to the next level, meaning using Zwift, the first step is to go for a smart treadmill compatible with Zwift and run on it. This is required for making your first move-run and competing with others worldwide.
Besides a treadmill, you might also need a foot pod, running shoes, and other fitness gear to get more benefits from Zwift running. But these are optional, and getting a good Zwift treadmill should be your number one priority as this forms the foundation for working out and becoming fit.
Never choose a compromising machine quality, as a treadmill will stay with you for a long period.
Benefits of Using a Treadmill for Zwift
Upgradations and enhancements frequently match user expectations, and introducing Zwift gaming on a treadmill has a bucket of advantages.
#1. Landscape Variation
Many feel the monotony of working out inside a gym or home gym, staring blankly at the four walls surrounding it. Who doesn't like to add variety to their workout experience? Everyone indeed!
The Zwift training program brings about a different exercising experience with its numerous landscape options to choose from, breaking the workout's monotony.
#2. Fun
It's amazing to create avatars, slide through unmanned landscapes, and even compete against your best buddies in an athletic championship or a real-time event through Zwift.
With such options available, the entire exercise process becomes fun, and you will start looking forward to trying out different combinations.
#3. Regularity
Many can't boast of being regular to the gym or even exercising at home. But working out using Zwift does have the potential to bring discipline and regularity to the trainees.
They are excited to venture into newer gaming zones each time, beat out their buddies during a competitive match, and even try to outperform their scores during every other session.
#4. Group Workout
Though you are all alone in the room running on the treadmill, working out using the Zwift training program never makes you feel isolated.
This is one of the best platforms for extroverts who don't have the time to attend group exercise sessions.
It also gives an introvert a different experience. They only virtually connect with their friend giving them the independence to stay alone but feel like being in a group without becoming bored.
Criteria to Consider When Choosing a Smart Treadmill for Zwift
A treadmill is a perfect machine to walk or run in the comfort of your home. Elevate your exercising experience by connecting to Zwift, listening to music, or watching your favorite TV series!
Working out on this equipment provides you with an excellent cardio workout and many health benefits.
If you have decided to buy one smart Zwift treadmill for yourself, choosing the best equipment now comes the challenge. There are many options available in the market but ensure to satisfy the below criteria before finalizing.
1. Deck Height & Room Space
A treadmill is bulky and occupies lots of space. Even a compact treadmill takes much more space than you thought, so if you live in a room with limited space, measure the available space in your room and the footprint of a treadmill before choosing one.
Know the deck height of the machine to avoid any clearance issues. Measure the height between the floor and the ceiling to know how much space you have for your machine. And measure the deck height plus the tallest user's height and give an extra 6" clearance to have a comfortable exercising experience.
This would prevent you from fearing colliding with the ceiling and not bumping your head on the ceiling when you step onto the machine. Find more treadmills for low ceilings room here.
2. Running Deck Area
This is extremely important when choosing a treadmill. Choose a machine that's just right—not too small that it makes you fearful of stepping over it or too big. For comfortable Zwift running, the belt should be at least 20" in width and 55"  in length. If you are a taller runner (over 6′), you need at least a 60" belt for running.
3. Features
Hunt for the treadmill with features ranging from console fan, speaker, heart rate monitor, TV to motor, weight capacity, incline settings, and cushioning. They are worth the money invested in it if they motivate you to run regularly.
4. Durability
Material quality is highly critical for choosing a Zwift running treadmill. Select a treadmill made of high-quality materials that offer longer life. Durability is usually reflected in the weight capacity. Finding a treadmill with high capacity ensures the longevity of your treadmill.
How to Choose a Traditional Treadmill for Zwift?
If you buy a traditional treadmill for Zwift, you will need to buy a foot pod to transmit the workout data to Zwift App while also considering the criteria mentioned above because a traditional treadmill doesn't fully integrate with Zwift.
What are foot pods? Foot pods are small, lightweight running devices that stick to your shoe and measure and broadcast your speed, cadence, distance, and other workout data. You can connect with Zwift using foot pods via Bluetooth.
But the workout data you get from a foot pod is inaccurate, and you might end up cutting your Zwift training midway if your foot pod's battery runs out.
Here Are Our Top 10 Best Smart Treadmills for Zwift
There are numerous treadmills available in the market, and it does become an exerting experience to choose the right one for your requirement. To do so, it is always easier when you handpick your primary requirements and compare models that satisfy them.
Some primary factors that could help you choose a treadmill include motor power, speed, size of the treadmill, comfort level, and mobile app availability. Below are 10 of the best Zwift-compatible treadmills that will make your exercise experience pleasurable and fruitful.
If you are an avid athlete who wants to enjoy a running experience from the comfort of your home, whatever the weather, then here's a treadmill for you. Bowflex 10 is a smart folding treadmill for Zwift power-packed with practical workout programs.
Bowflex 10 is perfectly compatible with Zwift training. It gives complete access to real-time workout sessions offered by Zwift.
Special features include Burn Rate console with advanced calorie burn feedback, Bluetooth for data sharing; DailyBurn workout programs; and a wireless heart rate monitor.
Bowflex 10 is a treadmill with 400 lbs high user weight capacity. It is durable enough, and you need not worry about your weight when running on it. The dimension of Bowflex 10 is 85 x 40 x 65.5 inches.
It comes with a powerful motor with 3.5 HP, offering excellent speed from 0.5-12 mph and a maximum incline of -5% ~ 15% for Zwift-based workouts. The speed and incline both are under your will. The speed and inclination variations are suited to give challenging workouts.
With an optimal speed of 12 mph, you can train your legs to run a marathon like a pro. The steel framework used to make this treadmill is scratch and corrosion-resistant.
Talking of the impressive warranty, Bowflex BXT116 offers 15 years warranty on the frame. While mechanical and electrical parts are subjected to a warranty of 5 years. They also provide you with 2 years of free service.
Pros
Soft drop folding system
Excellent cushioning for providing support to your joints
Sturdy and durable design to last long
Run smooth and quiet
Clear instruction manual
Easy to set up
Presence of an automatic 3-speed fan
Cons
Some users may find controls confusing
The heart rate monitor is too sensitive

This Bowflex T22 treadmill is here to stay. This is a Zwift certificated treadmill model, verified by Zwift officially to adapt their App. It is one of the most favorable choices for those who want to use the Zwift app to help them train harder for longer and get a fast calorie-burning benefit.
The initial dimensions are enormous enough, but the machine can be folded upon to store it conveniently. Bowflex 22 folding treadmill occupies 85″ lengthwise. It is 39.6″ wide and 70″ tall in extended form.
The integrated console in this treadmill controls the incline and the speed. The optimal speed limit is 12 mph, the incline ranges from -5% to 20%, and the weight capacity is up to 400 lbs, considered one of the most durable treadmills for sprinting.
This treadmill comes with a 22-inch full-color touchscreen for you to keep a watch on your calorie burnt!
Not just that, you also get an inbuilt MP3 player to enjoy soothing or workout music, a sound system, and silicon buttons on the console for you to easily operate the buttons.
Manufacturers are offering 15 years exciting warranty on frames and motors and 5 years warranty on associated parts. You get 2 years warranty for labor as well.
Foldability, customizability, and Bluetooth connectivity clubbed with rich features make Bowflex T22 the best Zwift treadmill.
Pros
Fully Zwift certificated treadmill
Very well made designed and is durable
The incline and running speed are easy to change
Large running surface (22″ x 60″) for tall runners
400 lbs high weight capacity
Run extremely quiet and smooth
The foldable design makes it easy to store when not in use
Cons
Some customers claim difficulty in adjusting the tread belt
Bluetooth is only used for syncing with the app
Cranky sound on starting the treadmill
Bowflex T22 is new on the market and has not been tested for long-term use

An entry-level treadmill from a reputed company, NordicTrack, this folding treadmill successfully captures the elegance and features available in all other treadmills from this brand at a great price.
Available with 20 different workout program options, this compact running machine is powered by a 2.6 CHP motor and provides a maximum of 10% inclination with a maximum running speed of 10 mph starting from 0.5 mph.
The motor works smoothly without noise. And the running surface comprises the FlexSelect cushion system that's present by default in most NordicTrack treadmills, making the Zwift running/walking experience easy on the joints and providing a firm surface to exercise.
Though the treadmill weighs 193 pounds, it can be folded and kept and has a weight-bearing limit of 300 pounds.
The Bluetooth connectivity option helps you connect to iFit. But the downside here is that the user needs a compatible device such as a foot pod or trend tracker to pair it with Zwift.
Pros
10Mph maximum running speed
10% incline
iPod compatible
10-year warranty on frame, 2 years on parts
Step-by-step user-friendly instruction
The running surface is soft and cushioned, and it can switch to a more solid surface.
Cons
Although the instruction is clear, the assembly progress is not that easy

Xterra TRX3500 is offered by Xterra, a company known for manufacturing low-cost yet durable cardio equipment. Launched way back in 2018, this treadmill is still a favorite choice among runners who want to go into general fitness or those dedicated to running marathons.
Xterra had put in a lot of effort to make it an ideal budget offering without compromising the product quality. In terms of specifications and functionality, Xterra TRX 3500 earns five stars.
The 60" x 20" running deck provides a lot of space for fast sprinting and long marathons. It incorporates the patented XTRASoft cushioning, which helps to cut the impact.
Like Sole F80, Xterra TRX3500 is also foldable, so we don't have to sacrifice the space when it's not in use.
You can speed up to a maximum speed of 12 mph with a 12% incline to exercise at a higher intensity, thanks to the strong 3 CHP Motor under the hood.
The 6.5" blue backlit LCD is easy to read and keeps you informed on all the relevant information. The sensors are provided in stainless steel handlebars for heart rate monitoring, or it can be done through a wireless chest strap ( sold separately with this model).
Xterra offers a lifetime warranty on frame and motor and 2 years warranty on deck and parts. This machine is altogether a lightning deal.
Pros
Pocket-friendly pricing
The construction is sturdy
12 mph top speed
Nice incline range 0% to 12%
XTRASoft cushioning, with multiple shock absorption points
Speed can be adjusted in increments of 0.1 mph
Cons
Requires track lubrication for smooth operation
You need to occasionally tighten the workout belt, as it will stretch with the use
HR chest strap not included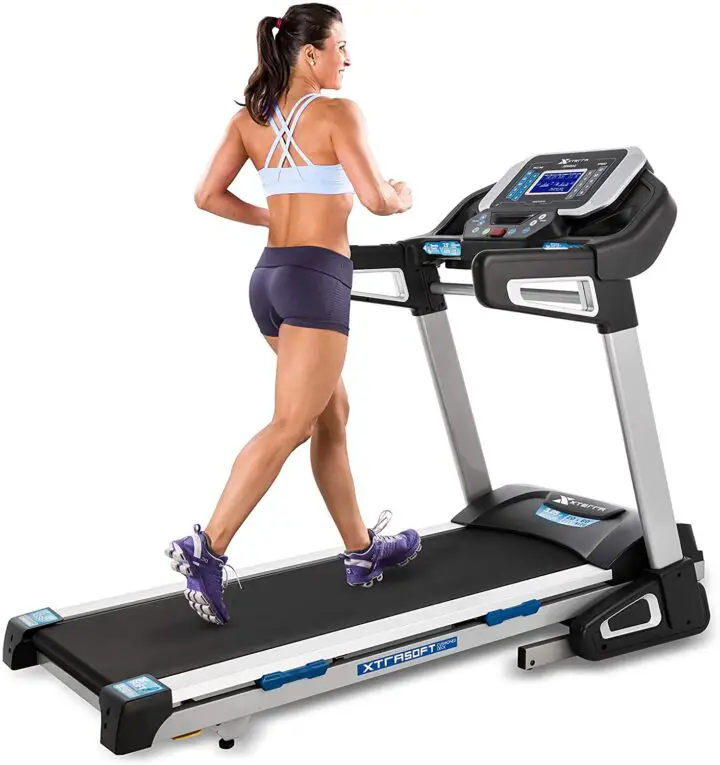 Xterra TRX4500 is the juiced-up version of TRX3500 and a premium home treadmill for Zwift. If you need a high-quality treadmill priced at around $1000, TRX4500 might be your best buy.
The power under the hood of the treadmill comes from a 3.25 HP motor. The 0.25 HP more power than TRX3500 is given for an extra 3% increase in incline. The 15% incline is not what every brand offers. Most of them provide 10-12% inclination, making TRX4500 stand out.
The display unit is also slightly upgraded from 6.5" in TRX3500 to 7.5" in TRX4500. This machine is also a space saver as one can fold to 65 deg, reducing the length to 40%.
The HR chest strap, which we very dearly missed in TRX3500, comes in the box here.
Like the TRX3500, the TRX4500 is also Zwift ready, having Bluetooth enabled. It can sync and automatically store and send your treadmill exercise data.
There are 33 preset programmes loaded in TRX4500 covering almost all kinds of basic workout routines. With a high-quality treadmill like TRX4500, it will more than satisfy Zwift users by giving them the best virtual running experience.
Xterra 4500 treadmill offers a lifetime warranty on frame and motor, 5 years warranty on the deck, and 2 years on parts.
Pros
The construction is sturdy
Extensive warranty offerings
Nice incline range 0% to 15%
Build-in sound system and cooling fan
HR chest strap included
Cons
Requires track lubrication for smooth operation.
You need to occasionally maintenance for the belt, as it will stretch with use.

The XTERRA 150 foldable treadmill is a great value addition to your home as it was exclusively designed for home gym purposes.
It's a good treadmill for Zwift and other gaming, but please note that this treadmill doesn't directly connect to any smartphone applications, and you have to get a third-party device (e.g., foot pods, Fitbit, Apple Watch, etc.) to track the workout data, enabling you to input your workout metrics to Zwift.
It comes with 12 pre-installed programs that vary in intensity, has three incline options to choose from, and consists of a 5 inch LCD.
Equipped with a 2.25 HP motor that varies in speed from 0.5-10 mph, it can be named a versatile machine that's good enough for Zwift working out.
This treadmill's weight is 108 pounds only, making it can be easily folded, moved, and stored, but the lightweight treadmill is heavy-duty enough and can bear a maximum user weight of 250 pounds.
But it has no Bluetooth facility or a USB port that could be a disadvantage.
Pros
Sturdy and durable
Quiet operating(this is very subjective)
The assemble instruction is clear
The weight capacity is up to 250 lbs
The maximum speed is up to 10 mph
Cons
No backlight on the console
Horizon Fitness 7.4 AT is a mid-range running machine for Zwift App that doesn't break the bank. This high-quality treadmill helps people new to fitness focus on becoming healthy with light or moderate workouts.
The treadmill is compact, foldable, and storable, with a hydraulic folding option at 310 pounds of weight.
It comes with 10 different workout programs, has a power-assisted incline up to 15%, and goes from a speed of 0-12 mph using a 3.5 CHP (continuous horsepower) motor.
The Horizon 7.4 AT treadmill can bear up to 325 pounds of user weight. And it comes with a Bluetooth connectivity option that enables the user to enjoy audio and video.
Zwift will auto-detect Horizon 7.4 AT, and the consumer's avatar is responsive to the treadmill speed changes, etc. So you can enjoy quick access to the virtual world at the tap of a button easily.
Besides these, several other features include a water bottle holder, a reading shelf, an audio in/out jack, a fan, a smartphone/tablet holder, etc.
It also has a decent warranty of one year, that's good enough for such a versatile, fully Zwift-certificated treadmill.
Pros
Affordable price
The incline is up to 15%
Foldable and easy to storage
Weight capacity is up to 325 lbs
The cushioning is great
The running belt is large enough for tall people(20″ x 60″)
Cons
The speaker could be louder
Only 10 workout programs

If you are on the hunt for an affordable and high-quality treadmill, then here's the Sole F63 foldable treadmill to fall into your arms. The great versatility it offers allures the users.
It is one of the best-suggested treadmills for beginners at running. The material used to make this treadmill is a heavy-duty steel frame.
The space allocated for this needs to be around 82″ lengthwise and 35″ breadthwise. The treadmill corresponds to 57″ in height.
The incline ranges between 0 to 15%. Higher the incline, the more calories you will burn.
Utilize its preinstalled training programs for cardio strength, muscle toning, and loading calories.
The presence of a cushion flex deck can reduce the impact on joints by up to 40%. Experience the thrill of a powerful 3.0 CHP motor that lets you reach the maximum speed limit of up to 12 mph.
There are ten workout programs on this low-impact treadmill. You can also include two custom profiles for conducting day-to-day workout sessions.
For extra comfort, along with this treadmill, you also get cooling fans, a water bottle holder, and an accessory tray.
And yes, it can be folded too. Do you get bored fast? Hold your device on the shelf provided and turn on the integrated Bluetooth audio speakers.
Sole F63 has a relatively lesser warranty duration than its sibling models. This version promises you a 3 years warranty with a 1-year labor service free of charge.
Pros
Durable and solid
The cushion flex deck reduces impact by up to 40%.
The steel frame is foldable, thus helps in saving storage space.
Affordable
12 mph top speed and 15 levels of incline
Assemble is fairly easy
Cons
A little noisy when it runs
Huge size and may be hard to move
The acceleration might be slow for some people.

Sole Treadmills are market leaders currently, and F80 is their flagship offering. Sole F80 is a robust, feature-packed Zwift favorite treadmill for home use and is regarded as a "Hardcore Machine meant for Heavy Runners."
All thanks to its steel frame and solid reinforced running deck. Sole gave the F80 a reversible deck when it upgraded the model. This doubles the life of the deck and quietens the sound of each step, and reduces the impact on your joints by up to 40%.
The 22" x 60" running belt provides plenty of fronts, back clearance, and lateral space for tall and large runners.
Sole F80 Bluetooth capabilities coupled with Bluetooth speakers and tablet holders make it a perfect companion for long Zwift marathons.
The USB charging port is also a gift for folks who want on-the-go charging of media devices.
Sole F80 is also a space-saving treadmill for small apartments. You can fold and tuck it into the corner, making space in already cramped apartments.
The areas in which the Sole can improve the F80 are the console and screen design. The screen comes with a no-color display, which is a bit of a letdown, and the console is very plain and simple.
Pros
375 lbs high weight vapacity
Steel frame but still lighter than other treadmills
12 mph top speed
Nice incline range 0% to +15%
 Bluetooth compatibility allows you to transfer exercise data to your smart device
Easily folded
Cons
No color LCD
No touch screen
Raised buttons are more likely to get dirty
Limited workout data

A commercial-grade treadmill from a well-known manufacturing company, True Fitness, this fitness equipment is constructed with durable and strong material that promises a long life.
It arrives with a 3 CHP motor that offers a maximum speed of 12 mph and -1% to 15% incline, and this is one of the most recommended treadmills for Zwift as it offers solid performance for most types of runners.
The treadmill has a 60" x 21" extra-wide belt that minimizes the impact on knees and joints. It can accommodate users up to 350 lbs and under 6′ 5".
The features provided are also great—the 8.5-inch console, four user profiles, wireless heart rate sensors, cruise control on heart rate, a lifetime warranty on the frame, and a 30-year warranty on the motor, making it an excellent choice for Zwift training.
Pros
Rock-solid
Various preset workout options
The incline is up to 15%, with 1% increment
30-year warranty for motor, 5-year for parts
The motor can support a maximum speed of 12 mph
Cons
No built-in fan
It's quite expensive
Final Thoughts
Indoor running is a good alternative to running outdoors when the weather does not allow you to do so. And with Zwift, you get an enjoyable and challenging running session that you can do solo or with other users online. This revolutionary workout and gaming app will get you motivated and help you regularly take part in your workout sessions.
But to maximize advantages, choosing the best Zwift treadmill that suits your budget and offers a wide array of specifications is necessary.
I hope this review helps you in making a wise choice. Finally, if you can't find a treadmill that you really enjoy in this review, here is a list of smart treadmill that works well with Zwift (from Zwift.com).
Read Also: