When you buy through links on this site, I may earn an affiliate commission at no extra cost to you. Learn more
Life Fitness is a well-established brand seen in most commercial gyms due to its high-quality products and enhanced durability.
The company produces a range of strength and cardio equipment for both home and commercial purposes.
The IC6 Indoor Cycle is an excellent piece of equipment designed and constructed with utmost caution and an eye for detail by Life Fitness.
It is also one of the expensive models, just like IC7 and IC8 but thankfully lower priced than both.
Sleek and elegant going by the machine's looks, the IC6 has a black and red color combination distinct to the model, increasing its classic looks.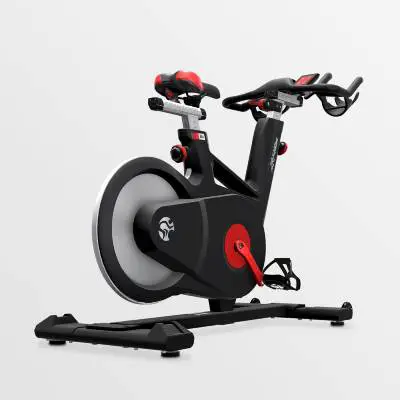 I bet that you could purchase a dozen or two of them for your cycling studio as the equipment is manufactured with a robust frame and premium-quality components that promise long-lastingness despite daily use repeatedly.
You might be motivated to buy the IC6 for home gym purposes, but it fulfills all the required qualities for use as a commercial bike that's good indeed.
What I Like About LifeFitness IC6 Spin Bike
Fully adjustable seat and handlebars
Zero Maintenance belt drive train
Quiet and smooth operation
Double-sided pedals make it compatible with any choice of shoes
Fantastic warranty
Solid frame
Self-powered console
Adjusting handlebars become easier with the user assist feature
What Could Be Better
Complaints regarding the company's customer support
Myriad VX Personal Console incurs additional cost
Check the price of IC6 Indoor Bike on Life Fitness
Frame & Construction
I'm quite sure that any of you would fall in love with the sturdiness of the IC6 model for its heavy-duty steel frame.
With all the internal components packed and sealed away neatly inside the premium-quality frame outside, the machine not only boasts of an elegant design but also guarantees protection of all important parts from any external damage.
Again, you could compare this home gym equipment to a commercial-grade bike as the IC6 can withstand up to 330 lbs of user weight—far more than most indoor cycles that support only up to 300 lbs.
Though sturdy and tough, they are assembling the bike is utterly simple and straightforward. Most internal parts, including the flywheel and other internal components, are fully assembled, just like other spin bikes.
All that you must do is attach the pedals, seat, stabilizers, and handlebars.
Handlebars
Being a spin bike, handlebars are an essentially important component of the equipment as your upper body is thrust upon with ample pressure while riding.
Handlebars help you relieve much pressure by changing your grip on them based on the type of workout performed—climbing a hill, sitting, standing, etc.
The IC6 is provided with fully adjustable handlebars that could fit at any position, depending on your comfort.
Being multi-grip, you can rest your hand anywhere and be as comfortable as possible while exercising using the curvy handles present.
A unique addition to Life Fitness' IC6 model is the 'user-assist post' that helps you adjust the handlebar height easily, unlike other models where this adjustment is much harder.
Console
You can choose from two different options when it comes to the console of IC6. One is the 'Wattrate Color TFT Computer'; that's the standard grade console. My feedback is that it's pretty neat, given its various benefits.
Firstly, it is self-powered using a small generator on the bike that generates electricity as you exercise.
It's your pedaling motion that supplies power to the console without the need for any batteries or wall plugs.
'Wattrate' is a sophisticated watt meter of Life Fitness to supply you with precise metrics on your activity.
Paired along with the 'coach by color' system, the bike helps you understand which workout zone you are currently in.
The console brings about changes in the color of the screen based on your efforts. You get a simple yet sleek TFT (this abbreviation is more user-friendly to call, isn't it?) console that shows you all the important metrics desired by any individual.
There are four different display views from which you can set your preferred one. Besides all these benefits, the console is also compatible with wireless chest strap heart rate monitors.
The other console is the 'Myride VX Personal' console. You could call it an advanced console as there is a tablet that connects to the handlebars helping you readily access different instructor lead workouts.
Choose from three built-in apps, namely the world view, tour coach, and studio coach, using this console.
Use the world view app for watching 5-minute videos from 500 different locations worldwide, experiencing the virtual presence of mountains and lakes.
Use the tour coach app for enjoying four different 50-minute instructor lead workouts and four different 30-minute HIIT workouts.
With the studio coach app, you get 12 15-minute HIIT workouts, 4 30-minute classes, and 4 50-minute classes. All of these come with instructor guidance and music options to keep your energy levels high.
The only disadvantage is that the Myride console comes at an additional cost, but you get frequent promotional offers from the company side.
So, don't miss out on a versatile exercise experience, but do enjoy the full-fledged options provided by IC6 by purchasing the console if your budget permits.
Seat
Seats are an indispensable part of any exercise bike, particularly spin bikes that make it necessary for you to sit upright and do your workout. So, the more comfortable the bike seat, the better is your exercise experience on it.
Generally, indoor bikes have a pretty uncomfortable seat, which is the view of most beginner trainers. Contrarily, most users have found the seats of IC6 to be comfortable.
Even if you find the seat to be not so satisfactory, you could always replace it with any seat of your choice or add some gel cushion to bring about enhanced comfort to the seat anytime.
A primary requirement that must be considered with any exercise bike is to look out for how adjustable the seat is before purchasing.
For a bike as highly priced as the IC6, the seat must be fully adjustable (that is, provisioning must be provided to change both the height and horizontal position of the seat.)
I must gladly say that IC6 promises this requirement is coming with a fully adjustable seat that helps you ride perfectly for a prolonged time on the bike without any hassles.
Flywheel
You could call the flywheel an integral part of any exercise bike. If you are familiar with exercise equipment, especially exercise bikes, you would know that heavier flywheels are preferred comparatively.
This is mainly because the flywheel's weight has a great impact on the smooth operation of the machine—the heavier the flywheel, the smoother the experience is.
In general, good-quality indoor cycles come with a flywheel that weighs between 30 and 50 lbs. But Life Fitness seems to differ from this school of thought.
They seem to agree more with Keiser, who uses only an 8 lbs flywheel on their popular M3i model.
Going by Keiser's principle that any high-performance bike mainly relies on a high-quality magnetic resistance system and an optimal gear ratio, the IC6 makes use of a 9 lbs flywheel only.
Still, I find individuals delighted with the overall cycling experience without complaints about the machine's smooth functioning.
So, how does the IC6 guarantee high-speed operation? Life Fitness has smartly designed its gears and the automotive-grade Poly-V belt drive and used the frictionless magnetic resistance system to provide a butter-smooth and whisper-silent riding experience.
Now that we have covered all the primary requirements of any exercise bike, the next important thing that would trouble you before making a purchase is the machine's maintenance requirement.
Good for you, the belt drive system of IC6 comes maintenance-free, unlike chain drive systems that rely completely on repetitive lubrication to function smoothly. The operation is also smoother.
The magnetic resistance system also negates any of the disadvantages of the chain belt system and has minimal risk of breakdown as there are no touching parts.
We've commonly heard of dial knobs being used to change bikes' resistance levels, but the IC6 uses a lever system to adjust resistance.
It would help if you turned the lever up or down, perfectly placed on the handlebar, and excellent positioning gesture by Life Fitness. This makes it easier to reach out to them even when you are standing.
Practically, the lever positioning is a useful design tactic as any of us would surely find it awkward to stand and change the resistance level from a standing position otherwise.
Also, just like the Keiser designing, the flywheel in IC6 is placed on the rear side of the equipment.
You not only get a cool design but also enjoy the utmost protection for your flywheel from any sweat-related damage.
So, IC6's use of a magnetic resistance system using a belt drive train and lightweight flywheel guarantees the utmost smoothness and noiseless riding experience.
Pedals
Just like every other high-end bike that's compatible with cleats, the IC6 is also compatible with cleats. Using cleats on a spin bike enhances your experience as they let you pedal faster and effectively.
The IC6 spin bike has dual-sided pedals, which are of utmost help. On one side, they are compatible with SPD cleats, and on the other side, you have a toe cage that goes well with sneakers.
Wear any shoes and find the pedals to be most compatible with them.
I have to bring up something called Q-factor here, and this might make no sense to you unless you are an avid cyclist passionate who knows about the technical details of the equipment.
Q-factor is nothing but a value that denotes how far apart the pedals are. Generally, the closer they are, the lesser the stress exerted on your knees and hips.
IC6 has a 155mm Q-factor and has been applauded by expert cyclists and hence, is an additional advantage to you.
Life Fitness IC6 Indoor Cycle Alternatives
Overall, IC6 is an excellent piece of equipment worth the money shelled.
But, if you find the product to be incompatible in any regard—it might be the maximum weight allowance or the availability of the second console only when you pay extra for it—you can always find equivalent alternatives that come with certain other features and construction.
Given below are such alternative indoor cycling equipment that helps you make an informed choice.
Keiser m3i
You could consider buying the Keiser m3i bike for your home gym use as it is one of the best indoor cycling bikes presently.
Like IC6, this equipment has a lightweight flywheel (8 lbs) that guarantees a natural riding experience.
The eddy current magnetic resistance system implemented ensures a smooth transition every time you change gears.
Apart from these, the Keiser m3i features classic extra features that make it popular among customers.
This is the first bike that integrated Bluetooth technology, has a media tray, water bottle holder, and a set of AA batteries for generating power.
Whereas the IC6 uses the pedaling motion to give life to the console (much better).
The maximum user weight here is 300 lbs that are similar to other standard spin bikes. Both the bikes are almost priced equally, but the IC6 has better technology implemented comparatively.
Life Fitness IC7
We are dealing with an award-winning bike model here, which explains IC7's performance and functioning.
The IC7 has a sleek design, a two-stage drive train, and satisfies you with a great digital console.
Here too, the seat adjustment options, handlebar grip, flywheel design, and pedals are just like your IC6 model.
The IC7 can withstand up to 330 pounds of user weight.
The only difference between IC7 and IC6 is that the IC6 model offers more technology (advanced digital engineering technology is adopted from IC7, though) and has increased value at a comparatively lower price than IC7.
Life Fitness IC5
There is not much to compare here as almost all the specifications are similar, and I was surprised to find that the IC6 is just like a Xerox copy of the IC5, bearing a few subtle differences.
The major difference is in the console supported by IC6, the Wattrate TFT computer 2.0 console. Contrarily, the IC5 supports the Wattrate LCD computer console.
So, you could justify IC6's better technology use and enhanced console experience compared to IC5.
In terms of design, the IC6 wins my heart. If you are concerned about pricing, I would recommend you choose the IC5 model as it is lower priced than IC6.
Final Words
With best-in-class features and the latest technological implementations, the IC6 is a classic example of a premium-priced bike that satisfies most of our requirements from home gym equipment.
If you are ready to skip purchasing the Myride Personal console, the IC6's pricing is similar to other reputed bikes, including Keiser M3i and Schwinn AC Performance Plus.
But, adding the console's cost makes it the most expensive bike. My recommendation is to choose the IC6 model with/without the Myride console, depending on your budget.
Irrespective of your pick, the IC6 is a great choice with high-tech features and a commendable warranty.
FAQs:
Is Life Fitness IC6 Indoor Cycle Bike Compatible with Zwift App?
The Zwift app is one of the most loved apps by runners and cyclists worldwide for its promising virtual training programs that break the monotony of exercising. Sadly, the IC6 model is not compatible with the app.
But, the company's IC8 model supports the app's functionality elevating your overall exercise experience.
Read Also: