When you buy through links on this site, I may earn an affiliate commission at no extra cost to you. Learn more
We've seen many home gym systems, including elliptical trainers, stationary bikes, treadmills, resistance bands, stationary bicycles, rowing machines, etc.
Functional trainers are one type of home gym system that mainly consists of a pulley and a cable. In this article, we'll be covering the Life Fitness G7 home gym equipment.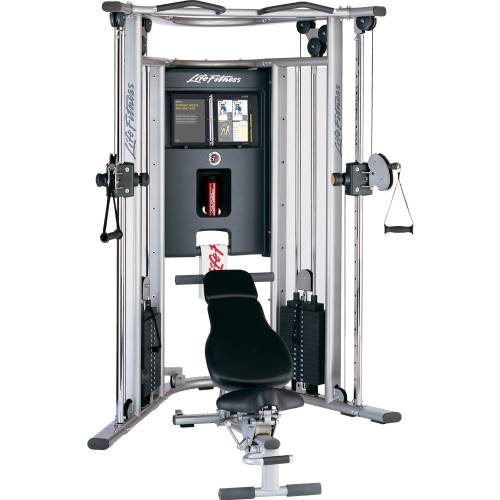 Pros
The G7 comes with a sturdy and robust build
Unique cable-motion technology
Dual pulley system for smooth exercising
Provides around 60 different workout options
It comes attached with a detailed user manual that can be easily mounted on the frame
It also includes training DVDs as well
It comes with two 150 lbs. weight stacks
Various accessories included
Cons
Limited warranty for the cable and pads. Some buyers aren't happy with that
Tools to assemble the equipment not included in the package
Cannot fold the equipment when not in use
Assembly might be difficult
Bulky design
Cannot move around easily
Limited chest exercises
No bench attached
No leg press

Attachment
Specifications
Abdominal/Oblique Exercises: 5
Biceps Exercises: 5
Chest Exercises: 12
Functional Exercises: 4
Leg Press Attachment: No
Lower Body Exercises: 10
Removable/Fold-Up Bench: Optional
Shoulder/Back Exercises: 15
Total Number of Exercises: 55
Triceps Exercises: 4
Type of Motion: Cable Motion – user-defined motion
Instructional Material: Video & Exercise Guide
Dimensions (L x W x H): 48.5 in x 69.5 in x 83 in (124 cm x 177 cm x 211 cm)
Included Accessories: Straight bar, foot strap, thigh strap, stability ball
Space Requirements: Recommended space for most gyms 10ft L x 8ft W (3m L x 2.45m W)
Warranty (warranties outside the U.S. may vary): Lifetime on frame, welds, pulleys, and parts; 3-year on upholstery pads and cables
Overview
Life Fitness is a renowned name in the fitness equipment industry, and if you've been to a gym, you couldn't miss noticing one life fitness brands out there.
The Life Fitness G7 is a functional trainer with 20 different pulley positions to provide you with various exercise options.
The cable and pulley system allows you to build your strength, power, and stability greatly.
It also comes with a video guide along with a detailed user manual to get you started right away.
With the Life Fitness G7 at your disposal, you can bring the gym experience right inside your home.
The functional trainer comes equipped with adjustable pulleys that allow people to adjust it to various positions and choose from 55 different workout positions.
The equipment is also ergonomically designed so that it naturally mimics the natural motion of your body.
Frame & Construction
The frame of this Life Fitness G7 home gym equipment is made using high-quality and heavy-duty materials.
Also, the frame is completely rust-resistant, and hence you can expect a longer life for this equipment.
The frame also comes with a powder-coated finish that helps it guard against all kinds of scratches during your daily exercise routines.
Strong and sturdy construction ensures that you don't need to look for any other home gym equipment for years.
Pulleys
One of the highlights of this home gym equipment is the cable and pulley system.
It comes equipped with a dual adjustable pulley that enables users to switch their workout positions easily.
With users allowed to change the pulleys in 20 different positions, it also helps them try around 55 workout options.
The pulleys are made using high-quality materials and will last for a long time.
Without walking out of your home, you can perform all kinds of exercises on this multi-gym system.
Weight Resistance
The G7 multi-gym system comes packed with a couple of weight stacks that weigh around 150 lbs. each.
This is more than enough, even for professional bodybuilders. Users can separate the weight stacks easily according to their weight requirements.
Even though an adjustable bench is not included, if you can invest in one, you can feel that you can perform all kinds of exercises on this equipment.
Check the Price of G7 Home Gym on Life Fitness
Features
The Life Fitness G7 multi-gym comes packed with a lot of features, including:
The G7 comes with around 20 pulley adjustments that allow the users to try various workout combinations. Also, adjusting the pully to different options is quite smooth and quick.
The multi-gym also comes packed with two 150 pounds weight stacks that enable people to exercise both sides of their body simultaneously.
The G7 provides users with various workout options, and the pull-up bars allow users to take care of their upper body workouts easily.
The G7 also comes packed with many accessories, including protective straps for your thighs and ankles, a training manual and video guides, and so on.
Ultra-Smooth Pulley Adjustments
Many functional trainers fail primarily for the reason that they come with pulley systems made using low-quality materials. But with the Life Fitness G7, the pulley and cable system are made using high-quality and heavy-duty materials.
One of the major highlights of the G7 multi-gym equipment is cable motion technology, as it allows for unrestricted motion, and people can customize it to their own requirements.
Attachments
The G7 comes included with various accessories, including:
Two 73kg weight stacks
Pair of handles (medium size)
Ankle straps
Thigh Straps
Exercise Ball
Detailed user manual for workouts
Exercise training video
Water Bottles
Assembly
The Life Fitness G7 is not an easy task and requires at least two people to assemble.
The equipment comes attached with a detailed instruction manual with clear steps to assemble the equipment.
The machine is quite heavy and not easy to move around. Hence, it is recommended to have the machine delivered to the place where it is being installed.
Then you don't need to move it after installation.
The tools required for assembly are not provided, and hence, you need to get your own set of tools, including a screwdriver, wrenches, snap ring pliers, etc.
Check the Price of G7 Home Gym on Life Fitness
Warranty
The Life Fitness G7 home gym equipment comes with a lifetime warranty for the frame, welds, pulleys, and parts; 3-year on upholstery pads and cables.
Final Words
Overall, the Life Fitness G7 is one of the best functional trainers available on the market. Even though it is heavy and not easy to assemble, it is a breeze to work out on this equipment once you install it.
Changing the pulley positions is quite easy, and it allows for more than 55 different workout options. So, if you are looking for home gym equipment, why not try out this Life Fitness G7 multi-gym system.
Read Also: