When you buy through links on this site, I may earn an affiliate commission at no extra cost to you. Learn more
Versa Climbers are effective in giving you a total body workout that too in a low impact and fun manner where you enjoy every bit while you are exercising.
Yes, it is expensive but the lifetime durability and highly useful functionalities will surpass their cost in no time. But it is a space-friendly option and gives quick results even if you work out for a short time and a few days a week.
They are ideal machines for commercial settings due to their excellent durability and are suitable for home use also if you can afford them.
In this post, we will review the Versaclimber SM Model, which is one of the most preferred models of Versa Climbers where you get to know complete information in all the aspects.
Features of Versaclimber SM Model
Let me list down the features and specifications of the VersaClimber SM Sport Model below for your convenience.
Variable resistance for adjusting the challenge from 1lb. to 500lbs.
Hand welded steel machine using precision engineering
Comes in two versions stand-alone or wall mount
Arm travel and step height adjustability has a range of 1" to 20"
Maximum weight capacity 350 lbs.
A maximum speed of 350 vertical ft./min
Pedal adjustments and 3 grip settings
Climb angle of 75 degrees
Dimensions 7′ 10″ x 43″ x 46″ and 150 lbs.
Digital display with 6 Race i.e., opponents and 6 Distance Programs i.e., Structures
Works on AC power supply of 110 Volts
Warranty of 3 years on frame, 2 years on slides, rollers, sprockets, and chains, 1 year on electronics as well as parts and labor.
Bluetooth, Heart rate monitor, Adjustable Seat, Range of Motion Limiters, and Running Hand Grips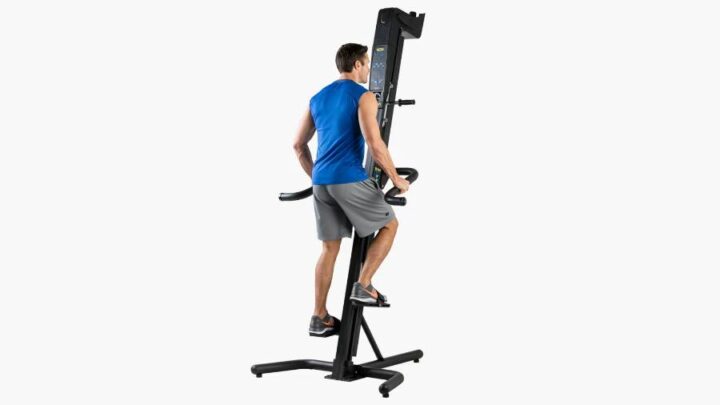 ==> Check the Best Price on Rogue Fitness<==
Quick Summary of Versa Climber SM Model
Versacimber SM Model is a heavy-duty exercise machine that is highly efficient in calorie burning. It involves a climbing-style activity that involves both your upper and lower body that too with zero impact.
When you engage your body in such an ultimate training regime continuously it results in a high-calorie burn. When you compare it to the treadmill workout you get a 200% more calorie burn up for the same time of 20 minutes on Versa Climber.
Since you use both your legs as well as arms with Versa Climber for climbing motion which is not the same with the treadmill.
Moreover, it is known for lesser injury risk and higher cardio activity making it the machine of choice for even elite sportspersons. Its step to climb ratio is 1:1 and the weight load is 550 lbs.
Moreover, this machine comes with a small footprint and hence requires less space. The contra-lateral method of working i.e., using your right arm along with your left leg is not possible in many workouts which is the reason why Versa Climber has been a hit since its introduction.
It helps in targeting the muscle groups which cannot be targeted except using this technique. This is the fastest way to work your back, chest, arms, legs, shoulders, and more to get a complete body workout that too in a fluid motion.
Like any other exercise, you need to follow each workout session's warm-up and cool-down periods. Suppose you intend to do a 20-minute session them you need to do a 5-minute warm-up, then perform 12 minutes of full intensity workout and then conclude it with a 3 minute cool down.
When you intend to build strength, you can do 8 to 12 reps at a slow rate for less than a minute for each area. Instead, if you choose to do power training you can go for 15 to 30 reps at a faster rate.
Similarly, for endurance training, a 30 minutes session at an intermediate rate is enough. These are general guidelines of what to expect and you need to consult a personal trainer for what suits you best for your body type and your goals.
What I Like About Versaclimber SM
There is so much to like about Versa Climber SM but here I would like to mention a few useful points for you to know.
Upgradability
If you happen to buy this model you can upgrade it to a touchscreen hassle-free when you think it is necessary.
Since they last long, you can add the required accessories as you see fit based on your needs without any issues.
Space Saving
This machine is compact as it is and does not require moving or folding like many other machines.
They fit well in as little space as a 4 sq. ft. on the ground which is not the case even when folded for most of the fitness equipment.
Though you need a complete height clearance as it is an upright machine.
Cross-crawl functionality
The natural running or crawling action involves our upper and lower limbs in a cross manner.
The same is the principle used in this machine to mimic your natural gait which is safer than many exercise moves and effective in strengthening your para-spinal musculature.
It is because this contra-lateral movement generates neural pathways and connections between the right and left brain hemispheres resulting in better communication.
When the brain functions in a healthy manner it results in overall improvement of your body as it integrates your sensory systems of balance, vision, and proprioception.
You get excellent hand-eye coordination which helps you in performing better as well as to develop a strong form which improves your performance in sports such as running.
Another interesting fact is that it also uses the muscles against gravity when climbing which can engage your core stabilizers without impact.
This movement involves the nervous system as well as the muscular system which together help you build a fit body.
Though the contra-lateral movement is standard in this machine if you need a traditional standard climbing pattern then you can special order it.
Adjustable resistance
It comes with a range of resistances that throw higher challenges when you master the previous level. You can also tune down the intensity when you lost touch with exercise for long periods and want to restart.
Either way, it is flexible for many ages and situations due to its resistance adjustability.
Hi-Tri compatible
Hi-tri is three VersaClimber machines that can be put together for team workouts. The Sports model discussed here is compatible with this action. This is mostly found in clubs or gyms and is becoming a popular way of workout by forming groups.
What I Don't Like
The expensive price of this equipment is something that needs extra thought as it is a huge investment. They are not easy for novices and require some initial training before you understand how to use them properly.
Versaclimber SM Attachments
You can add these attachments to your Versaclimber SM for improving its usage. Arm extenders help people who are 6′ 3″ – 6′ 8″ tall to utilize maximum flexibility and stretch. Floor mats serve as protection to the floor.
Why Are VersaClimbers So Effective?
Check out the below-mentioned information to understand why VersaClimbers are so effective.
The zero harsh impact due to the fluid motion of your joints which do not receive any jerks or shocks due to constant contact with pedals saves them from deteriorating.
Lesser chance of injury due to natural movement meaning more comfortable and safer workout.
Extra calorie burn due to high-intensity action it provides.
An anti-gravity workout requires more effort than a flat surface.
Interval training facilitates better fat loss as it helps in boosting the metabolic rate.