When you buy through links on this site, I may earn an affiliate commission at no extra cost to you. Learn more
Treadmills are adored for their ease of use and accommodating every overweight user's fitness needs—lose weight, gain strength, or develop overall fitness. You can easily find some extremely durable treadmills with over 400 lbs weight capacity for intense running at the commercial gym. But what if the weather is bad or you don't want to go to the gym that day?
If you are overweight and looking for good home gym equipment to lose weight at home and become flexible, a treadmill with high capacity (300 lbs, 350 lbs, 400 lbs, or even 500lbs) should be the apt choice.
Heavy people want to look out for a high weight capacity treadmill, but with so many different choices in the market, what's the best heavy-duty treadmill with high weight capacity?
Our top picks:
Product
Features
Price
Rating

350 pounds weight capacity
Bluetooth connectivity and HR strap
Durable motor has speed and incline changes, perfect for interval training
60" 3-Zone cushioned deck for comfortable footfalls

9.3



400 pounds high weight capacity
Comfort Tech™ deck cushioning
Compatible with Zwift
Adjustable HD touchscreen to stream your favorite shows. (Netflix, Hulu, HBO, etc.)
10" interactive console

9.8

350 pounds weight capacity
Zwift-certificated treadmill
33 preset workout program
Reader-friendly 7.5" bright blue backlit LCD
Handlebar mounted speed and incline controls

9.4
Curated below is a well-research list of the top 7 best treadmills for a heavy person:
See the overview, pros & cons below. And you would also be delighted to find some excellent information on how to go about making the right and wise choices and learn about the benefits of using a treadmill for overweight beginners.
Are Using Treadmills with High Weight Capacity Bad for Your Knees?
Time and again, you may have heard that running/jogging causes a greater impact on the knees leading to knee pain in due course. It isn't unusual for obese or overweight people to worry about whether or not treadmills are a piece of good exercise equipment.
Sometimes, fat guys even worry about walking on the treadmill would strain their knees and ankles. But as a matter of fact, many of them already suffer from joint pain due to excess body weight. All the strain exerted by your weight causes backaches or knee pains, most frequently in overweight individuals.
A study published in the 'Journal of Biomechanics' found it untested that obesity causes increased loads on the knee, leading to joint degeneration. Contrarily, light exercises such as walking promote knee health making them feel better than before.
The main catch here is that the treadmill purchased should accommodate heavyweight capacity designed specifically for heavy people's needs. The cushioned treadmill guarantees remarkable shock absorption systems, which impact your knees as low as possible.
It was rare to find higher weight capacity treadmills that could withstand up to 400 pounds or 500 pounds of user weight. Even if you did find them, they were priced way too above nominal ranges and affordable only by very few individuals.
Thankfully, heavy-duty home treadmills (350-400 lb. capacity) are more affordable and priced only as much as an elliptical machine or exercise bike.
They are also more commonly available. But, if you are looking for treadmills with a 450 lbs + weight capacity, you might have to be ready to shell out ample money to get a good-quality machine.
What Are the Benefits of Using a Treadmill for a Heavy Person?
Treadmill offers numerous benefits that catapult your body's health. You might be walking briskly only for 30 minutes a day on the treadmill, but you would reap the following benefits, lower blood pressure, decreased stress levels, and improved bone and muscle strength.
Source: Trim your waistline, improve your health – Mayo Clinic
#1. Lower Blood Pressure
High/increased blood pressure is a condition suffered by heavy individuals commonly as they age. Such an increase in blood pressure levels can lead to cardiovascular heart disease. The best way to stay away from such risks in life is to exercise regularly on a treadmill that's suitable for overweight people.
#2. Reduced Stress Levels
Stress is a word that's been commonly used nowadays in life, both by young and elderly people. Our inactive lifestyle is a vital contributor to increased stress levels. Exercises can reduce stress and create positive feedback in life.
Your happiness quotient plays a prominent role in impacting your daily activities–the happier you are, the likelier you are to perform exercises regularly.
#3. Strengthen Bone & Muscles
If you walk/run on a treadmill when you are overweight, it increases your joints' movement more frequently.
This way, you will be able to build up your muscles slowly. Such muscle strengthening and development help you move for longer periods and make doing tasks easier and simpler.
One best trick would be to start at the minimum speed available on the treadmill by listening to music or watching your favorite program on the television. You might not even realize that you are exercising, and then you can gradually build up the pace in due course.
#4. Best Alternative to Outside Exercising
You might repeatedly wonder why to waste money on home gym equipment when you can quickly go out for a superb walk/jog in the park, enjoying the scenic beauty and fresh air outside.
There are not one or two but numerous benefits of using a treadmill indoors:
You are guaranteed utmost safety, reducing any risk of injury caused due to uneven surfaces or moving vehicles outside.
Treadmills are suitable for heavy people because they come with a cushioned belt to lower pressure on joints.
It helps your exercise any time of the day, irrespective of the outside weather.
Heavy people often feel conscious about exercising outside, valuing others' opinions too much. Exercising indoors shuns away any such hard feelings helping them work out comfortably without such thoughts.
Slow walking on a treadmill helps:
Minimize chances of falling, especially when you are an elderly person
Accelerate weight loss by minimizing appetite
Lowers risk of cataract problems
Ensures larger dropping in pounds by increasing calorie-burning abilities during and after exercise
If you are not satisfied with these benefits from treadmills, try rowing machines or elliptical trainers with high weight capacity, which are considered the most versatile exercise equipment for bad knees.
And also, exercising on the rowers—a kind of low-impact full-body workout machine—would target 85% percent of your body muscle, which can provide total-body workout options for you while eliminating the impact on your knees.
Top 7 Best High Weight Capacity Treadmills for Heavy People
Given below are the top 7 durable treadmills for a heavy person chosen based on the above-mentioned criteria.

The 3G Cardio treadmill is well-designed to be a compact machine for an obese person that can be folded and stored away easily, occupying minimal space.
Don't doubt the machine due to its compactness as it supports up to 350 pounds of maximum user weight capacity.
Speed might not be your primary concern, but this heavy-duty treadmill offers you optimal speed ranges between 0.5 and 12 mph.
The manufacturer has proved their concern for heavy people by coming up with a large orthopedic belt design that keeps the overweight user comfortable while exercising.
You can change the incline settings from 0.5 to 15% to keep your workouts challenging and engaging. This power incline treadmill itself is stable and constructed for intense use.
Also, the treadmill comes fitted with a 3.0 horsepower motor that makes its functioning as noiseless as possible.
Any heavy person can choose this running treadmill for 350 pounds adults without disturbing others in the household.
Pros
The high-capacity treadmill can be easily shared with other users due to its sturdy frame and construction
Good incline and speed settings
Built-in heart rate monitor and an optional wireless HR chest belt
The large orthopedic belt makes it a safe treadmill for overweight guys
Handrails enhance user safety and stability
One of the best treadmills for obese that save lots of space
Cons
No option to connect to apps for a versatile exercise experience
Cannot save personalized programs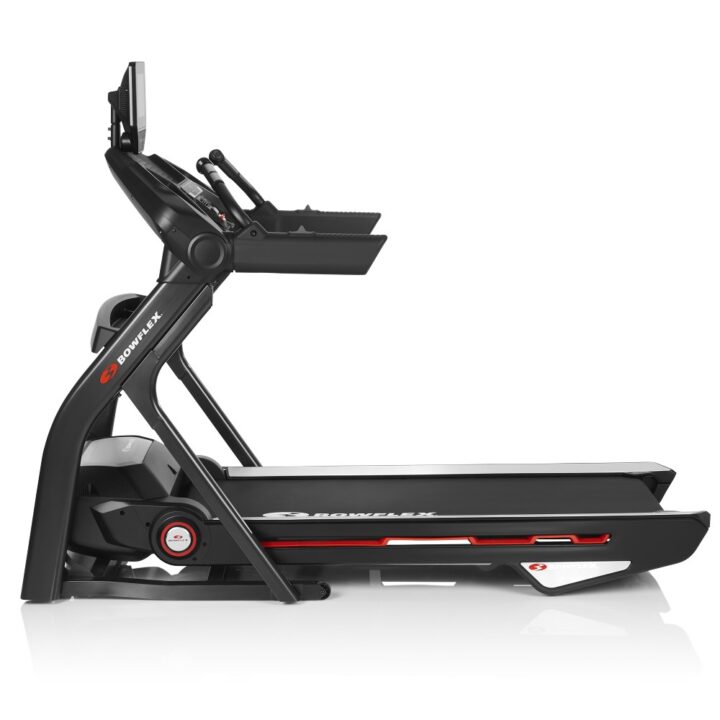 The Bowflex T10 foldable treadmill is one of the simple yet performance-oriented heavy-duty treadmills for big and heavy people in the market.
With JRNY workout programs, you can get and view your exercise results simultaneously on a bright and colorful backlit LCD console. The company has designed the treadmill keeping the simplicity and ease of use of the trainer in mind.
This 400 pounds capacity treadmill has one-touch adjustments for changing speeds between 0 and 12 mph and incline levels from 0-15% with the touch of a button.
These make it a versatile home running treadmill for heavy people who love to experience challenging exercise routines as their fitness levels increase.
You get a neat and large running deck surface (22″ x 60″) and a 3.5 CHP motor that provides you with an uncompromised running/walking experience.
There is an option for Bluetooth connectivity, but it's limited to certain Apps. This smart treadmill is compatible with Zwift, and you can enjoy a vivid running experience in your home comfort.
Pros
Soft Drop folding ability helps you open and close the equipment smoothly.
This cushioned high weight capacity treadmill can accommodate up to 400 pounds of user weight
One of the most durable treadmills and it provides the widest tread width for comfortable exercising
Optimal incline and speed ranges
Cons
This treadmill is quite heavy
Can link to a restricted number of Apps
Horizon Fitness 7.0 is one of the best quiet-operating treadmills for heavy users who are under 350 pounds. The main features that make this noiseless treadmill with 350 pounds user weight capacity stand tall among the rest are its 60 inches cushioned deck, advanced Bluetooth connectivity features, and powerful motor.
You can use the one-touch speed and incline keys to change to your desired measures. The 3.0 Continuous-Duty Horsepower motor powers your exercise, and the exemplary drive system helps you change between workouts efficiently and smoothly.
The advanced Bluetooth connectivity helps you sync your gadget to the machine's built-in speakers to enjoy listening to music or seeing videos.
Don't worry about keeping your gadget safe, as the built-in device holder helps you keep them safe even during your fastest run with its sturdiness. Its positioning is also appreciable without causing strain to your eyes.
Never worry about low batteries, as the USB port helps charge your gadgets rapidly during longer training sessions.
Pros
Durable and easily storable with a foldable mechanism
Switch between running and walking settings from your handlebars
Handgrips in the front and side for stability
This treadmill provides a maximum user weight of up to 350 pounds
Cons
Uncomfortable for smaller people as the height of the handlebar cannot be changed
Though expensive, the Sole F80 is one of the most robust folding treadmills available for heavy individuals. It is one of the few good folding treadmills that support up to 375 pounds of user weight.
This treadmill for plus size has been constructed with the utmost sturdiness to accommodate the running/jogging needs of heavy users.
The powerful motor is a great value addition to the machine but ensures that it functions relatively quietly.
Though foldable, the equipment occupies more space compared to other treadmill models. The wide running surface and long tread belt make it a sought-after one among users.
Sole's Cushion Flex Whisper Deck provides maximum ergonomic design as it offers 40% more cushioning on your joints—this suits heavy users as they are at more risk for joint/knee strains.
You get an option to perform 8 different workout programs, and there is a heart rate program that denotes your target heart rate.
The big LCD console shows important metrics, and you are provided with a provision for placing your gadgets or magazines.
Pros
Lifetime warranty on running deck and motor
The 2-ply belt ensures long lastingness
A wide and long tread belt promises a comfortable running deck
Excellent shock-absorbing system
Cons
The treadmill takes some time to speed up, making it difficult for interval training
It is an expensive high weight capacity treadmill
This treadmill for plus size is heavy and huge
Are you serious about saving more and working out using a budget treadmill? If so, the Sunny Health & Fitness T7643 is another high weight capacity treadmill, and it would be your best fit.
This budget-friendly running treadmill boasts a big walking surface, a big button, and big handrails that help you show big calorie-burning capabilities.
It has a big user weight capacity holding up to 350 pounds of user weight—a perfect treadmill for plus size, which has a limited budget.
Though everything here is big, you needn't worry a bit about storage or compactness as the machine comes equipped with a soft drop mechanism—you can easily fold and unfold the machine without any fuss.
The transportation wheels provided with the equipment help you easily move the machine to any room of your choice.
You even get big buttons that help you start/stop or increase/decrease speed without any strain on your eyes. The big cupholders help you store water bottles that keep you hydrated while exercising.
Enjoy unlimited entertainment by placing gadgets up to 13 inches in size using the big tablet holder provided.
Pros
The backlit multi-display console helps you keep track of important metrics
It is a budget-friendly, lightweight, compact and foldable treadmill with 350 lbs weight capacity
This durable treadmill comes with big buttons and big handrails, making it a safe treadmill for seniors
This treadmill comes with a wide tread walking space
Cons
Quite loud motor
No incline option
Maximum speed is up to 6mph only suitable only for obese people to walking or light jogging
If space restriction is your primary concern, don't second doubt about buying the LifeSpan TR3000i treadmill that's specifically designed to accommodate high user weight and suit small spaces.
The EZFold design of this folding treadmill helps you fold/unfold and store away the treadmill out of sight once you are done working out.
Versatility is another main advantage of this model as the user gets to choose from 21 different built-in workout programs. This lightweight treadmill has a large running belt and a 350 lbs user weight capacity, making it one of the best treadmills for serious obese runners.
Keep track of your calories burned, the speed at which you exercise, and overall training time using the simple but functional console that helps you monitor your progress.
Feel free to walk, run or jog on this stable treadmill that comes with slight shock absorption.
Pros
Lightweight, compact, and easily foldable
It's a great folding treadmill that supports up to 350 pounds of user weight
Eight shock absorbers make it easy on your knees
Cons
Quite low control panel unsuitable for those suffering from poor sight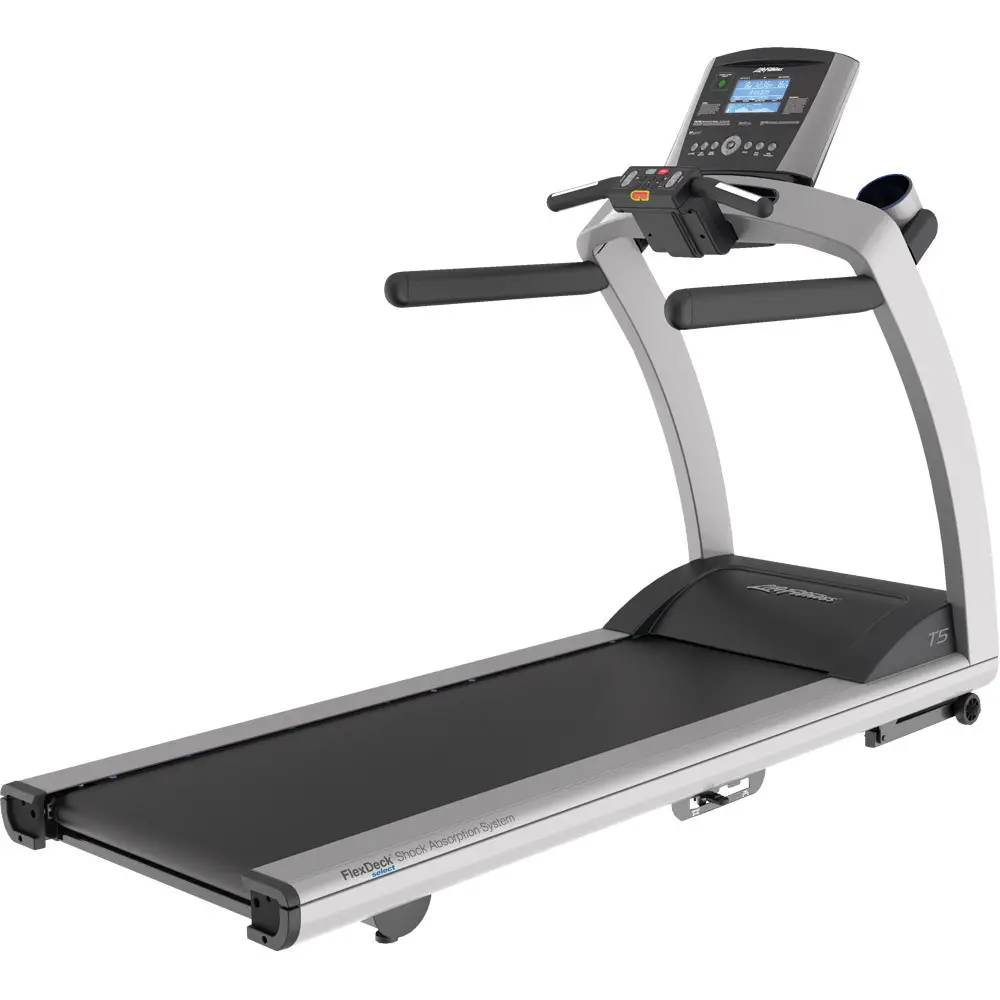 The super-cool treadmills for heavy guys help the obese user exercise on three different running surface firmness settings, thanks to the FlexDeck Select system.
You can call this high-capacity machine your personal trainer as it recalls your choicest walk, run and jog speeds besides helping you with numerous other workout programs. All of this, at the touch of a button!
Suiting a tall and heavy individual's needs, this durable machine is designed with a spacious running surface enabling longer stride movements.
You can reach up to a maximum speed of 12 mph with a 0.5% incline increment, possibly up to 15%.
Any user who weighs no more than 400 pounds (250, 300, 350, also include 400 pounds) can use this machine with the utmost comfort.
Do HIIT workouts or any other challenging workouts, enjoying the connection to interactive apps that enhance user experience.
The console is unique in this Life Fitness treadmill as it has been smartly designed with a dual-zone feature: entertainment and a workout zone.
Place your smartphone and tablet at eye level for enjoying music and videos while working out.
The workout zone helps you follow your exercise performance with self-illuminating lights that become bright when usable and dim when not in use.
Pros
Lifetime frame warranty, 10 years on motor, and 7 years on parts
Adjustable FlexDeck design to enable different running terrains
Possibility to place electronic gadgets at eye-level
Choose from different deck firmness settings to mimic exercising on grass or pavement
The Best Way to Use a Treadmill for Overweight People
It's not right to jump into exercising as quickly as you step into your home gym or any commercial gym space. Follow the below-mentioned protocol to reap maximized benefits from exercising on a high capacity treadmill:
#1. Warming Up
It's cool to step onto the treadmill and start running immediately at top speed. But a proper warm-up is important–it helps increase your heart rate and body temperature, prepares your body for a simple/strenuous workout session, and also minimizes your risk of injuries.
#2. Understand the Features
Good treadmills with high user capacity come with features such as a calorie counter and multiple preset workout programs. Please get to know these features and use them when you are particular about time schedules and regularly working out.
#3. Handrails
Handrails on the treadmill are of utmost use when you are an overweight newbie to exercising and facing stability issues with your feet. The supporting handrails help you stay confident when the treadmill is in motion.
As you gain confidence, strength, and progress with regular exercising, you will use less and less of the handrails, which are praiseworthy. And swaying your hands while walking/running also help to improve your form and burn greater calories.
#4. Cool Down
A cool down is required, just like a warm-up, to slow your heart rate in a controlled way. Never stop the treadmill abruptly after running at top speed. This might make you feel dizzy.
What To Look For When Choosing the Best Durable Treadmill for Heavyweight Persons?
Don't let confusion creep into you when you are finalizing the best treadmill for heavy guys but look for the following features: tread width, speed, heavyweight capacity, and suitability in every treadmill that you see to choose what's best for you.
#1. Tread Width
Treadmills for tall and heavy individuals should have a wider and thicker tread. The average width of any treadmill belt is 18 inches, while heavy-duty treadmills come with a width of 20 inches or larger. The greater the width, the more comfortable it is for the user to walk/run.
#2. Speed
Heavy people usually don't prefer high-speed treadmills as they feel comfortable exercising at average speeds. If you are highly ambitious or any other family member would also be using the same machine, it is better to choose a piece of equipment with a high-speed option.
#3. Heavy Weight Capacity
Treadmills generally hold between 200 and 500 pounds of user weight. Heavy-duty treadmills boast of sturdy frame and construction and can bear up to 400 pounds or even 500 pounds of user weight. Select a model that satisfies your requirements.
#4. Suitability
A heavy-duty treadmill for heavy runners requires spending a generous amount of money. Hence, make sure that the model you choose satisfies your needs, has all the required features, and is easy to use.
Final Thoughts
Heavy users love to lose weight, and choosing a heavy-duty treadmill that supports weight loss is important when making a selection.
Ensure the treadmill for fat guys that you choose comes with different speed and incline levels, offers various features, supports entertainment options for a great exercise experience, and above all, provides durability and robustness for your workouts.
Warranty is also an important feature that ensures that you get the best for what you pay. Pick your heavy-duty treadmill for big people over 250 lbs from the list above and reap greater benefits.
Read Also: