When you buy through links on this site, I may earn an affiliate commission at no extra cost to you. Learn more
Looking for the best treadmill for CrossFit? Then a curved treadmill would be your go-to choice. But, why? This is due to the curved treadmill's mechanical secret, which involves a combination of friction, gravity, and other forces as you run. The weight of your body and the downstroke of your feet naturally pill the tread back.
The contact point is ahead of the center of mass, resulting in a self-propelled treadmill that uses vertical ground reaction forces to deload the body.
This is beneficial to Crossfitters since u-shaped treadmills are good for running at a steady speed but not for acceleration, providing you with regular conditioning and assisting in improving your stamina for all of your WODs.
In this post, we will walk you through some of the best curved treadmills for CrossFit on the market. Here is a list of the quality CrossFit curved treadmill:
In a hurry? Which is the best treadmill for CrossFitters? We would recommend the Assault Air Runner, one of the most popular nonmotorized treadmills for Crossfitters and home gym owners.
The Assault AirRunner is a manual treadmill that offers excellent steel construction, solid stability, and no-limits performance in a sleek, energy-efficient design.
The Assault AirRunner is one of the few high-performance running machines that are both lightweight (280 LBS) and portable (built-in transport wheels), and its small footprint makes it suitable for just about any sort of training environment.
The AirRunner does not utilize electricity since it is a motorless treadmill; instead, it runs on your movement's energy. Whether you're a rookie athlete or a professional athlete, the machine can adapt to your chosen pace almost instantaneously, even if you modify your output at will. There is no maximum speed setting, so if you want to push yourself during a workout, the AirRunner is up to the challenge.
The precision design of Assault features a sturdy steel frame and handrails, as well as corrosion-resistant hardware and a long-lasting slatted running surface—all designed with HIIT (high-intensity interval training) and CrossFitters in mind.
With a variety of heart-rate and interval programs available, the bundled AirRunner console keeps you updated on your time, calories burned, distance, speed, watts, and pace.
==> Check AirRunner on Amazon<==
What Is a Curved Treadmill?
A curved treadmill is a non-motorized treadmill driven by your body movement. The belt is dragged behind you as you stride. This is fantastic since no electricity is required.
The belt will move quicker in reaction to your increased speed, allowing you to choose how fast you want to go for any particular workout.
The unusual U form of a curved treadmill distinguishes it from other treadmills. This is recommended ergonomically to alleviate joint tension and produce a more natural feel while maintaining proper running form.
Top 5 Best Treadmills for CrossFit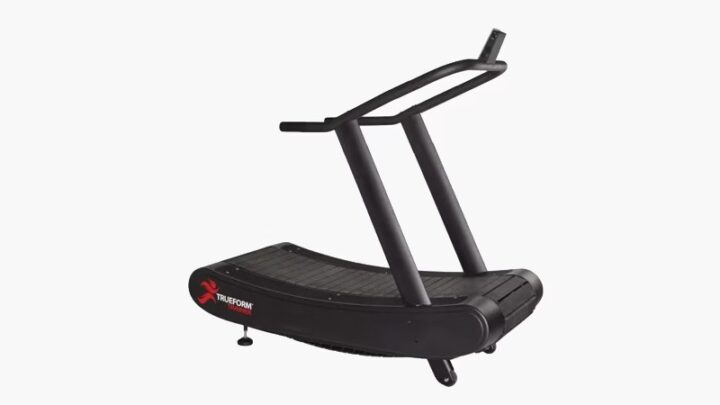 Rogue is a leading fitness equipment brand and producer in the United States. Rogue has become a household name for all North Americans who demand trustworthy and reliable sports equipment, from CrossFit and military to collegiate and professional sports teams.
TrueForm and Rogue manufacture the Trueform Trainer, a non-motorized curved treadmill. Other u-shaped treadmills are built of metal. However, this motorless treadmill is composed of durable and thick plastic.
The trainer's shallow deck is meant to help you run in a mid-foot striking stance, which reduces your chance of injury while also improving your overall form. It lowers overall stress on your feet by reducing overall fatigue on your feet and allowing you to run longer distances thanks to the rubber that helps your feet grip while you run and the smooth sliding belt that is balanced and light.
Although the thick plastic is less sturdy than the Trueform Runner, which had a metal base, it is strong and well-made enough to sustain heavy runners. It is also considerably lighter and more portable because it is made of plastic, allowing you to transfer your trainer if necessary.
The monitor is well-designed and simple to read. It is powered by AA batteries and is simple to replace. It keeps track of your speed, distance traveled, and heart rate.
If you're searching for a non-motorized curved treadmill that will help you improve your running performance and CrossFit endurance, the TrueForm Trainer is a great option.
==>  Check the Best Price on Rogue Fitness <==
The IN10CT HEALTHRUNNER (Intensity) includes a revolutionary dual-bearing system that simplifies transitioning from walking to running. For best results, you can run at your own pace, burning up to 30% more calories and improving your running form than typical powered treadmills.
It is a curved treadmill ideal for HIIT training since you control the pace and can adjust it to your intensity, or for distance runners who want to put miles in their legs without the harsh impact of the road.
The IN10CT's transport wheels and small design make it simple to carry around and use any place without the need for electricity.
When you run, the rubber slats provide cushioning, reducing the impact on your joints. It's made to seem like outside surfaces while still giving support. It also offers responsive training, which means you won't have to wait for the treadmill to catch up or slow down.
We recommend the IN10CT Health Runner if you're searching for a good non-motorized treadmill with good shock absorption, a smooth track, and is good for CrossFit exercises.
Assault Fitness has established itself as a pioneer in the exercise business, offering people the opportunity to enhance their lives through fitness. Manufacturing bikes, treadmills, rowers, gear, and other accessories with the goal of supporting, inspiring, educating, and strengthening everyone from beginners to elite athletes.
Whether it's fostering educational growth or manufacturing superior fitness equipment, AssaultFitness aims to raise and maintain living standards for everyone in the world.
For Crossfitters and home gym owners, the Assault Air Runner has become one of the most popular non-motorized treadmills.
Steel uprights and rubber slats form a slat belt that rides on a 100 low-friction ball bearing. This permits the belt to glide easily across the curved frame's surface.
The curved treadmill's robust frame and adjustable leveling feet on the base ensure that it rests level on your floor. The front wheels on the motorless treadmill allow you to lift and transport it anywhere you wish.
It is lighter than most competitors on the market, weighing only 280 pounds and supporting up to 350 pounds. There is plenty of kickback length and forward stride to deal with because the running belt is 62.2″ long and 17.1″ broad, making it a good treadmill for tall and big runners.
If you're searching for a self-propelled treadmill that's great for HIIT or CrossFit WODs, the Assault Air Runner is the one for you. You can customize the pace and intensity to boost your heart rate and overall exercise.
The ProXL is the second generation of the SpeedBoard range, and it has been significantly improved. This model is quieter, more robust, and more shock-absorbing than the previous one.
The best element is the ability to customize the pre-programmed routines. While most treadmills have a limited number of settings, the Speedfit has over 5,000 treadmill programs to pick from.
If that seems daunting, it also contains a ten-minute in-depth introductory test. It's ideal for novices since it allows you to assess your performance and determine where to begin.
It's a bit on the hefty side at 308 pounds, but there's a reason for that. It can support up to 400 pounds at a time. Overall, it's a good machine with all the features you'll need to maximize your CrossFit exercise.
If you're searching for a budget-friendly curved treadmill for CrossFit, Check out this model from SB Fitness.
This straightforward treadmill features three levels of adjustable magnetic resistance, an easy-to-read digital display, and flexible slats that absorb impact.
It also has transport wheels and a handle to make moving and storing it between exercises a breeze. However, it includes a few pre-programmed workouts, which may be a deal-breaker for some runners.
If you're looking for the best budget curved treadmill on the market, we recommend you have a look at SB Fitness Equipment CT400.
The Advantages of Using Curved Treadmills for CrossFit
Target More Muscle Groups
When you run outside instead of on a treadmill, you utilize more muscles because you have to push yourself forward. Curved treadmills are more like jogging outside in that you must propel yourself forward to begin.
Because you must run faster and use more energy while running, you cannot boost your pace automatically by pressing a button as you would anticipate on a treadmill.
Naturally Aids in the Improvement of Your Running Form
Jogging on the balls of your feet is forced while running on a treadmill with a curve. This forces you to maintain a better posture by allowing your core to engage more.
It will be easier to avoid injuries if you improve your posture and running technique. The impact and stresses on your joints are reduced when you run with proper form. They are superior to jogging outside since the rubber surface is intended to cushion the impact on your tissues and joints, reducing the risk of injury from running on the pavement.
Burn More Calories
According to research, athletes who run 30 percent harder on a curved treadmill burn 30 percent more calories than those who run on a standard treadmill. This means you may get more of the advantages you want in a shorter period and from the comfort of your own home.
Easy to Use and Safe
You never have to bother setting the pace on the motorless treadmills because they are self-powered. You change yourself according to your circumstances, so you do it naturally if you want to go faster.
You can choose your speed, just like when you're jogging outside, but there's less risk of injury because your joints aren't taking as much strain from the hard and varied surfaces.
Curved Treadmills Last Longer
Because there are no moving elements in a self-propelled treadmill, such as an electric motor, fewer parts are prone to break down. The most commonly replaced parts are the slats on the belt, which are inexpensive. Curved treadmills may last 10 to 15 years with proper care and maintenance.
Why Are Curved Treadmills the Best CrossFit Machines?
Safe
Because the treadmill's running platform has a greater grip, it gives your feet more traction than traditional treadmills with cotton nylon belts or abrasive asphalt and slick grass.
Curved treadmills have thick rubber slats, so less friction and heat are created between the transport system and the belt system, making it safer to have in your gym in terms of fire safety.
No Need for Electricity
Treadmills that aren't powered are fantastic since they don't require electricity. This implies it will be more environmentally friendly and save you money on power and electricity.
Maintenance Is Minimal
Because there are no moving elements in a self-propelled treadmill, such as an electric motor, fewer parts are prone to break down.
The most commonly replaced parts are the slats on the belt, which are inexpensive. Curved treadmills may last 10 to 15 years with proper care and maintenance.
How to Choose the Best Non-Motorized Treadmill?
Usability
The treadmill will provide you with more benefits the easier and more accessible it is. If you're a CrossFitter with limited time or don't want to spend hundreds of dollars on extra electricity bills, a non-motorized treadmill will be ideal for you.
Make sure it has a variety of apps and capabilities for your particular routines.
Stability
A treadmill with a U shape that does not move decreases the risk of injuries, resulting in a more enjoyable and successful workout.
When you sprint and run, make sure it doesn't move about so you can concentrate on your workout rather than protecting your legs.
Assembly
Non-motorized treadmills are easier to set up since they do not require power. All you have to do is start walking. Make sure they include routines and multiple training modes if you want to customize your CrossFit exercises.
Weight Capacity
A maximum weight restriction will show how well the curved treadmill performs under different conditions. We do not advocate getting a curved treadmill if your weight exceeds the maximum weight limit.
Warranty
A warranty is an important consideration when choosing a curved treadmill. Curved treadmills frequently come with a 5-year frame warranty and a shorter parts and labor guarantee.
Why Do Curved Treadmills Cost So Much?
When it comes to curved treadmills, the most common question we hear is concerning their cost. It is understandable; curved treadmills aren't cheap, and we tried to keep that in mind when evaluating the machines in this list.
The most straightforward explanation for why curved treadmills are so costly is that the technology utilized to create them is still relatively new.
Curved treadmills are still gaining popularity in comparison to standard treadmills. So, demand for motorized treadmills has not yet reached critical mass.
This means that curved treadmill technology and components are still expensive to find and produce and that this cost is passed on to the user in the final price tag.
Given their advantages, it will not be shocking to see the bulk of treadmills become curved treadmills. We are just in the second or third decade of the curved treadmill, so this might take another decade. As a result, anticipate these items to stay pricey until then.
Is It Difficult to Run on Curved Treadmills?
Curved treadmills might be difficult to run on for beginners. Because the runner controls their own speed, it's easy to get carried away and raise their heart rate too soon.
This contrasts with motorized treadmills, which allow you to choose your own pace and gradually raise it as your endurance improves.
Curved treadmills, on the other hand, should be no more difficult than a standard treadmill or a workout on the roads once you've found your feet and started running at a steady speed. Keep in mind that getting used to it takes some time before muscle memory is formed.
Can You Walk on a Curved Treadmill?
You can walk on a curved treadmill, but you'll probably have to walk in the center of the belt to keep the treadmill from speeding up. Although curved treadmills were not developed with walkers in mind, they may still be utilized for warm-ups, cool-downs, and recovery between HIIT sets.
Curved Treadmills for CrossFit: Wrap-Up
The curved treadmill is, without a doubt, an investment for both Crossfitters and home gym owners. It's also a fantastic piece of equipment that saves energy, burns calories, and fits into small areas.
You'll profit from a new, more rigorous kind of training unless you love setting the speed on a standard treadmill.
Consider pricing, size, assembly, and warranty when you shop for yours. You can definitely find a flat treadmill for less money, but it won't self-regulate. To help you make a selection, read the reviews above!