When you buy through links on this site, I may earn an affiliate commission at no extra cost to you. Learn more
Are you looking for the best Total Gym accessories and attachments for your already-purchased Total Gym model? Total Gym machine is a piece of versatile fitness equipment capable of offering you tons of low-impact, full-body workouts within 20 minutes. Besides, it can be used for rehab purposes, making it a great exercise machine for post-op patients.
Total Gym has a wide range of accessories and attachments, with which you can upgrade your Total Gym machine and add versatility to it. These upgradable options make it a prime choice amongst the people who plan to have an all-in-one home gym machine.
In this article, I will provide you with a list of attachments and accessories that can be used in conjunction with the Total Gym models. Without further ado, let's get into it.
CycloTrainer
CycloTrainer is a Total Gym attachment that has the potential to elevate your gym experience to the next level. Being structurally simple, it composes of 80% plastic, 10% rubber, and 10% metal. Its glideboard provides excellent support for your back while performing cardio exercises.
It can be used to carry-on low impact workout sessions by peddling the equipment at regular intervals between the exercises for a dedicated period. This strengthens your core, serves as a warm-up session, and tones your butt, abs, legs, glutes, and thighs.
CycloTrainer boosts the rate of metabolism leading to efficient burning of calories, and is compatible with any Total Gym Home model. Besides, it is supplied with a total training DVD guide, adjustable pedal straps, digital monitor display, and 6 months warranty.
Total Gym Ab Crunch
Ab Crunch acts as a supportive base for your arms while your backrests on the slide board. It helps you build strong abs by strengthening your core and by trimming your abs. Total Gym Ab Crunch accessory helps you adjust the incline of the board to set the level of difficulty. This act is further eased as it comes with a DVD that explains 10 ab-sculpting exercises in detail.
Dip Bars Combo
Dip bars are a pair of handles that can be attached to the firm frame. Both Ab Crunch and Dip Bars can be fixed easily to any of the existing Total Gym models.
Dip bars help you perform dips and thus aid in shaping triceps, pectorals, deltoids, chest, and shoulders. Further, you can adjust their incline to accomplish upper-body, strength training, push-pull exercises at a desired skill and difficulty level.
Total Gym Wing Attachment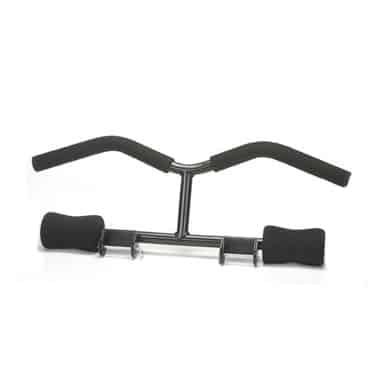 The Total Gym wing attachment is usually connected at the top of the frame. However, it can even be fixed at the bottom. In the first case, it helps perform upper body workouts like pull-ups and chin-ups, while in the latter, it can be used to perform leg curls.
This attachment is available in two variants – 1 and 2 pieces, differing in the number of separable handles. The choice of the variant is to be made based on the model you have as they are not universally compatible.
2000, 2200, 2500, 3000, 3000XL, Electra, XL, and XLS models can be attached with either 1- or 2-piece attachments. Besides, 1-piece fits well with Electra and XL while the 2-piece blends with 1100, 1400, 1500, 1600, 1700 Club, 1800 Club, 1900, FIT, Supreme, Platinum Plus, Premiere, Ultima, Elite, Fusion, and Apex models.
Total Gym Weight Bar
The weight bar is a non-assembly demanding additional attachment that can be slid along the bottom of the slide board. You can use it to hold weight plates on either end, increasing the net resistance offered for your exercise.
It is always advisable to add the weights equally at either extreme as it is mandatory to maintain a good balance. Moreover, you should always ensure that such an act never surpasses the maximum safe weight that can be held by the Total Gym equipment in use.
The weight bar can be easily integrated with many models like 2000, 2200, 2500, 3000, 3000XL, XL, XLS, Electra, and all versions of FIT and APEX. If you have any of these, then feel free to add a weight bar to overcome the feeling of saturation!
Total Gym Step
The step is one of the squat stand variants that can be attached to the bottom base of the equipment. But it imbibes 2 distinct footplates instead of one. Besides, it is expected to deliver a more springy action in comparison to other standard squats.
Large oval squat stands provide more space for your feet to wiggle through. Its wide springy base provides great comfort while you perform traditional squatting exercises and plyometric moves that involve jumping, such as jumping jacks, single-leg hopping, and jump squats.
Total Gym step makes a great attachment for your home gym if you are looking for low-impact multifunctional stepping workouts or if planning for an aerobic session. This accessory is easily attachable to any model except 1000, 1100, 1500, Achiever, and GTS.
Total Gym Grip Shaper Bars
Total Gym grip shaper bars are accessories that can be attached conveniently to either top or bottom of the existing gym frame. This helps you to perform both push and pull exercises, adding new necessary versatility to your home workout package.
The attachment provides grip in three different positions, unlike most other grip shaping bars: wide grip, narrow top grip, and narrow bottom grip. The exercises performed using this attachment help you keep your spine and overall body fit and healthy.
Grip shaper bars help in shaping your body by performing standard and plyometric pull-ups, chin-ups, press-ups, shoulder presses, and single-arm workouts. In particular, it helps to target the muscles and fibers in your back, shoulders, triceps, biceps, and legs.
Total Gym Triceps Rope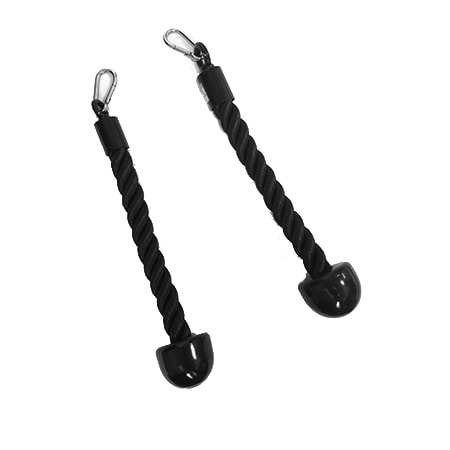 A triceps rope is a cable that can be attached to the weight stack of the gym equipment. They are ideal for heavy exercises and are constructionally robust. While working out, you are expected to pull the rope down to reach your chest level.
Total Gym triceps rope is compatible with any Total Gym model, making it almost universally deployable. It helps you strengthen the muscles in the upper body, specifically targeting the muscles around the triceps, shoulders, back, and core.
You can perform a variety of exercises with this seemingly simple, extra add-on. This includes kickbacks, ab twists, seated rows, lateral pull-throughs, pullovers, triceps pull-throughs, different types of triceps extensions, and core pull-throughs.
Total Gym Standard Squat Stand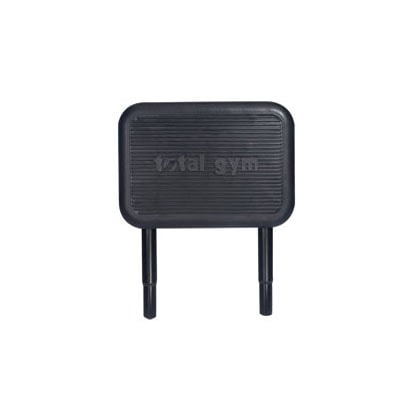 Total Gym standard squat stand is an add-on that can effectively be used in conjunction with standard squat stand and pilates toe bar. It is designed to be extra-long and ergonomically friendly. It aids you in performing squat exercises at full fledge, supporting even a 90-degree knee angle.
It boosts up cardio and plyometric jump workout sessions and helps you strengthen and tone your lower body, including the legs. In fact, the squat stand is a must-to-have attachment if you wish to improve your muscle reflex, as it greatly aids in stretching and flexing.
This attachment makes a good fit for large-frame models like 1700 Club, 1800 Club, 2000, 2200, 2500, 3000, 3000XL, Electra, FIT, Power Platinum, Supra, XL7, and XLS. However, it cannot be used with 1000, 1100, 1500, Achiever, and GTS versions.
Total Gym Roller Pads
Total Gym roller pads are a great attachment to your Total Gym home package. These attachments come in pairs and are made of high-density foam material that is further quoted with quality leather to ensure extra cushion action in addition to longevity.
These serve as a good replacement for wing bar attachment, bench's leg curl, leg extension, and butterfly pec dec parts. They provide firm and strong support for all weights over a wide range of heights. This helps achieve better core stabilization, improved blood circulation, and advanced muscle smoothness.
Total Gym roller pads are compatible with all home gym models and thus helps in adding new versatility to your workout sessions. Besides, they are easy to maintain, clean, store, and carry around.
Total Gym Padded Squat Stand

Total Gym padded squad stand is characterized by an extra-large surface area that increases the space for free placement and movement of legs. This results in an increase in the number of workout angles and thereby aids you in performing more exercises.
Its padded nature assures low impact on the joints while targeting the muscles in the leg. So, you can perform leg strengthening, stretching, and toning exercises at great ease, including those of pilates in addition to basic squats.
It can be quickly and easily attached to the existing gym frame for all Total Gym home gym models except 1000, 1100, 1500, Achiever, and GTS. Furthermore, if your squat stand is supplied with a padded toe bar, then you can achieve much more core stability and control.
Leg Pull Accessory

The leg pull accessory is custom designed and is attached with an ankle cuff that can be adjusted to best suit your foot or ankle size. This Total Gym package helps stretch and strengthen major muscles, namely, calves, shins, and thighs.
This attachment facilitates the performance of exercises like hamstring pull and inner thigh pull and thus helps in toning your lower body. The result would be increased core stability, well-built muscles, a higher rate of metabolism, better endurance, and a well-shaped body.
Leg pull accessory is easy to set up and thus can be used hassle-free for a long period. It makes a good fit for many Total Gym home models, including those of 2000, 2200, 2500, 3000, 3000XL, XL, XLS, Electra, FIT and FIT Signature Series.
Total Gym Press-up Bars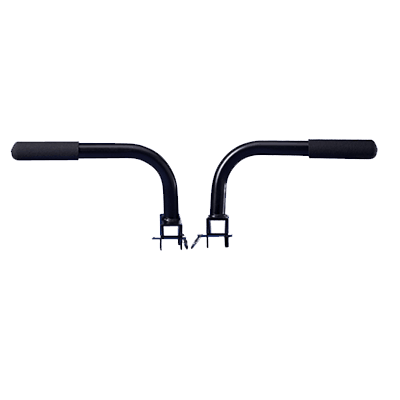 Press-up bars are designed to aid in heavy workout sessions like military-style presses. They are padded to assure optimal softness and provide a good grip, both for wide as well as narrow placement of hands.
Total Gym press-up bars can also be used as pull-up bars and thus are multi-functional. They can be used to do presses that strengthen the muscles in the upper body. In particular, huge benefits can be reaped for the upper back, chest, triceps, and shoulders.
These can be self-attached and put to use readily and quickly without the need for any special technical assistance. They are compatible with many Total Gym home models like 2000, 2200, 2500, 3000, 3000Xl, XL, XLS, FIT, and Electra.
Total Gym Nylon Strap Handles
These are high-quality straps that can be attached to the gym equipment quickly and easily. Total Gym nylon strap handles are designed from nylon to assure longevity and provide an enhanced level of grip in comparison to other equivalent products.
They can be used as a good alternative to metal handles as they avoid strain. They are greatly flexible and assure optimal tension for the muscles in the body. This helps in the easy movement of arms with slight or no worries of side effects.
If you want to add new versatility to your Total Gym package, then do purchase this add-on! They are readily compatible with many models, including 2000, 2200, 2500, 3000, 3000XL, XL, XLS, Electra, Supra, FIT and FIT Signature Series.
Total Gym Chrome Handles
Total Gym chrome handles offer you a firm, regulated grip while performing the workouts. It is constructed in one-end side mode so as to impart the necessary space for free, full-range movement of arms, hands, and wrists.
Their extra-large size makes them suitable for gliding actions enabling the performance of criss-cross arms, one-armed moves, and many other combinations. They are resistant to sweat and thus assure safe grips while you shed your mass!
These handles can be attached in a couple of minutes to 2000, 2200, 2500, 3000, 3000XL, XL, XLS, Electra, Supra, and FIT Total Gym models. The package even comes with an instruction manual that well explains its deployment and use.
Total Gym Golf Core Grip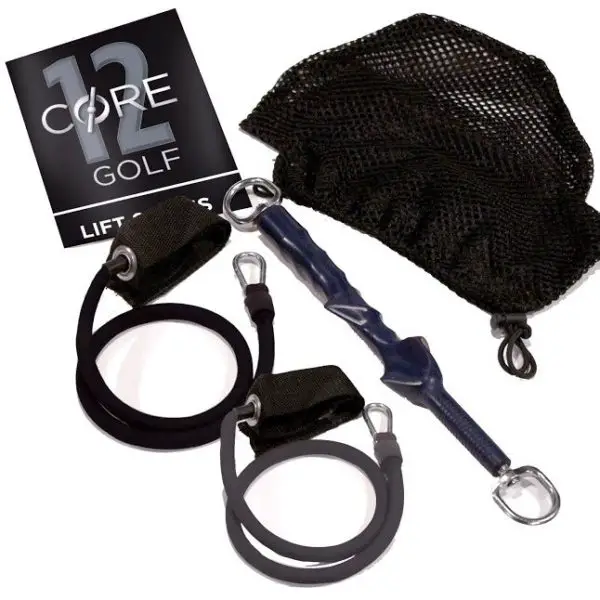 The Golf core grip workout system helps you practice golf swing movements at ease. It helps you develop the necessary stability and speed for all kinds of golf movements. Thus, you can master your golf strokes and soon become a golf pro by using this attachment.
The package comes with many attractive add-ons such as a light tension band, a medium tension bad, a mesh travel bag, a wall chart of 12 core exercises, one ergonomic right-handed core grip, and an instructional DVD.
This accessory can be attached easily to almost all models of Total Gym, almost within no time. In particular, it helps to elevate wrist strength, reinforce a neutral grip and improve spinal and lower back posture.
Total Gym Ankle Cuff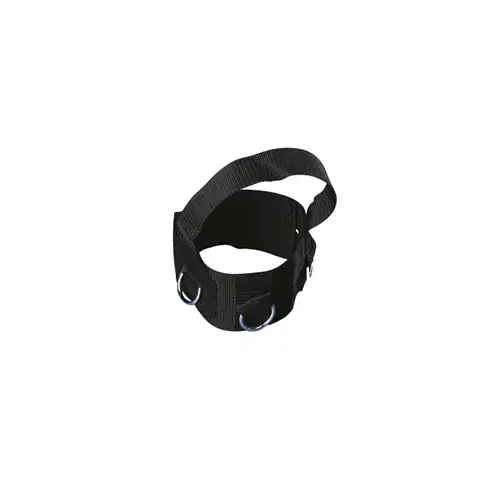 Ankle cuffs are complementary accessories that can be used in conjunction with the leg pull attachment of the gym machinery. They potentially increase the functionality of the Total Gym leg pull accessory while adding enough versatility.
These are supplied in pairs and are ideal for performing hamstring pulls, and inner thigh pulls. This helps in strengthening and stretching the muscles in the lower body, especially those in the legs and thighs.
Total Gym ankle cuffs are designed to be adaptable for any foot or ankle size, with a minor, simple adjustment. They can be attached to many Total Gym home models, including 2000, 2200, 2500, 3000, 3000XL, XL, XLS, Electra, FIT, and FIT Signature Series.
Total Gym Stability Mat
Stability mats increase safety while working out by providing better grip and reducing the possibility of slippage. They come in two standard sizes: long and standard, and thus fit for a wide range of Total Gym models.
These mats help protect your floor from the damage that can result from heavy workout equipment. Besides, they increase the life of your workout machine by preventing dust from entering their major mechanical parts and also dampen the vibration.
Stability mats are manufactured from Vinyl material and are super-tough, odor-free, and extremely durable. They are free from harmful chemicals and thus are child and pet-friendly too. Further, stability mats can be easily cleaned just by wiping them using a damped cloth.
Adjustable Training Deck Holder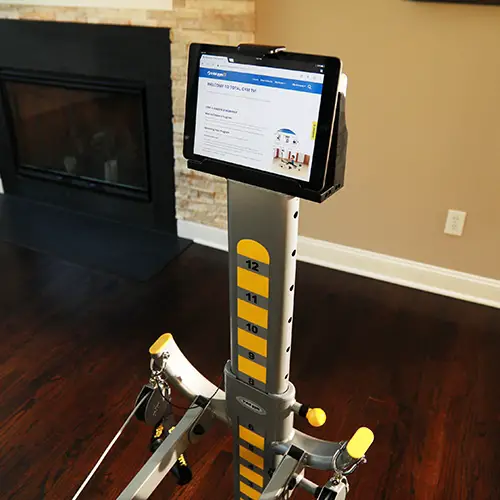 An adjustable training deck holder enables you to place your smart devices in a secure place while working out. It supports only the vertical layout for the mobiles and only the horizontal layout for the tablets.
Its size can be conveniently varied between 5 and 7 inches to make it best suit your need. Thus, this attachment can also be used to hold the Total Gym Training Deck cards that feature more than 80 fitness exercises and 30 pre-designed routines.
This customizable attachment surely increases the level of comfort and acts as an additional feather for your home gym model. So, if you have 2000, 2200, 2500, 3000, 3000XL, XL, XLS, Electra, FIT or FIT Signature Series, then go for it.
Total Gym Exercise Chart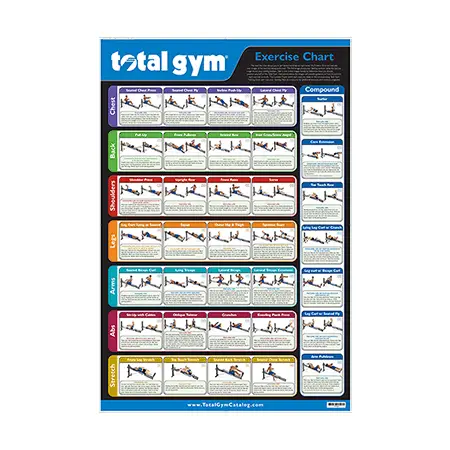 The exercise chart is one of the most important and attractive add-ons of Total Gym. It contains a ready-to-be-performed list of a large number of exercises, around 35, that can be accomplished using Total Gym home equipment.
All information pertaining to a particular exercise is mentioned stepwise and explained in quite a detail. Further, each step is illustrated in terms of relevant figures to aid in visualization and better understanding.
This helps you quickly choose the type of exercise that makes a good fit for your need. As a result, instead of spending time in research, you can readily target a specific set of muscles and shape your body right away!
Total Gym Wheel Assembly Kit – Large Frame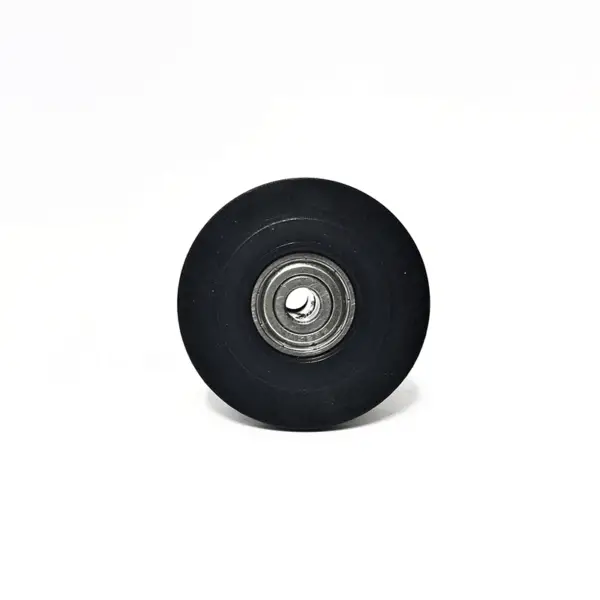 Total Gym wheel assembly kit is an accessory that is supplied in sets of four. It contains replaceable parts like axle bolts and bearings. These spare parts can be substituted in place of frequently used parts that suffer from wear and tear.
The large frame attachments supplied in the package fit well for 2000, 2200, 2500, 3000, 3000XL, XL, XLS, Electra, FIT and FIT Signature Series. They help in regenerating the lost ability of your home gym model, making them as good as the new ones!
Although you can look for individual spare parts when necessary, having this kit is recommended. Because it saves you a lot of time spent searching for the right part that fits your model the best, especially at critical times.
Total Gym Wheel Assembly Kit – Small Frame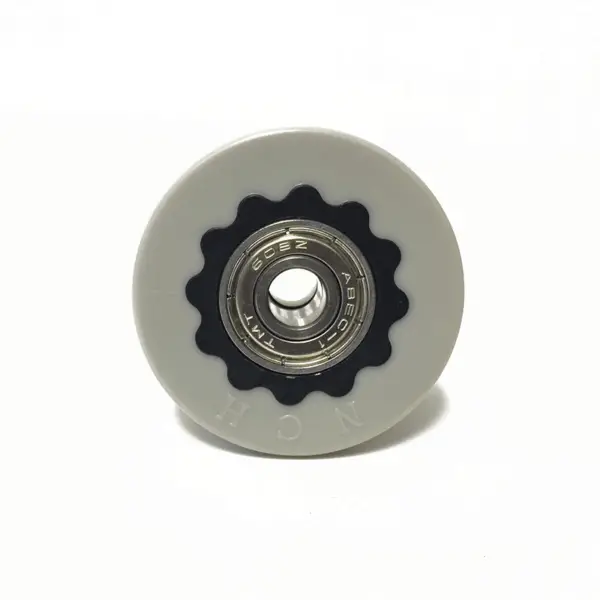 Total Gym wheel assembly kit for small frames comes in a set of four. The package includes bearings, tempered tool steel replacement axles, stainless steel hollow shaft spacers, and stainless steel nuts.
All its components are designed from high-quality materials to assure optimal strength and long life. They are both lab and gym tested to ensure smooth, quiet operation even when at full load.
These make a good fit to be used with 1000, 1100, 1400, 1500, 1600, 1700 Club, 1800 Club, 1900, Achiever, Elite, Flex, Force, Fusion, Gold Plus, Platinum Plus, Power Platinum Plus, Premiere, Shaper, Supra, Supreme, Titanium, Ultima, Ultimate, Ultra, XForce, and XL7 models.
Total Gym Cable Part
Total Gym cables are made from superior quality galvanized steel and are coated with nylon or plastic. They are strong, durable, and rust-resistant. Despite being highly robust, they offer the highest level of flexibility.
These are 7-19 twisted cables with 316 stainless steel ends. They are 90 inches in length and 3/16 inches in diameter. This helps them thread through TG 2000/3000 pulleys, easily facilitating attachment or removal.
Although these can be used with all Total Gym models, it is to be noted that there are separate cable attachments for metal frame handles and Nylon webbing strap handles, a factor to be taken care of while shopping!
Total Gym Long Hitch Pin
Total Gym supplies two kinds of long hitch pins, one for the small frames and the other for the large frames. Both of them are sold in pairs and work in conjunction with wing attachment add-on facilitating intensive workouts.
This makes long hitch pins a must-to-have Total Gym attachment for Ab Crunches, press-up bars, and dip bars. Long hitch pin for large frames suit to be used with 2000, 2200, 2500, 3000, 3000XL, XL, XLS, Electra, FIT and FIT Signature Series.
Similarly, the one for small frame fits the best for 1000, 1100, 1400, 1500, 1600, 1700 Club, 1800 Club, 1900, Achiever, Elite, Flex, Force, Fusion, Gold Plus, Platinum Plus, Power Platinum Plus, Premiere, Shaper, Supra, Supreme, Titanium, Ultima, Ultimate, Ultra, XForce, and XL7.
Total Gym Safety Hitch Pin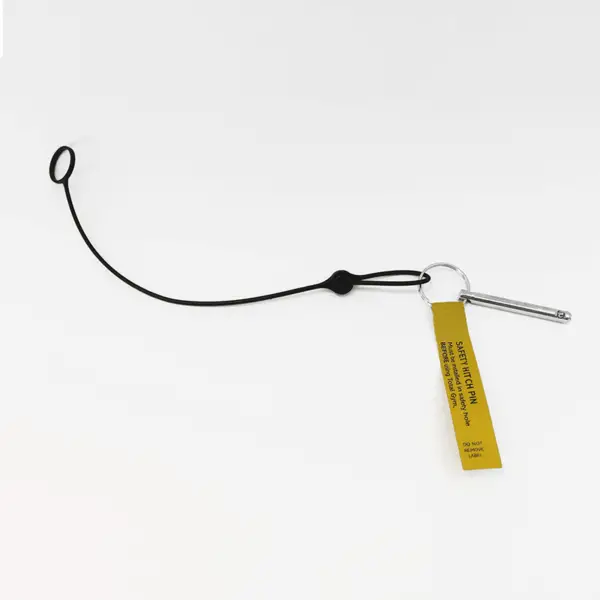 Safety hitch pins are used to securely lock the height adjusted, avoiding slipping, sliding, or crashing. This attachment comes with a lanyard and is to be expected to be inserted into the side hole located immediately below the height assembly unit.
The act should be repeated each time you adjust the height of the equipment. A failure may prove to be fatal, leading to serious injury.
It is important to note that Total Gym safety hitch pins are not universal. They are specific to the model, and you cannot use the safety pin of one to another. Do not neglect this while making a purchase.
D-Ring for Total Gym Leg Pulley Attachment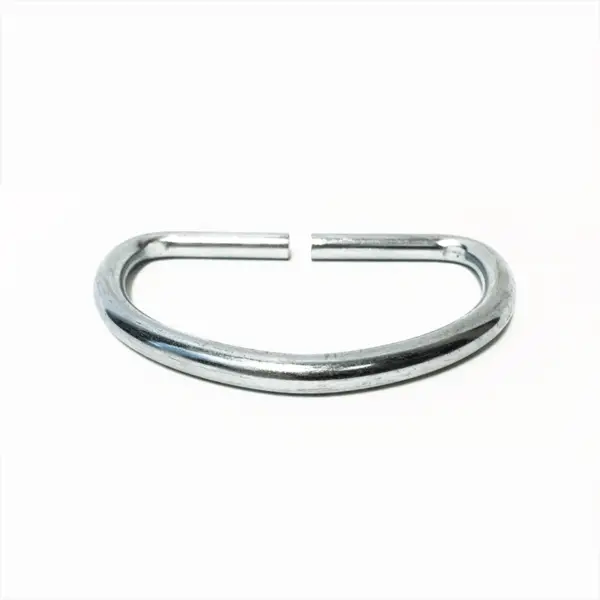 D-ring accessory of Total Gym is to be used in conjunction with its leg pull attachment. It helps in further increasing the number of exercises that can be performed using the leg pull accessory, adding a new dimension for each movement.
The attachment helps, in particular, to target the muscles in the lower part of your body, like legs and thighs. It is identical for all models and fits any equipment that supports leg pull attachment.
D-ring accessory makes a good fit for 1000, 1100, 1400, 1500, 1600, 1700, 1800, 1900, Achiever, Core, Elite, Force, Gold, Gold Plus, Platinum, Platinum Plus, Power Platinum, Premiere, Pro, Supra, Supreme, Ultima, Ultra and XForce models.
Total Gym Pulley Assembly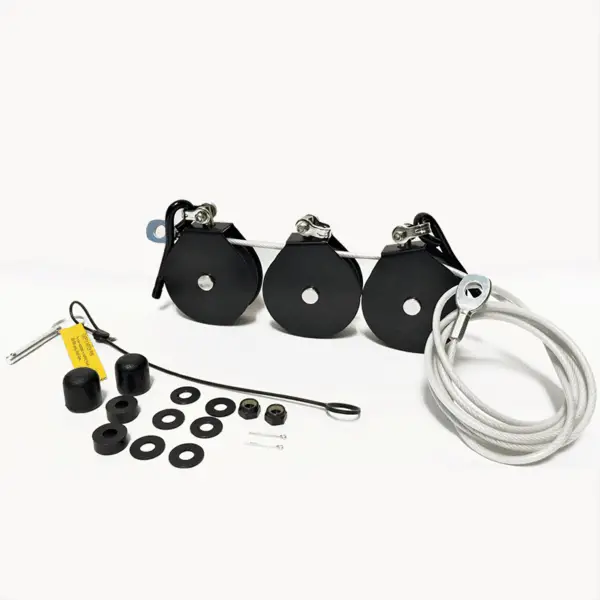 Total Gym pulley assembly replacement pack includes all kinds of pulleys and hardware components that are necessary to revive your worn-out equipment. All parts are designed from high-quality materials to assure durability.
These pulleys allow smooth sliding of hardware components over them, ensuring minimal friction. This reduces unnecessary wear and tear, increasing the life of the equipment while allowing greater flexibility.
This assembly is compatible with a large number of models such as 2000, 2200, 2500, 3000, 3000XL, XL, XLS, Electra, FIT, and FIT Signature Series.
Read Also: