When you buy through links on this site, I may earn an affiliate commission at no extra cost to you. Learn more
When you add accessories to a power rack, they enhance the effectiveness of power racks and offer interesting workout options. Though power racks have limited functionality, they become versatile once you add the power rack attachments and accessories.
The number of accessories higher is the number of exercise varieties you can perform using these racks. However, the compatibility of attachments with your power rack is very important.
Here I would like to introduce you to various useful attachments for a power rack and use them. You can pair your versatile power rack with the following best power rack attachments or accessories to achieve the intended result, which otherwise was not possible.
#1. Lat Pulldown Attachment for Power Racks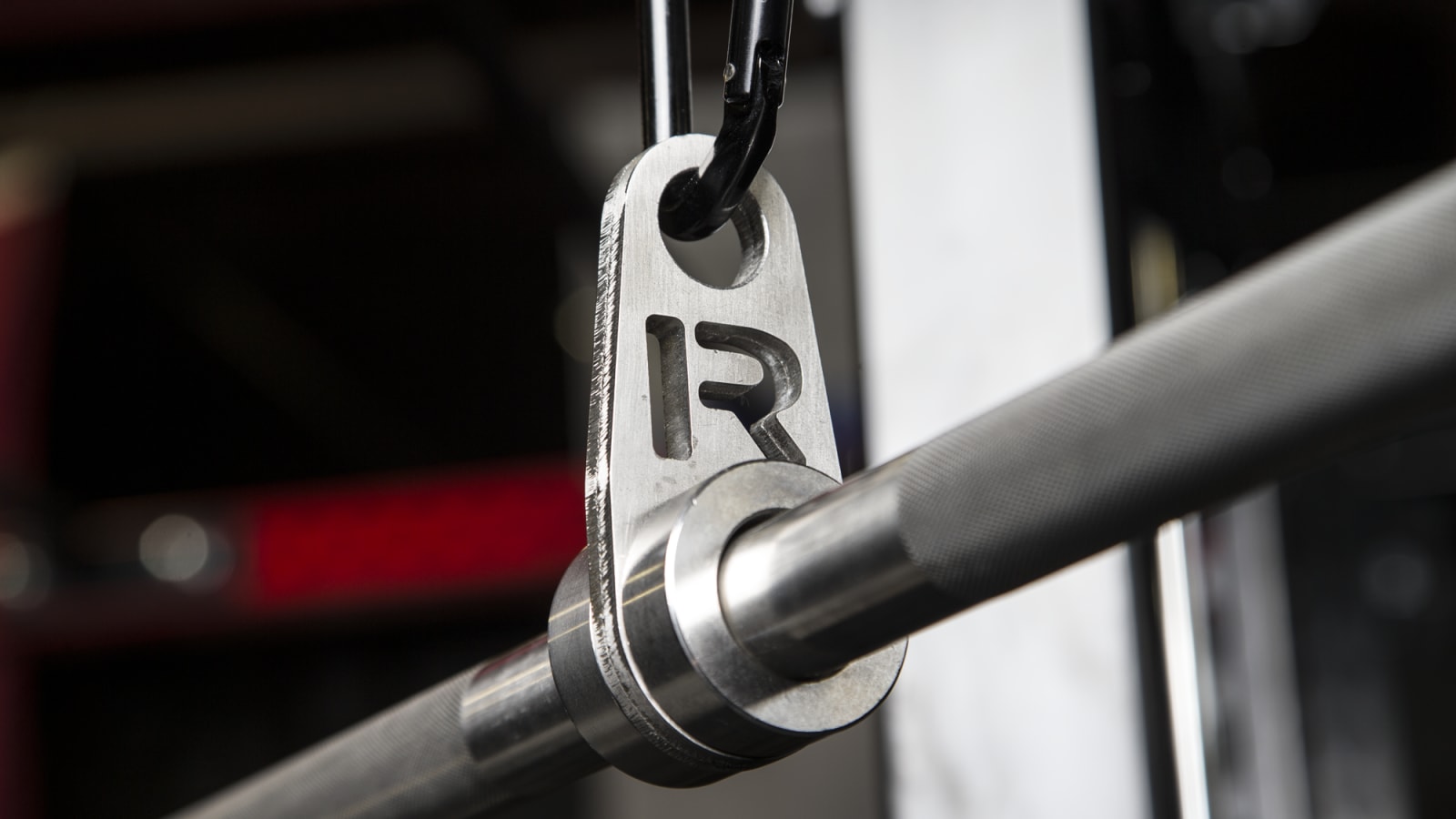 A lateral pulldown attachment for power racks effectively works your shoulders and arms. You can achieve great-looking triceps and tone your back by shrugs, rows, pulldowns, bicep curls, and many more exercises.
Your complete upper body muscles will receive an excellent workout by using this attachment, making it a highly beneficial addition to your power rack.
Lat pulldowns made of aircraft-quality cables and coated with nylon are durable, strong, and are comfortable to use.
And don't forget to check the lat pulldown's compatibility with your power rack before buying them. Or choose a power rack that has a lat pulldown included can save you lots of time.
==> Check Price on Rogue Fitness <==
#2. J Hooks for Power Rack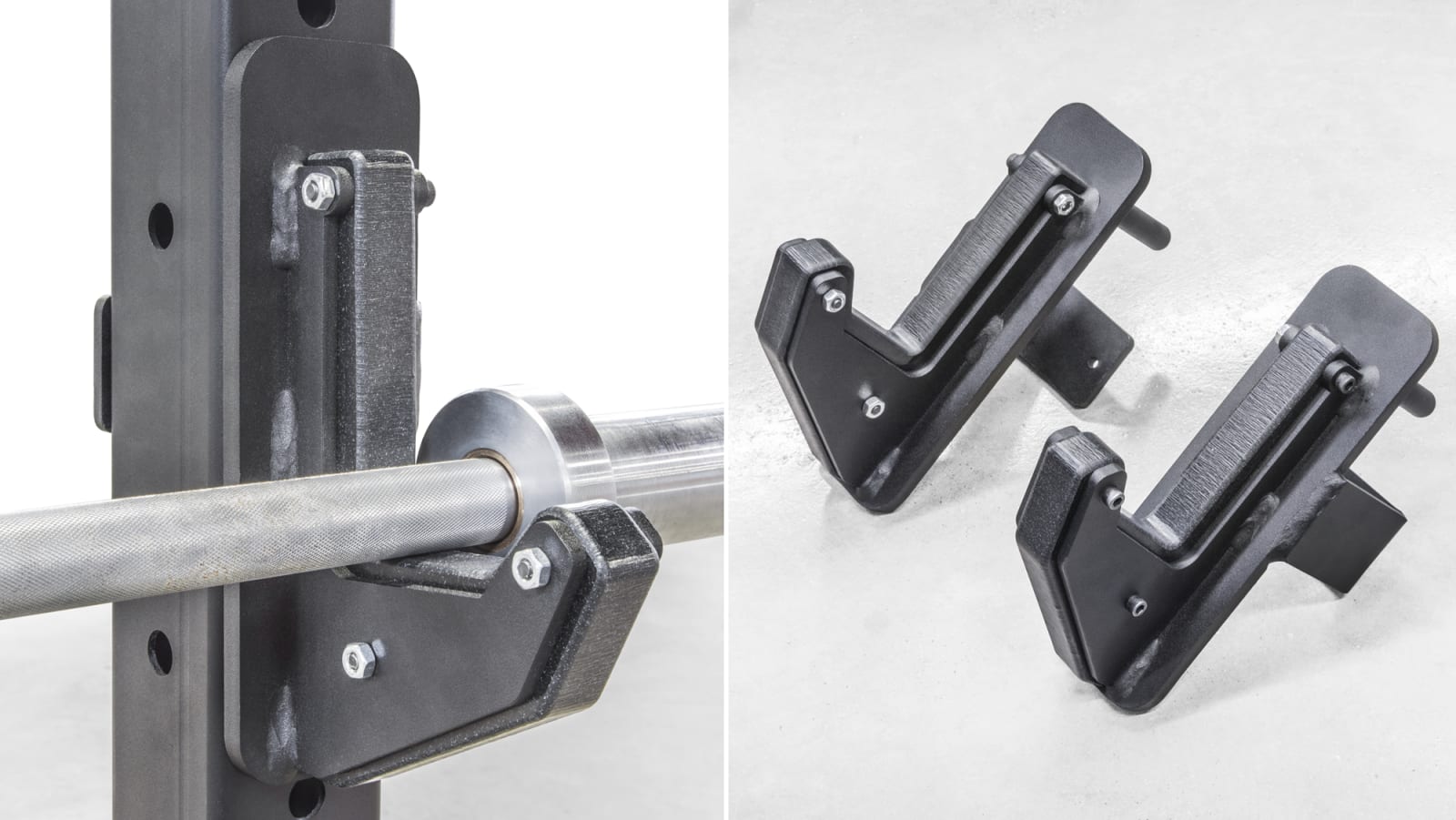 J hooks are useful in securely holding various tools as well as barbels.
When you have several tools and various sized barbells, you can keep them organized and handy on the power rack once you have enough J-hooks.
Using J-hooks, you can prevent placing the loose weights on the floor or on the shelf where they occupy your precious space.
J-hooks are such power rack accessories that create more space on your rack and do not need extra modifications, such as welding.
They are made such that these hooks can safely fit into the pre-existing holes and latch on sturdily using their unique design as they are made of high-quality steel capable of bearing heavy weights of up to 500lbs and durable.
==> Check Price on Rogue Fitness <==
#3. Power Rack Dip Attachment
Dips are one of the most preferred accessories for power racks as they can work a different set of muscles based on the height they are placed.
For instance, when they are placed to lift yourself upon them, you get to train your arms.
Their weight capacity is around 300 lbs, which is ample enough for even bodybuilders. As they are made of steel, you can trust them for durability.
Dips accessory adds value to your power rack by increasing the number of exercises you can perform using a power rack.
They not only help in strengthening your muscles using your body weight but also make exercising enjoyable.
#4. Safety Straps for Power Rack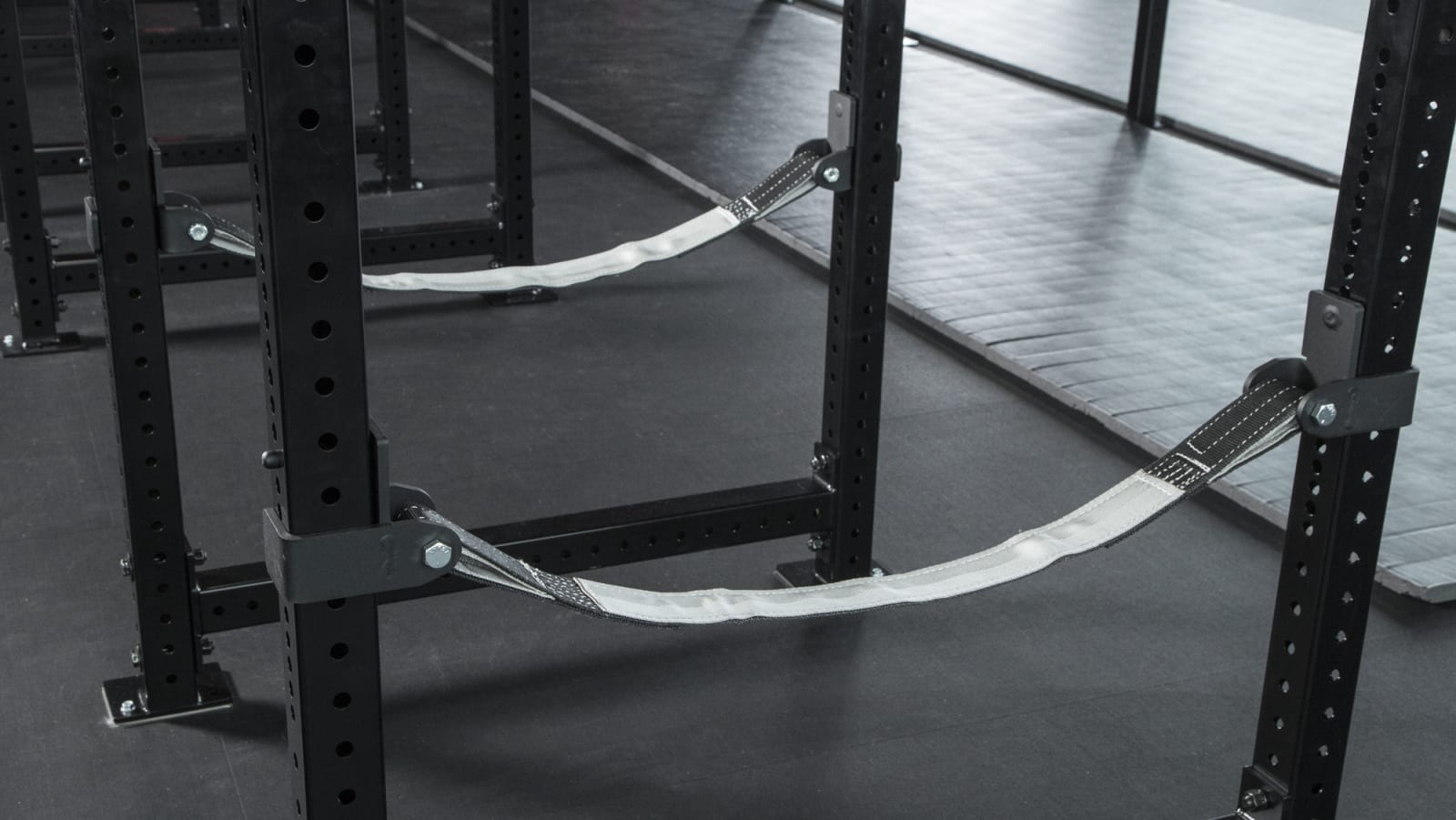 When you work out using heavyweights, you need to ensure that you are fully equipped for safety which otherwise can prove dangerous.
It is very important, especially when you are working alone. Safety strap attachment for the power rack serves the purpose of keeping you safe.
These straps are placed between the two sections of a power rack. Their placement is based on your requirement.
You can rest your barbell on safety straps in-between your reps, and even if you miss a rep, they catch the barbell before they fall to the floor, saving you, your equipment as well as your floor.
They are made of sturdy nylon for strength and durability. These reinforced straps are rated for 10,000 pounds each, and as you will have them on both sides, you will have a weight capacity of 20,000 pounds which is more than enough even for heavier barbells.
==> Check Price on Rogue Fitness <==
#5. Power Rack Safety Bars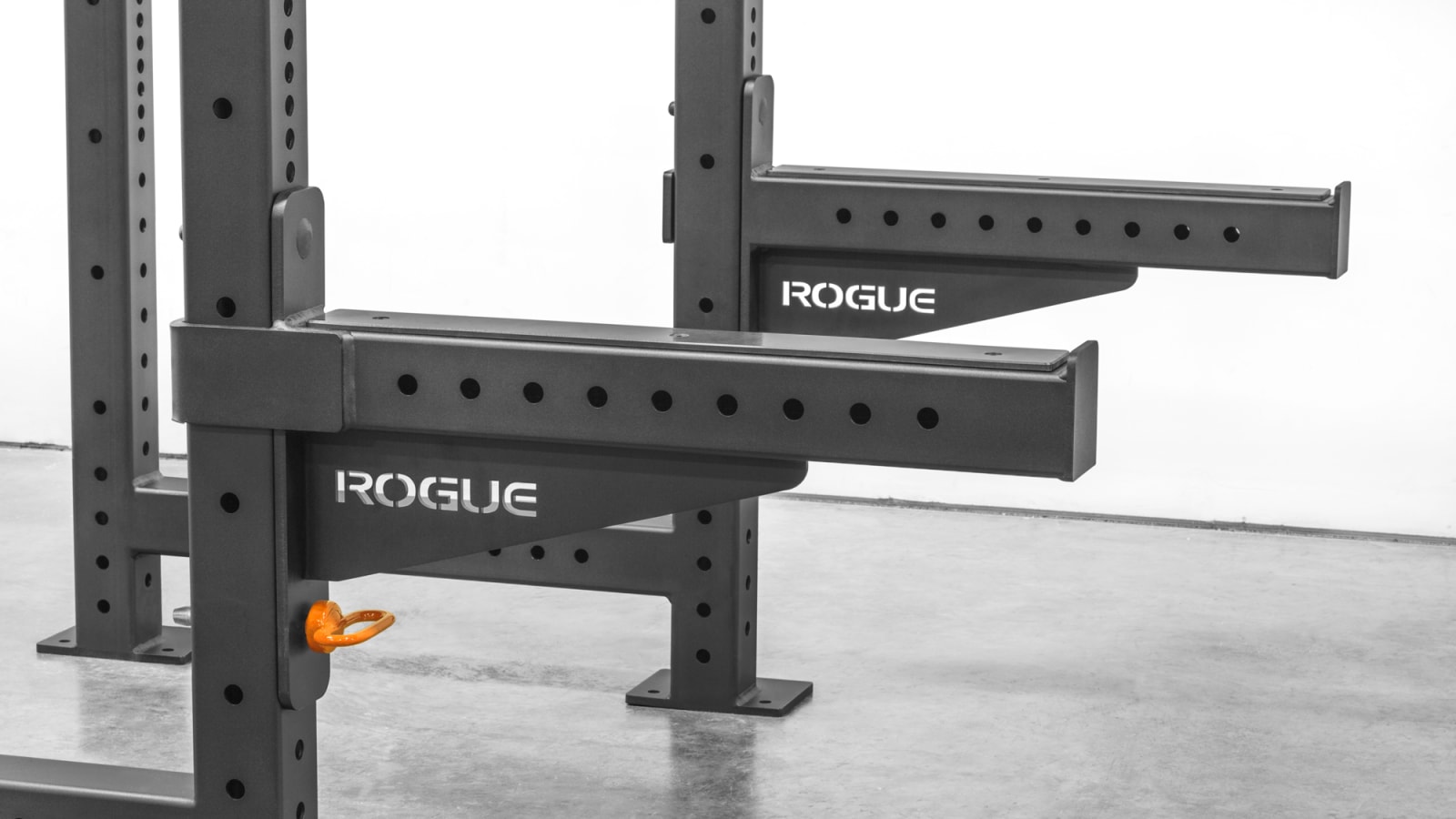 The safety bars serve multiple purposes, such as resting your barbells on them when not in use and providing safety when using the power rack.
Though they seem to serve a similar purpose to J-hooks, they differ in many aspects. When you compare them, the safety bars have a better weight capacity and higher durability due to their 10 or 11 gauge steel construction.
Also, they come with a powder coat finish that keeps them from chipping or rusting. They function mainly as spotter's arms, and it is the number one reason why most of them install them on their power racks, and the second is the extra stability they add to the rack.
Moreover, installing them is very easy, and you need not remove them each time like other accessories, but if you need to remove them, you can also do so quickly without any hassles.
==> Check Price on Rogue Fitness <==
#6. Pull-up Bar for Power Rack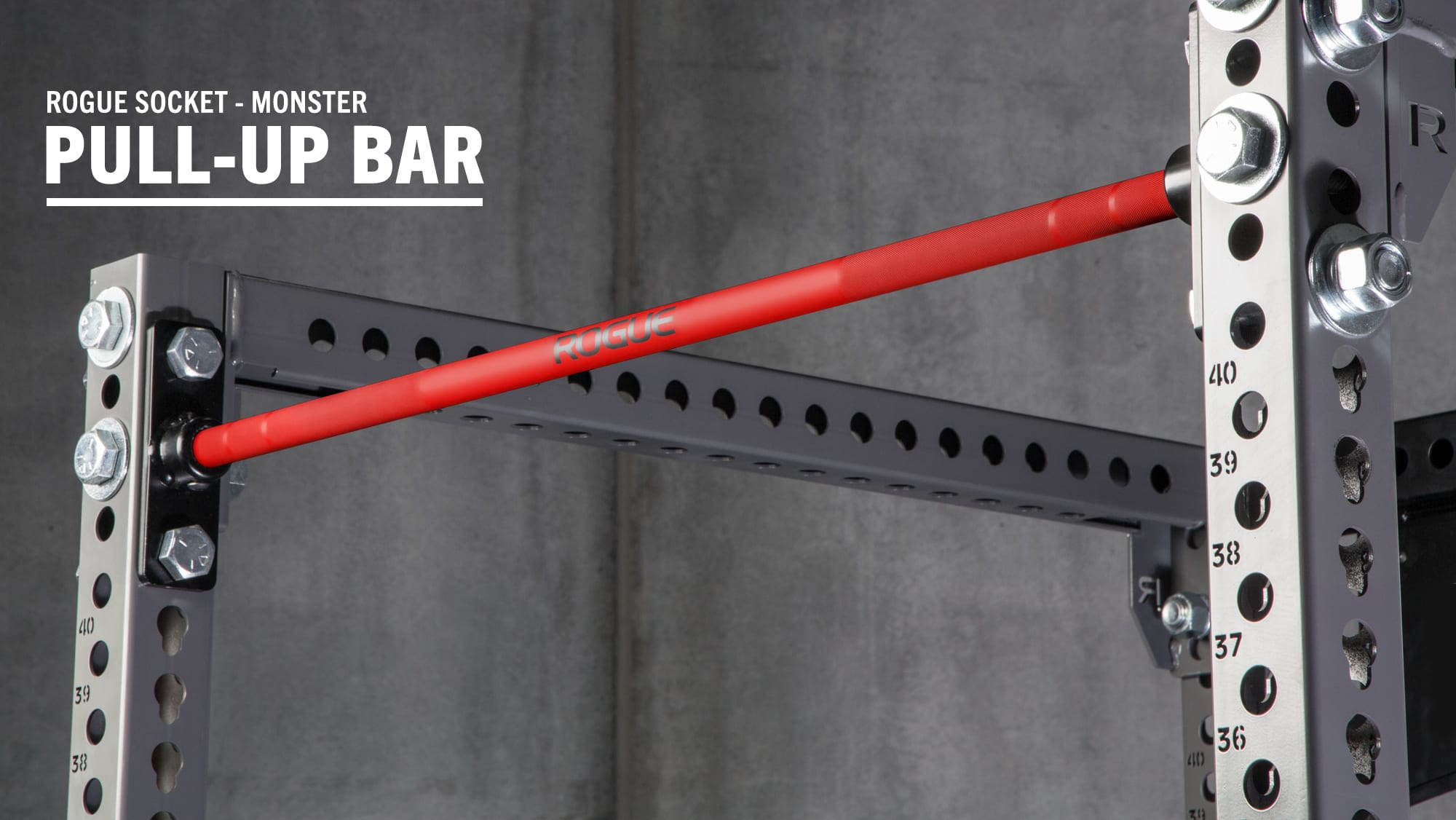 A pull-up bar is a power rack accessory without which you cannot take complete advantage of your power rack. It is essential for a full-body workout in a short time. Some pull-up bars come with 1200 lbs.
Of weight capacity and are placed at the top section of the rack. They are an affordable option, yet they provide an excellent workout.
Though they usually are not complicated in design, and any pull-up bar can be accommodated on most racks, checking the compatibility is wise to avoid any bothers. Or you can find a power rack that comes with pull-up bars.
==> Check Price on Rogue Fitness <==
#7. Smith Machine Attachment for Power Rack
The Smith machine comes with a self-spotting rack system and is highly useful for beginners, injury recovery, and advanced users. The Smith machine moves on a fixed track, and it works with different muscles than a power rack.
Most importantly, they can also function independently without a power rack, but they take the system to a whole new level when added to a power rack.
This combination is likely to act like hybrid models that offer you additional options for the workout.
When you add it to your power rack, you will not need to add more accessories for a long period as they give you ample other options to explore.
Though it is an expensive attachment, you will find it greatly useful and worth the investment.
#8. Lever Arm Kit
Lever's arms are very useful if you plan to tone your pectoralis muscles. They are nothing but plate-loaded free-weight equipment which can move at several angles.
Since you can fix your level arms at the desired length when working using a different setting, you can set them for working with a flat bench, decline press and incline press, or anything in between.
You can also perform pull-ups, deadlifts, squats, presses, and more, meaning you get plenty of exercises to do with them.
The varying handle grip possibility makes it capable of targeting various muscles precisely. This is one of the power rack accessories capable of bearing a lot of weight that can accommodate anyone for all the exercises possible to do using them.
As they come with high durability, you get to yield a lot of action from this attachment for the power rack.
#9. Adjustable Monolift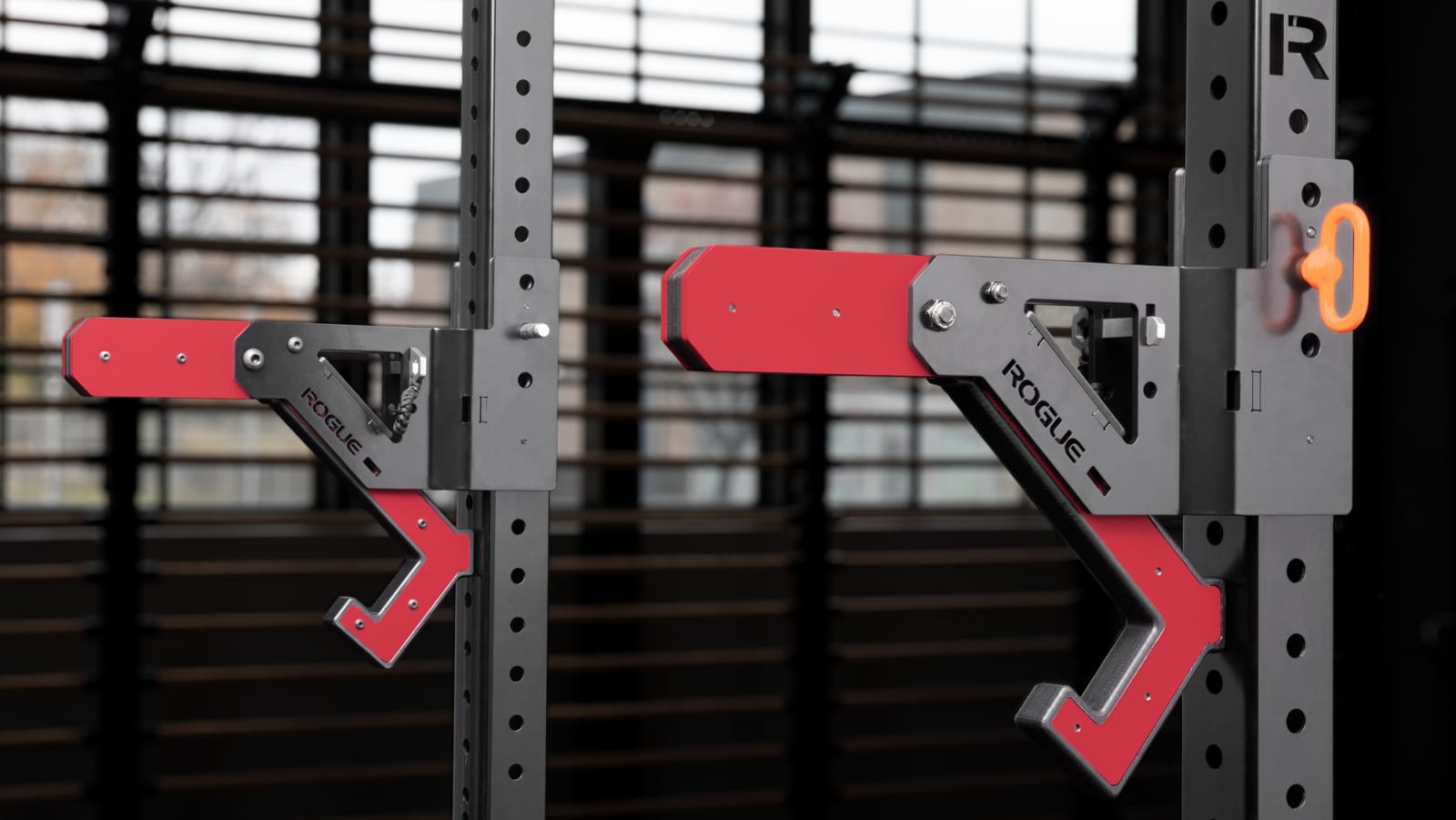 Monolift attachments are multifunctional as they work as safety gear and a space saver. The hooks use the counterweight system to swing back when you lift the bar, and this action helps you perform your moves right where you are.
Meaning you need not walk after loading yourself with the weights to do squatting or another exercise. This facility helps you work out safely compared to methods where you have to un-rack or walk before doing the actual workout.
Finally, when you are done with the weights, you can place them back with the help of a spotter.
This expensive attachment is viewed as a luxury by those who have not tried it yet, but once you get to use it, you will understand the difference between having it and not having it.
==> Check Price on Rogue Fitness <==
#10. Flying Pull-up Attachment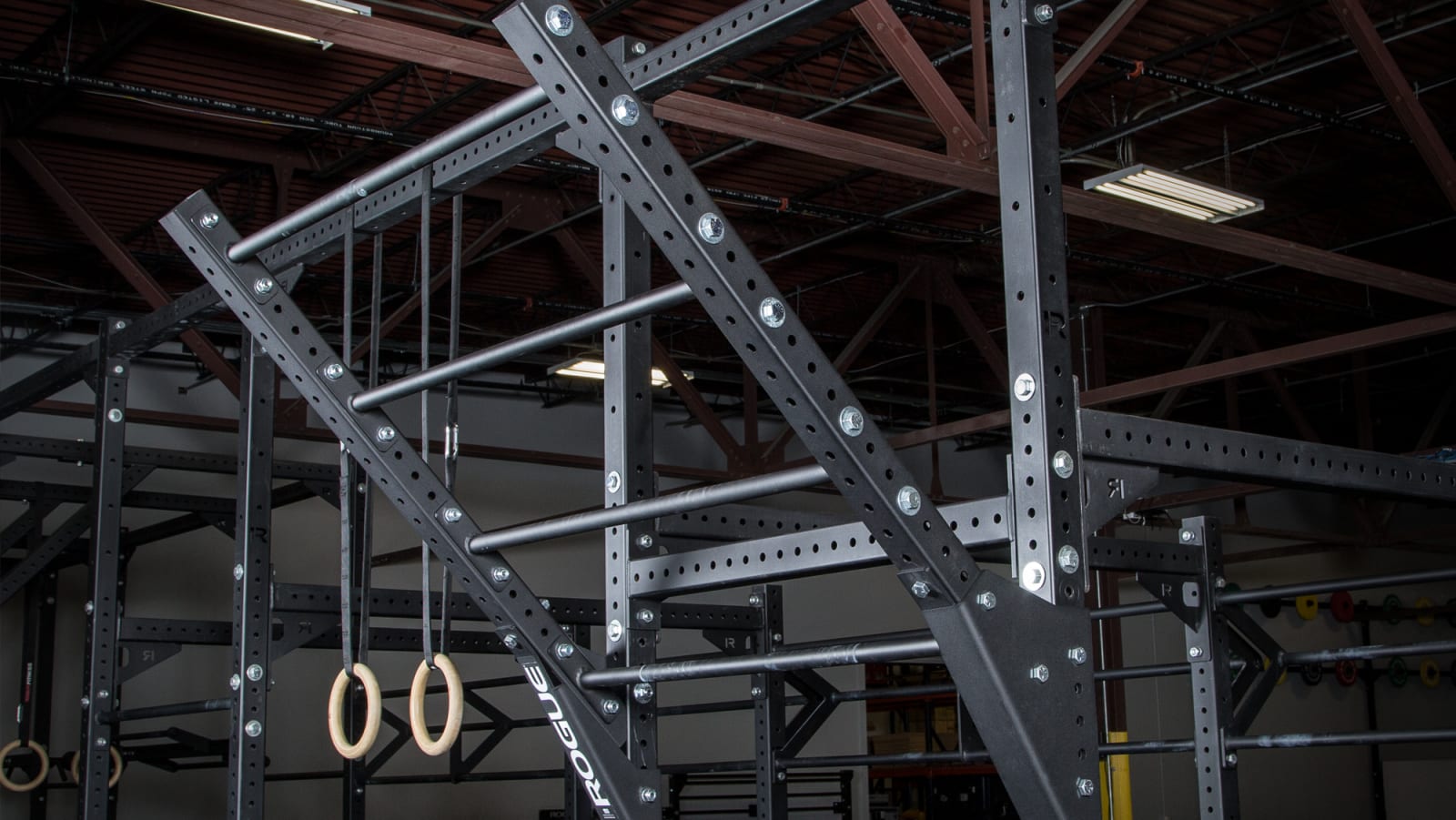 This power rack attachment allows the rack to challenge you to a higher level. According to your necessity, they come with rung spacing adjustment and angle adjustability to provide various inclines.
Even though this is one attachment we have here, it can be changed from time to time into something different to provide you with that newer challenge to push you further in your fitness journey.
The flying pull-up accessory is made of heavy gauge material, giving it extra strength to bear your weight safely.
You can try the various distances between the racks and inclination angles and your time speed, which gives you a lot of combinations to work with.
Since your jump from one rung to another requires a lot of effort, you will soon feel the difference they make to your body.
Not to mention how much fun they are once you get past the soreness you might experience in the initial stages of working on these attachments for a power rack.
==> Check Price on Rogue Fitness <==
#11. Plate Storage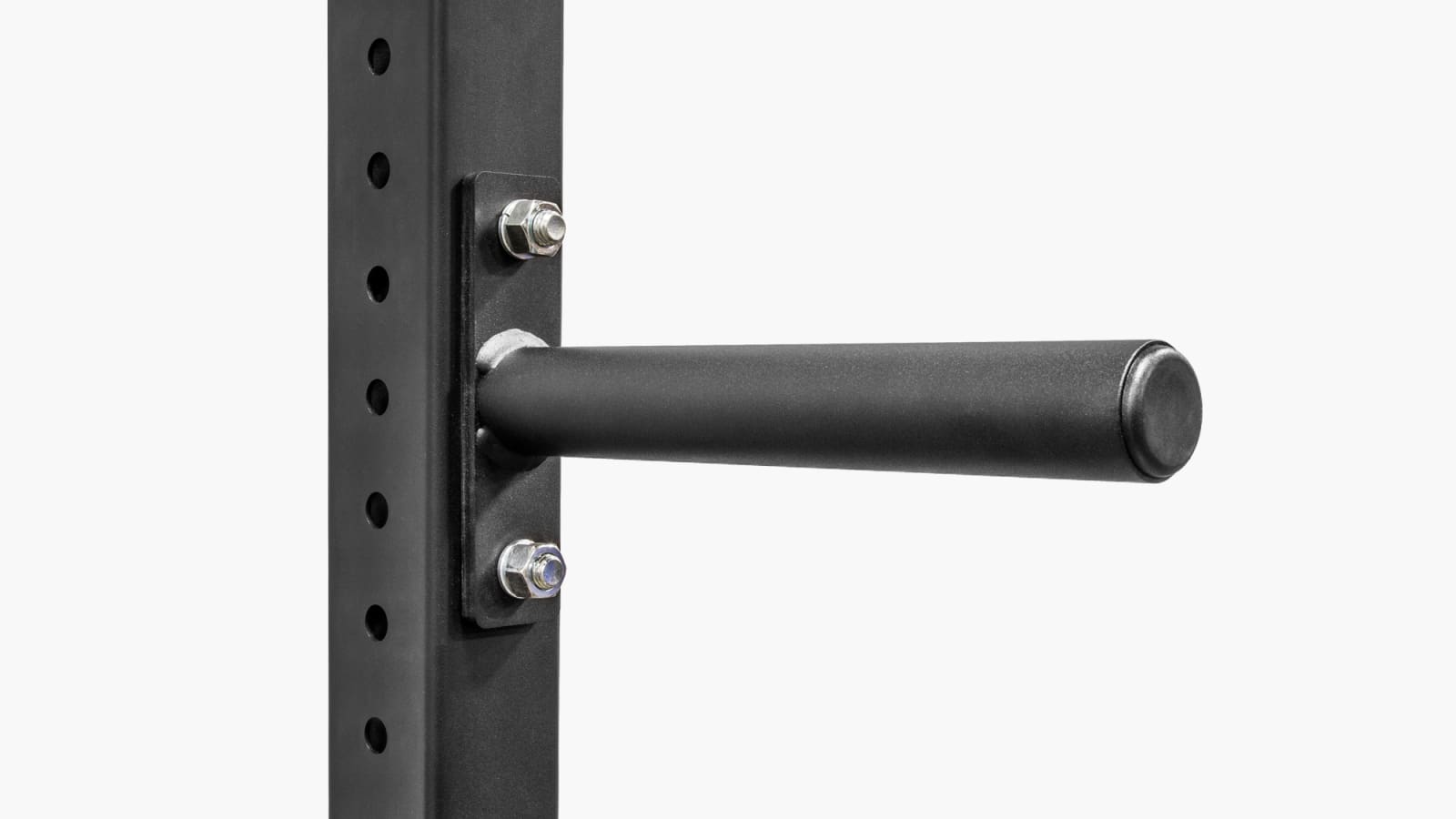 For power racks, weight plates are an important part of many workouts. You will add the weights as you progress through various stages, and need a storage point with proper accessibility.
This is where plate storage accessories for the power rack come in as they help you place the weights safely in an organized manner.
You also save time when you have everything handy and less bothersome as you need not run about the room for weights.
As they are built to accommodate weights, they come with high capacity. Moreover, they are made of solid stainless steel, ensuring their durability and strength.
==> Check Price on Rogue Fitness <==
#12. Rack Landmine Attachment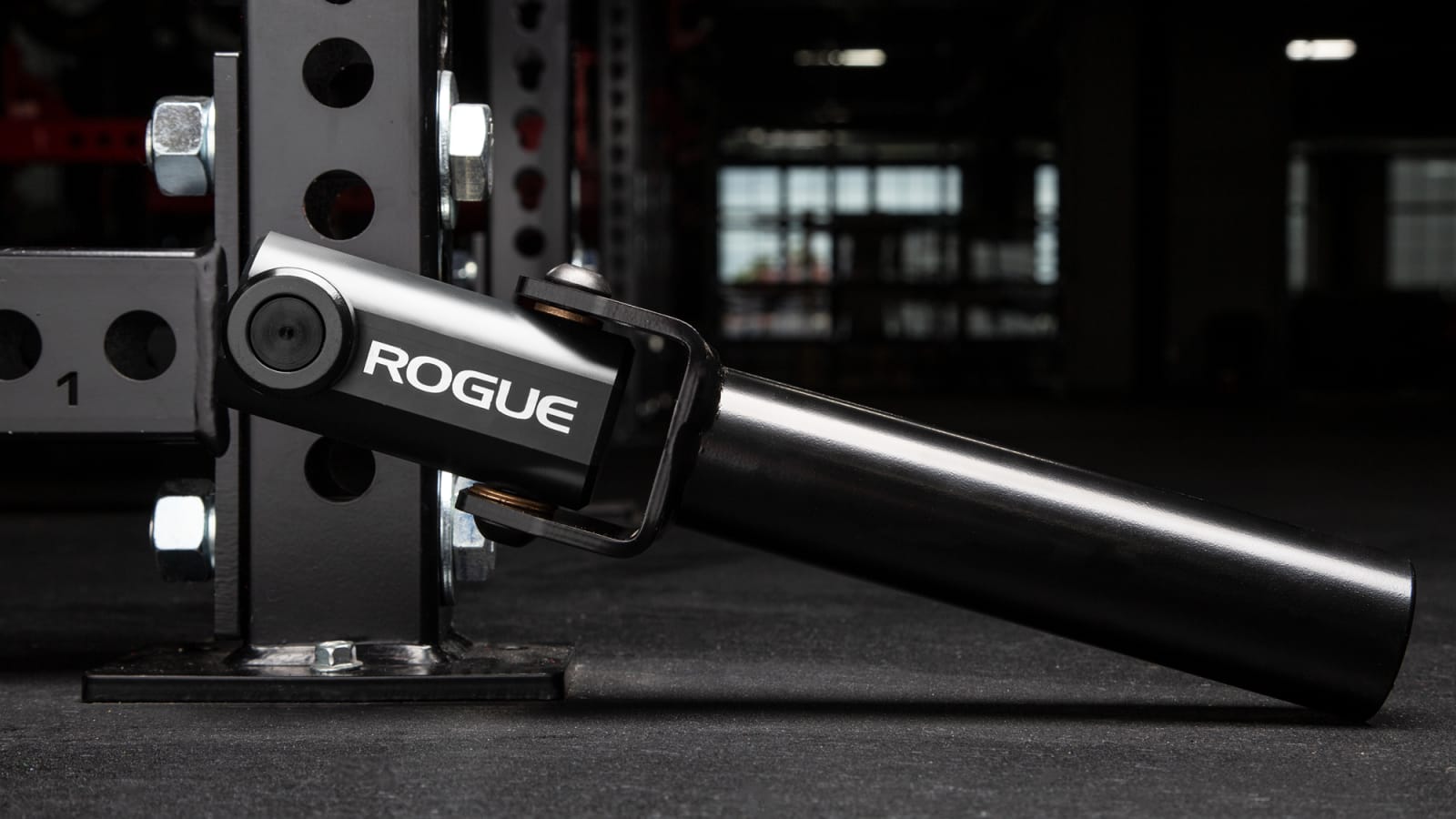 Rack landmine attachments for power rack are attached to the upright of your rack and help in performing several exercises that aid in improving your shoulder strength and core.
Some of the exercises you can do using this attachment are landmine rows and presses, Russian twists, bent-over rows, and so on.
These attachments are about 16 inches long and are easy to attach, but do not underestimate them for their size and shape as they are capable of providing an excellent challenge.
They are secure and durable, so you need not worry about them. It does add considerable functionality to your power rack when you attach this well-built accessory to it.
You can strengthen your upper body using this secure fitting that will last for years.
==> Check Price on Rogue Fitness <==
#13. Ball Rebounder Attachment
The ball rebounder accessory is a power rack attachment that helps you use the medicine balls to their full potential. This attachment also allows you to train in pairs or small groups. You can also use it as a part of your circuit training and so on.
Here the possibilities are endless due to its versatile functionality. The workouts provided by this attachment help strengthen your upper body, improve hand-eye coordination, and give an excellent workout to various muscle groups simultaneously.
#14. Slinger Power Rack Attachment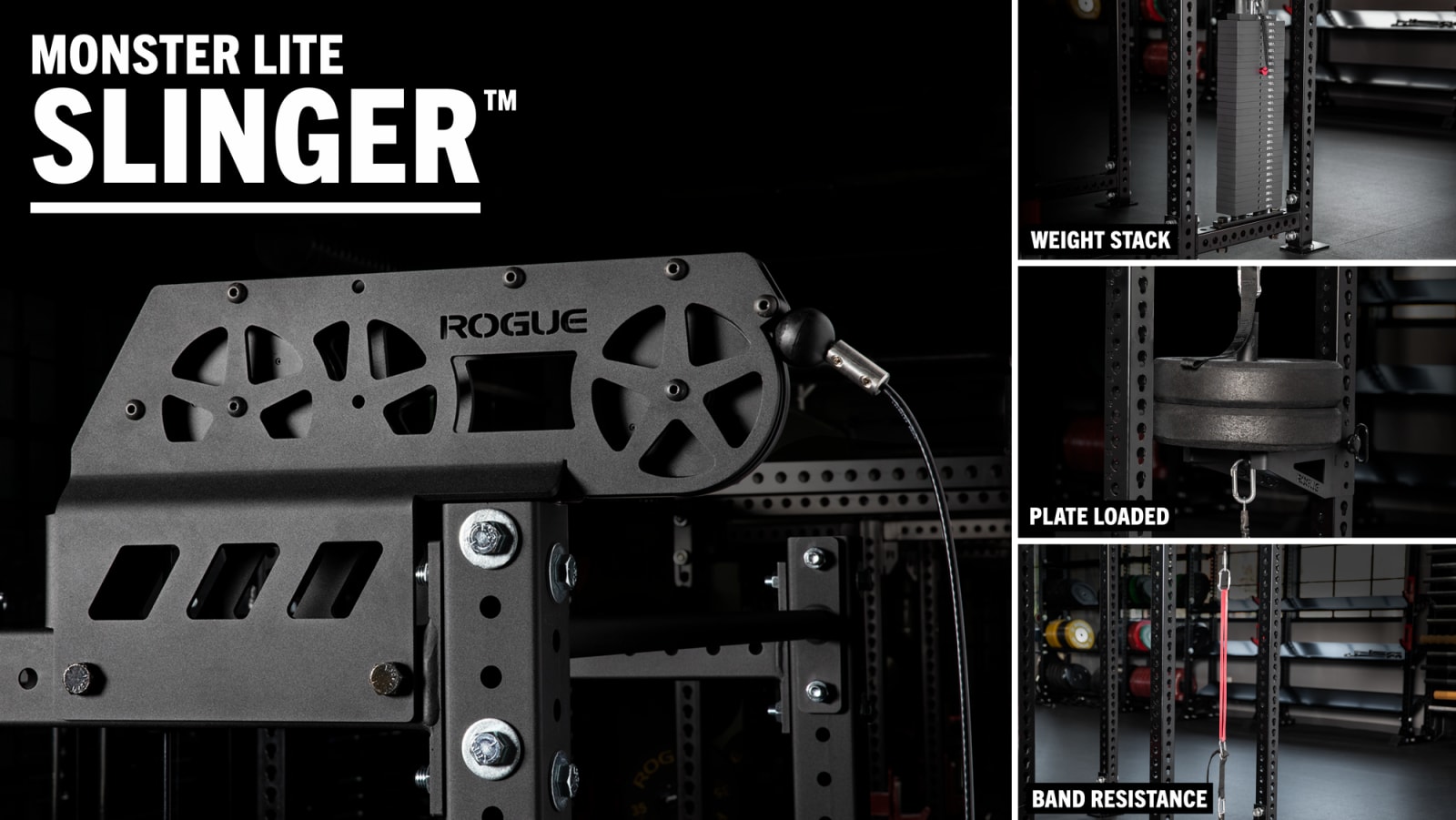 Slinger is a band resistance and cable-pulley system that provides similar training benefits to a lat pulldown machine but comes with better space and a budget-friendly price.
It adds extra functionality to those who need additional exercises than the traditional functions of the power rack.
Also, when you are training for big lifts, you have the slinger that allows you to single-joint movements that will help you train well before going to the real deal.
==> Check Price on Rogue Fitness <==
How to Choose a Power Rack Attachments and Accessories
Choosing your accessories depends on two factors.
The first one is your requirement that narrows it down to certain accessories, and then among them, you need to choose the right accessory that fits the rack you own.
To know which accessories are compatible with your rack, you need to be aware of a few measurements of your rack and similar dimensions of the accessory.
The accessories for the power rack are mounted on it using its holes or the tube, so it will be easier to choose your compatible accessory when you are aware of these dimensions.
Usually, the tubing sizes of uprights come in 3" x 3", 2" x 2", 2" x 2", so make a note of your rack size and check with the accessory that you plan to buy.
The hardware diameter, which can be 1/2″, 5/8″, 3/4″, or 1″ for most prominent brands, helps make sure that you fasten the attachments securely.
For some accessories, you need more than two holes to secure them.
In that case, you should also consider if the locking pin or pegs can lock incorrectly into the existing holes at the required height.
Can You Use Wrong Sized Attachments for Your Power Rack?
Though you might not always get snuggly-fitting accessories, especially when you buy them as generic or from another brand, they should not be too much out of line.
However, ill-fitting accessories cause concern for your safety, and it is more harmful than beneficial when you opt for such an option.
Sometimes you can find a way to retrofit them using some DIY ideas through creative means but make sure beforehand that you have a good tried and tested one on hand before buying.
This will save you from regrets later on.
What Are Some Best Power Rack Brands and Companies?
Rep Fitness
ForceUSA
Titan Fitness