When you buy through links on this site, I may earn an affiliate commission at no extra cost to you. Learn more
The Rogue R-4 power rack is a heavy-duty power rack that is built no less than a tank. Its sturdy frame and wide footprint are touted as a rack designed for elite athletes and just beginners alike.
Made from all-American 11-gauge steel, it promises to support the strongest athletes (if you are one of them) and the heaviest accessories. This rack has an outside area of 51" x 53" and an inside area of 43" x 43" to get in the rack to lift weights. It is as tall as 90", which is 7 ½ feet.
You also get to enjoy the advantage of accessories provided in the package so that you don't have to keep purchasing accessories.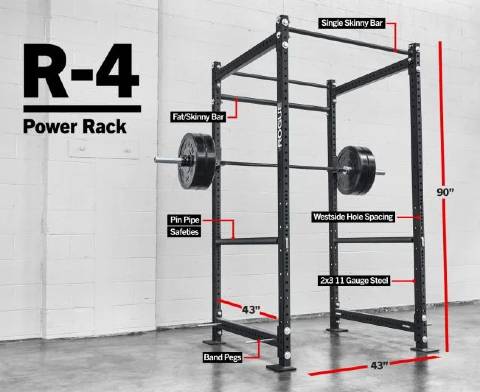 It comes with a strong skinny/fat pull-up bar. The accessories also include j-cups, band pegs, pins, and pipe safety systems, to name a few.
It is completely compatible with the Infinity accessory line powered by Rogue to invest in add-ons to get the best exercise experience. The strong J-cups are thick, strong, and very comfortable to get used to so that you can hold the bars firmly.
The pipe and pin safeties are also very safe to use and handy. The weight of the Rogue R4 is 250 lbs without any accessories.  This home power rack comes with strict quality certification and strong integrity and a lifetime warranty is provided.
All in all, the Rogue R4 Power Rack is a sturdy and strong home power rack under $1000 that can deliver unlimited exercising possibilities if you are an average athlete or a professional athlete looking for new challenges.
What I Like About the Rogue R-4 Power Rack
Strong American-made steel has been used to build the entire body of the Rogue R-4 Power Rack, which makes it a reliable frame for professionals and beginners.
A large footprint provides a strong foundation for any heavy lifting and provides an additional area within the rack for further workout needs.
Comprehensive quality certification gives you the benefit of using an all-in-one power rack of great finishing, strength, and appearance to meet your fitness goals.
A lifetime warranty makes this affordable power rack a must-buy due to the extreme confidence of Rogue in this product.
Installation tools in the package make it easier for you to start at your own speed and comfort.
Additional accessories that come in the package make it a very versatile rack and save you the pain of buying accessories apart from the rack.
What I Don't Like About the Rogue R-4 Power Rack
No anchoring to stabilize makes it really uncomfortable and unfixed as there is no anchoring accessory provided to fix it.
The 90" height means that it is not a low-profile power rack, and you cannot put it in a low-ceiling room.
The pipe and pin system requires a lot of time to reset between lifts or sets.
Infinity series does not allow you the flexibility to add other modern accessories if new accessories & attachments become available on the market.
Check the price of the Rogue R4 power rack on Rogue Fitness
Footprint
The massive footprint of the R4 provides you enough space to move in and out during your exercise. This rack is perfect for your garage or a large apartment where you can dedicate a particular space only for your workout.
It has a 53" x 53" footprint and a good depth of 43". Due to the depth, you can add a couple more bars to do pull-ups and much more. Everything about the footprint tells you that this rack is designed for elite athletes ready to push the limits of their conditioning.
This large footprint is a great plus in terms of space to easily move around inside the rack and find unique ways of exercising, including calisthenics and many other ways to build your workout. However, the large footprint makes it unsuitable for those living in a room with limited space.
Further Reading: How Much Space Do You Need for a Power Rack?
Durability and Stableness
The frame of this Rogue power rack is built from premium American steel of 11-gauge. What 11-gauge steel means is that the steel is extremely sturdy and safe.
It is stronger than most of the other power racks, which cannot carry as much weight, neither are they as stable as this rack built just like a tank. Durable from the outside and stable from the inside.
A stronger home power rack will inevitably challenge you to a stronger workout. Due to the anchor plates at the bottom of the four legs of the rack, this Rogue home power rack cannot be moved at will, and it will also stand firm when you exercise.
The high standards of quality assurance and inspection ensure that you are equipped with a perfect fit and robust power rack to use at will. The manufacturer has also promised a lifetime warranty for the buyers of this power rack. This in itself is proof of the faith that the manufacturer has invested in this product.
Further Reading: Bolting Down a Power Rack to Enhance the Stableness
What Accessories Are Included Along with the Rogue R-4 Power Rack
The Rogue R-4 comes with 1 strong Fat/Skinny pull-up bar. Apart from these, it also has uprights Infinity J-cups.
The J-cups prevent your bars from getting damaged, and they also assure safety and provide stability. The pin and pipe safeties are also provided. They make sure that you can exercise safely and eliminate a lot of danger in the rack due to the heavyweights as they absorb the force and damage due to accidental drops.
Also provided are band pegs, which give you the additional option of attaching bands to the rack while doing workouts like deadlifts, squats, presses, etc.
Check the price of the Rogue R4 power rack on Rogue Fitness
Rogue R-4 vs. Rogue RML-490C Power Rack
The Rogue R4 and the Rogue RML-490C are made of the same 11-gauge steel to provide a sturdy and stable frame. Both also have a similar footprint of 53" x 53" to provide a stable frame.
The R4 weighs 250 lbs, while the Rogue RML-490C weighs a massive 340lbs.
The Rogue R4 has an advantage in terms of the accessories provided as it includes two pull-up rods and pin/pipe safeties apart from the j-cups and band pegs that the Rogue RML-490C also comes with. Both racks, which are built for the elite athletic workout, stand at a tall 90", and there is no competition in this area.
The RML-490C is made of 3" x 3" steel, unlike the R4, made of 2" x 3"11 steel.
The R4 can be fixed to the floor, while the Rogue RML-490C can also be mounted to the wall. The RML-490C has strong foot stabilizers which do not need anchoring or drilling through the floor to fix the rack.
Apart from these differences, the R4 also supports all Infinity accessories powered by Rogue.
Rogue R-4 vs. Rogue RML-490C Comparison Chart
| Comparison | Rogue R-4 Power Rack | Rogue RML-490C Power Rack |
| --- | --- | --- |
| Product Image | | |
| Product Weight | 250 lbs | 340 lbs |
| Dimension | 53" x 53" x 90" | 53" x 53" x 90" |
| Hardware Size | 5/8" | 5/8" |
| Hole Pattern | West Side Hole Spacing - 1" through bench and clean pull zone then 2" spacing above and below | West Side Hole Spacing - 1" through bench and clean pull zone then 2" spacing above and below |
| Steel Notes | 2x3" 11 Gauge Steel | 3x3" 11-Gauge Steel |
| Pull-up Bar | Fat/Skinny Pull-up Bar | 43" Single Skinny Pull-Up Bar |
| J-Cups | Set of 2, with Protective Plastic | 2 Monster Lite J-Cups with UHMW plastic inserts |
| Band Pegs | 4 Sets | 4 Sets |
| Pin and Pipe Safeties | 2 Sets | 2 easy-install Pin/Pipe Safeties for squats, bench, and deadlifts from any height |
| Price | Check the price on Rogue Fitness | Check the price on Rogue Fitness |