When you buy through links on this site, I may earn an affiliate commission at no extra cost to you. Learn more
Having decided upon setting up a home gym, the very first thing that all of us are concerned about is choosing the right equipment that would provide maximum benefits to your health. In that case, you will not be missing out on purchasing a good-quality power rack that helps you strengthen your body and build muscles.
A power rack is the foundation of any commercial or home gym. It allows you to perform any form of lifting and pressing, minimalizing the dangers like falling weights, failure, or accident. And it also enables lifters to lift more weight safely.
There are all types of power racks, from simple and straightforward ones to complicated designs and features. It's up to you to choose any power rack of your choice that meets your expectations and goals regarding available room space and lifting needs.
But if you are familiar with power racks, Rogue Fitness is a brand that's created a name for itself in the fitness market. The Rogue brand is a well-known name, and when it comes to power racks, they are known for their wide variety of racks, all of which are of top quality adhering to your various fitness needs.
And the Rogue RML-490C 3.0 power rack is one of the most functional varieties offered by this company. Rogue RML-490C 3.0 is made of durable material and is one of their best innovations designed to last longer than expected as it is
In terms of specifications ( 53″ x 53″ x 90.375″), you would surely be amazed by the exceptional specifications and the wide color options that the company offers.
Elaborated below are features of the Rogue RML-490C 3.0 Power Rack that's known for its ravishing positive reviews and applauds from individuals who've used it all over the world.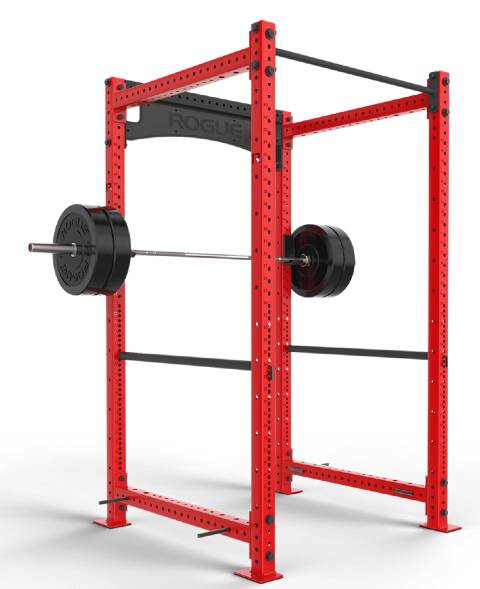 Features of Rogue RML-490C 3.0 Power Rack
The Rogue RML-490C 3.0 model is a versatile and affordable power rack that's one of the best from Rogue. Feel free to practice anything from a range of different squat variations to many other exercises that you wish to do. With Rogue, transitioning from one exercise variation to another will be simple and easy.
Some of the incredible features offered by this affordable power rack include:
Frame and construction are essential for the durability of any exercise equipment, and Rogue has done a tremendous job in this regard. The 490C 3.0 power rack comes with a solid and sturdy construction designed to increase the equipment's durability. The company has used hard-wearing 3×3" 11-gauge steel for the frame and construction of the rack's base and upright. The equipment uses black zinc hardware plus 0.625" bolts and fasteners.
You can choose the preferred color from the wide range of color options available to you.
In terms of safety, the rack is nicely fit with Westside hole spacing plus safety pins.
You might be fat or slim, broad or thin; the rack has ample inner space to offer so that you can perform a variety of exercises as per your choice. Fitted with a pull-up bar and constructed with the ability to withstand the needs of big squatters who need much space, the RML-490C 3.0 power rack has a lot to offer
If you want more versatility, the good thing with this model is that it is highly customizable and compatible. You can add multiple accessories, and there is no end to your versatility when it comes to customizing the equipment and using it as per your needs.
For those of you who already have a home gym and would love to get on with powerlifting, you can go ahead with the RML-490C 3.0 power rack as it is one of the best home gym racks in the market.
What I Like About Rogue RML-490C 3.0 Power Rack
Some of the best features that left me awestruck by this model include:
Superb durability due to high-quality steel construction
Various custom color options available, which make your power rack stand glaringly visible among the rest
Optimal width helps any of you perform a variety of exercises as there is ample side-to-side moving space.
The upright holes are close together.
The rack comes equipped with laser-cut holes using Westside patterns.
The product is simple and easy to assemble and install with step-by-step instructions provided
The rack is compatible with most accessories and tools offered by the Rogue Monster Lite (RML) series.
What I Don't Like
Some disadvantages of this model include:
Though colors make the rack fashionable and a great addition to your home gym space, the lighter paint options make the product more sensitive to scratches and scrapes.
The rack comes with a transparent finish or a satin clear rack finish to explain it in better terms. This finish might be quite disadvantageous as the rack could reveal any blemishes or marks in the steel present/created during the unit's manufacturing.
Check the Price of the Rogue RML-490C 3.0 Power Rack on Rogue Fitness
Who Is Rogue RML-490C 3.0 Power Rack For?
The Rogue RML-490C 3.0 Power Rack is suitable for anyone who loves to challenge themselves with intense fitness routines, train all different muscle groups giving equal importance to every muscle in the body, and have the willpower to train regularly in their workout space.
Why You Should Buy Rogue RML-490C 3.0 Power Rack
Versatility
While many of your friends might have plenty of equipment in their home gym, impress yourself with a single power rack that has multiple functionalities.
You would be awed by the variety of exercises possible using this Rogue power rack—try anything from bench presses and deadlifts to curls, rows, and overhead presses.
If you are looking for an all-in-equipment that serves your various fitness needs, don't look beyond the RML-490C 3.0 power rack.
Great Value for Money
Being a versatile piece of equipment, the Rogue power rack provides great value for money. You can skip spending ample money on gym memberships and the fuel costs involved.
Consistent & Easy
A good-quality power rack gives you the convenience of training in your exclusive home gym space, helps you avoid skipping your daily exercising routine owing to lack of time or other reasons, and above all, saves you plenty of time that would otherwise be spent on traveling to and from the gym. This way, you also become consistent in your workout routine, which helps you get better results faster.
Be Your Master
Don't worry about needing personal trainers, as the safety attachments available in this power rack helps you avoid a human spotter. Do your strength training exercises by yourself in the luxury of your home at your convenient time.
Construction and Design of Rogue RML-490C 3.0
To summarize, all Rogue racks are constructed from 11-gauge 3 by 3-inch steel.  The racks promise durability and long-lastingness as the bolts and other fasteners are made from .625-inch black zinc. Any power rack is a huge piece of equipment that requires greater effort for installation, and this model is no different.
Still, the manufacturer has simplified the process with amazing instructions and exemplary customer service.
Most power racks need to be bolted to the floor, and the 490C rack model follows the same pattern but only if there are no stabilizers to hold them strongly onto the ground.
Choose the concrete anchor kit offered by Rogue that's available at a low price and stay safe. The only downside here is that you cannot match color stabilizers for the frame colors (red, green, bright blue, gunmetal, and more). Some Rogue racks come with a Cerakote coating, and these racks guarantee heat resistance and sturdiness.
Finally, the space occupied by the power rack is not much—a 53 by 53-inch footprint. As this is not much, you get the privilege of installing additional home gym equipment.
But, if you are planning for add-ons, be sure to check whether or not you have enough space as some additional accessories occupy more space (e.g., weight benches).
Durability
The majority of reviews that speak about Rogue's performance never fail to compliment the manufacturer on the power rack's excellent durability.
The transparent satin finish is a great gesture by the company that protects the guards from corrosion, rucks, nicks, and scratches.
Enjoy precision-cut holes that bear the different weight transitions capable of safeguarding the power rack from shape-related deformities even when the equipment is repeatedly used.
The rubber/iron plates stay on the storage pegs without causing any friction damage to the frame.
Many manufacturers, especially reputed ones, never fail to mark their company's logo on the piece of gym equipment, and Rogue has done this job extremely well.
You can see the rear Rogue nameplate that oozes confidence and power, impressing anyone using it as well as looking at it.
The nameplate's position is ideal, adding rigidity and being a great source of advertisement for the company.
But, unlike the frame of the power rack available in different colors, the nameplate comes only in black.
When you order the Rogue RML490C 3.0 power rack, you will receive a single 43-inch pull-up bar that's specifically called by Rogue as the skinny bar.
Rogue's pull-up bar is made from polished steel and is ergonomically designed to provide utmost grip comfort.
The company has played smart here, as even if you wish to upgrade the 1.25-inch diameter bar to a 2-inch fat bar or even multi-grip bars, Rogue doesn't make it as easy as it seems.
Safety and Reliability
The beauty of the RML-490C model is that it suits the requirements of all of us—you might be a beginner, an intermediate trainer, or an advanced trainer; any of you could use the bar without any hesitation, especially neophyte lifters.
This is mainly because the company allows you to upgrade the model as much as you want.
In terms of safety, this is one of the safest power racks available in the market today, mainly because the pins and pipe safeties are able enough to enforce form by halting a barbell squat to the range of motion that's desired.
You can do heavy lifts using a power rack, contrary to what's possible with a squat rack, given that the safety features are intact.
When it comes to RML-490C, it's the pin and pipes that provide the utmost safety using thick steel bars in place with levers' help.
Don't worry about needing any tools to install the pins or pipes, as you get a pair of them when you purchase the equipment.
If you worry about keeping the barbells safe, Rogue provides you with sturdy J-cups, and the beauty here is, these cups are not compatible with racks from other manufacturers.
With a thick plastic plate, the area around the bar touching the J-Cups prevents any damage to the bar's finish.
Another laudable safety feature from Rogue includes the safety spotter arms that help you get hold of a failed squat of almost any weight before it reaches the ground.
There is always the option of adding a strap or belt safeties that help you work out comfortably. These belts and straps help in rolling a dropped barbell away from you.
Stability
Don't imagine that the RML-490C power rack would be safe to use unless you bolt it to the floor, to the walls, or purchase a stabilizer at an additional cost.
If you wish, you can even drill holes in concrete, which is a straightforward process but consumes more effort. But, once you do this, the zinc-mounting bolts make the rack as stable as possible.
The rack weighs 340 pounds, and hence, it is not easy to move it around easily. If you wish to mount the racks, be aware that you could face structural issues when your space has a load-bearing wall.
Though you are supposed to do the installation on your own, you can always contact the Rogue support team if you face any difficulties. They would be glad to extend their help to sort out any installation problems by sending their technicians.
All of their racks are backed by long warranty periods, and hence, they guarantee durability.
Upgradable Options
Besides the rack, Rogue uplifts your motive to buy by luring you with a range of attachments that enhance the versatility of your workout routine.
It should also be remembered that the Monster Lite series comes up with fewer options than the full-fledged Monster line.
This difference is mainly because the company wishes to cater to various people's needs by giving them the flexibility to choose any additional attachment as per their requirements.
This way, the company manages to keep the footprint and budget of Monster Lites, including RML-490C, as low as possible.
It is up to you to upgrade your new rack after a time, but the only concern is space—make sure that you have enough space to hold the additional plastic and steel.
The beauty of these add-ons is that they snap rather than bolting to the frame. This way, you can easily attach them and take them away in no time, helping you target various muscle groups.
Some of the important Monster Lite add-ons include:
Transform the front of your rack into a high-capacity lat pulldown station that has many handles and grips to choose from using the Monster Lite Slinger
Enjoy a Socket Curl Pull Up Bar that helps you add variations in your pull-up exercises and do even hanging crunch sets. Try hanging upside down, too, using this bar.
Do you love squats? Do as much of the barbell squat as you like using the Monster Lite moonlift, which should fit most of your budget requirements. See the difference in spinal integrity, fatigue avoidance, and efficiency, enjoying all of these benefits and using the moonlift rack.
Work your glutes and hamstrings with the RH-21 hypermount.
Check the Price of the Rogue RML-490C 3.0 Power Rack on Rogue Fitness
RML-490C 3.0 Power Rack Alternatives
Rogue Fitness offers multiple power racks. If you find that any of the 490C 3.0 power rack features seems unsuitable for you in any way, there are other alternatives from Rogue that might be suitable for you. This includes the RML-690C, RML-390C, and RML-4100C.
Understanding the differences in size, construction, and pricing between these models will help you pick your preferred one.
#1. Rogue RML-690C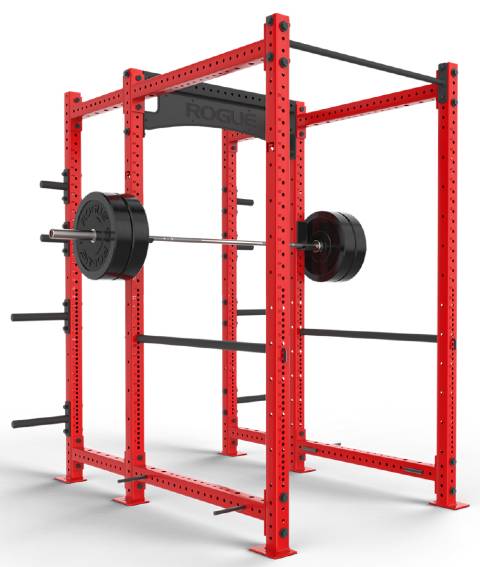 The RML-690C and 490C have a 3×3", 11-gauge steel construction, making the equipment sturdy and durable. The material used is upgraded steel, which guarantees the rack's durability and makes them a heavy-duty model.
The finish is good here as the racks offer a powder-coat finish in any color of your choice. The 5/8" bolts and fasteners are in black zinc finish.
The power rack comes fitted with a 43" single pull-up bar and four-band pegs. For safety, two easy-to-install pin/pipe safeties support you while doing exercises such as squats and deadlifts, irrespective of your height.
The RML-690C has additional eight plate storage pegs, and you also needn't bolt it to the floor—this is a big advantage as the rack stands sturdily without drilling holes or ruining your flooring.
This model has the same height and width (90.375" and width of 49"), similar to RML-490C but is quite lengthier comparatively (76" compared to 49"). It is also heavier, weighing 530 lbs compared to 340 lbs of RML-490C.
If you have any budget constraints, purchasing the RML-690C model is quite tough, as it is priced very much higher than 490C.
#2. Rogue RML-390C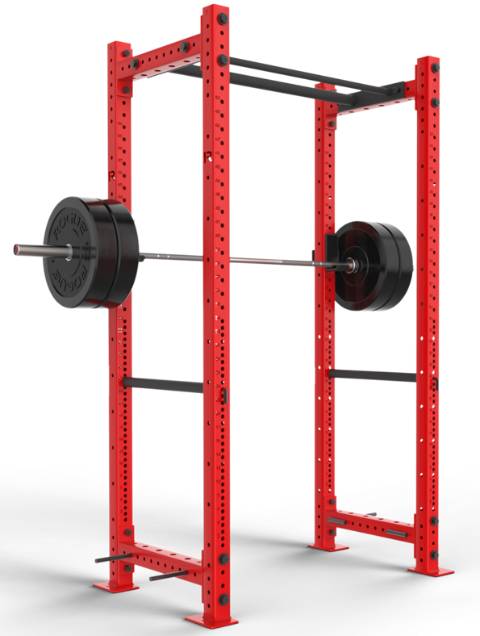 It's the same here with RML-390C when it comes to frame and construction. This model also has a 3×3" 11-gauge steel construction that ensures the equipment's durability.
Here also, you get a 43" single pull-up bar and four-band pegs along with pins/pipes that ensure the safety of the rack while doing squats and deadlifts.
You can choose any color of your choice from the custom color finish options to make your workout space lively and bright.
The power rack has 30" or 36" lengthwise measurements, while the height and width measurements are similar. But, this model is also comparatively very light weighing 265 lbs only.
Pricewise, the RML-390C might be a good choice if you are tight on budget as it costs lesser than both 490C and 690C.
#3. Rogue Froning RML-4100C Power Rack
The 4100C power rack is a great choice for CrossFit training as it is tailor-made for it. This rack, equipped with a steel single pull-up bar, also follows the same Westside-inspired design similar to the RML-490C.
The hardware used is similar to 490C with a 3×3", 11-gauge steel construction and a 43" beam cross member. This model is better with a 100" taller upright and might not suitable for those who live in a low ceiling room. You might want to find other low-profile squat racks if you have limited clearance in your room.
Don't worry about the grip while doing reps, as the power rack offers ultimate grip and has a denim-black matte powder-coated finish.
Here also, the unit comes equipped with black zinc hardware and band pegs, and there is ultimate safety offered with the help of a 43" Monster Lite Strap Safety Set.
Like your 490C model, the 4100C is compatible with a range of additional accessories and features that enable you to customize your requirements.
The unit's length and width are 49"; its height is 100.375″, and the entire unit weighs 340 lbs, which is similar to RML-490C.
What Should You Consider When Buying a Rogue Power Rack?
Never panic nor take hasty decisions when you are at the threshold of choosing home gym equipment. There are plenty of options out there, but you need to make a wise choice based on several important features that make the model worthy of purchase.
Some of the important factors to consider while buying a power rack include:
High Weight Capacity
You might be only starting to exercise or be doubtful whether choosing larger weight capacity racks would work in your favor. Have no doubts as you are sure to gain more strength as you keep lifting weights regularly.
Rather than simply choosing a low weight capacity rack to satisfy your present fitness needs, choosing a strong and sturdy power rack that has a considerable weight capacity is always recommended.
Ensure that the rack you've chosen would last long as we are looking for something that would benefit you for a considerable number of years.
Space-Saving
Before choosing any model, it is essential to measure your floor space and ceiling. Ask yourself whether the room height would be sufficient to do pull-ups with your chosen model.
You might also be interested in procuring various other accessories and equipment for your power rack, and hence, you must ensure that these would also fit into it.
Besides this, you need some extra space to move around when you load or unload the bar. Keep all this in mind before purchasing a power rack.
Size
The rack you get must fit your needs well. It must be of the right size with ample height and width so that you can use it comfortably.
Besides this, such sizing helps you achieve ample clearance space inside the rack for performing various exercises, including sumo deadlifts, standing overhead presses, and more.
Safety Pins
A power rack is a solid piece of equipment that can hold ample other equipment that is used to perform various exercises. For instance, you would be keeping the barbell at different heights for different exercises.
Hence, you should always ensure that the rack you buy comes equipped with strong safety pins. Only then can you do your exercises in peace as this ensures safety, and you need to exert minimal energy to keep the bar in the correct position.
The safety pins usually come in L-shape or straight to stack the barbells in a correct position. Most power racks also come with a pull-up bar that's attached to the top to add versatility to your exercise routine.
Such designing and additional accessories help you do your deadlifts and pull-ups more comfortably.
Hole Spacing
You might have safety pins and j-hooks available in the model you wish to purchase, but you need to ensure that the rack comes with consistent hole spacing to provide accurate adjustment options.
We set up a home gym so that our entire family can reap health-related benefits. Hence, to customize the power rack to your body and training goals, the model you choose should have consistent diameter holes, which helps you perform low to high lifting well as pressing movements.
Safety
A premium-quality power rack will provide durability without any doubt as manufacturers ensure thick steel construction and strong welding of high-end materials. And the power rack should provide safety features that protect you from injury and help you train using weights, which positively impacts your overall training process.
But besides this, the power rack needs to be welded to the floor and promise top-of-the-class safety.
In Closing
The Rogue RML-490C is best in terms of safety, versatility, and value for money. You can choose from various color options available, which add elegance to the equipment.
Besides the look, this piece of equipment is stable and strong, aiding you in your fitness goals and achieving better health results.
Don't miss out on this power rack if you want to purchase all-in-one home gym equipment, if you can do the installation properly, and would make use of the rack regularly.
Check the Price of the Rogue RML-490C 3.0 Power Rack on Rogue Fitness
Read Also: