Are you a fitness fanatic gearing up for treadmill exercises? Choosing the best treadmills for low ceilings can be a tedious task if you jump out to surf websites without accurate information.
The very motive of this blog post is to fetch such "accurate" specifications you need to know before you make a final choice.
If you are serious about kickstarting workout routine, then don't let that low ceiling of your house deter your resolution for a healthier lifestyle.
Our Top 5 Picks
See the details, why each treadmill made our best list below.
How to Choose the Best Treadmills for Low Ceilings?
To begin with, it's not that daunting task. Just consider a few specs. Treadmills, in general, are massive machines, but you can get the ones that suit your space. Make a smart choice by going through the below-mentioned criteria.
Keep in mind that if you don't want your head hit the ceilings while running on the treadmill, make sure you have at least 6" (15.24 cm) space between your head and the ceilings.
Now, we are going to look at these measurements to help you find the best home treadmill for your low ceilings gym.
1. Deck Height
The first thing that you should know is the height of the deck. The measurement between the floor to the running slab of the machine forms the deck height.
It is a prominent characteristic that should be focused on while purchasing treadmills for low ceilings. Usually, this is around 8 inches.
2. Room Height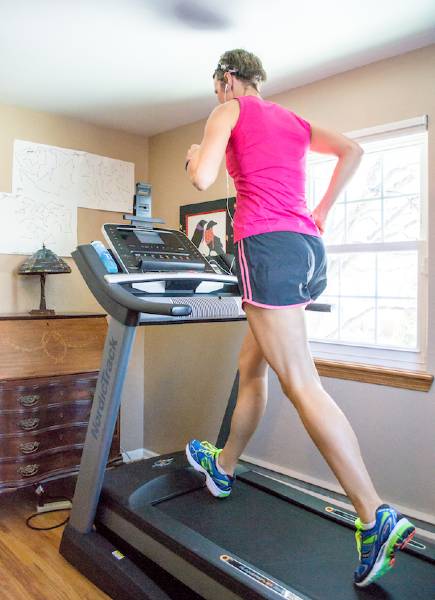 The second step will be to measure the height between the floor and the ceilings of your room. The room in which you are going to place your new treadmill should be talker enough to accommodate one, conveniently.
3. Consider the Height the Tallest User
The height of the person who will be using a treadmill holds equivalent importance as the height of the treadmill.
The height of the tallest user will act as the major checkpoint. Let's say your younger sibling's height is 5 feet 5 inches, but you are 6 feet tall.
So, what to do? You need to prioritize your height while looking out for the perfect treadmill.
Then here we come to the best way to determine if a treadmill is the right height. To do this, you just need to do a simple calculation to see if you have enough ceiling height for your treadmill.
Measure up the height of the treadmill deck
Measure your room height
Then measure the height of the tallest user who will be using the same treadmill.
Add extra 6" (15.24 cm)
As long as the following inequality is satisfied, then this treadmill is suitable for your low ceilings room.
[Ceilings height – (height of deck + height of tallest user + 15.24 cm)] >= 0
Here is a quick illustration for you:
Suppose, deck height is 20 cm, and the tallest user is 170 cm tall
Then, 20+170+15.24=205.24 cm
Now, let the ceiling height by 250 cm
Then, 250-205.24=44.76 cm
44.76 > 0
From this, we conclude that there will be a gap of 44.76 cm between the tallest user running on a treadmill and the ceilings of the room.
This blissfully ensures that your head doesn't bump into the ceilings while performing exercises on the machine.
If your treadmill inclines, then you should replace the deck height with the distance between your floor and the peak of your deck.
Other Consideration to Choose a Treadmill
1. Running Surface
The long slab on which a person runs or walks is termed as the running surface. Hence, it's a crucial component of the treadmill machine. It should be sturdy, durable, and exuberant to support you well.
Most of the running podiums are fabricated with a blend of high-quality PVCs, heavy steel, and foam. The running space must be long and comfortable to carry on with the exercises for sufficient durations.
Too short surfaces will again trouble you, and long ones will hinder your ceiling issues. Select the best option in the middle. Neither too short, not too long. You can easily see the dimensions mentioned in the catalogs while buying.
2. Durability
Without long-lasting capacity, all other features are just in vain. Treadmills with stronger retentivity might cost more but don't compromise with durability traits to save a few pennies; otherwise, you will end up regretting later.
There is a great proverb regarding this, costly items make you cry once, but cheap items make you cry forever. Rest, you are yourself wise enough to make a choice.
3. Leaving Enough Space
Get the width of your room measured too. You can determine if there is enough space for you to place a new machine in your room by looking through the footprints of the machine mentioned by the manufacturers.
The best fit will be the one that leaves substantial space of the room vacant after being placed.
4. Additional Features
Now, this is purely an individual choice. Some will satisfy with the simplest treadmill frame while others may desire to get numerous additional accessories such as holders, consoles, customizability, and so on.
Be ready to stretch out your budget to grab those fascinating additives along with your machine.
Top 5 Best Treadmills for Low Ceilings
Affordability and quality with a fascinating array of user-oriented features can potentially turn out any product into the best seller.
Here we go with our top 5 picks for best treadmills for low ceilings.
You must check out this one if you are all set to buy a new treadmill but struggling with height issues. XTERRA Fitness TR150 is the shortest but most versatile piece of equipment in the array so far.
As the name signifies, the machine is foldable, which makes it feasible to place it in any part of the room.
For the ones who are struggling with low ceiling height, your wait is over now.
XTERRA Fitness TR150 is furnished with just 5 inches of deck height. It's the best treadmill listed here for those in search of the best fit for shorter basements or low ceiling rooms.
Whereas the lower height of the deck might delight you, but deliver your attention to the fact that user weight supported by this is only till 250 pounds.
But this doesn't mean you need to compromise with the durability. XTERRA TR150 is pretty good at maintaining its quality standards.
If you are interested in inclining up the treadmill, then this is a great match for you. Three manual inclines allow you to maximum workout variety.
The dimensions of this treadmill are 63.4 inches by length, 28.75 inches by width, and 51.4 inches by height.
The most notable aspects are the presence of noiseless smooth and quiet high torque 2.25HP motor for workout sessions and the speed elevation up to 10 mph maximally.
LED console display will inform you about speed, incline, time, distance, calories, and pulse.
What's more, this piece of equipment comes with a lifetime warranty on frame, 1-year warranty duration on the motor, a 90-day warranty on the parts.
If low user weight supported by this treadmill doesn't bother you much, then this is probably not to miss deal at greatly affordable prices.
Pros
Sturdy construction
Folding design
12 preset workout programs provided
Excellent cushioning
Cons
The weight capacity is only 250 lbs.
No backlight on the console
Starting with the well-renowned name in the world of treadmills, we have the prodigious Nordic Track T 6.5 series that comes enfolded with abundant features.
Nordic Track T 6.5 treadmill is also the greatest noise-free low profile treadmill, which is perfect for those who want to purchase a treadmill for their apartment.
You don't have to worry about bothering your neighbor due to the noise-relative problem.
Nordic Track T 6.5 has a normal deck height of 7.5 inches. The weight capacity of the NordicTrack T6.5 treadmill is up to 300 pounds and durable enough to head on with high-intensity exercises.
Truly a space saver design with footprints of 73-inch length, 35.75-inch width, and 67.5-inch height.
The most striking facet is the inbuilt cardio workout programs. There is a one-year-long iFit membership opportunity for the buyers.
Exercise like a pro at the comfort of your home with 20 preloaded workout programs.
There is an integrated display screen with clear instructions, comprising big sized words to guide you through the cardio workouts.
Hear the music, if you wish so, along with performing activities using incorporated speakers.
Further attributes like foldability, lift-assisted system, sturdiness, and speed customisability till the maximum of 10 mph make it an amicable machine for users.
Not to forget, the company provides lifetime warranty both on the frame as well as motor.
A 1-year warranty has been assigned to parts and labor service. The high confidence reflects high quality.
The incline feature is also of substantial significance for you. The degree through which running surface can be lifted also influence your decision as your ceiling height should favor inclination degree. For NORDIC TRACK T 6.5s, it's 10%.
It is also a treadmill compatible with Zwift. Overall, it forms a smart bet for a moderate price range.
Pros
Very stable when running a high speed
The control is simple and user-friendly
Folding design
Affordable price
Cons
The running deck might be too small for tall people
The speed is only 10 mph
Horizon T101 covers much less of your space, and the reason being its compact and foldable design, and a normal-low deck height, which is 8 inches. The weight capacity of this treadmill is up to 300 pounds.
This model is another best quietest treadmill for low ceilings home or apartment.
Although this is the maximum weight limit sustained by the Horizon, the company doesn't compromise with the durability of the product.
The dimensions are 75 inches by length, 34 inches by width, and 58 inches by height. And the folded dimensions are 46″ L x 34″ W x 61″ H.
When coupled with the foldability feature, it becomes an ideal choice for individuals tight on space.
It has got a simple but good console to help a person remain informed about the condition of incline, speed, distance, heart rate, and calories.
It also comes with a Bluetooth connectivity option that enables the user to enjoy both audio and video (as it has 3 LED screens for display).
Being low-heightened doesn't mean it lacks prominent features.
It comprises 8 default pre-loaded programs and 10 mph speed extent. The treadmill offers a 10% incline range too.
Elaborative shock cushioning has been done all over the treadmill to increase amenity.
Lifetime warranty on motor and deck, 1 year on labor, and 1 year for other components is another admirable aspect.
Pros
Lifetime warranty on motor and deck
Easy storage
User-friendly console
Heavy-duty design that can bear up 300 lbs
Cons
It can only support a speed of 10 mph, not great for senior runners or sprintings
The cushioning could be better
The deck height of Bowflex BXT216 accounts to be 10 inches, which is higher than normal deck height. But if you have enough clearance in your room, this will be a great choice.
The user weight supported is up to 400 pounds, nearly the highest weight capacity of treadmills that introduced in the market.
The area consumed by its frame is 84.6 inches of length,36.3 inches of width, and 55.2 inches of height.
The incline of this treadmill is up to 15%, and the optimal speed limit is 15 mph.
However, as the incline goes up, you need more clearance in your room. You shouldn't simply add the deck height in the formula; instead, find the height between the floor and the peak of the deck that is set to the highest incline.
BXT216 has 11 inbuilt 'push and go' intuitive training programs.
It also comes with a 9-inch full-color LCD screen for you to keep a watch on your speed, incline, distance, time, and calories.
Not just that, you also get an inbuilt MP3 player to enjoy soothing or workout music, a sound system, and silicon buttons on the console for you to easily operate the buttons.
Pros
Large belt size
High running speed supported (15 mph)
Smooth and quiet
Bluetooth connection is available
Zwift certificated
Folding frame
Cons
Expensive
No zero angle
The Bluetooth is only used to sync the data
The budget is not a problem. Just a desire to get a tremendous treadmill machine with a wide plethora of features.
If you are having such thoughts, then this dynamic machine is meant for you.
Tonnes of features, ultra-durable characteristics, and pro exercising experience is all that this brilliant treadmill is going to serve you with.
The Sole F80 has a deck height of 8 inches, and it can support a user weight of up to 375 pounds. The deck is equipped with shock cushioning too.
It has a whisper deck to make the process free of noise. The LCD console presents a clarified view of speed, distance, heart rate, and calories lost, including 10 preloaded workout programs.
Inflation in speed can be done to an extent no more than 12 mph.
Want to lose weight faster? Then incline the running deck up. The maximum inclination supported is 15%, that is awesome.
The dimensions are 82 inches length, 37 inches width, and 57 inches height, it can take good care of your no matter low ceilings room, apartment, or even a basement.
Other additional tools like music add-ons, cooling fans, chest strap monitor, are no less than cherries on the cake.
We hope you loved this cake.
Talking of the warranty scenario, SOLE F80 will come your way with a lifetime warranty on frame, motor, and deck, whereas allied electronic parts bag five years warranty.
Pros
It has a roomy deck, which is comfortable for tall users
Its cushioning can minimize up to 40% impact to your joint
15% inclination
The speed is up to 12 mph
Cons
Limited preset workouts
The side rails are short
Conclusion
XTERRA TR150 is perfect for a low ceilings room, complete with height feasibility and myriads of features while Horizon T101 is more versatile.
Flex select cushioning is something rarely found in cost-effective treadmill models, but NORDIC TRACK 6.5 still offers it.
Among these low profile treadmills, and for those who budget matters a lot, XTERRA TR150 is also a great (the best) pick.
Its deck height is only 5 inches and, most importantly, priced under $400, which is great for those who want to save some bucks an get a high-quality quiet treadmill in the meantime.
Getting your head bumped in walls while exercising is a terrible imagination for anyone.
If you have more clearance in your room and more budget, then both Bowflex BXT216 and Sole F80 would be a great choice.