When you buy through links on this site, I may earn an affiliate commission at no extra cost to you. Learn more
While most people are looking to buy a treadmill that fits their budget, some buy treadmills that fit their fitness routines.
Here we are, bringing you some of the best treadmills that the fitness world has ever seen. From treadmills that assist you completely in your workout to treadmills that make your training an entertaining and engaging experience.
Top 10 Most Expensive Treadmills
Among Precor's roster of high-end treadmills, the TRM 835 shines the brightest. This power incline treadmill is a true testament to the class and durability of a treadmill.
TRM 835 treadmill is equipped with a 4HP AC motor, usually found in gyms where the threshold and performance required are optimum. The maximum speed offered by the treadmill is 16 mph, which is great for running and building your cardio all along.
It also has an excellent incline of 15%. You might think it is the standard in the treadmill industry, but what makes it stand out is the decline of -3%. This is the only model on the Precor roster that has more than a -2% decline.
The treadmill build is extremely sturdy, and it can support a maximum user weight of 400 lbs, which is a feat that a lot of treadmills do not accomplish. Hence, any question about the build and durability of the TRM 835 stands eliminated.
The comfort and user experience provided by this treadmill are unparalleled due to the following features. The deck has an absorption system known as the GFX or the Ground Effects Impact Control System & Integrated Footplant Technology. This protects the body from impact and excessive damage while running on the treadmill.
This high weight capacity treadmill also has a great console that displays various data such as speed, incline, distance, calories, pulse, time period, average, and much more to have a great fitness experience to plan your workout accordingly.
This treadmill is actually elite in its build, design, and performance, as the name suggests. It is also one of the top-end models in this series, and let us take a look if it stays true to its name and claims.
It has a maximum speed of 12mph, which is not bad but could have been better. It is being said that the speed could have been better due to its immensely powerful 4 HP motor.
It has a great and spacious running area of 22″x60″ so that you can enjoy your running experience without any hassles of space and comfort.
To make your running experience even more comfortable, the designers have added the Ortho Flex Shock Suspension System, another innovation in the deck's arena and running experiences.
It has large rollers and a thick belt to allow and provide a seamless workout experience.
This large running belt treadmill has great one-touch controls to control the speed and incline of the Elite Runner treadmill. It comes with built-in speakers, and it can also play music in the mp3 format for your entertainment during running.
The manufacturers have given enough attention to go as far as to provide a fan so that you stay cool during the workout.
The BXT216 by Bowflex has a lot of unique features to catch your eye. It is one of the most elite treadmills around, and this treadmill review will explain why.
The BXT216 has a 4 CHP motor, enabling a maximum speed of 12mph. This speed is very comfortable for runners and joggers, apart from the fact that a higher rate would have served the runners a lot. A 15% incline is also not a very easy feat to achieve in a treadmill of this versatility.
Even though it can be folded to save space in your apartment or gym, its build is so strong and sturdy that it can handle a maximum user weight of 400 lbs. This means that the BXT216 has been designed to keep the more extensive interests of fitness enthusiasts in general.
The top-notch cushioning is completely maintenance-free. This treadmill has a suspension system known as the Comfort Tech, which is designed to reduce the impact on the body so that you can have a more extended workout experience without any injuries.
You will also find workout programs and a great media shelf to keep you engaged apart from a great warranty and optimum quality. Besides, Bowflex T216 is one of the best smart treadmills compatible with Zwift.
The NordicTrack Commercial Series consisting of 3 models, namely the C-1750, C-2450, and the C-2950, is power-packed with features and will never cease to amaze you, as we will find out in this review.
They have more an amazing decline of 3%, which is more than the average standard treadmill. They also have a significant incline of 15%—a vast range in general terms.
2450 has a maximum user weight of 300 lbs, and it also is powered by a 4 CHP motor. The top speed in the C-2450 is 12 mph. But it has a vast 22″ x 60″ deck, which is spacious and allows you to work out smoothly, especially if you are a tall runner. It is foldable, and it has a 14″ HD console with 50 programs and a free 1-year iFit subscription.
The C-1750 has a 10″ HD display in addition to Bluetooth and Wi-Fi connectivity. It has a 3.75 CHP motor, allowing a maximum speed of 12mph. And it has a similar incline/decline range as the C-2450, with a 3% decline and a 15% incline.
The C-2950 comes with a much larger 22″ HD display with a pulse monitor built right into the system. It has iFit trainers to regulate the different aspects of your workout.
However, it cannot be folded, so this might be a problem for you if you are looking to save space.
It has a maximum user weight of 300 lbs and speakers, connected via Bluetooth or the auxiliary cable.
The LifeSpan TR7000i is a trailblazer and flagship treadmill of the LifeSpan line of products.
The primary reason why I loved this treadmill is the spacious deck design it has offered. The deck size is larger than the industry standard at 22″x62″. This makes the track very spacious and comfortable to run on.
It is powered by a 3.5 CHP motor and gives a maximum speed of 12 mph. And this treadmill's frame and build are reliable, and it can support a maximum user weight of 400 lbs.
It has 17 preset workout programs that help you focus on different aspects of your workout, and it also has 2 custom presets to focus on your heart rate control.
It has a good 6.5″ LCD for viewing various aspects related to and not related to your workouts like speed, distance, calories, date, time, incline, pace, pulse rate, and much more.
The warranty on this treadmill is a lifetime one for the frame and the motor, which shows the magnitude of confidence that the makers have on this treadmill.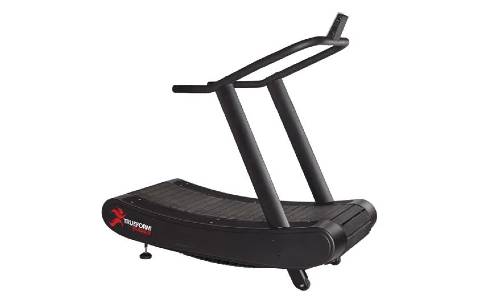 Now the Trueform Trainer is something very different than all the treadmills that we have reviewed so far. This treadmill is different because it is a manual treadmill and a lite version of the Runner series.
Something that makes the Trainer stand out among its limited peers is that it has a curved deck to give you a natural feel of the running experience. It has a pretty robust build due to its steel frame that supports the body.
The robust build can support a maximum user weight of 400 lbs. The top speed on this machine is as speedy as you can run. Simply put, it has no maximum limit since a motor does not power it and entirely depends on the speed you run at.
Without the need for any console or control, you can plan and regulate your speed on your own terms. It has a track width of 54″, which is alright for running, but a wider one would be great for this treadmill.
But due to its narrow track width, it can be stored anywhere and saves a lot of space. It is also light in weight and can be moved around very quickly.
Much can be said about the Horizon 7.8 AT treadmill, a well-known treadmill in the industry. It is built for beginners and professionals who are pretty active in their fitness journey and are looking to build up further.
Horizon 7.8AT treadmill comes with a 4 HP motor and a maximum speed of 12 mph. It also has an incline of about 15%, which is offered to challenge your fitness capabilities to improve and elevate them.
The deck is also spacious with an industry-standard 22″x60″ area and on the deck is the belt very famous for its injury-saving features- the 3-Zone Variable Response Cushioning.
The build of this cushioned treadmill is sturdy, and it supports an impressive maximum user weight of 350 lbs. It can also be folded and stored away while you are not using it, making it a space-saving treadmill that you should have.
There are only 10 workout programs on this treadmill. It might sound like less, but they cover most of the workout routines that other machines do. However, it also has the Sprint 8 interval-based training. It has speakers and Bluetooth to connect your phone and play entertaining music.
It has a useful lifetime warranty on the motor and the frame, making it a must-have treadmill for any fitness enthusiast.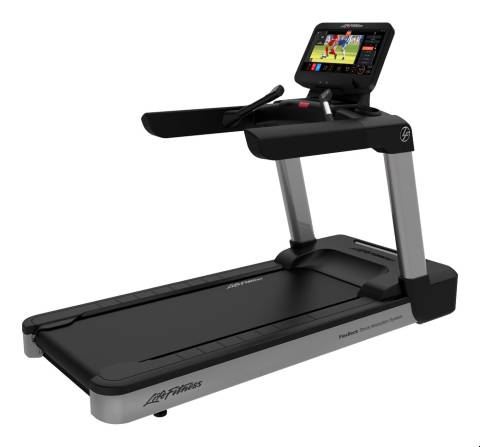 The Club Series+ treadmill by Life Fitness is an elite treadmill owned by many gyms, making it a standard in the fitness industry, and let's find out why it is so famous in fitness circuits.
First things first, it has a 4 HP motor, which resembles the treadmill's durability and longevity in general. It offers a maximum speed of 12 mph (starts from 0.5 mph.) This is good for most runners and joggers. Also, it can be enjoyed by brisk-walkers as well.
It has a standard 60″-wide deck as most of the other treadmills in this range. The fact that it has the DX3 belt system, a highly advanced cushioning system, is something to be reckoned with while talking about this treadmill.
You can adjust the speed and incline without reaching for the console as the controls are situated on the rails themselves. This makes the treadmill very user-friendly.
It has 10 built-in workout programs. The factors that you can change and build your workout program are time goal, speed goal, distance goal, heart pulse goal, calorie goal, manual and uphill, among many others.
It has a 10-year warranty on the electrical parts as well as the mechanical parts of the treadmill.
It is very sleek in design to save space, but it also has wheels, which means that you can move it around easily to store it.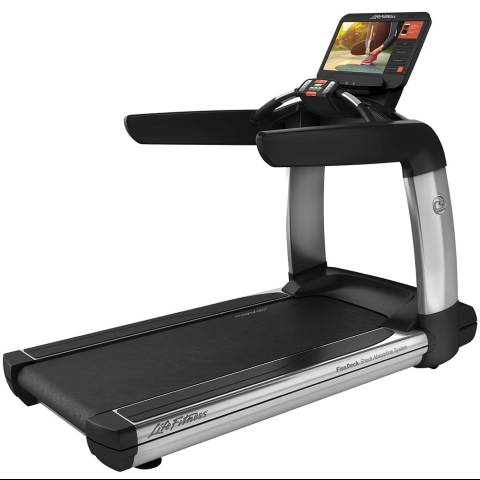 The Platinum Club Series by Life Fitness is an elevated version of the previous treadmill.
It is built for health and fitness clubs, making it a heavy-duty piece of equipment to have at your home. It has a good 4 CHP motor, a maximum speed of 12 mph, and a maximum incline of 15%.
The deck also offers enough space for you to run as it has an area of 22″ x 60″. The FlexDeck cushioning is a premium cushioning system that eliminates most of the impact on your joints and prioritizes your health over anything.
One of the best things about this treadmill is that it can connect to apps on your mobile. It shares your workout data with fitness applications on your mobile to customize your workout and make your fitness experience a great one.
It is also compatible with most phones in the market. You can also choose VR or virtual reality videos on this treadmill to engage with this treadmill.
You can choose from a 10″ and a 19″ screen, which gives access to the internet and many entertainment portals.
It has an assistant to help you through the console's operations and functions apart from displaying important data relevant to your workouts like speed, time, distance, heart rate, and much more.
The Assault Fitness AirRunner is a manual treadmill that is one of the latest in the treadmill industry.
It has a curved deck and boasts of many other features akin to manual treadmills.
It is a manual treadmill, meaning that you do not need electricity to power this machine. Rather it is powered by your steps while you run or jog or walk on this treadmill.
The manual treadmill also means that you get to burn around 30% more calories than you would on a traditional treadmill.
Its curved track makes it comfortable for you to run while the treadmill gains momentum from your strides. It has a steel body that is durable and has great stability.
No console, no buttons, no hassle of electronics, and display as your workout is completely under your control and at your pace. This makes your workouts more effective and realistic while keeping the aesthetics very simple.
As this treadmill does not have any motors or electronic devices, the possibility of maintenance and repair gets eliminated. It is a durable treadmill with less to no maintenance.
It can support user weight up to 350 lbs. And it can be moved easily due to its lightweight; however, it cannot be folded, which might seem like a disadvantage if you are looking to save space in your apartment.
Final Words
This list was highly packed with some of the most elite treadmills on the planet with outstanding features and innovative technologies to lead the treadmill industry.
Most of these are highly durable due to their heavy-duty build as they are used in the health and fitness industry. Hence, these machines have excellent durability and versatile functionality while providing you a great outlet to maintain your fitness levels.
You must be excited to buy one of these right now! What are you waiting for?
Read Also: